Jeff Tuel: Video Highlights from Former Washington State QB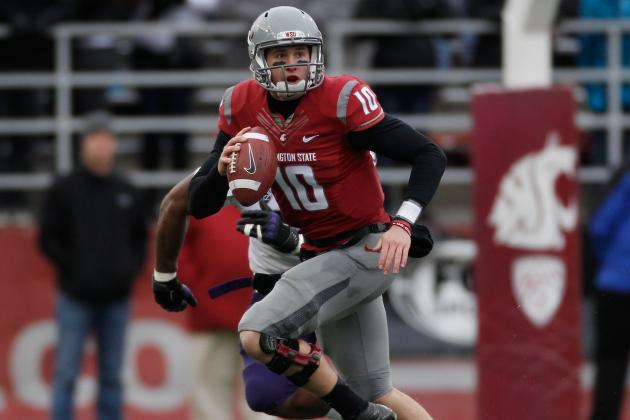 William Mancebo/Getty Images
Jeff Tuel can be a very valuable pickup for a team willing to take time to develop his game.
Former Washington State quarterback Jeff Tuel is one of the more intriguing prospects at his position.
He can be a dual-threat player due to his ability to beat defenses with both his hands and legs. He possesses a great amount of touch on his throws, albeit without a strong arm. But he is consistent and precise enough to make it work nicely.
Tuel's stock is not as high as it could be due to lingering injury concerns. He missed time with injury in three of his four seasons in college. This is something that does not bode well, especially with a quarterback that has the ability to scramble.
Here are some of Tuel's highlights from his days at Washington State.
Begin Slideshow

»
Just before this play, Tuel fumbles the snap and has to dive on the football for the recovery. This pass demonstrates his short memory, which is a plus at the NFL level.
The pass is a simple one. He hits his slot receiver on a crossing route over the middle. The ball is thrown slightly behind his target but is accurate enough to guarantee a reception.
Even though the mechanics of this play are not perfect, the intangible qualities that Tuel shows will be a benefit for him during scout evaluations.
This play is exactly what NFL scouts will love about Tuel at the next level. He puts his mobility, technique and accuracy on display here against EWU.
Tuel takes the snap out of the shotgun formation and immediately rolls out to his left. As a right-handed quarterback, this is an extremely difficult maneuver on a passing play due to the alignment of his body.
He shows great technique, however, as he squares his body up with his intended target in the end zone and throws an accurate, high ball to give his receiver the best opportunity to make a reception.
Prior to the pass, take notice that Tuel is looking at his shallow receiver immediately and notices the tight coverage. He then quickly scans the field and throws to what seems to be his third read.
Tuel really puts his arm strength on display here as a freshman. This is a very simple skinny post play out of the shotgun formation which is executed perfectly.
One thing that Tuel does nicely during this play is stepping up into the pocket. This allows him to stay out of the reach of the edge-rushers and put his forward momentum into his throw.
His anticipation is great here. He releases the ball before his receiver makes his inside break on the post pattern. The coverage is decent enough to force Tuel to hit his receiver in stride in order to keep the pass away from the defense.
This pass goes nearly 50 yards through the air, and Tuel does not even seem to be putting a great amount of effort behind the throw.
This is another one from Tuel's freshman year.
He takes the snap out of the shotgun formation and utilizes the play-action pass. Tuel then rolls out to his right and finds his target in tight coverage up the right side of the field.
While rolling out, Tuel sees his receiver break quickly toward the sideline. This is when Tuel unleashes a strike which is placed in the perfect position for his receiver to make a play on the ball. He gives the defensive back zero chance to make a play despite the tight coverage.
This is a great touchdown strike thrown by Tuel from the 19-yard line.
He finds his target on a post pattern just as his receiver makes his move to the inside. Tuel anticipates this route by noticing the corner is allowing access to the middle of the field.
Tuel steps into this throw very nicely, which allows for good velocity on the pass. He hits his target right on the numbers for an easy score.
During this great comeback victory, Tuel made two crucial plays late in the fourth quarter.
The first play on the highlight reel features Tuel's ability to use his athletic ability to escape pressure in the pocket. During this scramble, not only does he break a tackle in the backfield, but he is directing traffic throughout the play. He keeps his eyes up the field and finds an open receiver just a split-second after escaping a sack.
On the second play, Tuel shows that he can step up and deliver a strike with pressure right in his face. With a defensive lineman about to hit Tuel in the pocket, he steps up and throws an absolute strike in close coverage to his receiver. He still gets enough velocity on the football to get it past the defender and into the hands of his receiver for a much-needed first down.
These are the types of plays that will go a long way in the scouting process. Tuel shows that he can be clutch in big pressure situations.