Arthur Brown: Video Highlights for Former Kansas State ILB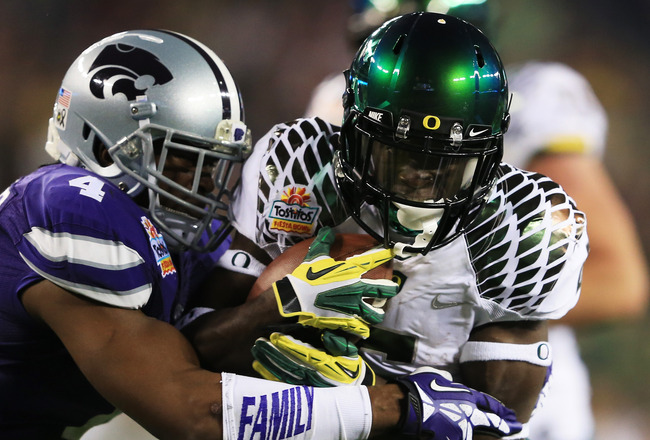 Doug Pensinger/Getty Images
Arthur Brown made the most of his two seasons at Kansas State. The inside linebacker was extremely productive, compiling 201 tackles, 16.5 tackles for loss, three sacks and three touchdowns.
Brown, who is the younger brother of Eagles running back Bryce Brown, employs exceptional speed and awareness to compensate for his lack of size. Brown garnered plenty of accolades at Kansas State, being named the 2012 Big 12 Defensive Player of the Year as well as being named a finalist for the Lott Trophy, which is awarded to the nation's best linebacker.
Brown is considered one of the best NFL draft prospects at his position and is expected to be drafted in the top three rounds.
Interception Return for Touchdown Against Texas Tech
Against Texas Tech, Brown swipes this deflected pass and sprints 37 yards for a Kansas State touchdown.
In this highlight, Brown displays his hand-eye coordination by tracking the deflection, his hands by securing the catch and his acceleration as he quickly gets up to full speed and finds pay dirt.
The NFL is a unquestionably a passing league, and Brown's ball skills in coverage enhance his draft value.
Blows Up Blocker and Ball-Carrier Against West Virgina
On this play, Arthur Brown reads the run gap and blows it up.
He engages the much larger lead blocker, going right through him to swallow up the running back.
The two greatest knocks on Brown are his size and his failure to engage lead blockers.
Here, you see Brown's instinct and form overpower the larger lead blocker. It would have been a successful play if Brown had only taken out the lead blocker, but here he also makes the tackle.
The combination of the two makes this a truly great play by Brown.
Quarterback Hurry on Geno Smith
This highlight is a strong display of Arthur Brown's versatility.
He comes off the edge on a blitz and hurries Geno Smith into an off-balance throw. Brown's speed is evident here as the running back can't get in front of Brown quick enough to block him.
At the tail end of the play he lays a good lick on Smith without going overboard and drawing a penalty.
Tackle for Loss and Open-Field Stick Against Texas
Brown is excellent at anticipating his tackles.
In the first clip, Brown reads run and crashes left to bring down the ball-carrier behind the line of scrimmage. Brown's speed is once again on display here as he gets to the running back untouched, despite the efforts of both the guard and center to block him.
In the following clip, Brown drops back into zone coverage, locking up the crossing receiver. Texas quarterback Case McCoy drops the ball off to his safety read, who eludes a Kansas State defender before Brown comes in to make a strong open-field tackle.
In both of these highlights, Brown positions himself perfectly, then is able to finish the tackle by himself.
Lateral Chasedown Tackle Against Oklahoma
Lateral speed is essential for an inside linebacker at the next level, whether it is for chasing down scrambling quarterbacks, running with a receiver on a crossing route or, as in this highlight, taking an angle to blow up a stretch run.
On this stretch play, Brown is able to evade the surge of blockers and find the open crease to tackle the Sooner running back.
Brown, as he typically does, finishes the play with a strong hit, bringing down the ball-carrier immediately.
Huge Sack Against Miami
The best part of this play is how Brown never hesitates.
Miami was marching on Kansas State and found itself situated with 1st-and-goal, searching for a much-needed touchdown. On a crucial third down, Miami rolls out their quarterback left.
Often linebackers hesitate on plays such as these. They can't decide whether to chase the quarterback or stay in coverage, and their hesitancy to commit to one or the other gets them burnt.
Brown reads this one perfectly.
A guard is sent to block him, which indicates to Brown that the quarterback is likely to run. Brown steams upfield and delivers a hellacious hit on the quarterback, forcing Miami into a field goal.
Keep Reading

Baltimore Ravens: Like this team?