IRB Sevens Series: Into the Home Stretch
Ian MacNicol/Getty Images
New Zealand will attempt to retain their title in Glasgow.
When they fly into the West of Scotland in a few weeks' time, New Zealand head coach Gordon Tietjens and his team may feel a tinge of deja vu.
Once again, the mighty New Zealanders will arrive at the Glasgow Sevens to defend their tournament title, as they take another step towards claiming their third straight IRB Sevens Series crown.
In truth, the competition for the top of the table has now come to a close for all intents and purposes. Though New Zealand have only the one tournament win to their credit this season, they have been the very model of consistency—never finishing lower than third in any of the seven series events to date.
It would take a collapse beyond imagining over the last two tournaments to deny Coach Tietjens and his charges their Series victory. Instead, the eyes of most keen rugby observers now swing towards the bottom of the table where, for the first time in history, teams are battling to avoid relegation from the IRB World Series.
Out of the 15 core teams who compete on the circuit this season, the bottom three countries—following the event in Scotland—will be sent to compete in a promotion/relegation tournament in London the following weekend, against the many other nations seeking a chance to compete at the sport's highest levels.
With that in mind, this Bleacher Report exclusive preview of the Glasgow Sevens will look closely at the battle for survival among the bottom-six teams in the IRB World Series and what teams may be at risk of spending the next year in exile.
We begin with viciously competitive Pool A; one which may spell trouble for its lone North American entry.
Begin Slideshow

»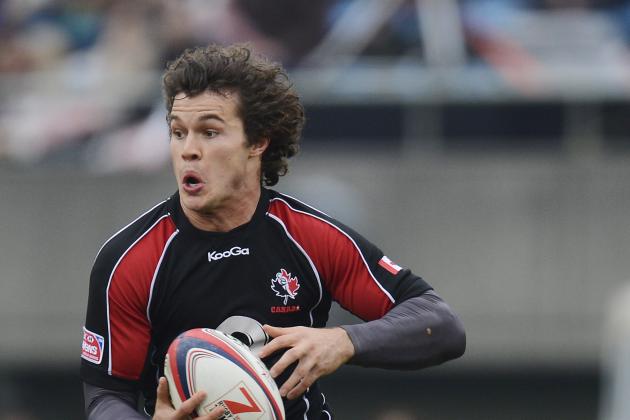 Atsushi Tomura/Getty Images
Glasgow Warriors wing Taylor Paris will hope to power Canada onwards in a tough pool.
Oh, what a difference a game makes in the sport of sevens rugby.
Canada had been on an incredible streak of good form heading into the Tokyo Sevens; a streak that had seen them make three Plate appearances this season, including a plate victory at the USA Sevens event in Las Vegas.
Their strong play earned them a relatively easy pool in Tokyo, but they were unceremoniously beaten by the Japanese home side in their very first match. Canada were subsequently knocked all the way down to the Shield competition as a result and left that event with new-found worries about a relegation fight they had thought themselves well clear of.
Such is the level of parity amongst the majority of the Sevens World Series teams this season that a single poor performance can mean the difference between survival and exile. Now Canada—by virtue of their low finish in Japan—must face off against three of the world's top-six nations in Scotland and somehow hope to come away with two wins.
Missing out on the cup quarter-finals would not spell automatic trouble for the Canadians, who have had one of their strongest ever showings this season, but two wins on day one would ensure their safety and the funding dollars that accompany a place on the IRB World Series for next season.
For coach Geraint John and his troops, the stakes are high indeed. However, if they need relief, the Canadians need only look at Pool B to see a battle that is likely to play a major role in which teams are sent into the relegation flight, set to take place during the final Series leg.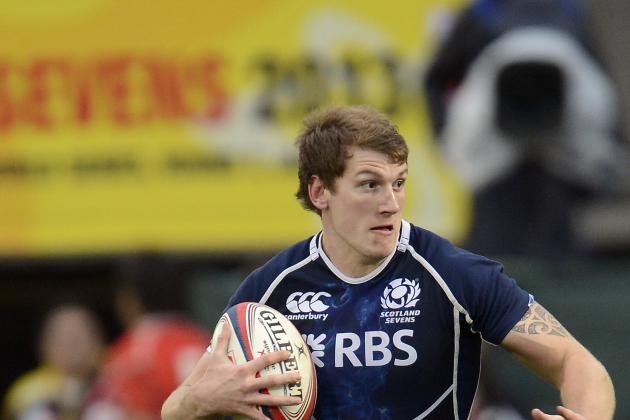 Atsushi Tomura/Getty Images
Scotland's last chance to avoid relegation will come at home.
Despite what you may have seen in Braveheart, Scots are not genuinely known for their foot speed, especially over level ground. However, Scotland have been consistent competitors on the IRB Sevens World Series in recent years. That could all come to an end, however, if things go badly for them at their home tournament on May 4th.
Scotland has a long tradition of Sevens rugby, having invented the seven-aside version of the game at the Melrose Sevens in 1883. That tournament is still played annually.
If Scotland—who are currently sitting tied for 12th in the series rankings—cannot improve their standing by the end of of their home tournament, they are likely to be sent to compete in a relegation playoff.
If Scotland's situation seems a tad stressful, one can only imagine what their fellow Pool B competitors England would think if they found themselves in that same position. It would be highly unlikely, but there remains a chance—given England's shaky form this season—that one of the world's rugby giants could find themselves playing for the right to continue on the IRB Sevens Series in front of their own fans.
A more humbling experience could scarcely be imagined. England will surely be striving to avoid such a demoralizing outcome.
Eight points back of Scotland and the USA, Portugal are one of two teams whose appointment at the relegation tournament seems fairly certain. Still, they can help their cause by claiming two wins in this pool and sending both Scotland and England to compete in the bowl.
It is a feat that they have proven themselves capable of at times this season.
As if the action in this pool didn't contain enough intensity already, the fourth and final member of Pool B comes in the shape of the defending series and tournament champions from New Zealand.
Officially, the members of the dreaded relegation zone will not be known until the end of day two in Glasgow, but it will be the action on day one that may prove to be the decisive factor.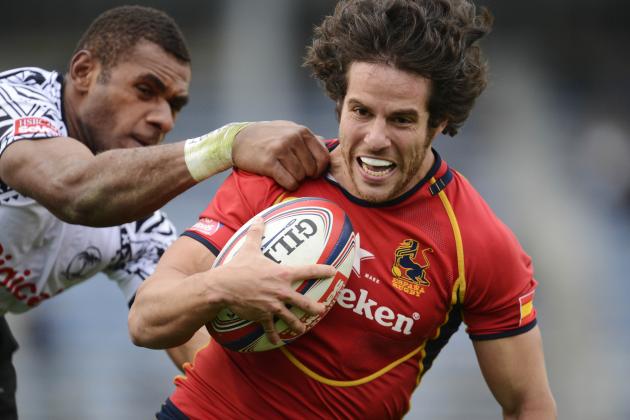 Atsushi Tomura/Getty Images
Spain know they will need to be at their best to stay alive.
Poor Spain.
The unfortunate Spanish, unlike their fellow Europeans from Portugal, have been unable to get anywhere close to the standard of consistency necessary to avoid the relegation fight. They sit dead last amongst the series' core group of 15 teams. For Spain, the Glasgow Sevens will serve as a warm-up to the all-or-nothing relegation contest in London the following weekend.
But this awkward situation still presents Spain's management with a difficult choice. In theory, it would be best to use the Glasgow tournament to try to perfect the team's chemistry and performance in advance of the pressing fight to come in London; but injuries, fatigue and the country's limited player depth will all be pressing factors.
So desperate is the relegation fight likely to be that Spain may well choose to rest a few of its key players in Glasgow.
Whatever the outcome, Spain arrives in Scotland knowing that they must soon battle for the right to return to the series next season.
Looking to take advantage of Spain's troubles will be their fellow Pool C competitors from Australia, Fiji and Argentina; none of whom are likely to be seriously challenged by the Spanish, and all of whom will be harbouring ambitions of a cup quarter-final appearance.
Spain may be in for a long weekend.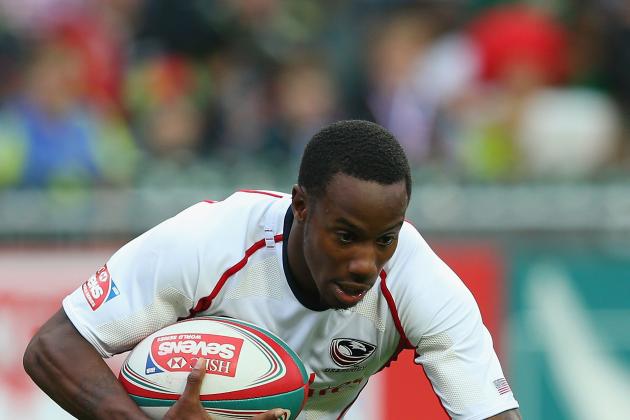 Cameron Spencer/Getty Images
Carlin Isles will look to lead the USA clear of relegation.
Despite having the fastest player in world rugby in the form of Carlin Isles, the USA Eagles have had a difficult 2012/13 season on the IRB Sevens circuit.
They are coming off a season's best performance in Japan, where their victory in the Plate Final has given them some hope of avoiding the relegation fight. Their huge result in Tokyo will have the Americans in high spirits as they arrive in the West of Scotland, but they know they are still living on the edge.
The simplest method for the USA to avoid the relegation bracket in London would be for them to finish the tournament in Glasgow with a better result than their Scottish hosts, with whom they are currently tied in the IRB standings.
The Eagles are helped in this regard by having drawn a relatively easy pool, thanks to their strong showing in Japan. To advance to the Cup competition, the USA will have to collect two wins from their pool matches against France, Wales and Russia. Their task is a difficult one, but not impossible.
None of the teams in Pool B have been highly consistent performers this season, so if the Eagles can maintain their form from the Tokyo Sevens, they may just play themselves clear of the relegation zone; something which their growing legions of fans back in America would rejoice to see.
With five different winners from seven different IRB sevens rugby events during the 2012/13 season, trying to pick a winner for the Glasgow Sevens would be a difficult challenge. Whatever the result, New Zealand will almost certainly continue their march to the Series title.
Fans of the nations focused on in this preview will be clenching their teeth, as each country takes its last shot at avoiding the dreaded relegation fight in London. In a sense, that fight will be getting underway a week early.
For those of you who can't wait, we leave you with a video of the IRB's top scores from the Tokyo tournament.
Our pool analysis may be over, but the great debate is just beginning. Bleacher Report is your home for fantastic discussion, along with all of the sports news you can handle.
So make your picks and state your allegiances. The raucous crowds in Glasgow will certainly be on hand to make that abundantly clear.


Follow the Glasgow 7s on Twitter using #Glasgow7s

Jeff Hull is a Featured Columnist for Bleacher Report. Follow him on Twitter: @RugbyScribe