Red Sox vs. Orioles: 3 Up, 3 Down for April 11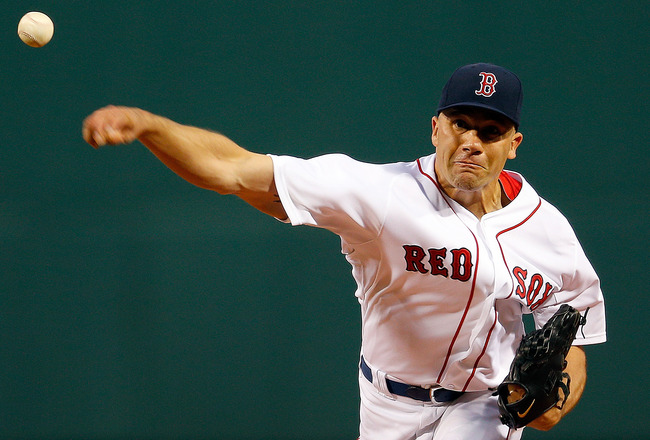 Alfredo Aceves did well in a spot start.
Jim Rogash/Getty Images
The Red Sox lost their first series of the season after they were beat by the Orioles in the rubber game 3-2.
Alfredo Aceves stepped in and was able to give Boston five strong innings in the loss, but the team came up short.
If the Red Sox are going to have success in 2013, they are going to have to win as many division series as possible.
Here is my three up, three down for the series finale against the Orioles.
Three Up: Alfredo Aceves Keeps It Close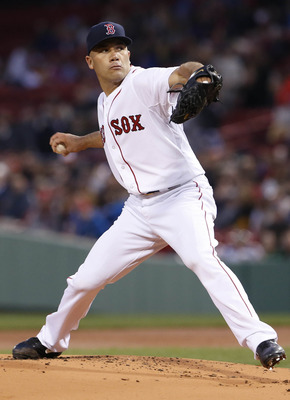 Even though he didn't get a win Alfredo Aceves did all he could.
David Butler II-USA TODAY Sports
After John Lackey got hurt last week, Alfredo Aceves was tasked with stepping in to take his place in the starting rotation.
Aceves, despite not starting in a game since June 21, 2011, was able to save the bullpen and kept the game close for the Red Sox offense.
While I am one of the many that think the Red Sox need to find a way to move on from Aceves, the ability to fill multiple roles at an above average level is hard to replicate.
Three Up: Mortensen, Tazawa and Wilson Had Solid Outings
Junichi Tazawa continues to have success early on.
David Butler II-USA TODAY Sports
Despite being credited with the loss, Clayton Mortensen got the Red Sox five good outs in the middle of the game. Unfortunately, Andrew Miller and Koji Uehara failed to shut down the Orioles in the seventh.
Junichi Tazawa continues to look good after recording a scoreless eighth inning, and Alex Wilson did well in his major league debut.
Wilson, who moved to the bullpen last year, gives the Red Sox another arm if Lackey, Franklin Morales and Craig Breslow need more time to rehab their injuries.
Three Up: Stephen Drew Has More Success in His Second Game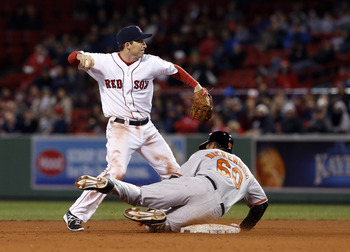 Stephen Drew looks good, but Jose Iglesias should start.
David Butler II-USA TODAY Sports
Stephen Drew was one of the few offensive bright spots for Boston in his second game with the Red Sox.
Drew went 1-for-2 with two walks. The numbers remind me a lot of his brother J.D.—he didn't do anything that would wow fans, but getting on base three times in four at-bats is a good day.
I still think that the Red Sox need to find a way to move Drew and play Jose Iglesias. Drew is trying to replicate what Adrian Beltre did by turning a one-year deal into a big extension, so he is going to try his best to produce, but he isn't the long-term solution at shortstop.
The Red Sox need to figure out if Iglesias can be a full-time major league shortstop—as long as Drew is starting, they can't do that.
Three Down: Jarrod Saltalamacchia and Will Middlebrooks Take a Step Back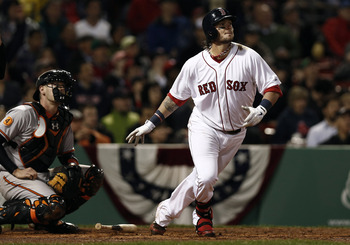 Jarrod Saltalamacchia remains a question mark.
Winslow Townson-USA TODAY Sports
After going 3-for-4 with a home run on Wednesday, Jarrod Saltalamacchia had his second game of the season in which he went 0-for-4 with three strikeouts.
Salty's strikeout concerns have gotten worse this season, as he now has 11 strikeouts in just six games. Additionally, after the season opener when he drew three walks, Saltalamacchia has drawn just one walk in 23 plate appearances.
Will Middlebrooks also struggled, going 0-for-4. Middlebrooks has been hit-or-miss early on in the season, either having a great game or being awful. In six of the nine games, Middlebrooks has gone hitless—in those six games, he has drawn only two walks in 24 plate appearances.
Three Down: Jackie Bradley Jr's Time Is Up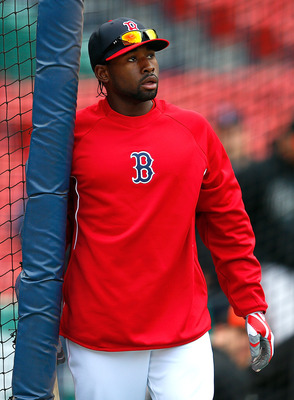 Jackie Bradley Jr. needs more seasoning in AAA.
Jim Rogash/Getty Images
After looking decent in his first four games, Jackie Bradley Jr. has struggled in the last four games.
Bradley has gone hitless with just two walks while striking out five times in those four games.
Bradley is getting pounded inside and once David Ortiz returns, he should get sent to Triple-A to work on fixing the hole in his swing.
Three Down: Offense Struggles in Losses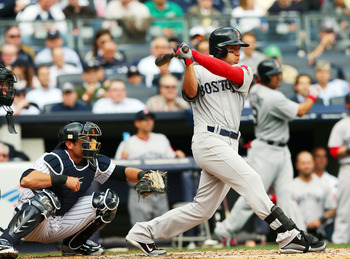 Jacoby Ellsbury and the rest of the Red Sox lineup needs to do more in low scoring games.
Elsa/Getty Images
In the past games when Red Sox pitchers held an opponent to three runs or less, that usually meant the Red Sox got a win.
However, the Red Sox lineup is not what it used to be—but, even though they lack star power, they should win when opponents score three runs or less.
In their four losses this season, the Red Sox have averaged only 2.25 runs scored versus 7.4 runs in their wins.
I don't expect the offense to get much better, but Boston needs to find ways to manufacture runs, especially at the end of games.
Keep Reading

Boston Red Sox: Like this team?