Onterio McCalebb: Video Highlights for Former Auburn RB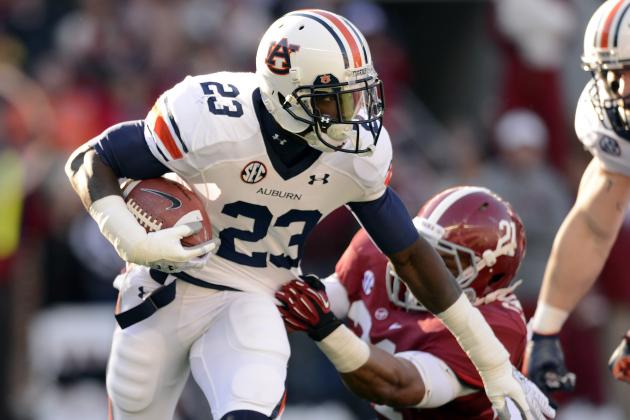 John David Mercer-USA TODAY Sports

One of the most explosive players in the 2013 NFL draft also happens to be one of the smallest.
Just 5'10" and 168 pounds, former Auburn running back Onterio McCalebb enters the draft with very little chance to be a full-time ball-carrier at the next level. But his explosive speed (4.34 seconds in the 40-yard dash) and ability to impact the game as a receiver and returner give McCalebb a chance to find success in the wide-open NFL game.
In the following slides, we'll present 10 of McCalebb's top collegiate highlights—which include runs, receptions and returns, all of the explosive variety.
Begin Slideshow

»
We kick off his highlight package with an area in which McCalebb has the best chance to impact in the NFL: special teams.
On this example, McCalebb takes a third-quarter kickoff against Arkansas for a near touchdown.
He breaks the first tackle attempt and then weaves through the rest of the coverage before being brought down at the 1-yard line. A shoestring tackle costs McCalebb the touchdown.
You want speed and vision in the open field?
McCalebb shows off both here against LSU in 2010.
On a read-option play, McCalebb makes one cut at the corner and then outruns the LSU defense to the end zone. The score gave No. 4 Auburn a seven-point lead over No. 6 LSU late in the fourth quarter.
Those tricky Tigers.
On second down in the first quarter of a 2010 matchup with Georgia, McCalebb takes an unorthodox handoff from Cam Newton, who is running the "Statue of Liberty" play that Boise State once made famous.
Given space around the edge, McCalebb races down the far sideline for 40 yards. The play was later called back for holding.
On this rather simple end-around play, McCalebb once again shows how dangerous a runner he can be in the open field.
Georgia gives up the corner, which is bad news with the ball in McCalebb's hands.
He weaves around a few blocks and nearly breaks the run for a score. He instead ends up with a 48-yard gain that helped set up an eventual touchdown.
With Auburn in need of a spark against rival Alabama in 2011, McCalebb came to the rescue.
Receiving the second-half kickoff down 24-7, McCalebb runs up on a short kick and breaks the arm-tackle attempt of the only player who touched him. At that point, it's game over for Alabama, as McCalebb outruns the rest of the coverage for an 83-yard score.
Alabama would eventually win, 42-14, but McCalebb's return gave Auburn a glimmer of hope to start the second half.
Sometimes a running back needs to improvise out of a sticky situation. On this play against Virginia, McCalebb turns a potential loss into an electric gain.
Originally set up as a run to the right side of the offense, McCalebb is forced back to his left when the blocking breaks down in front of him. He reverses field, picks up a few blocks and is off to the races.
Virginia eventually catches up with McCalebb, but the run set up his own game-tying touchdown a few plays later.
McCalebb isn't just a one-tricky pony at running back. In fact, his receiving skills might open a door for him to be a Dexter McCluster-type weapon for NFL teams.
On this play against Virginia, McCalebb receives a quick screen and marches into the end zone for six.
The catch is certainly not a difficult one, and he'll likely need to haul in much more challenging opportunities at the next level. But he at least has college experience turning short passes into big gains.
This video shows more of McCalebb's still-maturing skill set receiving the football.
On a very difficult third-down situation on the road at LSU, McCalebb catches another short pass and turns the play into a first down and more.
The way Auburn used McCalebb could be a blueprint for his usage at the NFL level. Finding creative ways to get him into space will be imperative.
While McCalebb's transformation into a more advanced receiving role is likely at the next level, there's no doubt that his returning skills should immediately translate.
On this second-half kickoff against Mississippi State, McCalebb produces one of the best touchdown returns of the 2012 college season.
Exploding through a small crease in the coverage, McCalebb bounces off a tackle and then turns on the jets. No player wearing Mississippi State colors has the speed to catch him.
We'll end the highlight package with one more receiving touchdown.
In the third quarter of a 2011 contest with Florida Atlantic, McCalebb once again catches a short pass in the flat. Cutting through defenders and using his great open-field speed, McCalebb ends the play in the end zone.
His ability to run routes and make catches in traffic were rarely tested at Auburn. For him to be a McCluster type, those attributes will needed to be improved on.
However, the NFL team that takes a chance on McCalebb can take these highlights and develop a very simple package: Get the former Auburn star the football in space, and then let him do his thing—whether it's on a kick, run or reception.