Texas A&M Spring Game 2013: Maroon and White Game Team Analysis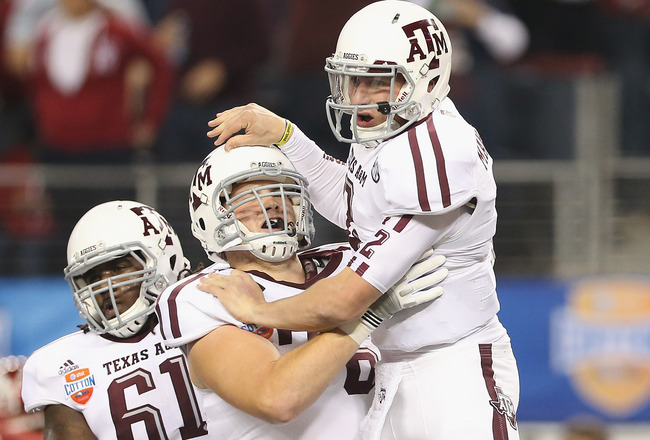 Ronald Martinez/Getty Images
Texas A&M will hold its highly anticipated spring game on April 13 on Kyle Field in front of an expected packed house. After such a successful season in year one in the SEC and the hype continuing to build, this spring game is another chance for the Aggies to show that they are a program that should be respected nationally.
Guys will hit the field with a chance to prove themselves in front of the Aggies fanbase, and the coaching staff will be watching things closely. After all, this is the final chance for players to make an impact before fall camp rolls around.
What should you expect from the game? Are there any players you should keep an eye on when things finally get started?
Here is everything you need to know about the 2013 Maroon and White spring game.
When and Where to Watch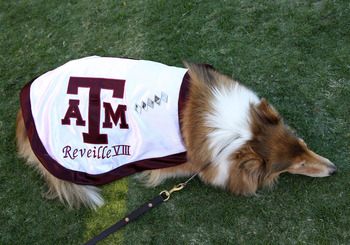 Mike Zarrilli/Getty Images
When: Saturday, April 13 at 2 p.m. CT
Where: Kyle Field, College Station, Texas
Watch: ESPN
Listen: 12thMan.TV
Key Offensive Position Battles to Watch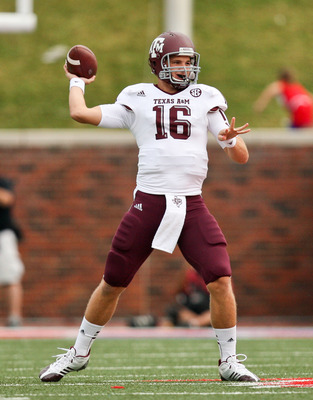 Thomas Campbell-USA TODAY Sports
We know Johnny Manziel is the starting quarterback, and that isn't going to change unless he falls down a mysterious sinkhole.
But what about the backup spot?
Jameill Showers left the program, which means it is now a two-man battle between redshirt freshman Matt Davis and redshirt sophomore Matt Joeckel. Neither has much experience playing on the field, and they both present different skill sets. It is going to be interesting to see who stands out, as both should see the field quite often due to Manziel already establishing himself.
With other positions pretty much set across the board, it will also be worth keeping a close eye on offensive lineman Jake Matthews. Expected to move from the right tackle position and replace Luke Joeckel at the left side, this is his first real chance to show the fanbase that he can handle the transition and hold down the most important position on the line.
Key Defensive Position Battles to Watch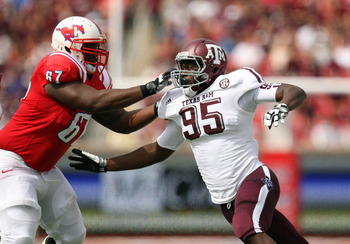 Thomas Campbell-USA TODAY Sports
There isn't one key position battle on defense that pops out, as nearly the entire defensive front needs to be replaced. With only two starters from the defensive front seven returning from a year ago, Aggies fans must pay attention to the entire defense. After all, nearly everybody that plays defense is fighting for a starting spot this offseason.
Freshman Tommy Sanders and Donnie Baggs will be two faces to keep an eye on at linebacker, as they are the front-runners to replace both Jonathan Stewart and Sean Porter. As for the defensive line, guys such as Julien Obioha and Tyrell Taylor will be expected to take on significant roles. It will also be interesting to see how Nate Askew handles his role at linebacker after playing receiver earlier in his career.
With the Texas A&M defense missing so many pieces and having to play numerous new faces, almost this entire unit is up for grabs. Try your best to keep your eye on everybody once the game kicks off.
Early Enrollees to Watch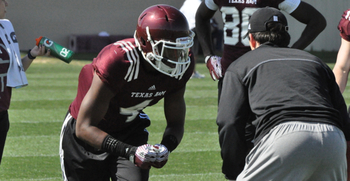 Credit: 247Sports
There is nobody that you should want to see more than wide receiver JaQuay Williams. With great size at 6'4" and terrific hands, Williams has the ability to be a full-time starter immediately. He should be given every opportunity to make big plays during the spring game, and you better believe he will have one of those "wow" moments at some point during the event.
While I already mentioned Tommy Sanders in the last slide, tight end Cameron Clear is another early enrollee who has impressed throughout the spring. Clear moves more like a wide receiver than a tight end, and with his frame at 6'6", he is a matchup nightmare for opposing defenses.
He will amaze you with his great hands and should get the entire fanbase excited knowing that there is yet another weapon for Manziel to throw to this season.
Predictions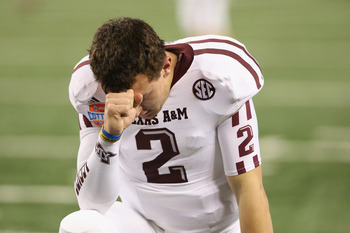 Ronald Martinez/Getty Images
Usually, I would say that you shouldn't expect much from the spring game. Head coach Kevin Sumlin has been around for a while and knows that he should save much of the tricks he has up his sleeve for when it counts.
However, this is the first time in program history where the spring game is being televised for the entire country to see.
With such a big moment and the momentum continuing to build around the program, there is likely going to be some offensive explosions. Johnny Manziel shouldn't play much because he is Manziel, but there is likely to be a lot of scoring, especially with the defense still trying to figure things out.
This spring game is another big step towards Texas A&M becoming an elite college football powerhouse, and I'm sure that the coaching staff and the players will all take advantage of it.
Keep Reading

Texas A&M Football: Like this team?