Next Year's Version of Every High-Profile NBA Rookie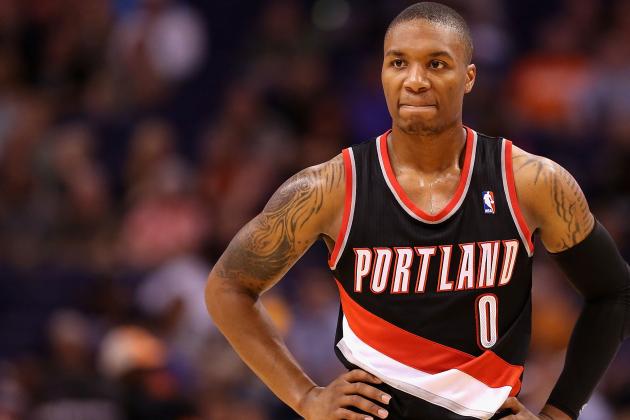 Christian Petersen/Getty Images

When analyzing next year's version of every high-profile rookie, we aren't necessarily comparing them as players.
Many of our comparisons are prospects with completely different skill sets.
These comparisons are made based on the situations they were in, and are in today. Some of them jumped up draft boards by drinking the same Kool Aid. Others fell off by making the same mistakes.
Many of these duos will face similar challenges as NBA players, yet also have similar outlooks.
Begin Slideshow

»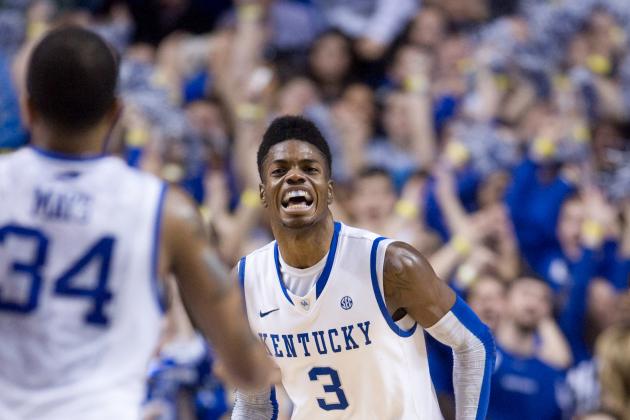 Mark Zerof-USA TODAY Sports

Both Anthony Davis and Nerlens Noel have powered their draft stocks through rim protection.
As a freshman, Davis led the country in shot-blocking.
So did Noel.
Davis eventually went No. 1 overall, while Noel is currently in the conversation to do the same in 2013.
Both Kentucky big men have established themselves as potential centerpieces of an NBA franchise. They may not project as comparable players at the next level, with Davis' ability to play on the perimeter and Noel's offensive limitations. But both have traveled the same path while applying the same defensive formula.
Plus, they're both really, really long.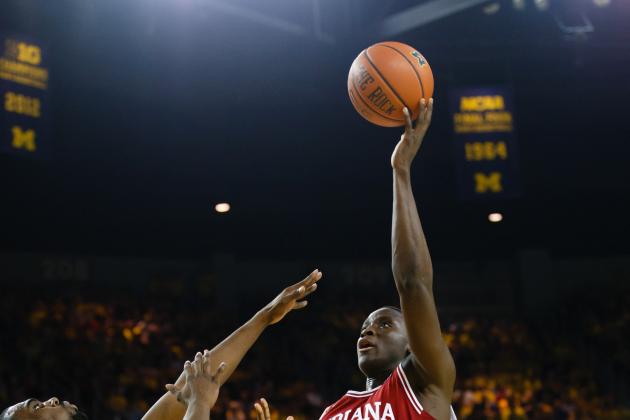 Rick Osentoski-USA TODAY Sports

Michael Kidd-Gilchrist and Victor Oladipo both captivated America with their motors and athleticism.
These guys actually have eerily similar games and outlooks if you can ignore the two-inch difference.
Neither is that skilled offensively, but both thrive as lock-down defenders. They're relentless, making it seem as if there's two of each of them on the court simultaneously.
Offensively, their games are predicated on attacking the rim and scoring off the ball. These aren't wings you give the rock to and watch them go to work. Kidd-Gilchrist and Oladipo get their offense by slashing, cutting, tip-ins, alley-oops and transition opportunities.
Because of his likability and excellent risk-to-reward ratio, Kidd-Gilchrist shot up draft boards before going No. 2 overall. Oladipo is in position to do the same, or at least enter the top-five conversation in 2013.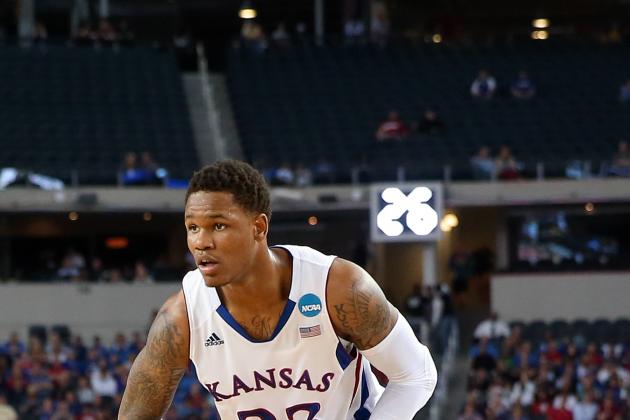 Kevin Jairaj-USA TODAY Sports

Believe it or not, Bradley Beal and Ben McLemore actually played on the same AAU team in high school.
Beal went No. 3 overall in 2012 after flashing his potential as an athlete and shooter. Typically, the best athletes are the worst shooters, and the top shooters are the worst athletes. But the combination of both helped catapult Beal up the draft boards the way it has Ben McLemore.
Many, myself included, project McLemore as a top-three pick in this year's draft. Like Beal, he's got the most potent combination of athleticism and long-range accuracy, and it's earned him can't-miss status as an NBA prospect.
These are two starting shooting guards at the pro level.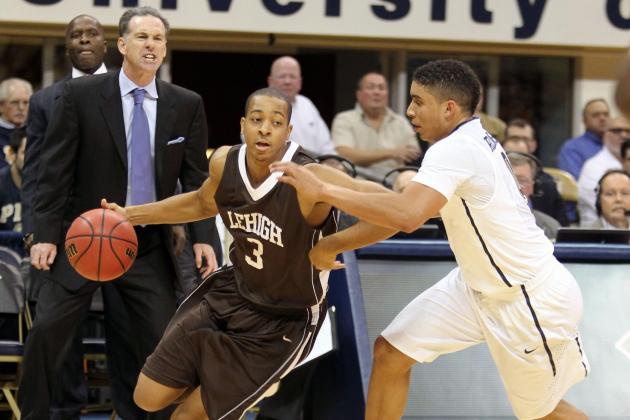 Charles LeClaire-USA TODAY Sports

As a senior, Damian Lillard finished second in the country in scoring despite playing against inferior mid-major competition.
Before breaking his foot in January, C.J. McCollum was also second in the country in scoring, playing the same role for Lehigh that Lillard played for Weber State.
These are elite scoring guards who can handle the ball, and though their first instinct is to shoot, their maturity as players and high basketball IQ allow them to effectively run the point.
At this stage last year, Lillard was exactly where McCollum is now—in that lottery conversation without any true solidification.
But Lillard's stock got a huge boost during workouts. He wowed Portland in an individual setting, which ultimately led to the Blazers ignoring the mid-major question marks and taking him No. 6.
McCollum is a strong candidate to do the same once the pre-draft festivities get underway.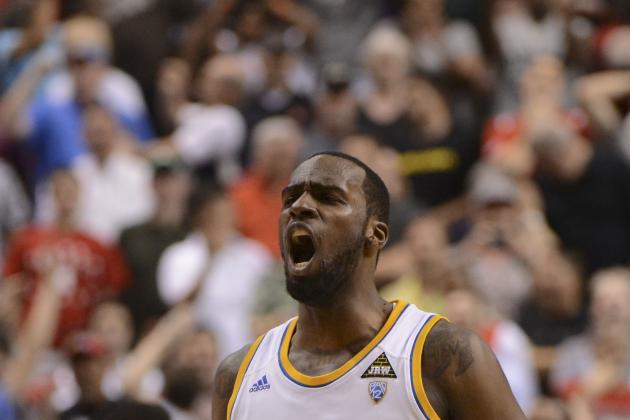 Kyle Terada-USA TODAY Sports

Austin Rivers and Shabazz Muhammad both entered their freshman years considered the most talented scorers in the class.
But Rivers turned scouts off with his one-on-one style and inability to play without the ball in his hands. Despite his credentials as a consensus top-three recruit, Rivers slipped toward the bottom of the lottery and ultimately landed with the Hornets at No. 10.
Muhammad hasn't gained many fans or followers either after his freshman year at UCLA. He's been referred to as selfish with a shoot-first, shoot-second approach, after he averaged less than one assist per game.
You can see the offensive talent with both Rivers and Muhammad, but not the way in which it will translate.
Muhammad's draft stock has slipped, and it wouldn't be a surprise if he heard nine names called before his on draft night.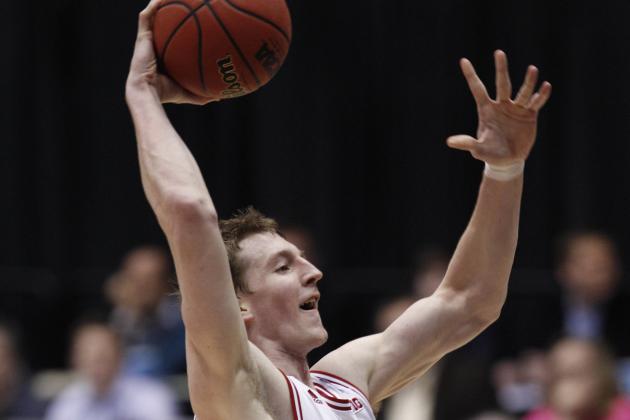 Frank Victores-USA TODAY Sports

Harrison Barnes and Cody Zeller both returned for their sophomore years after enduring the same exact criticisms.
There wasn't anyone who questioned Barnes' skills. And on paper, everything checks out. A 6'8'' wing with NBA athleticism, Barnes was sharp in the mid-range, lethal from downtown and explosive finishing at the rim.
But he could never put it all together. We saw him struggle under pressure and disappear throughout stretches of games.
He eventually went No. 7 overall in 2012 after being considered a candidate to go No. 1 earlier in the season.
Cody Zeller's talent is undeniable. And like Barnes, he fits the bill as a surefire NBA contributor. He's got the physical tools as a 7'0'' athlete and the skill set to go with it.
But Zeller's toughness has many wondering if his talent can translate. He's easily taken out of his comfort zone once the defense gets a little physical, and it's hurt his NBA draft stock.
Chances are that Zeller won't fall too far down the board because of his long-term potential, but the top three sounds out of the question.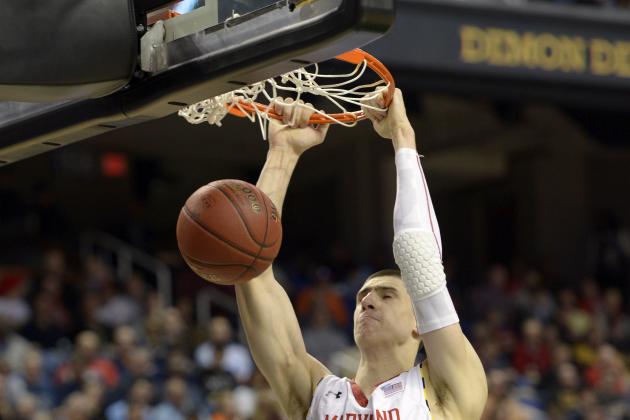 John David Mercer-USA TODAY Spor

Andre Drummond and Alex Len both flashed their huge potential in limited doses. This potential stems from their elite physical tools for the NBA interior; however, neither of them dominated consistently at the college level.
Despite his upside, Drummond slipped to No. 9 in the 2012 draft after some questioned his killer instinct and basketball skill set.
Coincidentally, Len gets grilled for the same issue. Despite his 7'1'' size, ridiculous wingspan and fluid athleticism, Len would end up going five-minute stretches without ever seeing a touch.
Some games he'd finish with a couple of dunks that come off dump-offs, but Len rarely fought for position and called for the ball.
Every so often both Len and Drummond would tap into their physical tools and use them to their advantage.
But not often enough.
Drummond was considered a potential No. 1 overall pick before he slipped toward the back of the lottery. And after putting up 23 and 12 on Nerlens Noel on opening night, Len's hopes of going No. 1 also faded down the stretch.
Like Drummond, Len is now projected to go in that No. 8 to No. 11 range.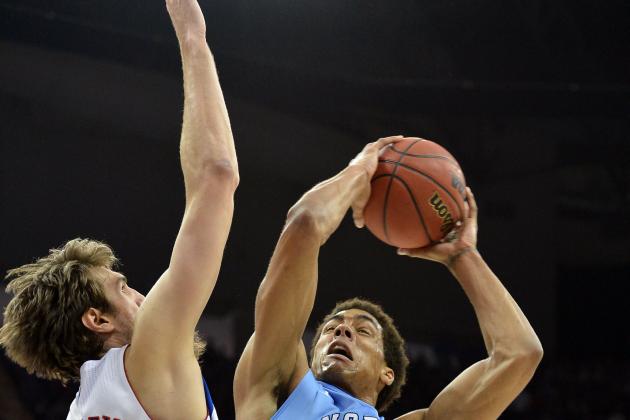 Peter G. Aiken-USA TODAY Sports

The strategy of returning as sophomores to improve their NBA draft stocks backfired for both James Michael McAdoo and Jared Sullinger.
Sullinger would have been a lottery pick had he chose to declare after his freshman season. Maybe not a top-five guy, but Sullinger seemed destined for that No. 6 to No. 14 range.
But as a sophomore, instead of showing scouts where he's improved, Sullinger got exposed. His scoring average remained the same while his rebounding rate fell off. It also didn't help that he was red flagged for back issues just days before the draft.
Sullinger ultimately slipped to No. 21 in 2012.
After flashing his upside as a freshman, McAdoo decided to return as a sophomore to help solidify his status as an elite NBA prospect. But it just didn't work out that way.
McAdoo's raw offensive game and questionable decision-making were exposed after Roy Williams gave him added responsibilities. Now, many question whether McAdoo is even worth a first-round pick.
If he chooses to declare in 2013, he'll be doing so with his stock on the decline. Sullinger tried it a year ago and lost millions of dollars in the process.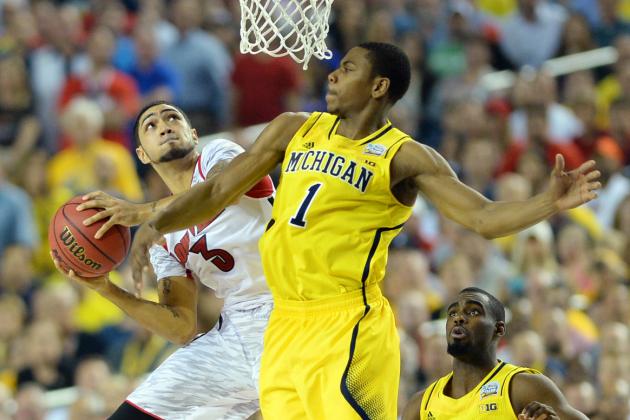 Robert Deutsch-USA TODAY Sports

Dion Waiters and Glenn Robinson III have both been considered top-shelf NBA prospects without much evidence to prove it.
The Cleveland Cavaliers took Dion Waiters No. 4 overall because of his ability to score the ball. However, in two years at Syracuse, Waiters only recorded 20 points or more three different times!
He flashed his upside on isolated plays. Waiters' stats had no impact on his NBA draft stock, and that's likely to be the case for Glenn Robinson III.
Behind Trey Burke, Tim Hardaway Jr. and Nick Stauskas, Robinson was fourth in Michigan's offensive pecking order. He scored at least 20 points in only five games this year, averaging a measly 7.5 shot attempts per game.
Robinson is considered a lottery prospect because of his long-term potential that he flashes two or three times per game.