Lorenzo Fertitta on Matt Mitrione's Suspension over Fallon Fox Comments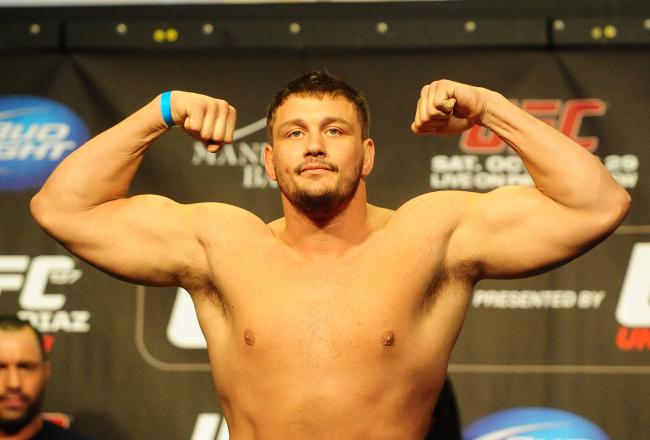 Mark J. Rebilas-USA TODAY Sports
The UFC's chief executive Lorenzo Fertitta has weighed in on the saga of heavyweight Matt Mitrione, who was suspended from the promotion on Tuesday after calling transgender athlete Fallon Fox a "lying, sick, sociopathic, disgusting freak."
In comments made to Yahoo! Sports, Fertitta said that Mitrione's comments warranted "review."
Fox has been a controversial figure in MMA after she began fighting in the sport last year. So far she has fought, and won, twice, after Idaho and Florida licensed her to fight other women in MMA events.
However, Fox, until 2006, was both hormonally and legally a man until he underwent gender reassignment surgery in Thailand. In a sport like MMA, where two fighters can do serious damage to each other, Fox's intention to fight as a woman has caused serious controversy.
On Monday's MMA Hour podcast, Mitrione vented his own feelings on the issue.
"He's chromosomally a man," Mitrione said, (h/t LA Times). "He had a gender change, not a sex change. He's still a man. He was a man for 31 years. Thirty-one years. That's a couple years younger than I am. He's a man. Six years of taking performance de-hancing drugs, you think is going to change all that? That's ridiculous."
The heavyweight, who is coming off a win against Phil De Fries, was swiftly reprimanded by the UFC, who handed him a suspension. In a statement the promotion said:
The organization finds Mr. Mitrione's comments offensive and wholly unacceptable and - as a direct result of this significant breach of the UFC's code of conduct - Mr. Mitrione's UFC contract has been suspended and the incident is being investigated. The UFC is a friend and ally of the LGBT community, and expects and requires all 450 of its athletes to treat others with dignity and respect.
This was a strongly worded statement from the UFC, a promotion that has often had a tense relationship with the LGBT community. Back in 2009, the organisation's president, Dana White, made a public apology for repeatedly using the word "faggot" to slur a female reporter.
Is the UFC's reaction consistent over Mitrione's Fallon Fox slur?
Since then, the UFC has been eager to mend its relationship with lesbian, gay, bisexual and transgendered people. For example, White has recently said that he wanted to see gay fighters in the UFC come out.
But the condemnations from both White and Fertitta of Mitrione's comments, compared to the UFC's official lawyer-crafted statement, are clearly muted.
When questioned, White failed to condemn Mitrione and instead said the whole situation is "just a pain the ass" and that there was no point in the heavyweight doing that interview.
Fertitta has also failed to condemn Mitrione outright, telling Yahoo! Sports that the fighter was entitled to his views.
"Whatever your thoughts are on the whole transgender issue, I've listened to [Mitrione's comments on MMA Hour] and in my opinion, it came off as a bit mean-spirited, and is something I think warranted review," said Fertitta. "Obviously, this is not the easiest issue and a lot of people are questioning both sides of this thing. A fair debate and discussion of the issue should be allowed... But when you call her disgusting, and Buffalo Bill, that's another matter. It warrants review. I think it's the same thing the NFL would look at and the same thing that any professional organization that is at the level we're at would at least take a look at."
What that "review" means in practice isn't likely to amount to much. Mitrione only fought a week ago and is unlikely to step back in the cage for several months. With both Fertitta and White failing to acknowledge the abusive tone and vicious language used by Mitrione, the "suspension" could be nothing more than a PR exercise over a controversy the promotion hopes will soon blow over.
This article is
What is the duplicate article?
Why is this article offensive?
Where is this article plagiarized from?
Why is this article poorly edited?