10 Penalty Misses Worse Than Emmanuel Adebayor's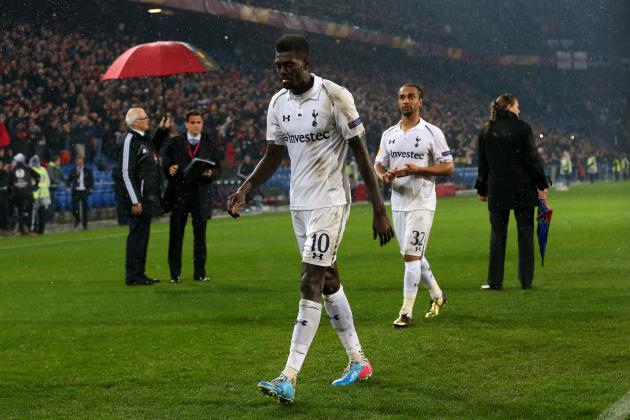 Julian Finney/Getty Images
Emmanuel Adeabyor
For those Tottenham fans who made it back from Switzerland clutching little more than a Toblerone, there's little else to do but smile about Emmanuel Adebayor's woeful penalty miss.
The Togolese "striker" screwed his spot-kick high and wide to help dump Tottenham out of the Europa League, and since his effort crashed into the fence behind the Basel goal, it was given the full treatment on the Internet.
I'm going to save Spurs fans the misery of seeing Adebayor's aberration again, and instead I've come up with 10 more penalties that went horribly wrong.
When finding these shots, I was astounded by the fuss some it takes to put a ball into a net from 12 yards away with just a goalkeeper to beat.
There were all sorts of chips, dinks, blasts, shimmies, slips, trips, falls and fails, so I've dug out 10 of the best for a bit of lighthearted Friday banter.
Let me know what you think of these and feel free to post any of your own that are worthy of consideration.
Begin Slideshow

»
Ironically, in a set of full-size goals, Diana Ross's infamous spot-kick attempt at the opening ceremony of the 1994 World Cup may have gone in.
Ross did what all good penalty takers should do. She kept it low and hard and aimed for the corner.
Perhaps the 69-year-old soul diva could spare a trip to the Spurs training complex to pass on her technical tips to Adebayor?
Loads of players have tried and failed to perfect the "Panenka" chip, but have any just clipped it into the hands of Telly Savalas?
The lollipop-sucking Kojak star appears to have made a career for himself in football after leaving acting, and his steely glare puts the usually cool Francesco Totti out of sync in a Serie A match between Roma and Lecce.
Who loves ya baby? Not Totti.
To be honest, this slot could have been filled by John Terry, Wayne Rooney, David Beckham (twice) or plenty of others who have slipped and fallen on their derriere at the point of contact.
What is it with players losing their footing when striking crucial penalties?
Mehmet Aurelio's is the worst attempt I could find, and of course he follows it up with the obligatory checking of the studs and a disparaging look toward the offending bit of grass.
I'm not sure whether I'd be more or less relieved if my saved spot-kick was then rifled home by an onrushing defender to show me the right way to finish.
After FC Fehervar's keeper stops a Debrecen penalty, Fehervar defender Pavol Durica comes bounding in to rescue the rebound but only succeeds in producing an unbelievable strike into the top corner.
What makes it all the better—or worse for Durica, his friends, family and teammates—is that this masterpiece was the winning goal in the last minute of a Hungarian Cup quarterfinal.
Emmanuel Adebayor, are you watching? Now this is how to screw a penalty horrendously high.
The collection of spot-kicks blazed over runs long and deep, but I don't think I've ever seen one clear the target by this distance.
If you look at his approach, it's almost like he's trying to do what he did, and if you listen to the foreign commentary, you can just about make out the words "American football" in the aftermath.
Take a bow, Jonathan Soriano.
I don't know who this bloke is, but I'm desperate to find out.
If any of you lot can ascertain this man's identity, then please let me know and Bleacher Report will reward your efforts with a free air guitar (postage and packaging excluded).
I have absolutely no sympathy for this character—or for anyone else who tries to be clever when taking a penalty.
He slips, trips, barely makes contact and then falls flat on his face for good measure.
Oh, and he got booked for some reason. Serves him right.
Again, I'm not sure who the offender is here, and it's probably for the best that his identity remains a mystery.
If you're playing on a waterlogged pitch, and the ball is struggling to roll through the puddles, you do not try to stroke your penalty casually into the bottom corner—it will not get there.
Just blast it!
There have been plenty of worse penalty attempts than this one, but Roberto Baggio gains a place in our "Hall of Shame" for the significance of his epic fail.
His skied effort handed the World Cup to Brazil, and his mood cannot have been lifted by every member of the opposition celebrating around him whilst he looked into the distance for the ball.
At the time, Baggio was the World Player of the Year and had carried Italy's hopes throughout the 1994 World Cup, but when they needed him, the Divine Ponytail bottled it big time.
This is a terrible, terrible penalty from Pat Nevin of Chelsea against Manchester City.
I came across a few tame back passes like this one, but there was something about Barry Davies' immortal commentary that makes Nevin's effort worse than the rest.
Take it away, Mr. Davies:
Everything has gone well for Chelsea this evening, I wonder if the penalty will...Nevin!...oh dear, oh dear, I don't believe it. I hope I'm not being too unkind to Pat Nevin...but that has to be the worst penalty I've ever seen.
Not many words needed here, but feel free to insert your own. An absolute classic from Peter Devine, which—unfortunately for him—will be the penalty for all bad penalties to be judged upon.