Cordarrelle Patterson: 5 Things You Need to Know About the Tennessee WR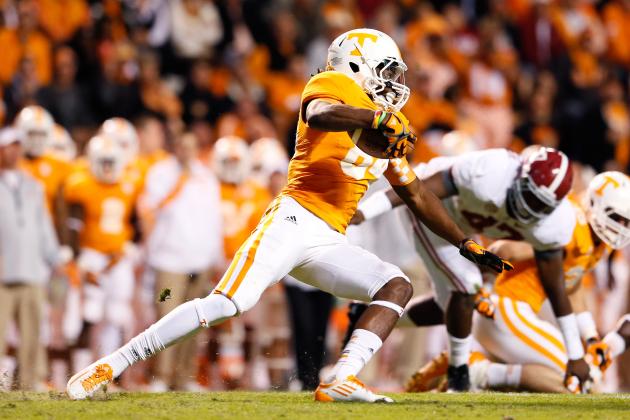 Kevin C. Cox/Getty Images

Cordarrelle Patterson hit the NAS button when draft season began.
Once considered a mid-round prospect, Patterson saw his draft stock skyrocket as draftniks and evaluators put the magnifying glass on his tape.
Indeed, Patterson is one of the draft's most dynamic players, but recent concerns about polish and intelligence have put a drag on his draft potential.
Will he be taken in the first round? Before we get to that, though, here are five things you need to know about Cordarrelle Patterson.
Combine results courtesy of NFL.com. Pro day results courtesy of Walter Football. College stats courtesy of sports-reference.com.
Begin Slideshow

»
Full Name: Cordarrelle Patterson
Birthday: March 17, 1991
Hometown: Rock Hill, South Carolina
School: Tennessee
Year: 2012 (Junior)
Twitter: @ceeflashpee84
Patterson makes his way to the NFL by circuitous route.
The talented receiver didn't even play football right out of high school until landing at Hutchinson Community College. He was there for two years before transferring to Tennessee.
Watching Cordarrelle Patterson film is like chugging an energy drink.
The former Volunteer is not unlike a 6'2" version of Percy Harvin. He might not be as well-versed in offensive concepts and route-running, but he can put up stats quickly. And his return skills are a big bonus.
You will note he spent the first two years of his career at junior college before spending just one season at the FBS level, a fact that is not lost on NFL executives and scouts.
Offense
Receiving
Rushing
Year
School
Rec
Yds
Avg
TD
Att
Yds
Avg
TD
2010
Hutchinson CC
52
908
17.5
9
7
19
2.7
0
2011
Hutchinson CC
61
924
15.1
15
32
379
11.8
6
2012
Tennessee
46
778
16.9
5
25
308
12.3
3
Total
159
2610
16.4
29
64
706
11.0
9
Special Teams
Kick
Punt
Year
School
Ret
Yds
Avg
TD
Ret
Yds
Avg
TD
2010
Hutchinson CC
--
398
--
--
--
247
--
3 (tot)
2011
Hutchinson CC
--
482
--
--
--
482
--
3 (tot)
2012
Tennessee
24
671
28
1
4
101
25.3
1
Total
--
1551
--
--
--
830
--
7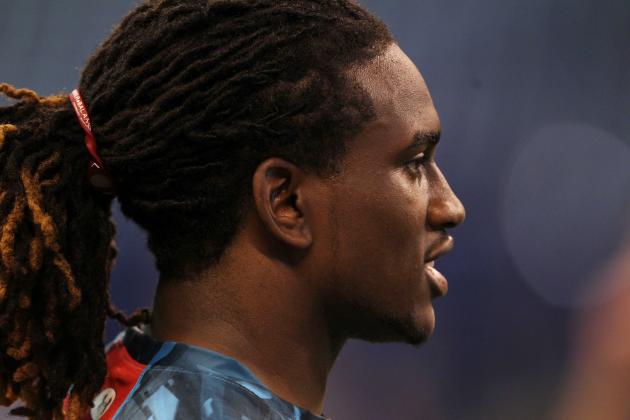 Brian Spurlock-USA TODAY Sports

Measurables
Height: 6'2"
Weight: 216 lbs.
Arm Length: 31.75"
Hand Size: 9"
Combine Results
40-yard dash: 4.42 seconds
Broad jump: 128.0 inches
Vertical jump: 37.0 inches (top performer)
As noted earlier, Patterson quickly rose the ranks to the top of the wide receiver heap, at least for a while. He maintained altitude at the combine, performing well in the events he participated in.
There are some knocks to be made about his measurables. For starters, Patterson measured in smaller than he was listed—just shy of 6'2" when he was listed at 6'3" in college. He also has shorter-than-ideal arms, and his hand size could be a reason why he consistently catches with his body.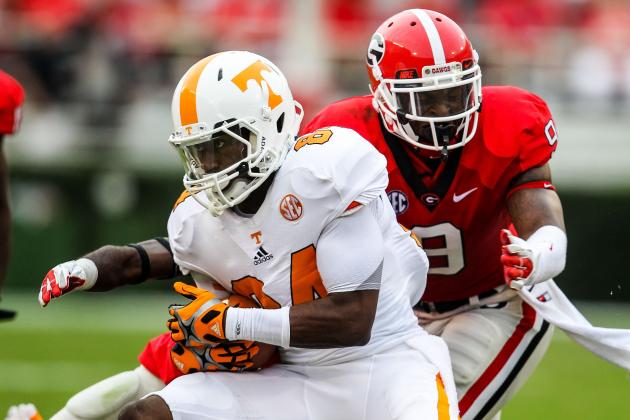 Daniel Shirey-USA TODAY Sports

The biggest reason why Patterson isn't the consensus top receiver right now is his relative lack of experience.
Patterson didn't even play football his first year out of high school, attending North Carolina Tech in 2009 before transferring to JUCO at Hutchinson CC.
He landed with Tennessee after two productive seasons in JUCO, and got his real shot when Da'Rick Rogers was dismissed from the Volunteers prior to the 2012 season.
Patterson has thrived when given the chance, but his one season of FBS experience is hurting his draft stock, at least in the public eye.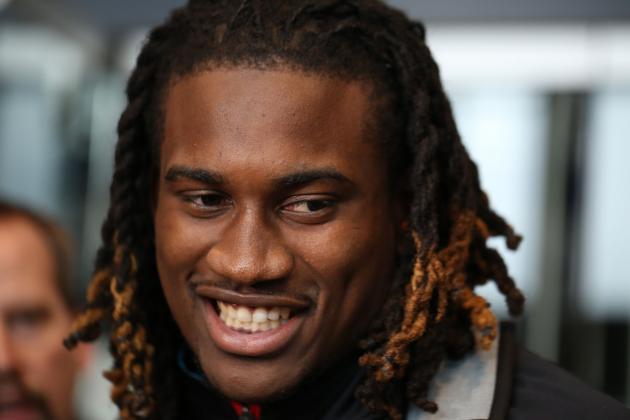 Brian Spurlock-USA TODAY Sports

Cordarrelle Patterson's spot atop the wide receiving heap among the masses has been usurped by Tavon Austin. Has Twitter crowned a new king?
Cordarrelle Patterson to me is Percy Harvin in Torrey Smith's body with Greg Little's hands and understanding of playing WR

— Ian Kenyon (@IanKenyonNFL) April 11, 2013
According to league source, Cordarrelle Patterson may fall out of the 1st.Eric Reid's stock is on the rise and could go round 1

— Lance Zierlein (@LanceZierlein) April 10, 2013
Filed a final Cordarrelle Patterson comparison video tonight. Top 7 player. Julio Jones ceiling.

— Matt Miller (@nfldraftscout) February 14, 2013
David Amerson on Cordarrelle Patterson: "He's definitely worth the hype."
— Will Brinson (@WillBrinson) February 24, 2013
Most interesting SEC player is Cordarrelle Patterson of Tennessee. Very raw but does amazing things with ball in his hands. 1st?

— Tony Barnhart (@MrCFB) April 25, 2013