NBA's 10 Biggest Flops from the 2012-13 Regular Season
Ezra Shaw/Getty Images
This NBA season has been, in one word, spectacular. In the year that has seen the resurgence of the Knicks, one of the most wide-open Western Conferences we've seen a long time and, of course, the dominance of LeBron James, the NBA is at the peak of the sports mountain.
But with all the success the NBA has had this year, there have been some pretty big disappointments. Yes, the Los Angeles Lakers are the front-runners in that category, but here a few more players and teams that have been the boil on the face of the National Basketball Association this 2012-13 season.
Derrick Rose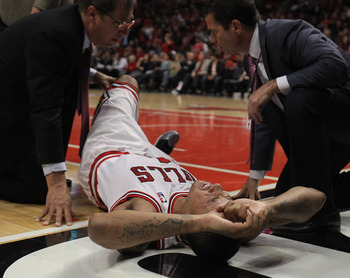 Jonathan Daniel/Getty Images
The Chicago Bulls, in spite of the absence of their captain and MVP-winning point guard, have had a pretty good year to say the least.
After losing Derrick Rose to a torn ACL at the beginning of last year's playoffs, not too many people thought they could contend without their leader. With gritty defense and physical play, the Bulls are not only going to the playoffs, but they can contend with the East-favorite Miami Heat.
So as the playoffs inch closer, the question is, where is Derrick Rose?
Rose was cleared by doctors for full-court scrimmages back in February, so it's not like he's still injured. As he continues to practice before games, fans still are wondering if he'll come back this season.
If Rose comes back now, the chemistry could be broken within the team. Without having to rely on Rose's scoring ability, the team uses great ball movement (seventh in the league with 22.9 assists per game) to score buckets.
The former MVP has taken too long to come back. Either he leaves fans still waiting for his comeback or he'll ruin the chemistry on a physical, rugged Chicago Bulls team.
Amar'e Stoudemire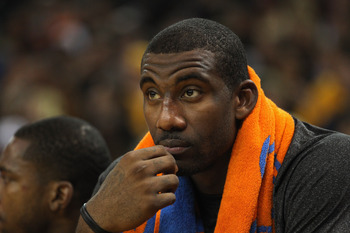 Ezra Shaw/Getty Images
The New York Knicks' $100 million man continues to be injury-prone while costing his team a pretty good chunk of change while he rehabs on a daily basis.
The Knicks started off hot this year, convincingly beating the Miami Heat twice while taking the top spot in the East. After going 21-9 in the first two months of games, Stoudemire returned on the first day of 2013.
In the 29 games Amar'e played after that, the Knicks saw their record get closer and closer to the sub-.500 level. With Stoudemire averaging 14.5 points and five rebounds off the bench, the Knicks didn't seem to click with him in the lineup.
The former All-Star injured his knees early last March, and the Knicks eventually rolled off a 13-game win streak without him.
Stoudemire hasn't fit in with this team since Carmelo came to New York. The Knicks have to some find some team that will take on his contract along with his degrading knees.
DeMarcus Cousins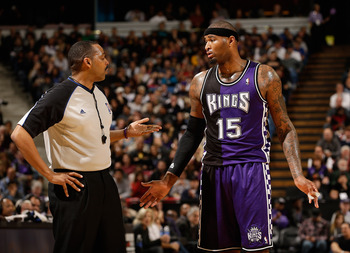 Ezra Shaw/Getty Images
Oh, DeMarcus Cousins, why do you have to be such a head case?
The young power forward for the Sacramento Kings has one of the biggest upsides in the NBA. At the same time, he also has one of the biggest tempers in the league as well.
Cousins has been suspended more times this year than I can count on one hand. As Kelly Dwyer said on Yahoo! Sports, Cousins just doesn't get it.
If he wants, the former Kentucky standout and fifth overall draft pick can be as dominant as Shaquille O'Neal was in the early parts of his career. His 6'11", 270-pound frame can score in the post and rebound with the best of them, as he averages 17 points and 9.8 rebounds per game.
It's just sad that one of the best talents in the NBA is so susceptible to a suspension.
Kris Humphries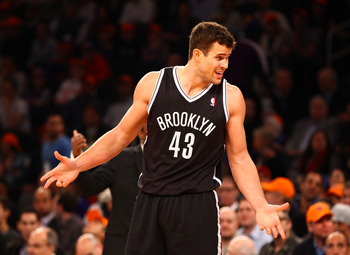 Al Bello/Getty Images
After averaging a double-double the past two seasons for the New Jersey/Brooklyn Nets, team officials felt it was a good idea to give improving power forward Kris Humphries a pay raise.
Big mistake.
After receiving a two-year, $24 million contract extension this offseason, Kim Kardashian's former husband was eventually benched when he started the season averaging 5.5 points and 5.6 rebounds.
Since then, Reggie Evans has brought tremendous rebounding (11.4 per game) and an energy to the Nets that they didn't have with Humphries on the court.
If he doesn't find some way to improve his play, Nets ownership won't hesitate to buy Humphries out to clear cap space.
Gerald Wallace
Scott Halleran/Getty Images
Like Kris Humphries, Gerald Wallace has digressed tremendously since seeing his salary increase.
The Nets have seen the former high-flying, hybrid small forward's numbers drop this season, averaging only 7.8 points and 4.7 rebounds per game, down from his career 13.1 points, 6.2 rebounding marks.
Wallace is supposed to make over $10 million the next three seasons. If he doesn't improve, the Nets are going to see another big paycheck sit on the bench.
Evan Turner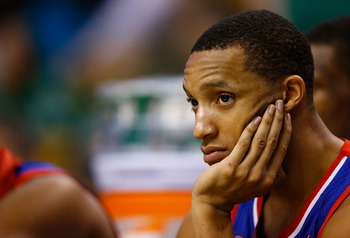 Jared Wickerham/Getty Images
I think Evan Turner has tremendous upside in the NBA. He simply does not fit with this Philadelphia 76ers team.
The NBA has seen Turner's numbers improve again this season, averaging over three points, one rebound and one assist higher than his previous numbers.
But while he continues to improve, there are inquiries on what to do with the former No. 2 overall pick. Does Philly trade him or keep him and see if he fits with this team and forms into the superstar we thought he would be?
The whole "give him time" to develop is done. 76ers ownership needs to decide what to do with their small forward.
Rudy Gay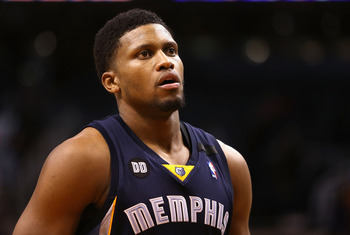 Christian Petersen/Getty Images
When the Memphis Grizzlies traded away Rudy Gay to the Toronto Raptors, the excuse was that it saved cost, as the Grizzlies got rid of Rudy Gay's extremely expensive contract.
But there's another reason Gay was traded: he simply was overrated from the beginning of his career at Memphis. The former Connecticut standout was taken by Memphis in 2006 for one reason: to be the predominant scorer that he was at UConn.
Gay never lived up to the scoring hype, only averaging over 20 points per game once in his career at Memphis. Before he was traded this season, Gay was averaging 17.2 points per game, his lowest output since his rookie season.
Although Gay has found his scoring touch at some points in Toronto, he still has yet to be anywhere near the scoring title in his NBA career.
Pau Gasol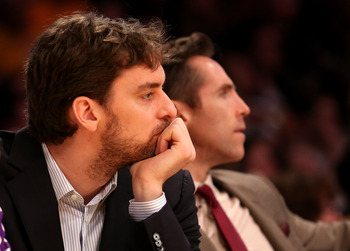 Stephen Dunn/Getty Images
I had to break down the pair of disappointments for the Lakers this season. The entire Laker team can't be called a flop. I mean, Kobe is pretty much putting the team on his back, so that's one positive.
The biggest problem for the Lakers is the chemistry inside. While Mike D'Antoni was worried about how Dwight Howard would do early in in the season, Pau Gasol fell to the wayside. He just never seemed to fit right with Dwight, which led to his eventual benching midway through the season.
Now dealing with a foot injury, Gasol has come in and out of the lineup this year, preventing him from getting into a rhythm. It shows, as his scoring average has dropped over four points per game this season, his worst drop off between seasons in his career.
Dwight Howard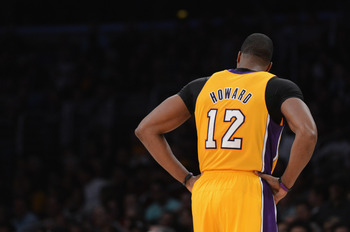 Harry How/Getty Images
The other problem in Los Angeles' frontcourt duo was considered the best center in the NBA in previous seasons. Dwight Howard and Andrew Bynum battled it out to see what big man reigned supreme for the top center.
With the acquisition of Howard and point guard Steve Nash last off season, many immediately put the Lakers in the championship conversation. Howard was supposed to add monstrous rebounding and post defense to go along with his highlight-reel dunking ability.
Instead, Laker Nation saw Howard struggle trying to regain his old form after back surgery brought his last season to an end. Although he had some bright moments in the first couple months, Howard was mostly unassertive and was abysmal from the free-throw line, creating the defensive tactic "Hack-a-Howard."
The former Defensive Player of the Year has often been held as the scapegoat for the Lakers, as the team that was thought to contend for a championship early on this season find themselves competing for the final playoff spot in the Western Conference.
Andrew Bynum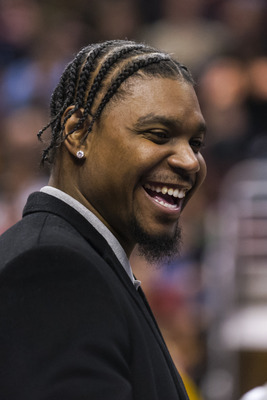 USA TODAY Sports
Hey, at least Dwight Howard played this season.
No matter how disappointing Howard has been, Andrew Bynum keeps injuring himself and prevents himself from playing.
With Howard, Bynum was considered the best center in the league last year. His offensive skill set was second to none. The only question was whether he could stay physically and mentally healthy.
That's the gamble the Philadelphia 76ers took when they traded for Bynum last offseason
After yet another knee surgery ended his season, who knows when Andrew Bynum will play in an NBA uniform, and who knows when the 76ers will get out of his massive contract.
Keep Reading