Tiger Woods at Masters 2013: Day 2 Score, Highlights and Updates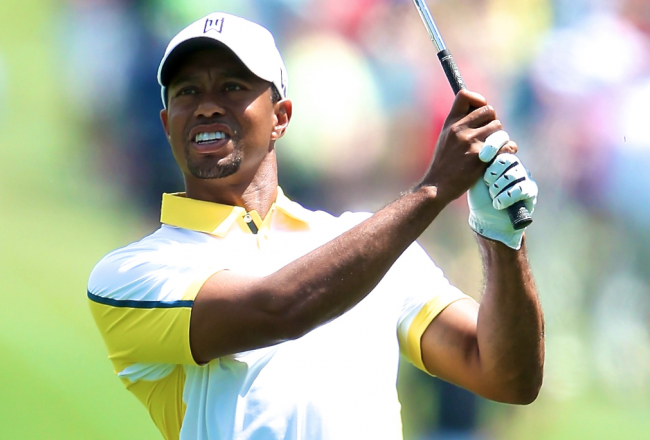 Tiger Woods was accurate off the tee and solid with the putter in the first round, and he continued those trends on the front nine today, making the turn in 33. His fine play brought him into a tie for the lead early on the back nine.
However, some sloppy play and a terrible break at the 15th hole, where his ball hit the flagstick and careened into the water, led to a 38 on the inward nine for a second-round score of 71.
His three-under total for the first two days leaves him three strokes behind leader Jason Day heading into Saturday's third round, where he will continue the pursuit of his fifth career green jacket and his first major victory since the 2008 U.S. Open.

Beginning his second round, Tiger parred his first four holes before making birdie at the fifth, followed by birdies at the seventh and eighth holes with putts he couldn't have expected to make.
After a string of pars, including several clutch par saves, Woods was -3 for the day and -5 for the tournament through 14 holes. He vaulted himself into a tie for the lead.
However, an unlucky break at the 15th hole when his third shot struck the flagstick and bounced into the water led to a bogey. Woods followed with an excellent par save at the par-three 16th after a poor tee shot that found the left bunker.
On the final hole, Tiger's approach shot ended up at the back of the green in a difficult position. He was unable to two-putt from the spot and tapped in for bogey at the last and a second-round score of -1 (71).
Woods will enter the third round at -3, a score he must he happy with in part. However, he'll lament the few loose shots, and he won't be thrilled about the bad break he caught at 15 or the fact that his approach shot on the 18th released all the way to the back of the green, leading to a three-putt.
All things considered, the first two rounds are marked improvements from last year, when he opened with scores of 72 and 75.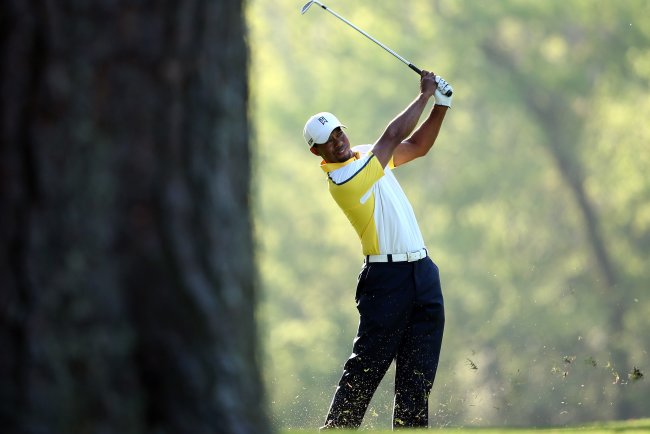 Andrew Redington/Getty Images
Yikes. Tiger still has 15 feet for par. He's in full-on grind mode to make the putt but ultimately doesn't have the line. It's a bogey for Woods at the last and a round of -1 (71).
Tiger has a tough two-putt at 18. If he makes it, he'll head into Saturday a shot behind Fred Couples and Marc Leishman and likely two behind Jason Day. Overall, this has been a quality round from Woods. It was a little messy through parts of the back nine.
However, when a bad break on the 15th could have derailed his round, Woods responded with an excellent shot and only lost a stroke. I said earlier he'd be happy with 70 or 71 today, and I assume he'll be pleased with both his round and his position on the leaderboard.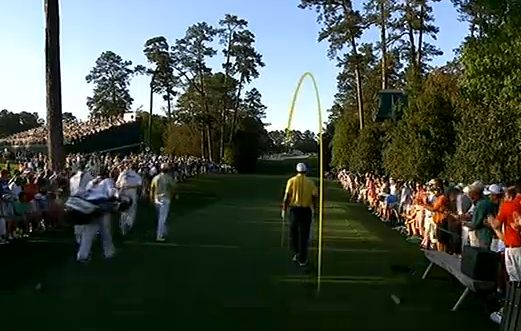 Tiger walks under the arc of the tracer on his tee shot on the 18th. As you can see, he likes it.
As golf writer Steve Elling points out, the pace of play hasn't exactly been brisk this afternoon.
For the love of Bobby Jones, Tiger's group has been out there 5:25 and they still have one hole to play.

— Steve Elling (@EllingYelling) April 12, 2013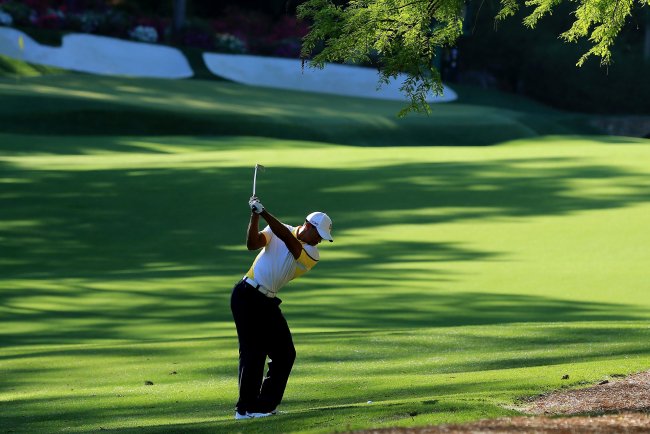 David Cannon/Getty Images
After a big tee shot down the left side of the fairway, Woods had to take the ball over some trees in front of him to reach the green.
He did well to find the putting surface with a turbocharged sand wedge. With two putts here, he'll head to the final hole -2 for his round today and -4 for the tournament.
Words of wisdom from Golf World's Dave Shedloski:
Tiger looks very ticked off right now. If he owes you money, today is not the day to ask for it. Just saying. #masters

— Dave Shedloski (@DaveShedloski) April 12, 2013
Another great par save for Tiger at the 16th to go with his effort at the 12th. It's a platitude at this point that making the putts he has to make has defined the better parts of Tiger's career.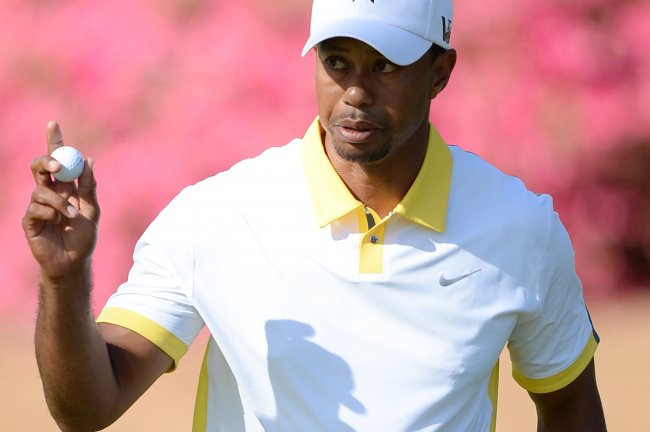 Harry How/Getty Images
Tiger's sand play will be tested on the 16th. His tee shot at the par-three found the front bunker. Given the quality of his play around the greens today, you have to expect him to be able to get up and down.
The bad break typifies the game of golf. The steely resolution typifies Tiger Woods. A fine bogey at 15 for Woods.
Incredible resolve. Tiger's fifth shot (after the drop) ends up three feet from the hole. Another huge moment in the tournament.
Couldn't have said it better than LPGA player Jane Park:
OH MY GOD?!???!!?????

— Jane Park (@TheJanePark) April 12, 2013
OH WOW! Tiger hits the pin and the ball bounces into the water! Absolutely horrible break.
Really, Tracker?
This just happened: UK scribe: "Does he still wear red on Sundays?" Um, yeah. This is why Tracker likes to walk w/ Tiger.

— GC Tiger Tracker (@GCTigerTracker) April 12, 2013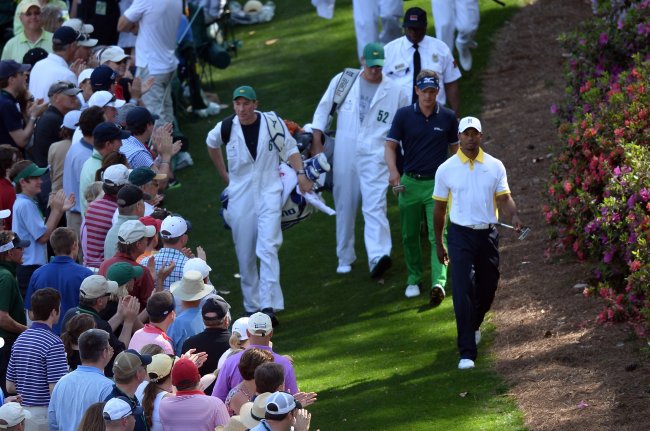 Harry How/Getty Images
Tiger misses the fairway off the tee at the par-five 15th. His ball finishes in the pine straw, and he'll likely not be able to go for the green in two. Tiger will happily take a par here and three more to finish the round. Entering the third round at -5 would be a great score.
Mr. Jenkins is spot on.
Those are two good par saves for Tiger, at 12 and 14. Like the old days.

— Dan Jenkins (@danjenkinsgd) April 12, 2013
Clutch with a capital "C." Tiger brushes in his par putt to remain at -5 for the tournament and stays bogey-free for the day. The world No. 1 has a superb round going today.
Again, Tiger will have a significant putt for par, as he did at the 12th. He needs to make it to stay tied with Fred Couples, Jason Day and Marc Leishman atop the leaderboard.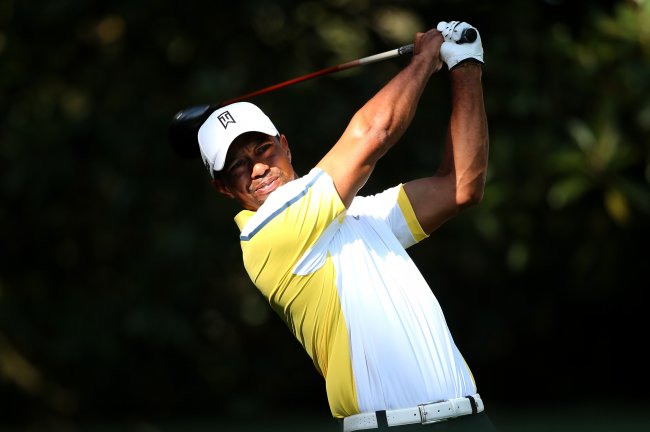 Andrew Redington/Getty Images
For as good as Tiger's been on the majority of his shots, he's had some trouble with distance control from the rough. In other words, the rough is doing its job.
Tiger hits something of a flyer from the rough. He overshoots the green downwind. He'll do well to get up and down.
Here's the news (some of) you have been longing for. More Lindsey Vonn updates from SI Golf:
Lindsey Vonn is following Tiger Woods today at Augusta ... [David J. Phillip/AP] ... twitter.com/si_golf/status…

— Golf.com (@si_golf) April 12, 2013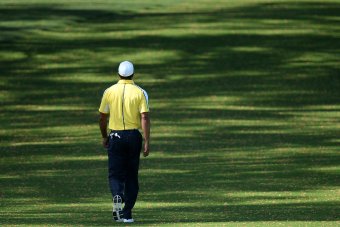 Harry How/Getty Images
After laying up, Tiger doesn't get the result he was looking for with his short approach shot. Not a mistake, but certainly a below-average shot. He two-putts for par. He would have preferred to take advantage of the hole and pin location, but given the putts he's had fall today, he won't complain.
A little context, assuming Tiger maintains his current position:
@tigerwoods has converted his last two 36-hole leads, both coming this season at the Farmers Insurance Open and WGC-Cadillac Championship.

— PGA TOUR Media (@PGATOURmedia) April 12, 2013
Yes, yes it is, Tiger Tracker.
Tiger's drive at 13 is a little right, but fine. Will have decision to make here. To go or not to go? #thatisthequestion

— GC Tiger Tracker (@GCTigerTracker) April 12, 2013
...and he cans it. Brilliant stuff. It's impossible to understate the magnitude of that putt. It was one of those putts that Tiger Woods makes when he's playing like Tiger Woods.
This article is
What is the duplicate article?
Why is this article offensive?
Where is this article plagiarized from?
Why is this article poorly edited?