Texas Rangers: Grading Each Position Player After 10 Games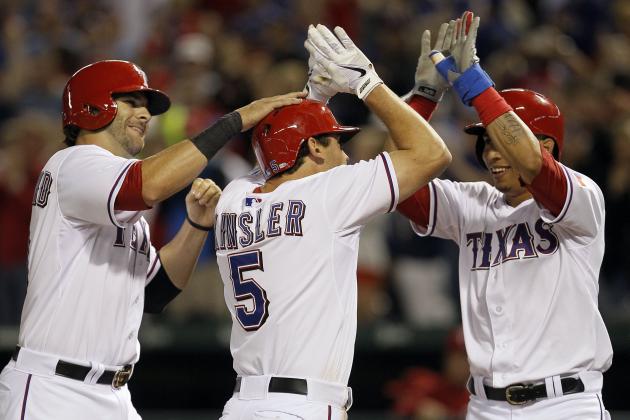 Brandon Wade/Getty Images

Some of the more intriguing questions for the Texas Rangers heading into 2013 surrounded their lineup.
How would they replace the production they lost from a year ago? Is what they have good enough to not only compete, but contend for the division title and more?
The season is still in its infancy, but there are plenty good signs so far. Here are the grades for each position player through the first 10 games.
Begin Slideshow

»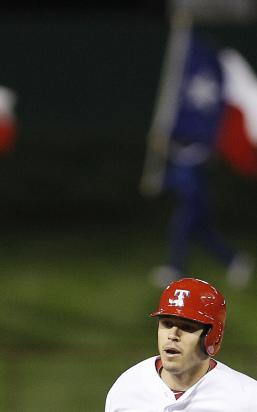 Brandon Wade/Getty Images

Ian Kinsler's slow spring training has transitioned into an excellent start to the regular season. The Rangers' longest tenured player has been very productive from the top of the order, leading the team in home runs, RBI and runs scored. Defensively, he has one error in over 50 chances.
Normally a dead pull hitter, Kinsler's different approach at the plate thus far appears like it's paying dividends. He's a big problem for opposing pitchers when everything is clicking.
Grade: A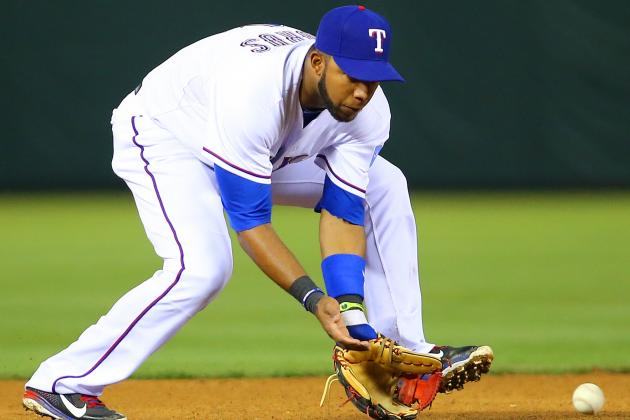 Rick Yeatts/Getty Images

Fresh off an eight-year/$120 million extension, Elvis Andrus is quickly becoming the new face of the franchise.
The stats aren't where he'd like them in the first 10 games, but the concern level is at zero. The 24-year-old has been unfortunate that some of his better at-bats have ended in line shots directly at a defender.
Not surprisingly, his glove work has been outstanding—zero errors in almost 40 chances.
Grade: B-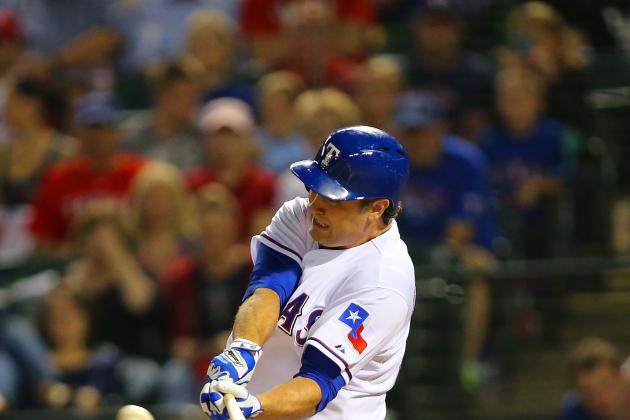 Rick Yeatts/Getty Images

The Rangers' biggest investment this offseason was the $11 million they gave Lance Berkman to put off retirement for one more year. The decision was met with more than a few raised eyebrows.
Through 10 games, the 37-year-old has shown those legs may still have some life left. He's leads the team in hits, walks, batting average, slugging pct. and on-base pct.
Yes, it's only April and the chances he channels his inner Barry Bonds with superhuman feats in his late-30s are beyond unlikely. However, his experience and patience at the plate indicate that his value won't diminish as the season continues.
Grade: A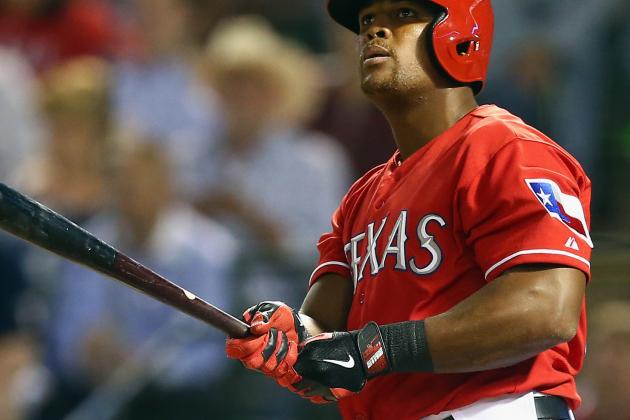 Ronald Martinez/Getty Images

Adrian Beltre sets the bar high almost every year, but his 2012 campaign—one of the finest of his 16-year-career—is a tough act to follow.
The Rangers' cleanup hitter is off to a slow start at the plate, along with two errors at third base. Despite this, it's doubtful anyone is concerned—least of all Adrian. He's a tough as nails veteran who refuses to get taken out of the lineup.
As his track record shows, he'll pick things up eventually.
Grade: C+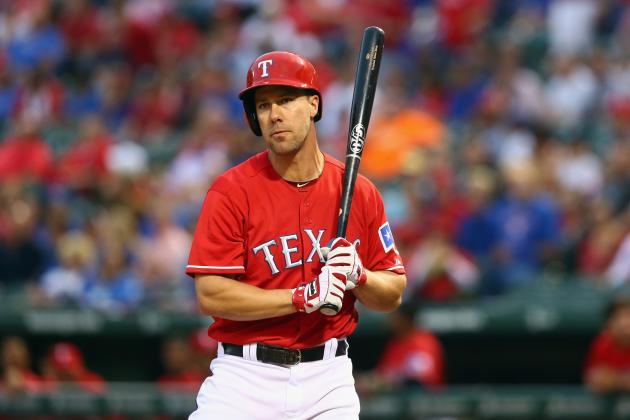 Ronald Martinez/Getty Images

David Murphy is an everyday starter in the outfield for the first time in his career. Personally, the 31-year-old has a big incentive to perform this season—it's the last year of his contract.
The numbers are down so far, but the season is very young. All it takes is a few games to get back on track. Traditionally, April is not his strongest month anyway.
Ron Washington has penciled Murphy into the middle of the lineup this year, so if and when his bat heats up, the Rangers offense will see a spike in production.
Grade: C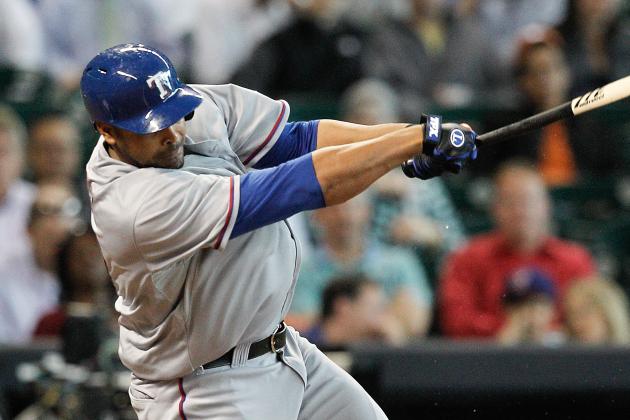 Bob Levey/Getty Images

It was an offseason of contrasting emotions for Nelson Cruz. While he helped his native Dominican Republic win the World Baseball Classic, his name also popped up on the dreaded PED list.
The former ALCS MVP has proclaimed his innocence with the MLB issuing no sanction to this point.
Despite the distraction, Cruz—who is also a free agent next year—is once again producing at a high level through the first 10 games.
Grade: A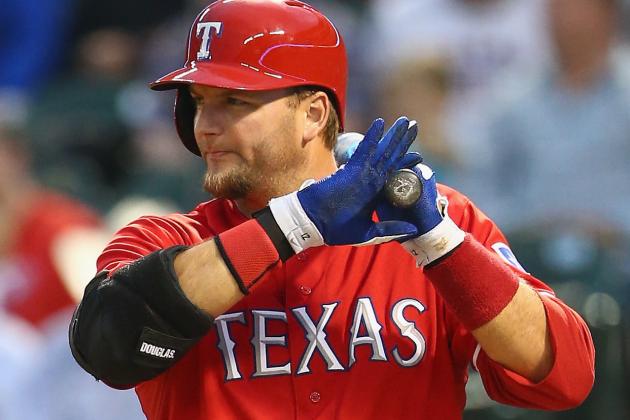 Ronald Martinez/Getty Images

A.J. Pierzynski is the other free agent the Rangers signed to plug the holes in their lineup.
The veteran catcher has been a welcome addition in 2013. He has eleven hits in his first 31 at-bats, including a pair of homers and four RBI.
Pierzynski is a contact hitter who draws few walks but rarely strikes out. Some may think reaching his home run total from a year ago is unlikely, but Arlington's jet stream in right field could have another say in that.
Grade: A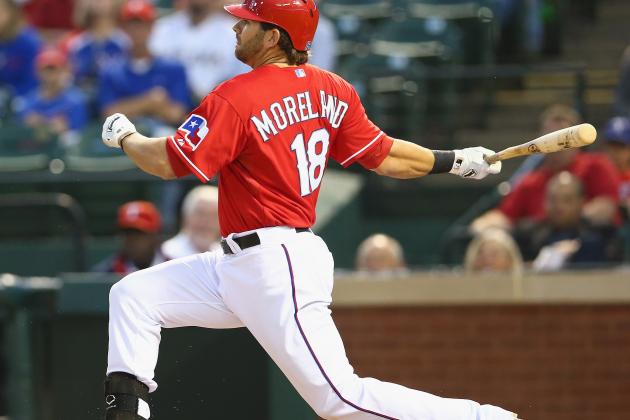 Ronald Martinez/Getty Images

Mitch Moreland tore the cover off the ball in spring training, indicating that he was finally primed for a breakout season.
Unfortunately, it hasn't translated to the regular season just yet. Although he's hit two home runs, Moreland has also struck out eight times, hit into numerous double plays and is still struggling to hit lefties (1 for 12).
Apart from Beltre, Moreland is arguably the team's best pure power hitter. He is healthy, experienced and no longer looking over his shoulder.
These first 10 games are not an indictment on his abilities, but it's important that he rewards management's faith in him.
Grade: C-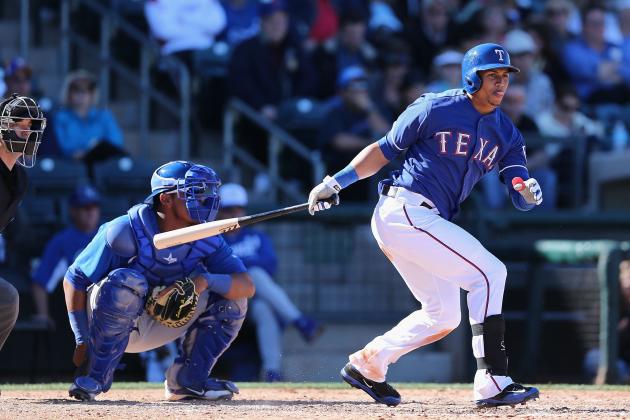 Christian Petersen/Getty Images

It's difficult to grade the center fielders given Ron Washington is implementing a platoon with Leonys Martin and Craig Gentry.
In Martin's case, his excellent spring training helped make him the starter on Opening Day. He has appeared in six games so far, collecting four hits, two walks and scoring four runs.
More than anything, it appears Martin is simply a young player who hasn't found his rhythm in the big leagues yet. More at bats will only help.
Grade: C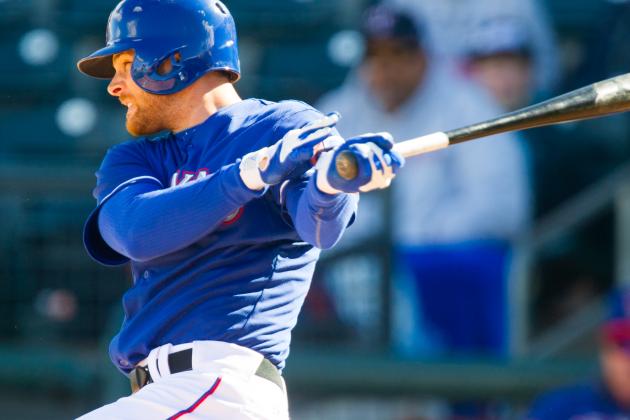 Rob Tringali/Getty Images

The other man patrolling center field, Craig Gentry, has made his presence known despite limited opportunities the first 10 games.
The 29-year-old has four hits in just 13 at-bats, including a double and a triple. Not surprisingly, his speed has also played a key role. Gentry has stolen three stolen bases and scored five runs, including the game-winner against the Angels on an aggressive play.
If Gentry continues to play well, he'll find himself in center field more often than not.
Grade: B+