50 Pictures of Fans Being Terrifying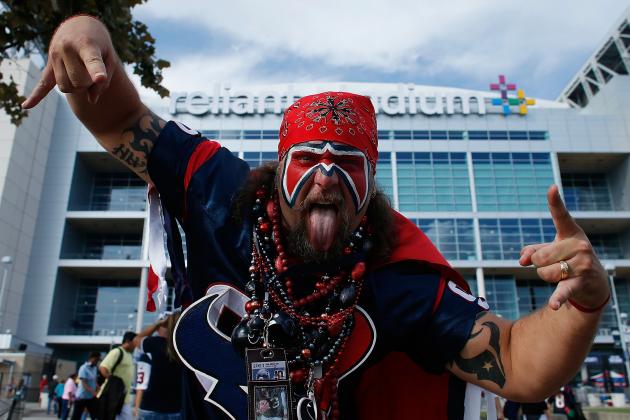 Scott Halleran/Getty Images

Professional sports are just intense. They're obviously intense for the athletes on the field because there are few things more valued than winning in this world.
Then again, for the athletes, there's also the business side of sports. Sure they want to win, but just competing is their job. A job for which many are paid handsomely.
As for the fans? Well, that's an entirely different story. They've got plenty of money tied up in the sport(s) of their choice, but it's their own! And you know how money can make people crazy.
So many fans have got passion and enthusiasm to spare and many take the game to a whole new level—all in their own distinct, and often jarring, ways. They may be terrifying at times, but sports wouldn't be the same without them.
Here are 50 pictures of fans being terrifying.
Begin Slideshow

»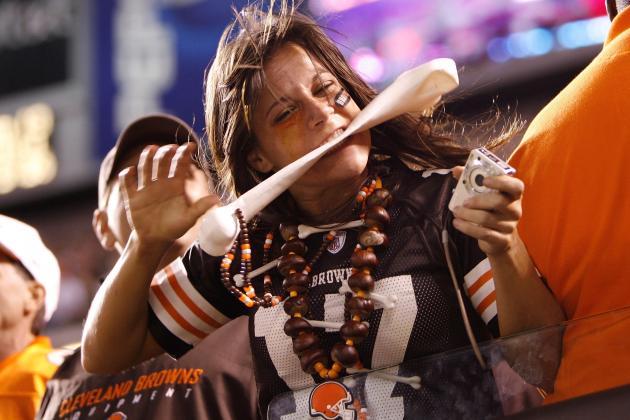 Gregory Shamus/Getty Images

Date: October 13, 2008
Event: New York Giants vs. Cleveland Browns
Under normal circumstances, seeing a Browns fan gnawing on a giant novelty bone wouldn't even faze me. I'm a Steelers fan and I've seen those folks from Cleveland engage in much worse behavior.
But the fact that it's a woman, and a cute one at that, made this whole thing a little more interesting. And a lot more startling. Not that I don't fully support a woman's right to...whatever.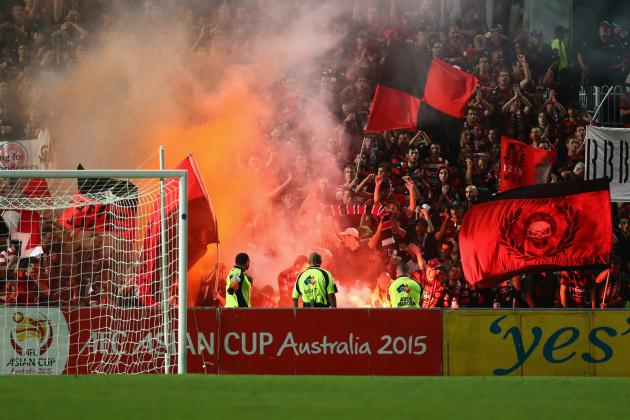 Mark Kolbe/Getty Images

Date: April 12, 2013
Event: A-League Semi Final, Western Sydney vs. Brisbane Roar
Tell me if you've heard this one before: Yesterday I went to a massive fire and a soccer match broke out! Arson and soccer are like Nutella and bananas. They just go together.
There never seems to be any urgency to extinguish the lames—check out the security guards just chilling out and staring. I don't even think this kind of madness stops the matches, which makes sense, otherwise they'd never finish a game.
All I know is that I'd be terrified to be sitting among those flame throwing crazies in the front rows.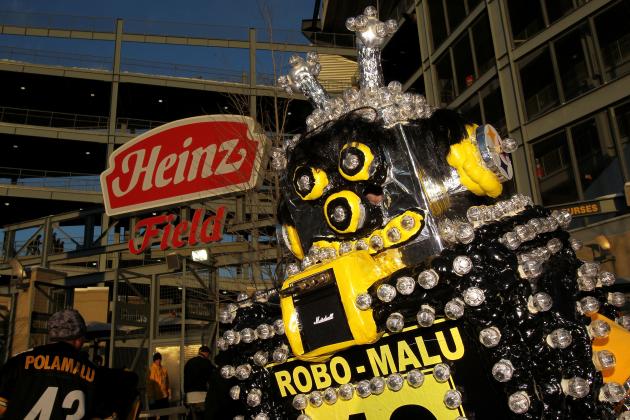 Ronald Martinez/Getty Images

Date: January 23, 2011
Event: 2011 AFC Championship: New York Jets vs. Pittsburgh Steelers
Steelers fans can get pretty crazy. And, apparently, they can get pretty creative too! This life-sized "Robo-Malu" costume was clearly the brainchild of very disturbed mind.
The idea itself is out there. Like way out there. But the planning, construction and overall execution of this thing...wow. Just wow.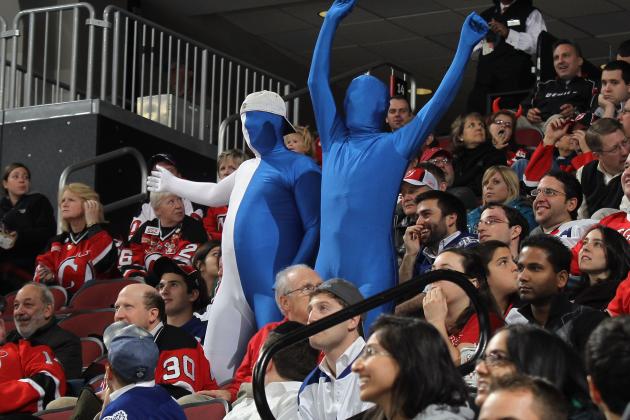 Bruce Bennett/Getty Images

Date: November 2, 2011
Event: Toronto Maple Leafs vs. New Jersey Devils
Hockey fans are all used to these deranged weirdos in spandex bodysuits showing off far more contours of their anatomy than should be legal in public. But such is life.
What's terrifying about this is that these Maple Leaf fans are making spectacles of themselves not in Toronto, but in New Jersey. And those Devils fans surely grew increasingly tired of them throughout the game.
Men in those suits should really be required to wear shorts. Seriously.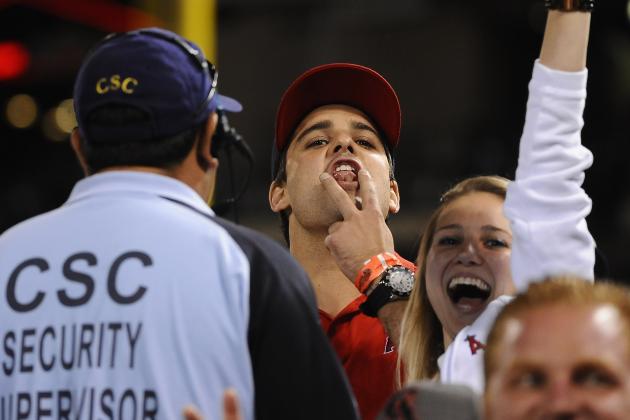 Jonathan Moore/Getty Images

Date: May 14, 2012
Event: Oakland Athletics vs. Los Angeles Angels of Anaheim
Who the heck knows exactly what's going on at this Angels game, but it looks like a couple of fans are getting ejected from their home stadium for God knows what.
I'm not sure I'm capable of describing what the male in the photo is doing without attracting the ire of standards, but I'm absolutely in love with his girlfriend.
That girl couldn't look happier about the situation if she was just awarded one of Albert Pujols game checks. Well...I guess she'd look about the same.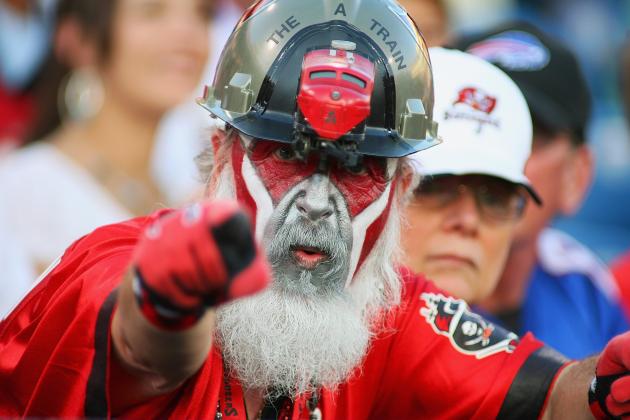 Rick Stewart/Getty Images

Date: September 20, 2009
Event: Tampa Bay Buccaneers vs. Buffalo Bills
If you're into dressing up for football games, being a Buccaneers fan wouldn't be half bad. Of course that's the only advantage to being a Bucs fan!
This badass old-timer went balls to the wall for a game back in 2009. And he didn't go with the traditional pirate look, which would have been way too obvious.
The hardhat with a train busting through the front. The Grizzly Adams beard. The very impressively done face paint. It all adds up to one scary old ass man.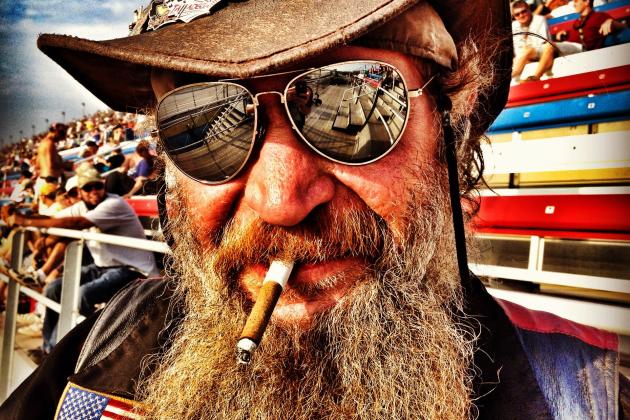 Chris Graythen/Getty Images

Date: October 6, 2012
Event: Fred's 250 Powered By Coca-Cola
Okay, this one may be completely lost on the vast majority of the audience, but that's never stopped me from making obscure references before. So why start now?
This NASCAR fan isn't particularly terrifying in a vacuum, but if you've ever heard the song "Uneasy Rider" by Charlie Daniels, you know what I'm talking about.
That song was released well before the music video era, but I imagine pretty much everyone in the video, had it been made, would look exactly like this guy.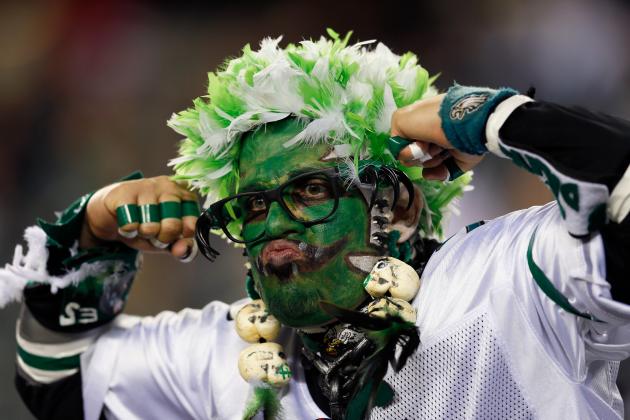 Rob Carr/Getty Images

Date: September 30, 2012
Event: New York Giants vs. Philadelphia Eagles
For a fan from Philadelphia, this fellow is actually relatively subdued. He's not throwing up on a child or anything, so I suppose that's a pretty big win for the City of Brotherly Love.
But as for the getup? It's a little distressing. He's made brass knuckles out of tape. He's rocking a necklace made of skulls. And I think he skinned the Eagles mascot Swoop to make that wig.
RIP Swoop.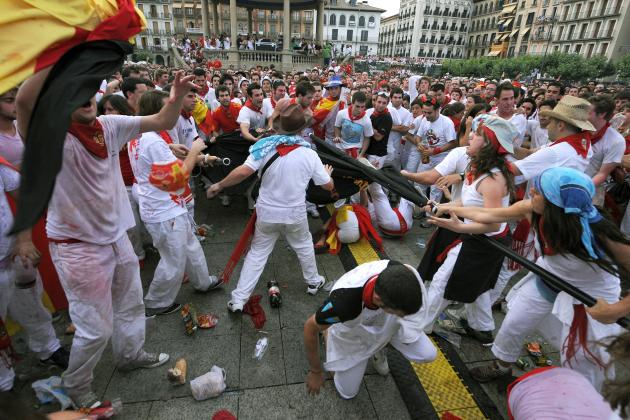 Denis Doyle/Getty Images

Date: July 7, 2010
Event: Public Viewing: Germany vs. Spain, 2010 FIFA World Cup
Hey! Wanna go watch a public viewing of a World Cup game in Spain? Me either!
Have you ever seen a crowd not in a war-like scenario look more universally askew? Everyone is dirty as hell—perhaps they should've worn their reds.
There are beatings. Screaming. Litter. Bodies on the ground not because they want to be, but because they were obviously put there by someone else.
And you know damn well that it probably stunk to high heaven. That's a lot of B.O. for a hot July day in Spain.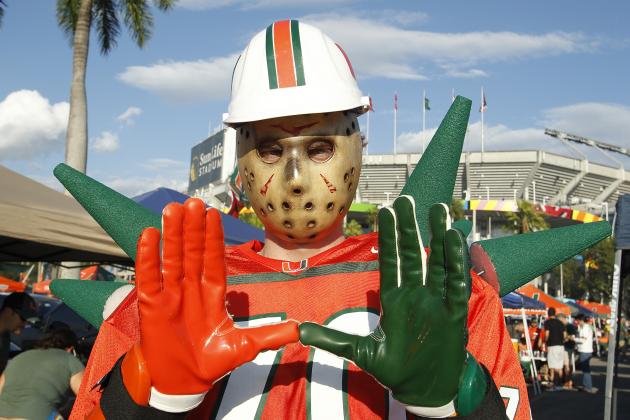 Joel Auerbach/Getty Images

Date: November 1, 2012
Event: Virginia Tech vs. Miami
My first impulse was to make fun of this Hurricanes fan who looks like Jason Voorhees mated with a Stegosaurus. After all, he does look like Jason Voorhees mated with a Stegosaurus.
But at least he's one of the dozens of fans on hand to watch the Hurricanes take on the long-time rival Hokies last November. Just kidding! Their attendance isn't nearly that high.
Wow. I'm gonna hear about that one.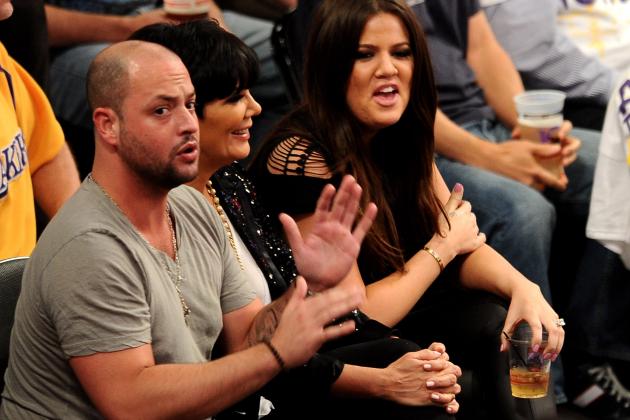 Michael Buckner/Getty Images

Date: June 6, 2010
Event: Celebrities at The Lakers Game
Talk about terrifying! Did you even know Khloe Kardashian was allowed out of the house without one of her other sisters to distract a disturbed public?
Me either. Apparently the laws in Los Angeles have yet to address the Kardashian plague which has become and uncontrollable blight on their city.
They better start soon though because Kim's pregnant. This thing is spreading—and fast.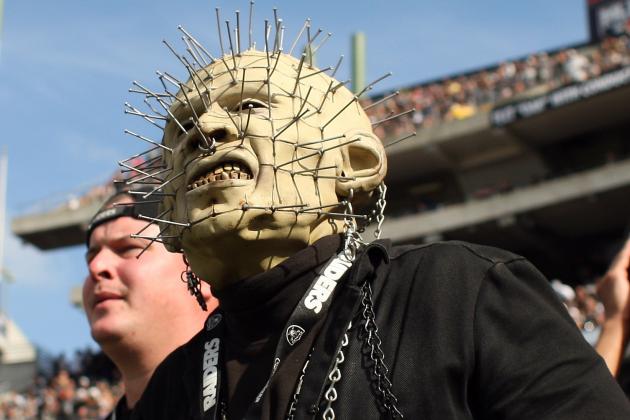 Ezra Shaw/Getty Images

Date: October 16, 2011
Event: Cleveland Browns vs. Oakland Raiders
Raiders fans are known for dressing up in elaborate costumes, but usually they have more to do with skulls and then shoulder pads with miniature skulls on them.
So I'm torn on the Pinhead thing. In one way it's actually a creative change from the usual. In another way, it's just an uninspired ripoff from Hellraiser.
Either way, I wouldn't want to be sitting next to that guy if he started throwing his weight around. I'm not up to date on my tetanus shot.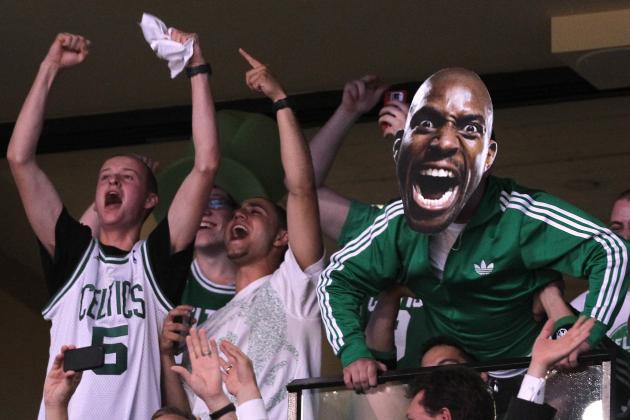 Jim Rogash/Getty Images

Date: June 7, 2012
Event: Miami Heat vs. Boston Celtics, Game Six
Celtics fans love this whole wearing the faces of the players thing. Oh! But not like in a Silence of the Lambs way—it's not that terrifying.
Kevin Garnett and Rajon Rondo seem to be fan favorites, but there are few faces in sports more terrifying than the big angry mug of KG.
Have I mentioned I want one?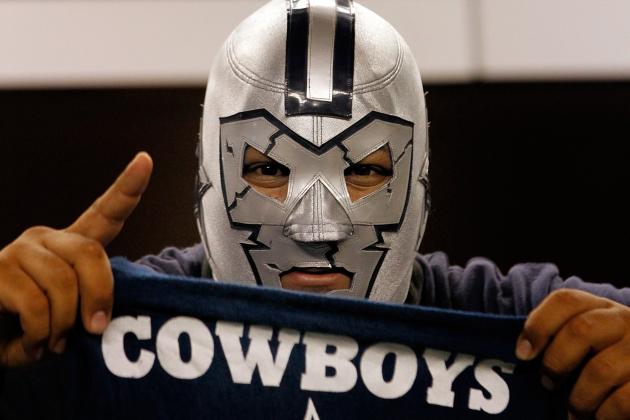 Tom Pennington/Getty Images

Date: December 2, 2012
Event: Philadelphia Eagles vs. Dallas Cowboys
Sorry Cowboys fans, but you folks are annoying. Then again, the fan bases of pretty much every team in the NFL—except yours—are pretty damn annoying.
Leatherface here is no exception. Or is that spandex/lycra? Perhaps a customized blend to let his pours breath a little. Not that any of that crap matters.
He's a Cowboys' creepy creeper who creeps. That's what matters.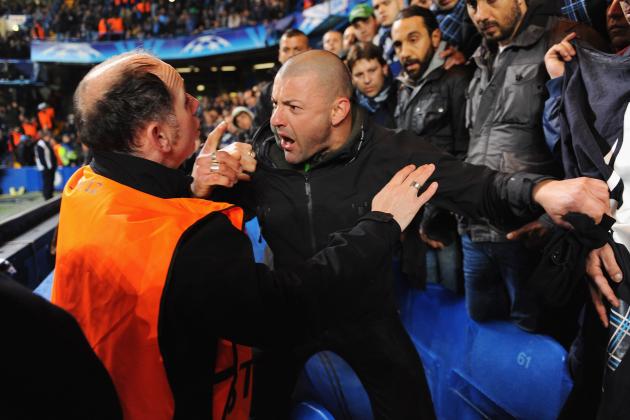 Getty Images/Getty Images

Date: March 14, 2012
Event: Chelsea FC vs. SSC Napoli, UEFA Champions League Round of 16
Well in this case it only looks to be one soccer fan in a fight with a security official, but that guy looks intense enough for 10 guys. I certainly wouldn't want to be the dude in the orange vest.
Plus, do you see all the fans around him? They certainly don't look appalled or surprised in any way, which means they're more likely than not to get involved if push comes to shove.
And you know push will come to shove...and then fires.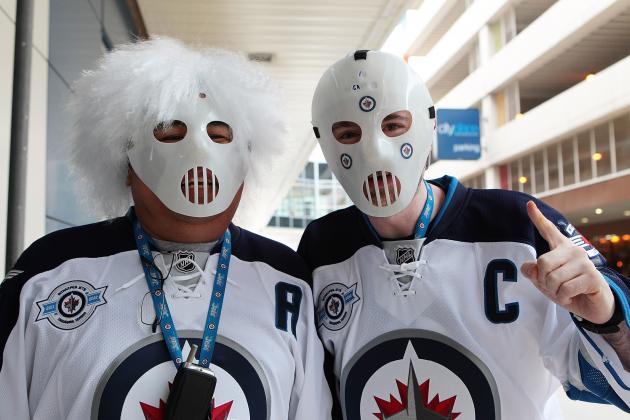 Marianne Helm/Getty Images

Date: October 9, 2011
Event: Montreal Canadiens vs. Winnipeg Jets
Maybe it's just me and my traumatic memories of Jason Voorhees, dating back to an age that I was way too young to be watching that kind of stuff, but these masks always terrify me.
Though these Jets fans aren't rocking the traditional Friday the 13th mask. It's kind of Jason Voorhees meets Hannibal Lecter. Well isn't that adding trauma on top of trauma.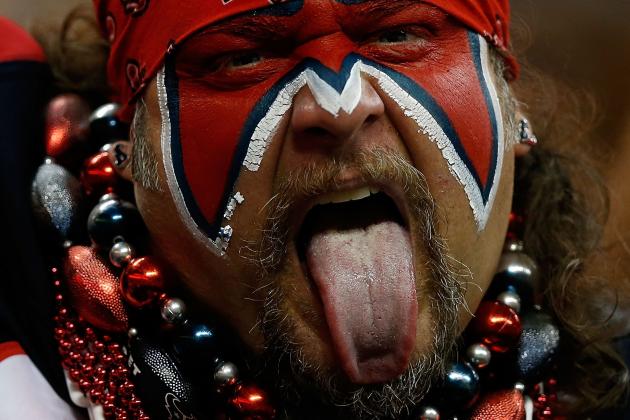 Scott Halleran/Getty Images

Date: December 16, 2012
Event: Indianapolis Colts vs. Houston Texans
Don't we all appreciate someone who never does the bare minimum? But there's the bare minimum, the absolute maximum, and then some space in between.
This Texans fan should have tried to seek out some of that coveted space in the middle. The jewelry, the bandana, and the face paint—it's just too much.
But how about the way his beard perfectly outlines his mouth when sticking his tongue out in an aggressive fashion? That's no accident, my friends.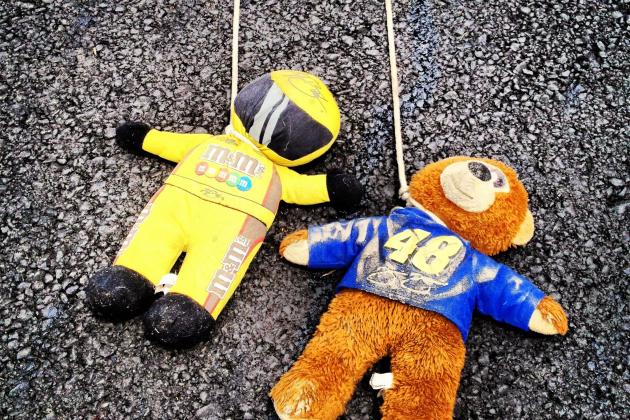 Chris Graythen/Getty Images

Date: May 26, 2012
Event: Coca-Cola 600
There are certainly things at sporting events far more jarring than a couple of stuffed animals. This is more a question of the mentality of the people whose first instinct is to string up the opposition.
It's just a little unsettling.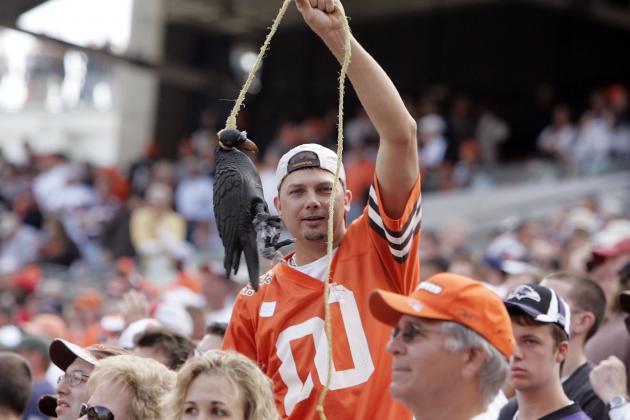 David Maxwell/Getty Images

Date: September 30, 2007
Event: Baltimore Ravens vs. Cleveland Browns
I'm not sure which is more unsettling. The hanging of the stuffed animals or the hanging of the raven. Probably the raven, but at least you can see where the Browns are coming from. Poor bastards.
And you have to give that dude some credit. At least it's not a real raven. Let's take a moment to appreciate his restraint.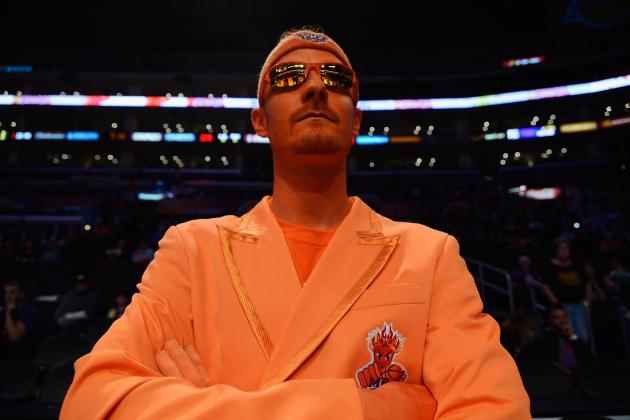 Kevork Djansezian/Getty Images

Date: November 16, 2012
Event: Phoenix Suns vs. Los Angeles Lakers
This guy isn't doing anything particularly terrifying, but his overall essence projects it.
He's got the shades inside (and it's dark). He's got the thousand-yard stare. He's got an extremely unnecessary sweat band on. He's got a custom tailored bright ass orange suit with the Suns mascot on the pocket.
And, it's tough to tell in this lighting, but it's possible he's dyed his hair and beard orange. Good gravy, nobody should love the Suns this much.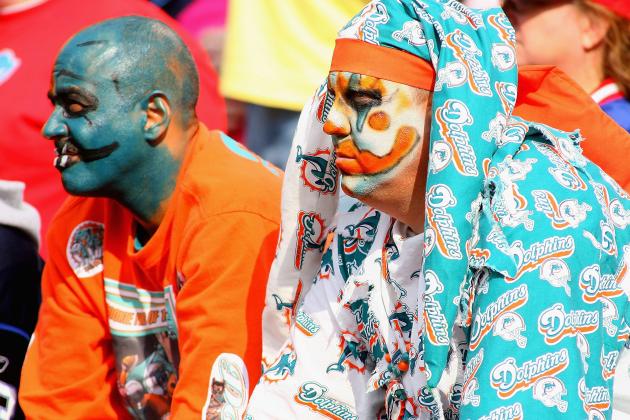 Rick Stewart/Getty Images

Date: September 12, 2010
Event: Miami Dolphins vs. Buffalo Bills
Clowns are just horrifying by nature—sorry circus fans.
The Dolphins are among a handful of teams in the NFL that have had almost nothing to be excited about for over a decade. I guess you could say they're the (sad) clowns of the AFC East. Those guys should've painted on frowns instead.
And I was just kidding about Miami being the clowns of the AFC East. They are among the clowns of the division, joining the Jets and the Bills.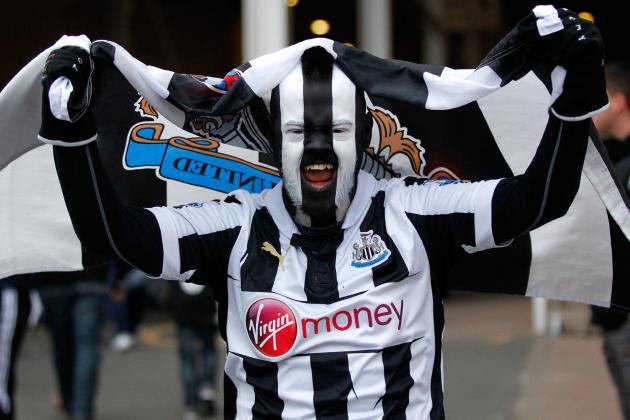 Paul Thomas/Getty Images

Date: April 11, 2013
Event: Newcastle United FC vs. SL Benfica, UEFA Europa League Quarter Final
You have to appreciate this Newcastle fan's dedicated to the team colors, as well his very impressive face painting symmetry—that's actually much more difficult than it seems.
That doesn't mean you'd want to be sitting next to this dude after a couple of pints.
Chris McGrath/Getty Images

Date: April 20, 2010
Event: Chicago Cubs vs. New York Mets
People in masks are always a bit creepy, because you never know what lurks below.
Although, in this case, it certainly can't be any worse than what lurks above. That is one of the most upsetting masks I've seen in quite awhile. Although if that was his real hair—I'd definitely date that dude.
And you know what? As distressing as that mask would be to look at through nine straight innings, it wouldn't be any worse than being subjected to Mets baseball for the same period of time.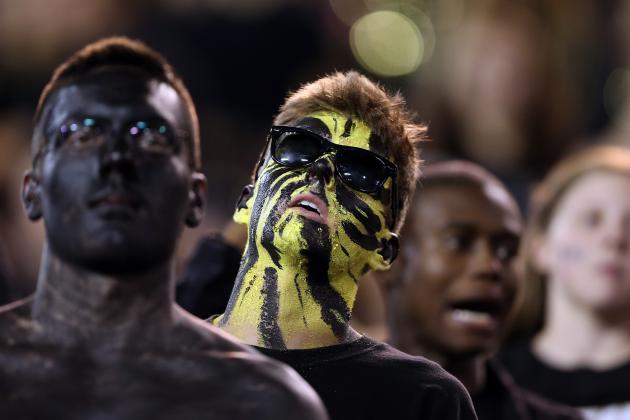 Streeter Lecka/Getty Images

Date: October 25, 2012
Event: Clemson vs. Wake Forest
You're probably going to think I'm some tree-hugging hippy liberal who is constantly on patrol for the "PC Police." But I'm really not. I'm from Western Pennsylvania and some of my first memorable toys were an ATV and a BB gun.
That being said, I just find it a best practice in life to avoid blackface. I don't think it limits me in any way or makes my life more taxing. It's just something that can be seen as offensive despite best intentions, and it's really not worth it.
That Wake fan is probably so jealous of the black guy in the background...just think of all the money he saves on body paint.
Although, I'm sure I'll hear from someone about infringing on their right to wear blackface wherever they damn well please. That'll be a treat.
Jim McIsaac/Getty Images

Date: September 13, 2010
Event: Baltimore Ravens vs. New York Jets
I said my piece on the issue of blackface in the prior slide, so there's no need to get back into all of that. But at least these Ravens fans stopped at just their faces!
The Wake Forest fan looked like he painted his whole dang self black. Also, the pink wig really makes the paint pop. I wonder if that's what they were going for, or just a happy accident!
Honestly though, the terrifying part here is mostly the yelling. The intense yelling.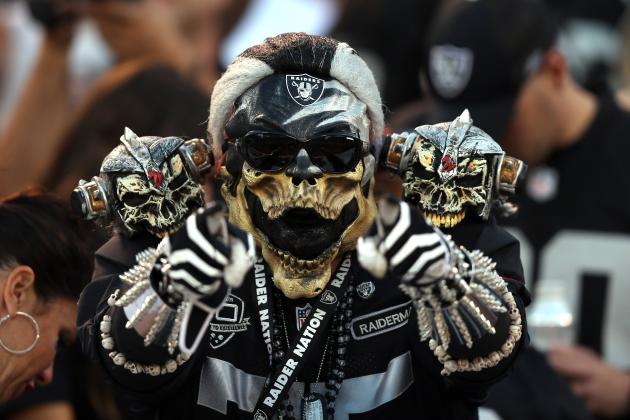 Ezra Shaw/Getty Images

Date: September 10, 2012
Event: San Diego Chargers vs. Oakland Raiders
When it comes to terrifying fans, Raider Nation could have an entire list all unto themselves. We'll save that one for the next time the make the playoffs (tee-hee).
Since they have absolutely no reason to have pride in their football team, instead they take pride in dressing like silver and black spike and skull covered demons. Kudos, kids. Ku. Dos.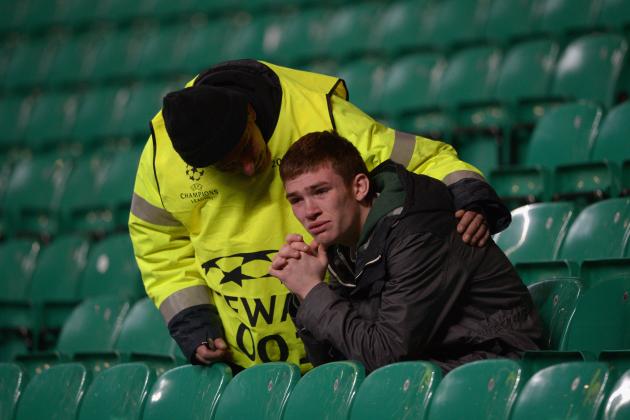 Jeff J Mitchell/Getty Images

Date: February 12, 2013
Event: Celtic vs. Juventus, UEFA Champions League Round of 16
Having gone through the entire Getty gallery from this game, which the Celtic lost, one thing became abundantly clear. Celtic fans are a big bunch of bawling babies.
I'm sure the match was important, and nobody likes to lose. But after the game, there were dozens (if not more) Celtic fans who stuck around for awhile to cry in the stands. Seriously!
This kid was so devastated that he had to be consoled by a security guard. Unless he's 10 and that's his father, in no world is this not terrifyingly pathetic behavior.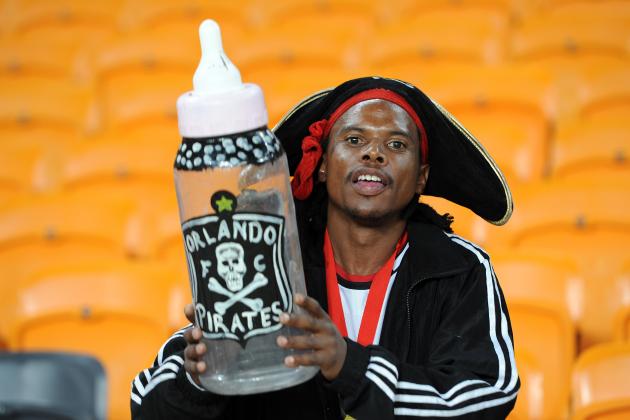 Gallo Images/Getty Images

Date: April 6, 2013
Event: CAF Confedaration Cup, Orlando Pirates vs. Zanaco
Actually, I guess we weren't talking about pirates specifically with giant baby bottles in the last slide. But we were talking about pirates, which is close enough.
Mostly because this might be the first time in all of human history that someone is talking about a pirate holding an oversized novelty baby bottle decorated with a skull and crossbones.
That guy creeps me out in a big way and I'd avoid him at the game for sure—assuming I'd ever be caught dead in Orlando. Just kidding! I've been there a bunch of times...it's fine there.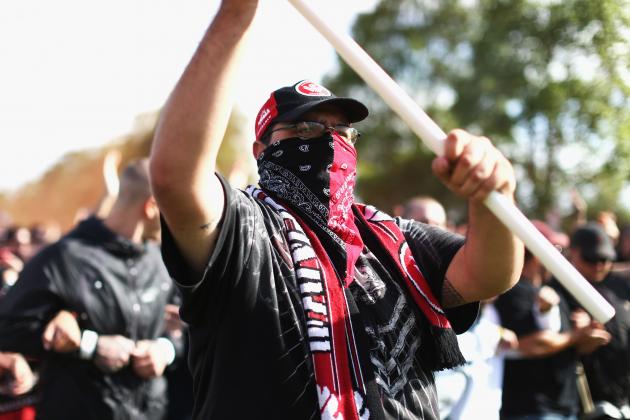 Ryan Pierse/Getty Images

Date: March 29, 2013
Event: A-League Rd 27, Newcastle vs. Western Sydney
I'm not saying that this fan is dressed like a nerdy gang member and carrying an ax to the game. That would be irresponsible, sine I can't see what's at the top of that handle.
All I'm saying is that he could be carrying an ax. And that's pretty alarming stuff.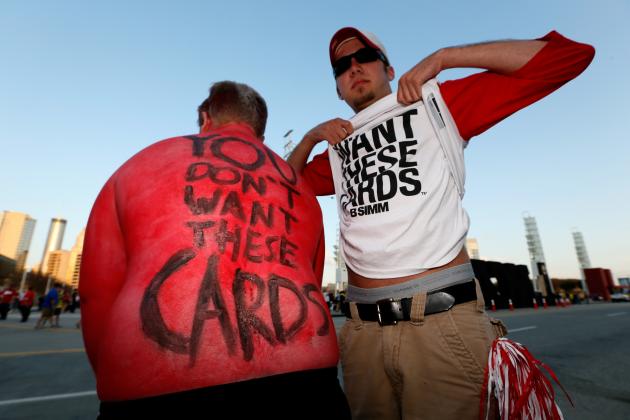 Kevin C. Cox/Getty Images

Date: April 8, 2013
Event: Michigan vs. Louisville
So this happened.
Boy, that obese topless man painted red, with a message that would have been best reserved for a sign, sure would've looked silly if Louisville lost to Michigan in the 2013 NCAA Championship.
No wait. Win or lose, that shiz is just plain horrifying.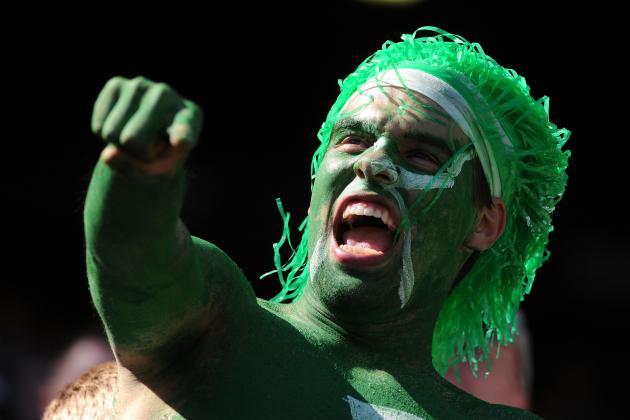 Al Bello/Getty Images

Date: October 12, 2008
Event: Cincinnati Bengals vs. New York Jets
Listen. Who can blame a Jets fan for feeling the fury? One year they're a couple of botched plays from the Super Bowl. The next year they're the laughing stock of the NFL.
It makes their fans unpleasant and unhinged, which is why you never want to be the visitor at MetLife Stadium during a Jets game.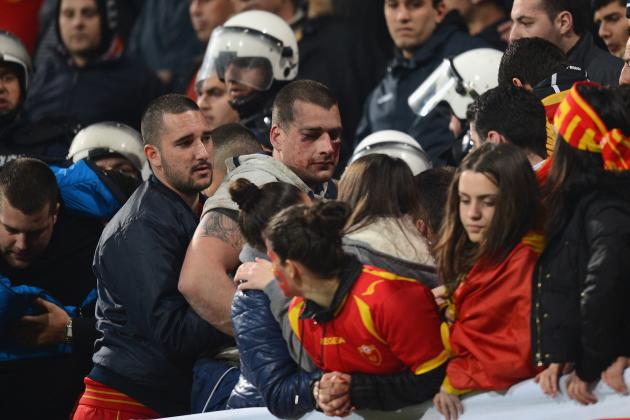 Mike Hewitt/Getty Images

Date: March 26, 2013
Event: Montenegro vs. England, FIFA 2014 World Cup Qualifier
So...this guy sure isn't doing much to dispel that whole "soccer hooligan" stereotype. He looks like he just went a few rounds with Wladimir Klitschko and is being forcibly removed.
The fact that it's happening in front of a bunch of teenage girls? Even worse.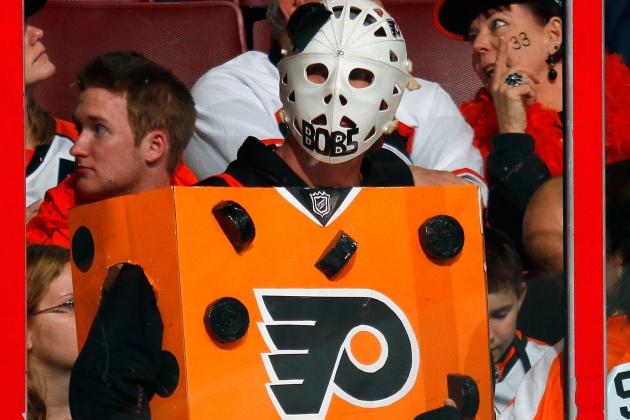 Paul Bereswill/Getty Images

Date: April 16, 2011
Event: Buffalo Sabres vs. Philadelphia Flyers, Game Two
Honestly, I've been a visitor at a Flyers game and it was one of the worst experiences of my life. Show up there in a Penguins jersey and everyone treats you like Jason Voorhees.
At least this terrifying nutbag is wearing warning. He's like one of those colorful frogs that no animals will try to eat because they know they're poisonous.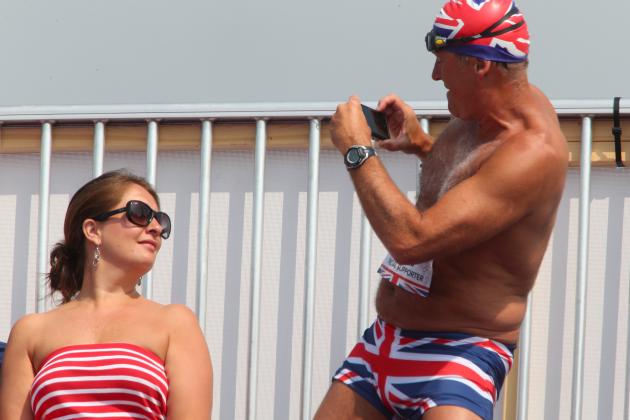 Alexander Hassenstein/Getty Images

Date: August 10, 2012
Event: London Olympics Day 14, Swimming
Great googly moogly!
On one hand, you've got to appreciate this old man's spirt and sense of patriotism. On the other hand, ew! Why the heck is he dressed like he's actually swimming for the UK?
Put some damn pants on man—an throw on a t-shirt while you're at it. That's too much on every last level. He must have a very easy going girlfriend.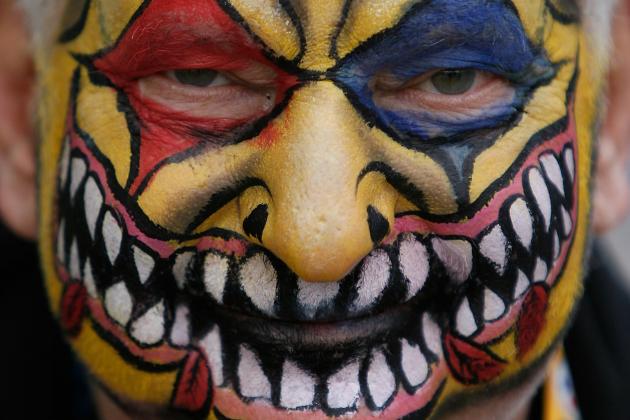 Chris Graythen/Getty Images

Date: February 1, 2009
Event: Super Bowl XLIII
Steelers fans are known for being an enthusiastic sort. And that's putting it mildly, and politely, because I bleed black and gold just like this freaky freakshow.
Well maybe not as black or as gold as this guy—but pretty similar shades.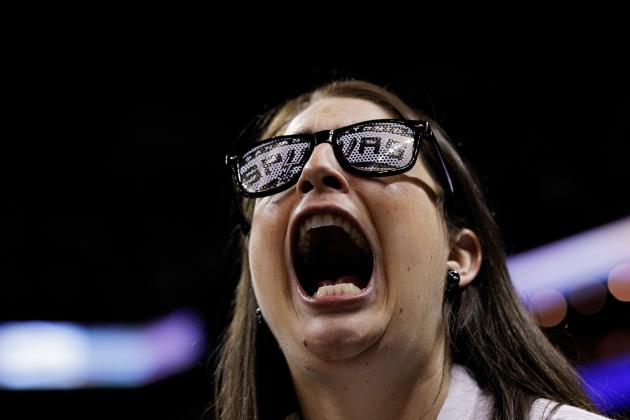 Tom Pennington/Getty Images

Date: June 4, 2012
Event: Oklahoma City Thunder vs. San Antonio Spurs, Game Five
Hey man. We all know the playoffs are a pretty big deal—particularly the conference finals with the chance to play for a championship is on the line.
But no matter how wide you open your mouth, it's impossible to swallow up Kevin Durant whole—he's just too big. So keep it together, girl.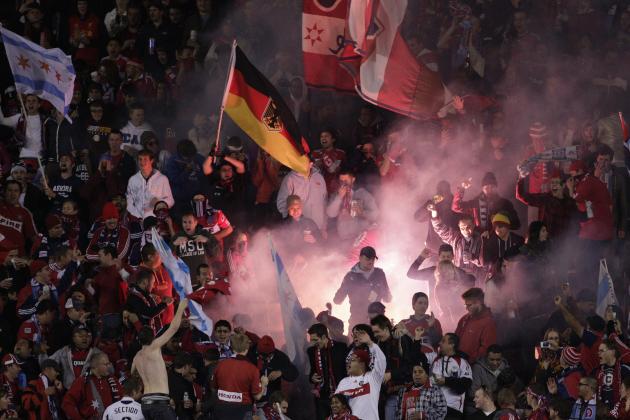 John Gress/Getty Images

Date: September 22, 2012
Event: Columbus Crew vs. Chicago Fire
And who says the United States doesn't care about soccer?
Some Americans have embraced the spirit of the sport so seriously that they have taken to lighting the stands on dire during matches.
Yeah...that MLS game...totally worth those third-degree burns.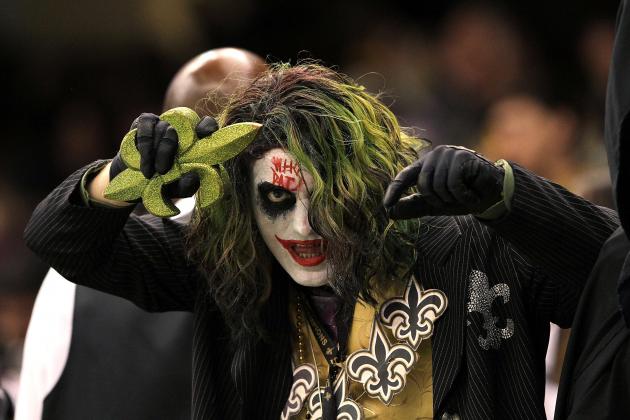 Matthew Sharpe/Getty Images

Date: October 31, 2010
Event: Pittsburgh Steelers vs. New Orleans Saints
The whole Joker thing from Batman is entirely played out at this point, but a few years ago it was all the rage after Heath Ledger's performance in The Dark Knight.
So this whole get up probably scared the bejeezus out plenty of kids back in 2010. Although, anyone at a Saints game should be used to this kind of thing. They don't just save it for Halloween.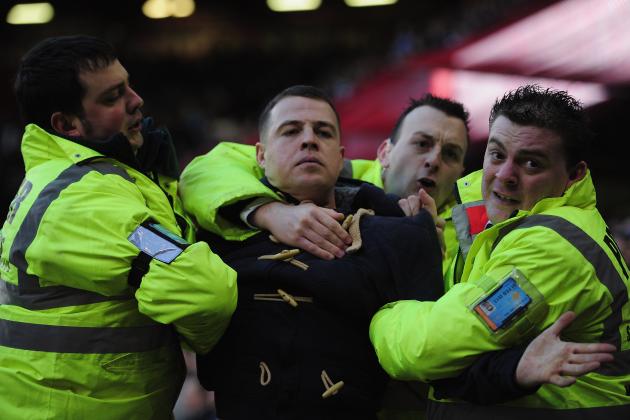 Jamie McDonald/Getty Images

Date: January 28, 2012
Event: Sheffield United vs. Birmingham City, FA Cup Fourth Round
Ha. Well, clearly it's not actually known psychopath Joey Barton—because he'd be playing, not spectating—but this scene is certainly reminiscent of many from his past.
Actually, I would love to see whoever this brawling buffoon is fight Joey Barton. They are both the types that need three grown men to hold them back from a fight.
That would be so epic.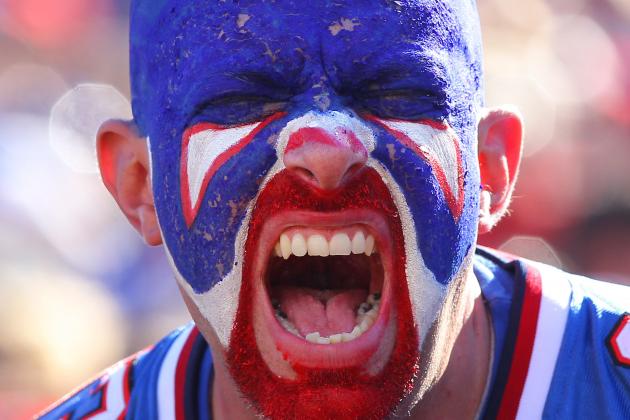 Tom Szczerbowski/Getty Images

Date: September 18, 2011
Event: Oakland Raiders vs. Buffalo Bills
Now that's a Bills fan I wouldn't want to encounter after a few too many Buffalo brews. When you're screaming so intensely that we can see your dental work, a chill pill is certainly in order.
That guy is so freaking angry and screamy that his rage face is literally cracking off his face paint! And there's at least a decent chance they won the game—they were playing the Raiders, after all.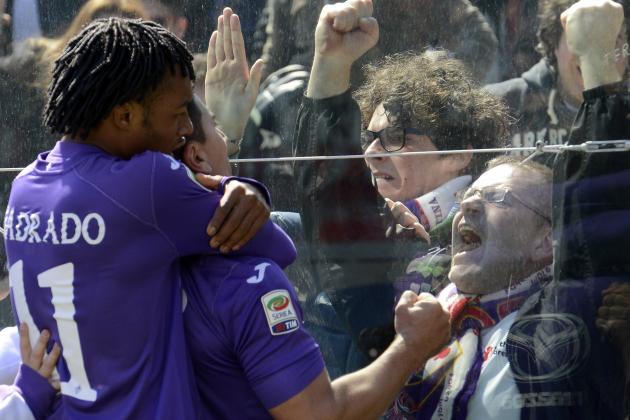 Claudio Villa/Getty Images

Date: April 7, 2013
Event: ACF Fiorentina vs. AC Milan, Serie A
See, to me it looks like something good is happening here. Two teammates seem to be celebrating, and they're doing it right in front of the fans, suggesting it was a home game.
But if you'll notice the fans in the crowd there—they don't look too happy. In fact, they look a little looney. Like they're at a protest trying to overthrow a dictator, rather than a soccer match.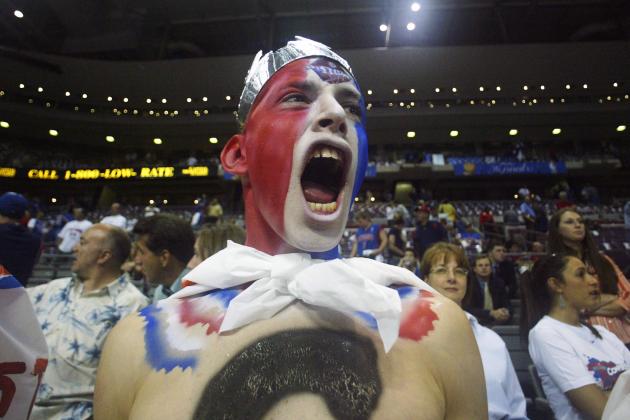 Tom Pidgeon/Getty Images

Date: June 15, 2004
Event: NBA Finals Game 5, Lakers vs. Pistons
Things have been known to get a little dicey at basketball games in Detroit, so this guy actually ranks pretty low on the scale of scary behavior.
That's not to say I'd want to be sitting next to this guy when the Pistons defeated the heavily favored Lakers at this very game. He just doesn't look right.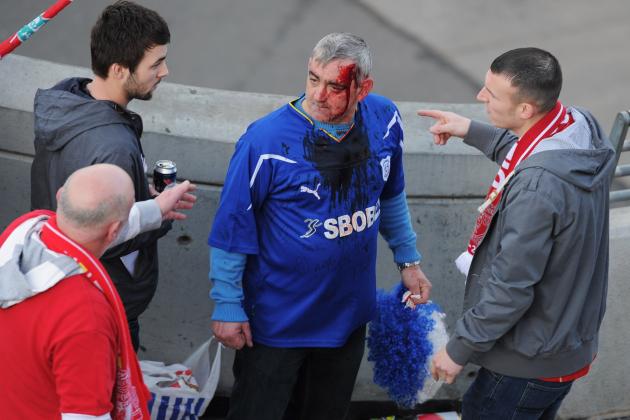 Getty Images/Getty Images

Date: February 26, 2012
Event: Liverpool vs. Cardiff City, Carling Cup Final
It's hard to say exactly what went on here, given that the only photos available are from the aftermath, of what one can only imagine was quite a melee.
If I had to venture a guess, I'd say the man in blue had a few too many pints and was trash talking some Liverpool fans. And then one broke a bottle over his head.
Yep. That sounds about right. I love how content he looks, considering his skull is gushing blood.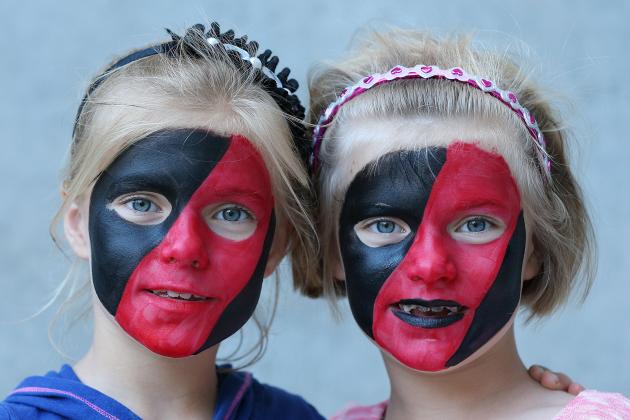 Michael Dodge/Getty Images

Date: April 6, 2013
Event: AFL Rd 2, Essendon vs. Melbourne
We all know there's nothing more terrifying than a couple of adorable twin girls staring at you with a face that is just a little too serene. Who know what kind of horror lurks behind those angelically demonic faces.
Thanks Stephen King!
Before I saw The Shining, these two would have been nothing more than a couple cute little girls. Now I'm pretty convinced that they're undead demons whose eyes are demanding that I join them down the hall and play with them forever.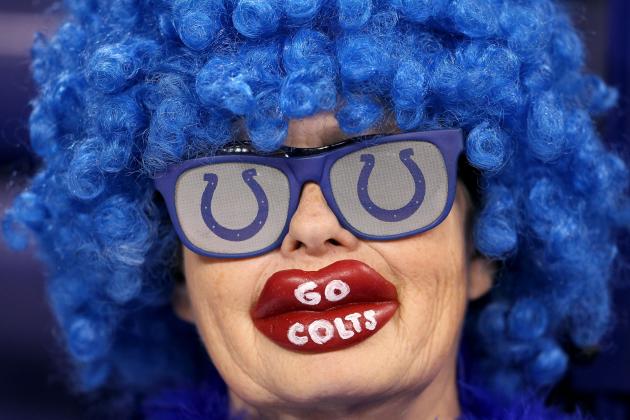 Andy Lyons/Getty Images

Date: January 8, 2011
Event: Wild Card Playoffs, New York Jets vs. Indianapolis Colts
This is just disturbing. Upsetting. Freaky. Strange. And really hard to look away from.
Not to mention an extremely unwelcome addition to my future nightmares. Thanks lady! Now I'm glad your Colts lost to the Jets. And I'm never glad when the Jets win.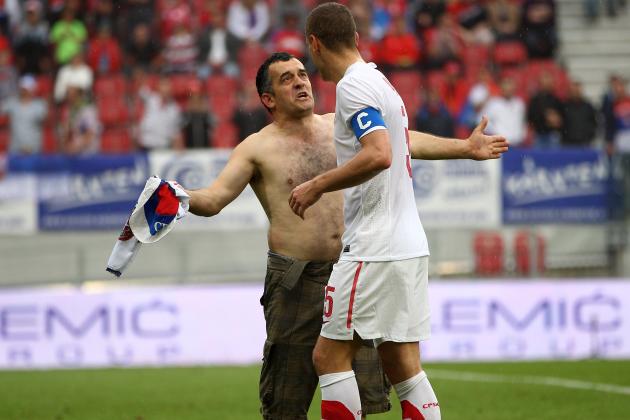 Michael Steele/Getty Images

Date: May 29, 2010
Event: New Zealand vs. Serbia, International Friendly
Soccer fans are more likely than any other fans to storm the field during the course of a game. I don't have any official statistics on this one, but it happens all the time.
And it's not just people storming the pitch either—even animals like to get in on that action! But normally it's more of a light-hearted event, rather than an angry confrontation.
This was more of an angry confrontation. Which is weird because it was supposedly an international friendly. Friendly my ass.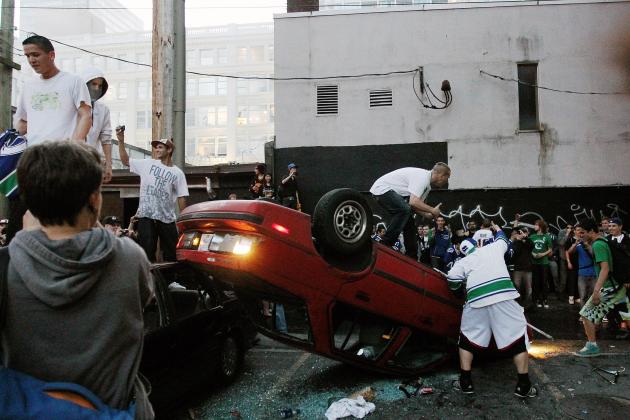 Bruce Bennett/Getty Images

Date: June 15, 2011
Event: Riot Breaks out after Game in Vancouver
Losing a championship is never easy, as was the case for the Canucks in 2011. They lost to the Bruins in a heartbreaking Game 7, costing Vancouver its first Stanley Cup in franchise history.
So, naturally, they rioted. We actually learned a lot about Canada that day—they aren't the hospitable friendly neighbors to the north many of us always thought they were.
They can be just as crazy as Americans. Yay!
Jim Rogash/Getty Images

Date: October 27, 2012
Event: New York Jets vs. New England Patriots
You know, when I saw this was a Jets-Patriots game, I initially assumed the dude dressed up like a bloodcurdling creepy clown was a Jets fan. That just makes more sense.
But, as it turns out, this horror show in suspenders is actually a Patriots fan. Unless he's a Jets fan that just thought a Pats hat would go better with his clown outfit?
Who knows.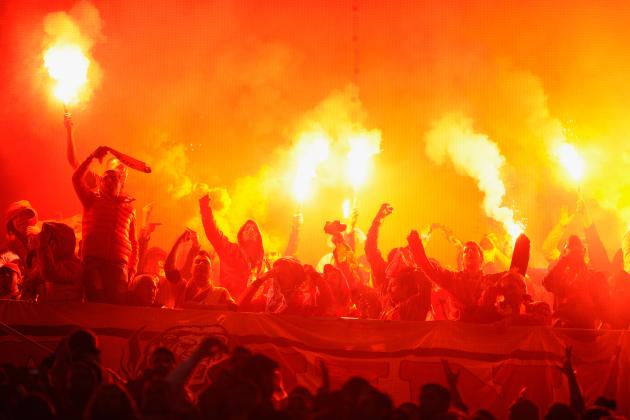 Manuel Queimadelos Alonso/Getty Images

Date: April 3, 2013
Event: Real Madrid vs. Galatasaray, UEFA Champions League Quarter Final
Again with the arson! Do a Getty Image search of soccer fans and about 50 percent of the images returned are of fans setting fires.
Setting fires in the stands and then just hanging out in the vicinity of the flames. Holding torches. Throwing molotov cocktails. Whatever.
Is that a soccer game or hell? Wait...has there ever been a difference? I kid. Don't freak out, soccer weirdos.
Thearon W. Henderson/Getty Images

Date: September 10, 2012
Event: San Diego Chargers vs. Oakland Raiders
If you thought those Raiders fans who dress up in those elaborate costumes were scary, they've got nothing on the dudes with less elaborate costumes.
Fights break out in the stands at professional sporting events all the time, but it's not often that one guy punches the other so hard in the mouth that he literally eats his fist. Yikes.
And check out the security guard clubbing the puncher from the left. Not. Even. Fazed.
Speaking of terrifying fans with uncorked rage with a lot of weaponry and a penchant for arson, you should probably follow me on Twitter: Follow @blamberr
(Only some of the above was true—but that's for you to figure out)