Masters 2013 Leaderboard: Highlighting Biggest Winners and Losers from Day 1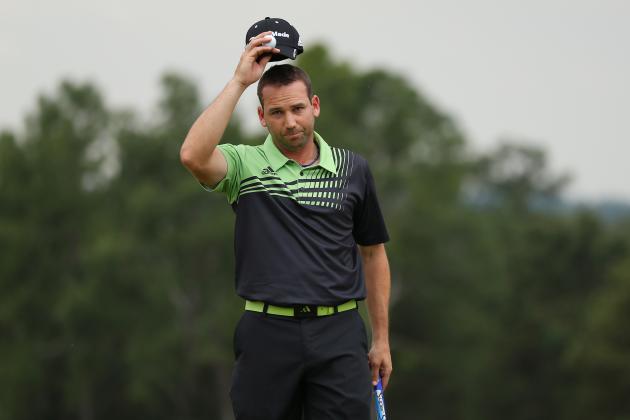 Mike Ehrmann/Getty Images
Sergio Garcia is tied atop the leaderboard after one round of action at Augusta.
The opening two rounds of golf's four major championships are always entertaining to watch because of how many unknown players can be found among the leaders. There were plenty of surprises on the 2013 Masters leaderboard after round one.
Pressure will begin to mount as the days go on at Augusta National and plenty of players will crumble. For now, though, there are several first-round performances that deserve some praise. Others, however, are worthy of criticism.
Some of Thursday's winners will be hard-pressed to maintain their level of play, while the struggling golfers may find a way to bounce back and slowly climb the leaderboard this weekend.
Begin Slideshow

»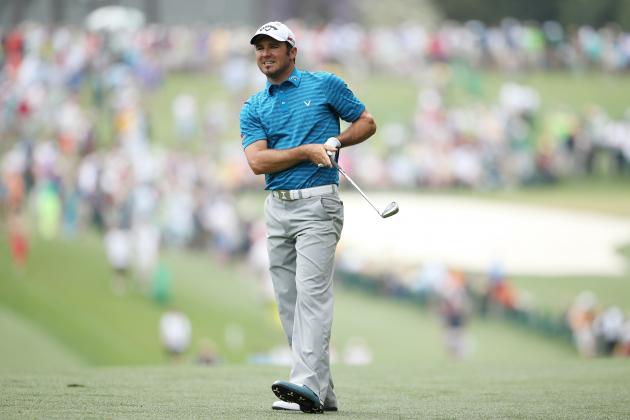 Andrew Redington/Getty Images
Trevor Immelman is in contention to win his second Masters title.
One of the most familiar names to crawl near the top of the leaderboard during the opening round of the Masters was Trevor Immelman. The 2008 Masters champion carded four-under 68 on Thursday, which has him in a tie for fourth place.
Immelman hit 15-of-18 greens in regulation en route to a bogey-free round. This came as quite a surprise considering the fact Immelman has only made four cuts in eight tournament appearances in 2013. In fact, Immelman has only broken par in two events this season.
The South African has not performed well in any of golf's four major championships since winning at Augusta five years ago.
Finishing outside of the top 20 in six of the last 11 majors is not exactly a resume anyone would be willing to bet on.
Immelman's resurgence has him back in contention for a second major title, at least for one day.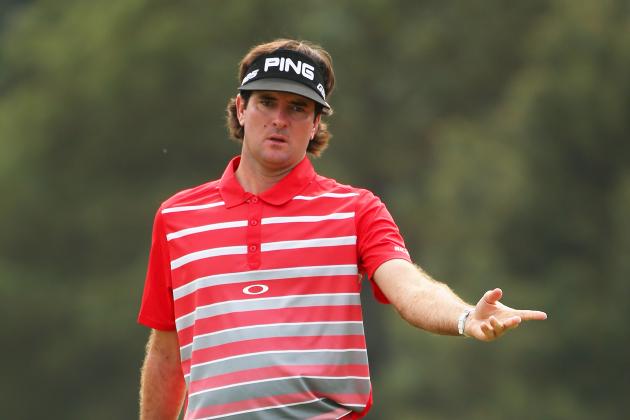 Mike Ehrmann/Getty Images
Bubba Watson is going to have a tough time repeating as Masters champion.
No golfer has won back-to-back titles at the Masters since Tiger Woods repeated in 2001 and 2002. Defending champion Bubba Watson does not look like he is going to be the man to end that drought considering his opening-round struggles.
Nothing seemed to go right for Watson on Thursday. The 34-year old left-hander fired a three-over 75 to start his defense of the green jacket. There were four bogeys and just one birdie on Watson's card by the end of the afternoon.
Putting cost Watson plenty of strokes in round one. Finishing with 2.9 putts per green in regulation will keep even the best golfers from being anywhere near the top of the leaderboard.
Instead of focusing on getting himself in contention, Watson's immediate attention will turn to simply making the cut.
In order to stick around for the weekend, players must be within 50 places of the lead or no more than 10 strokes back from the top score after two days. Watson has put himself in a difficult spot with a poor start at Augusta.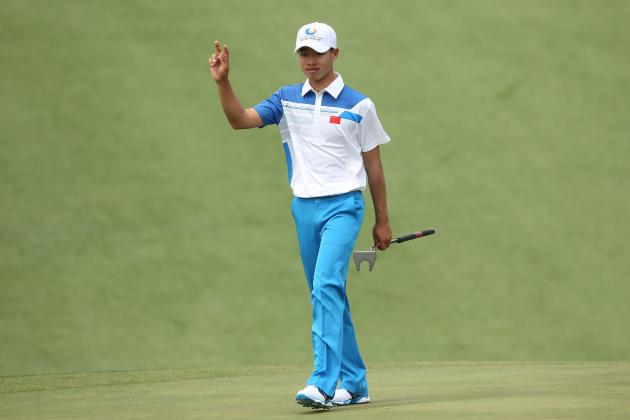 Andrew Redington/Getty Images
Tianlang Guan is in contention to make the cut after a strong showing on Thursday.
Despite the fact Tianlang Guan is the youngest golfer to ever play in the Masters, there were no signs of youth from the 14-year-old on the course Thursday afternoon.
Paired alongside Ben Crenshaw and Matteo Manassero, who once held the record for being the youngest Masters qualifier, Guan did not appear to be overwhelmed by the massive stage. Guan countered five bogeys with four birdies to card a one-over 73.
A native of China, Guan overcame his lack of driving distance (248.6 yards) and inability to consistently hit greens in regulation with some unbelievable saves. The most notable short-game save from Guan came on No. 18 when he sank a birdie putt from the fringe.
Guan finished at least three shots better than any other amateur in the field. The eighth-grader is also in great position to make the cut as long as he is able to turn in a similar performance on Friday.
This young man will be one to keep an eye out for over the next several years.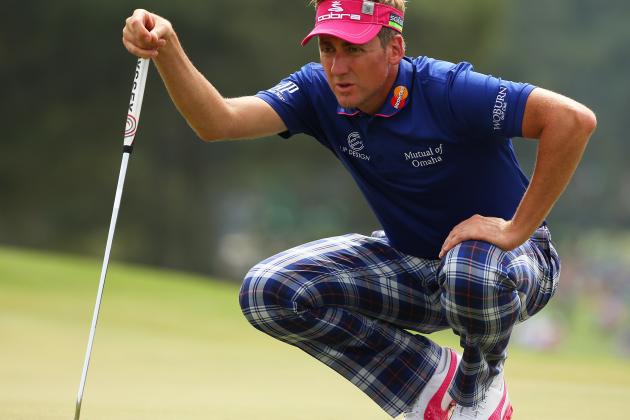 Mike Ehrmann/Getty Images
Ian Poulter is nowhere near the top of the leaderboard after day one of the Masters.
There were plenty of reasons to believe Ian Poulter could finally break through and win a major championship this weekend at the Masters. All of those optimistic thoughts were thrown out the window on Thursday, though, after Poulter carded a four-over 76.
Poulter finished in the top 10 of three majors in 2012 and has placed no worse than No. 27 in his last three appearances at the Masters. There were no signs of that promising Englishman on day one of the tournament.
Five bogeys drowned out the one birdie on Poulter's scorecard, and driving accuracy played a big part in his struggles. Poulter hit just 5-of-14 fairways, which only allowed him to hit 9-of-18 greens in regulation.
Even when Poulter did manage to put his ball on the putting surface in regulation, the results were not very good. Poulter averaged 3.3 putts per GIR.
As it stands right now, Poulter is right on the cut line, which means the 6'1", 189-pounder will be under plenty of pressure on Friday.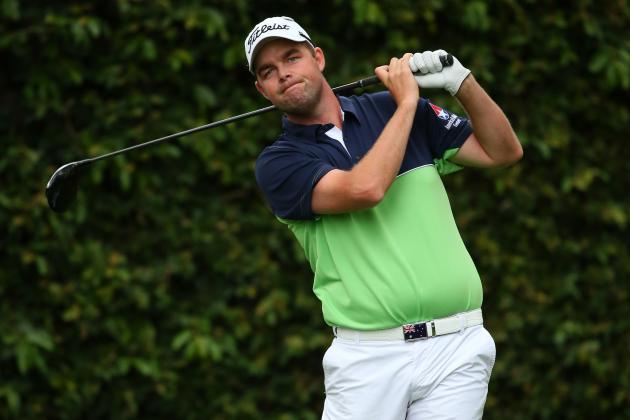 Mike Ehrmann/Getty Images
Marc Leishman is leading the Masters after one round.
Several of golf's household names remain in contention for a Masters title, but there are plenty of names near or at the top of the leaderboard people may be talking about this weekend.
Aussie Marc Leishman sits atop the leaderboard after recording a six-under 66 on Thursday. The 2009 PGA Tour Rookie of the Year failed to make the cut in his only Masters appearance three years ago, but Leishman should be around for the weekend this time.
Entering this week, Leishman had missed the cut in four of his last seven tournaments. Watching Leishman race out to the opening-round lead with seven birdies and one bogey was quite a surprise.
Another fresh face not too far off the lead after day one is David Lynn, who carded a four-under 68. The Englishman came out of nowhere to finish second in last year's PGA Championship, and he does not appear to be phased by his first trip to Augusta.
If Lynn continues to hit fairways at the 71.4 percent clip he did in round one, the long-time European Tour golfer should be able to hang around until the very end.
Gonzalo Fernandez-Castano also surprised on the first day of action down south. The Spaniard finished No. 61 in his first trip to the Masters last year, but he now finds himself in contention after turning in a four-under 68.
Six birdies and two bogeys filled up Fernandez-Castano's scorecard, which is a promising sign for the nine-year professional.
Do not be surprised if none of these three players are still in the hunt come Sunday; however, their opening-round performances deserve some recognition.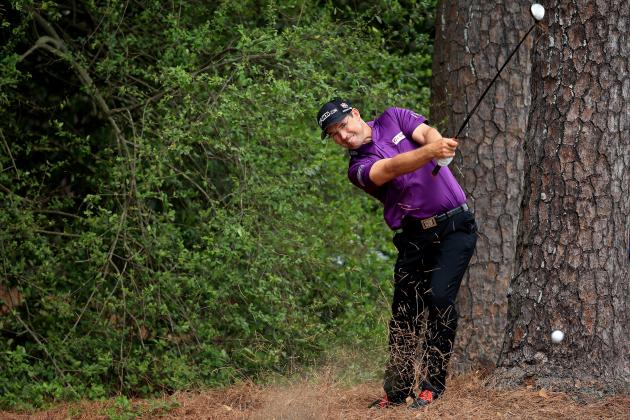 David Cannon/Getty Images
Padraig Harrington may not be around for the weekend after a dismal opening round.
If there was an award for worst scorecard of the day, three-time major champion Padraig Harrington would be one of the favorites to win it. The Dublin, Ireland native made four bogeys, two double bogeys and a pair of birdies to shoot a six-over 78 on Thursday.
Playing holes No. 12-18 at four-over-par is the main reason Harrington now faces an uphill climb just to hang around for the weekend.
Struggles with driving accuracy (57.1 percent) and hitting greens in regulation (55.6 percent) derailed Harrington's round.
Harrington appeared to be rounding back into form after finishing in a tie for 10th place at the Valero Texas Open last week. Apparently, Harrington left his best golf in San Antonio.
This dismal performance came as quite a shock, especially considering the fact Harrington finished inside the top 10 at last year's Masters. There does not appear to be any hope for Harrington to repeat that performance in his first major of 2013, however.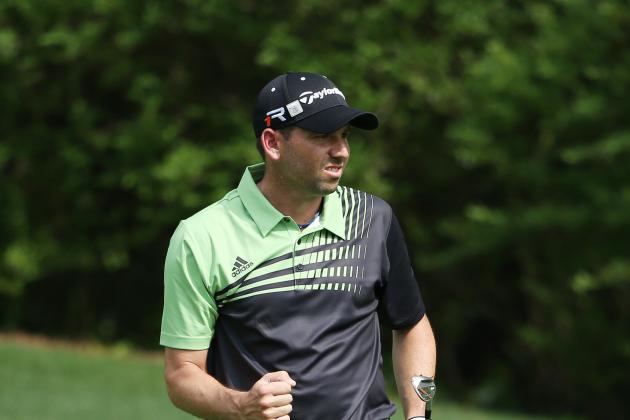 Andrew Redington/Getty Images
Sergio Garcia is back in contention at a major championship.
Sergio Garcia may not have played the prettiest round of golf on Thursday, but the score he turned in certainly reflected how well the Spaniard performed. Thanks to some great saves, Garcia turned in a bogey-free, six-under 66, which has him tied atop the leaderboard with Marc Leishman.
Success at Augusta has been hard to come by for Garcia. In 14 previous Masters appearances, Garcia has only finished inside the top 20 twice.
There is still plenty of golf to be played, but Garcia has a great chance to buck the trend this weekend as long as his putter stays hot. Garcia averaged 1.9 putts per green in regulation, which is the primary reason he poured in six birdies.
Driving accuracy will be a concern for Garcia, though, as the weekend approaches. Garcia hit just 7-of-14 fairways in the opening round, which is not going to get it done come Saturday and Sunday.
Whether or not Garcia hands around, however, will depend on his ability to consistently sink putts. This did not appear to be an issue for Garcia on day one.