New York Knicks vs. Chicago Bulls: Postgame Grades and Analysis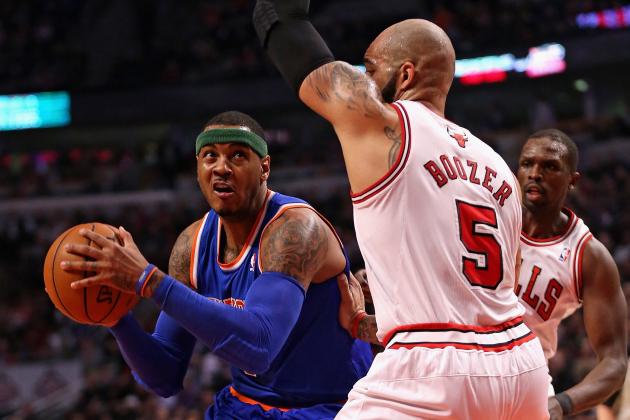 Jonathan Daniel/Getty Images

The New York Knicks and Chicago Bulls played a rare NBA split squad game in front of a restless United Crowd on Thursday night.
The injury report for the game read more like a Stephen King novel, as both clubs were clearly wearing the effects of a grueling six months of basketball.
Where the Knicks felt there injury problems more for their shear numbers, the Bulls faced another night of hoops sans Derrick Rose (knee) and Joakim Noah (foot).
Yet coach Mike Woodson's undermanned and undersized squad forced the issue. They sprinted out to a 23-6 run over a dismal opening six minutes that featured eight Chicago misses and a pair of Tom Thibodeau timeouts.
Thibodeau's second verbal barrage awakened his B-Team (Marco Belinelli, Jimmy Butler and Carlos Boozer), and Chicago closed the quarter on a 17-7 run.
The second quarter saw both teams trading buckets and veteran official Joe Crawford toss out technical fouls like he was running out of time to meet his season quota.
But Chicago started clamping down defensively in the second half, holding New York to 46 points in the last 24 minutes of regulation after allowing 59 in the first 24.
And it made enough strides on offense to grab a four-point lead with 2:36 left in regulation. New York scored the final four points of the period, but Carmelo Anthony's attempted game-winner clanged off the back iron and sent this game to an extra session.
In that overtime period, the Knicks looked gassed. Chicago scored 13 of the 19 overtime points to claim a 118-111 win.
The Bulls (43-35) moved a half-game clear of the Atlanta Hawks for the fifth seed in the East and busted a double-digit winning streak for the second time this season. The Knicks (51-27) lost for the first time in their last 14 games, but remained two games ahead of the Indiana Pacers for the second seed.
Begin Slideshow

»
Pablo Prigioni, Knicks
Prigioni's responsibilities are somewhat minimal. With so many ball-handlers on the floor and so many shooters around him, his main task is to keep the wheel turning.
That might mean making the extra pass or being a willing shooter when an open look comes his way in the offensive flow (seven points, 3-of-4).
In this game, his main focus was being a hustler, chasing down loose balls in his area and keeping his man in front of him.
He wasn't a defensive liability or a heavy participant in the action (24 minutes).
Grade: C+
Kirk Hinrich, Bulls
With so many regulars missing in action, the Bulls needed Hinrich to assume more responsibility. Whether creating shots for himself or finding clean looks for others, Chicago needed something out of him.
It was evident early that something wasn't coming on the offensive end. He was passive with the basketball and took the majority of his 11 shots down the stretch.
He struggled to convert looks all night (he made just three field goals and missed five of his six shots from three), but did show a degree of control over the offense (five assists, one turnover).
Still, he gave Thibodeau something to work with. He was a pest on defense (two blocks, one steal) and active enough on the glass (six boards).
Grade: B-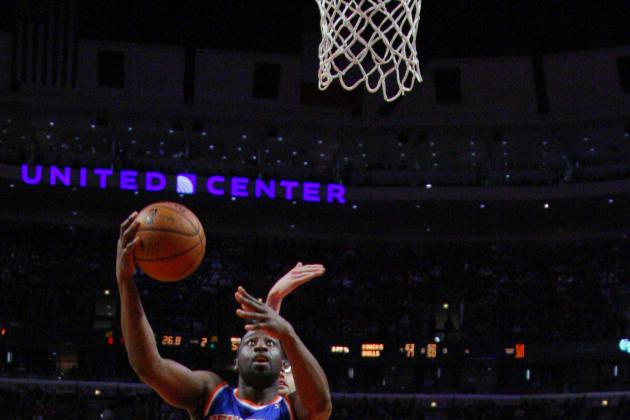 Dennis Wierzbicki-USA TODAY Spor

Raymond Felton, Knicks
Woodson's offensive plan in this game wouldn't work against every team, but New York's effort to expose individual mismatches as opposed to attacking Chicago's fluid team defense certainly had its merits.
Felton liked what he saw across from him, going after both Marco Belinelli and Nate Robinson off the bounce. He found some unimpeded paths to the basket or looked for his shooters when the defense collapsed (six assists, two turnovers).
When his teammates put the ball on the floor, he was a ready, willing and capable perimeter shooter (3-of-6 from three).
Defensively, he had his issues slowing his counterparts, but he wasn't atrocious.
Grade: B
Marco Belinelli, Bulls
Belinelli wasn't a factor on the perimeter, and for that reason alone, deserves credit for still finding a way to impact this game.
He's a better ball-handler than he's given credit for and showed a solid understanding of when to call his own number on drives (seven points) and when to look for his teammates (three assists).
He was challenged on the defensive end and didn't always answer how Thibodeau would have liked.
Grade: C+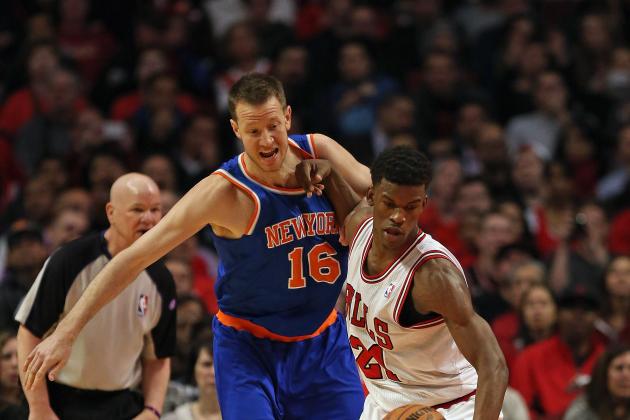 Jonathan Daniel/Getty Images

Iman Shumpert, Knicks
Shumpert was effective when he was on the floor (seven points, 3-of-3), but he limited his own workload (26 minutes) by battling foul problems all night before fouling out in the extra session.
He struggled to contain Jimmy Butler's relentless attacks and appeared to come out on the wrong end in this battle of athleticism.
His team-high plus-19 rating bears noting, but also shows how little the short-staffed Knicks could afford his foul trouble.
Grade: B-
Jimmy Butler, Bulls
If there's a silver lining to Chicago's injury woes, it's the fact that Thibodeau's been forced to increase Butler's activity.
He's shaking his reputation as a defensive stopper, and that's in no way of a criticism of his stifling play on that end. He gave the Bulls' starting five a go-to scorer (22 points, 9-of-15 from the field).
He was quicker to the ball than anyone on the floor, whether that was crashing the glass (14 rebounds), plugging the passing lanes (three steals) or challenging New York's shooters (three blocks).
He split time between some of the Knicks' best scorers (Anthony, J.R. Smith) and frustrated whomever he was matched up against.
Grade: A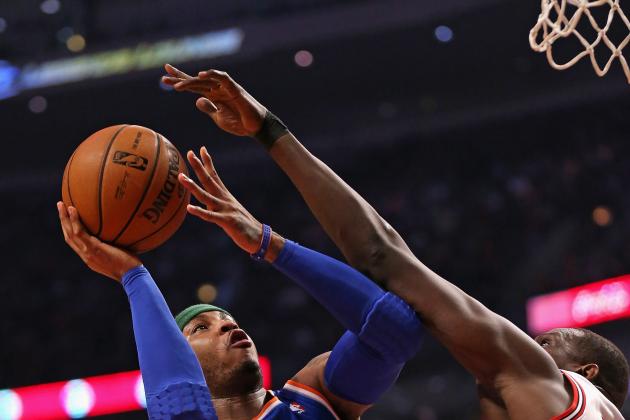 Jonathan Daniel/Getty Images

Carmelo Anthony, Knicks
The numbers were still there (36 points), but this was hardly the efficient 'Melo that has dazzled the basketball world of late (13-of-34 shooting).
New York's hero ball approach certainly didn't help matters. Anthony was tasked with consistently beating Chicago's best individual defenders and drew a horde of attention every time he touched the ball (five blocks against).
Even as his teammates struggled to find any offense down the stretch, Anthony gave them their best option to create offense. And he made a conscious effort to initiate his sets close to the basket, as he attempted just four threes and earned 10 trips to the free-throw line.
He spent a big chunk of his time at the five, and while he couldn't bring an interior presence, he more than held his own on the glass (game-high 19 rebounds).
Grade: A-
Luol Deng, Bulls
The Knicks made a determined effort to keep Deng away from the basket, and his own foul trouble (five fouls in 33 minutes) further limited his aggressiveness.
His offensive game suffered a bit (5-of-11 from the field), but he did use some shifty moves to get himself to the foul line six times.
Offensive struggles aside, Deng played a solid floor game. He gave the Bulls an extra rebounding presence (eight boards), which can't be understated, as both clubs needed a strong showing in team rebounds.
Defensively, he didn't allow his foul trouble to affect Anthony and Smith.
Grade: B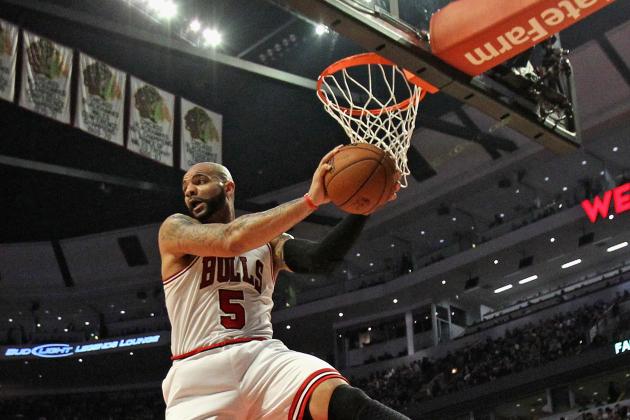 Jonathan Daniel/Getty Images

Chris Copeland, Knicks
Copeland may be the worst "center" I've seen all season. That's really no fault of his own, though, as he's at best a stretch forward.
He had to have pregame jitters, as he was matched up against the only big man to take the floor in this game. He wasn't a good scorer (14 points, 4-of-14 from the field) or a strong rebounder (five boards, 29 minutes).
But his mere presence on the floor gave Boozer problems, probably because he hasn't matched up with a lot of guys like him this season.
Copeland worked hard, but he didn't work efficiently.
Grade: D+
Carlos Boozer, Bulls
When Boozer saw Copeland across from him, just imagine what he was thinking: 20, 30, 40 points even?
Whatever he was planning for, though, it certainly wasn't this.
He was the big man in a small man's game, noticeably a step slower than anyone else on the floor. He labored to get his 13 points (3-of-11) and struggled dealing with the quick hands of his defenders (five turnovers).
It's tempting to credit his glasswork (15 rebounds), but just as tempting to wonder why he couldn't corral more given his massive size advantage in the paint.
Grade: B-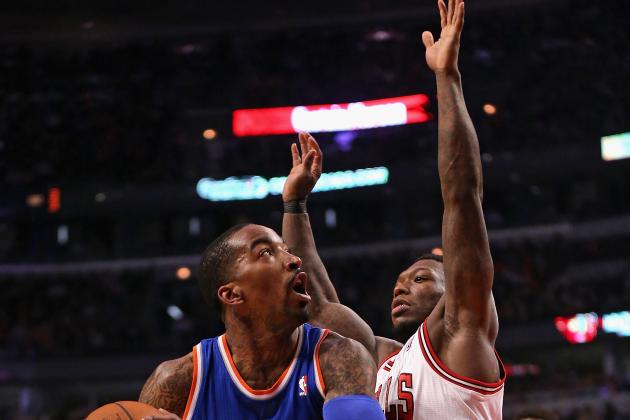 Jonathan Daniel/Getty Images

J.R. Smith, Knicks
Like Anthony, Smith fought to match his production (28 points) with efficiency (11-of-27).
But he faced some daunting individual matchups, facing some sizable strength deficits against Luol Deng and Jimmy Buter.
Offensively the Knicks' iso-heavy attack was destined to channel the good and the bad out of Smith, and that's exactly what it did.
Credit him for not settling for outside jumpers (he was 2-of-4 from deep), but he did force the issue on occasion when he attacked the basket. When he used his penetration to create passing lanes, he fared far better (four assists, no turnovers).
And, as was the theme for nearly every wing player in this game, Smith deserves a nod for his effort on the glass (14 rebounds).
Grade: A-
Nate Robinson, Bulls
There's always a bit of give and take with Robinson. But in this game, it was largely Robinson taking everything the Knicks were giving him.
He had a couple awe-inducing runs in the game and showed just how strong he can be on the offensive end when he's hot (35 points, 5-of-11 from three). And he showed some rare discipline with his shot selection, as you could count the number of his bad shots on one hand.
He was relatively quiet outside of his scoring (three rebounds, two assists and a block), but Chicago didn't need anything more than it needed his offense.
The Bulls have impressed with their ability to withstand a rash of injuries, but giving more minutes to athletic players like Robinson and Butler brings a new dimension to this Bulls team.
Grade: A+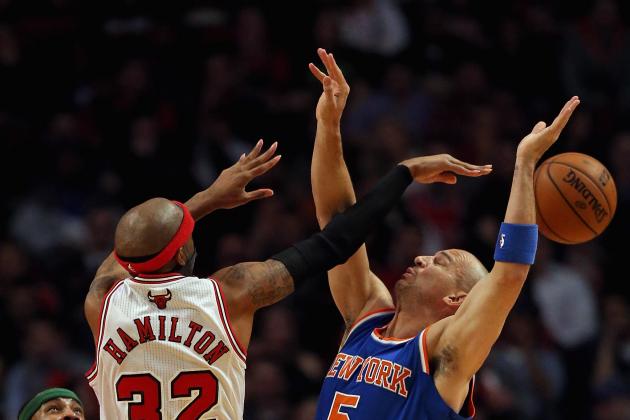 Jonathan Daniel/Getty Images

Knicks
With so many players out of this game, New York's remaining bench consisted of all of two players: Jason Kidd and Steve Novak.
Kidd was the far more active of the two, logging 36 minutes in the contest. Other than grabbing six rebounds and missing all four of his field-goal attempts, he was hard to notice.
As for Novak, his box score would have read straight goose eggs beyond his 12-plus minutes had he not attempted (and missed) a three.
Grade: C-
Bulls
Chicago's bench was even thinner as Richard Hamilton rounded out Thibodeau's seven-man rotation.
Hamilton was incredibly active in his 25 minutes and would have been in line for even more playing time had it not been for the massive outings from Butler and Robinson.
He finished the night with 14 points, eight assists (against zero turnovers), three rebounds and a steal.
Grade: B