OKC Thunder vs. Golden State Warriors: Live Score, Results and Game Highlights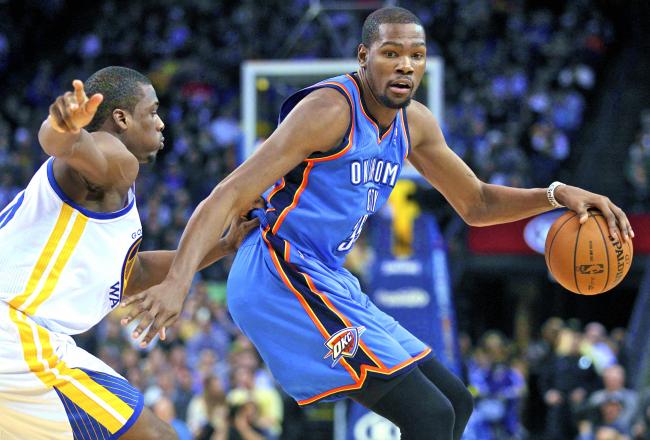 The Oklahoma City Thunder traveled to Oracle Arena and stole an easy win from the playoff-bound Golden State Warriors.
Golden State hung in with the Thunder, who are in pursuit of the West's top seed, through the first half. The Thunder were up by just six at halftime, but 62-percent shooting in the third quarter, aided by lax Warriors defense, was all they needed to turn this one into a laugher.
Kevin Durant was two assists shy of a triple-double—he dropped 31 and grabbed 10 rebounds. Russell Westbrook managed to dish nine assists while scoring 19, and Kevin Martin scored 23 points on 8-of-10 shooting.
Stephen Curry scored 22 to go along with seven assists, but most of those number came in the first half. The other half of the starting backcourt, Klay Thompson, shot just 2-of-10.
Jarrett Jack added 19 off the bench, but David Lee shot just 6-of-13 for the Dubs. Andrew Bogut struggled with his left ankle, and was pulled after the first half without scoring. Kendrick Perkins also left this one early with a hamstring flare-up.
Granted the Thunder strut out one of the NBA's most lethal offenses, but Golden State will need to sure up their defense if they look to make an impact in the postseason. Oklahoma City players were scoring at will in the second half, and Golden State buckets were essentially meaningless in the second half.
The win pushes OKC to solitude—they're now a half-game in front of the San Antonio Spurs for the top seed in the Western Conference. The Warriors are now just a half-game ahead of the currently seventh-seeded Houston Rockets.
Follow me on Twitter at @JSDorn6.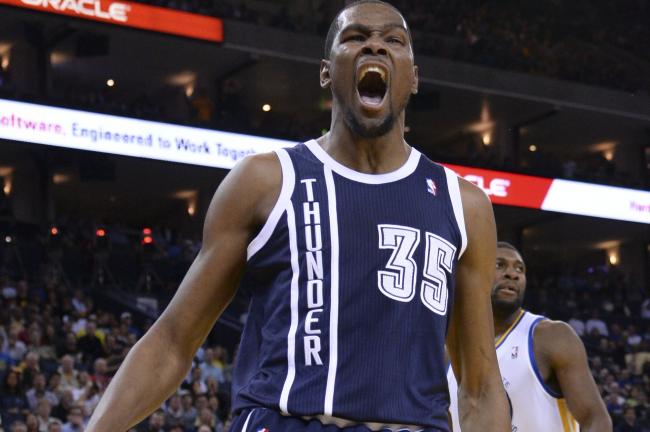 The Warriors managed to hang with the surging OKC Thunder through the first half, but a poor defensive third quarter did them in, and they weren't able to make up the lost ground. This one turned into a laugher by the time the fourth quarter even started, and the Thunder took the easy win on the road.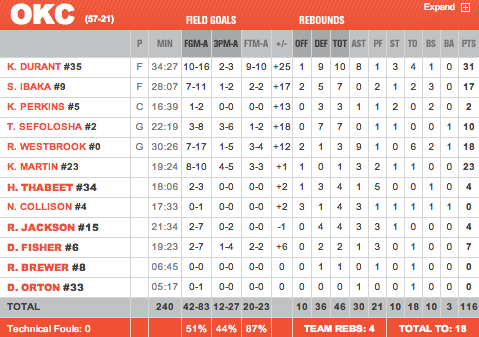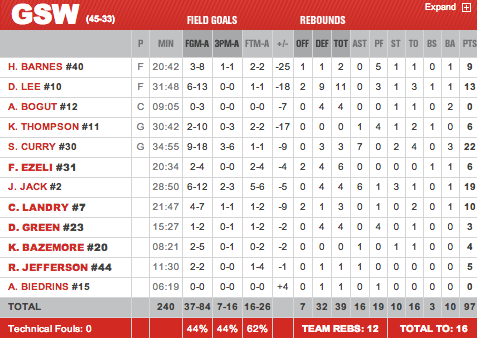 Here are the final boxes, via NBA.com.

The Warriors are doing their bet to make the final score look slightly less pitiful by adding some buckets here late, but this one was over before the fourth quarter even started.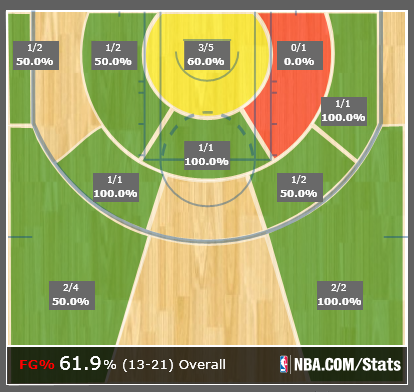 Here's OKC's shot chart from that killer third quarter that really put Golden State away. It was only a six-point game at half, remember.

Hasheem Thabeet—yes, that Hasheem Thabeet—puts the exclamation part on this one, sending much of the sold-out Oracle crowd home with a poster jam. If it wasn't garbage time before, it certainly is right now.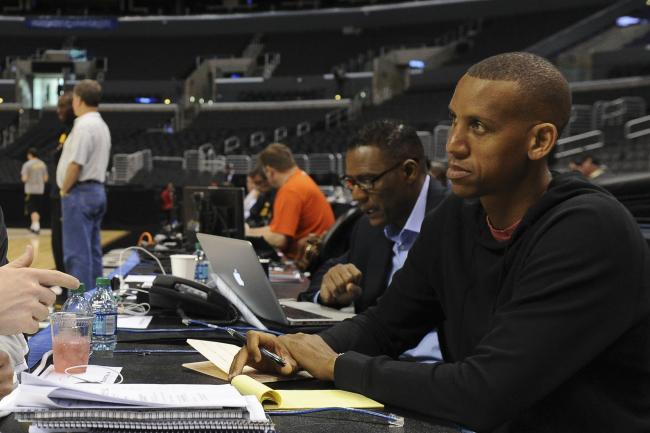 I think this game just needs to end, because Reggie Miller seem to be running out of consciousness. According to Miller, the Lakers stand a chance against San Antonio and the Thunder in a seven-game playoff series.

Derek Fisher is taking fadeaway jumpers and Ronnie Brewer is taking the ball up the floor for OKC. That's about all you need to know about the game at this point.
G-State has spread out the scoring, but defense is their issue tonight.
#Warriors trailing 105-86 w/ 5:54 left in 4Q. Only Curry, Jack & Lee have scored in double figures tonight for GSW.

— Golden St. Warriors (@warriors) April 12, 2013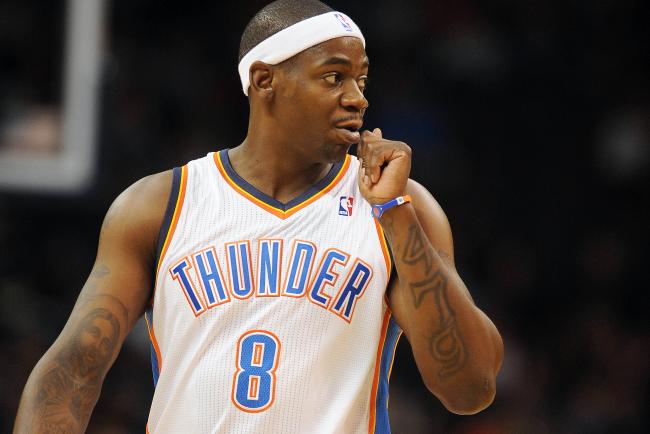 OKC has shot 51 percent from the field and 53 percent in the second half. The lead has ballooned to 21, and hey, Ronnie Brewer's playing, so you know this one's all but over.
Kevin Durant is two assists shy of a trip-dub. And here's a note from Marcus Thompson of Bay Area News Group.
OKC knows everything the Warriors are doing. They're rotating in anticipation of the Warriors' movement

— Marcus Thompson (@gswscribe) April 12, 2013
Jarrett Jack throwing wild attempts trying to draw calls is not the recipe for erasing a deficit. It leads to a terrible shot and another Kevin Martin three.

As long as Stephen Curry doesn't go on an MSG-type tear very soon, this one's looking like an OKC victory.
The Thunder is 52-7 when leading after three quarters.

— Darnell Mayberry (@DarnellMayberry) April 12, 2013

It's clearly not Golden State's night. Curry comes away with a timely steal, but gives it right back in transition. Failure to take advantage is killing the Warriors in this one.

The Warriors actually force OKC into a missed three, but fail to box out and allow a Collison put-back slam. Landry and Lee need to use their size to inch closer in this final quarter.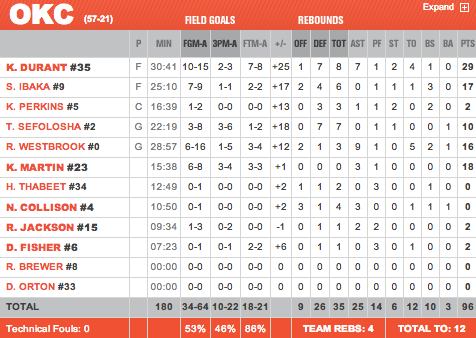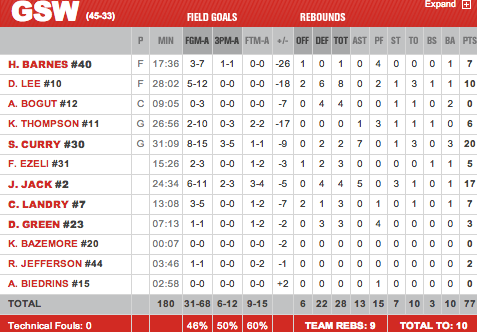 The third quarter comes to a merciful end for the Warriors. They were outscored 36-23, and the lead has ballooned to 19 points.
KD suddenly has 29 points, and Westbrook is an assist shy of a double-double. Martin and Ibaka have 18 and 17 for OKC, respectively.
Curry has 20 points and 7 assists on 8-of-17 shooting, and Jack has added 17 for Golden State, but Klay Thompson has shot just 2-of-10 and David Lee 5-of-12.
The Warriors have a serious hill to climb in the final period.
The Warriors can score all they want, but leaving open Thunder shooters is a sure-fire way to lose this game. Back-to-back threes by Martin and Durant have opened this lead up to its largest state.
KD is doing what KD does. Pouring in points from the stripe. He's 7-of-8 from the free-throw line.

Harrison Barnes commits a tough, clean foul on Kevin Martin under the hoop. Golden State needs more of this with their lack of size thanks to Bogut's injury. The catch is that's Barnes' fourth foul.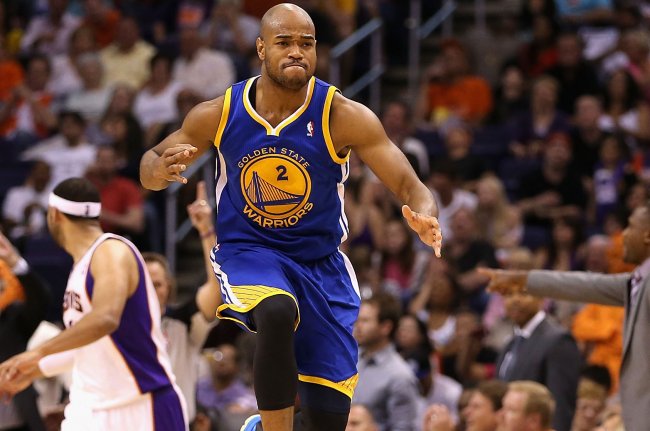 Christian Petersen/Getty Images
Jarrett Jack is trying to bring the Warriors back into this one on his own. After two layups, he's got the Warriors' crowd back into the game and Scott Brooks is forced to call time. The 17-point lead is down to 12.

Golden State actually forces a KD miss, and turns it into fastbreak points with a Jack layup. That's the only way they'll crawl back into this game—with stops on defense.

Kevin Martin is shooting 5-of-7 for OKC, Durant 8-of-12, and Ibaka 7-of-8. Especially in the third quarter, it seems as if the Thunder can score whenever and however they want against a soft Warriors defense.
An 8-0 OKC run has this one looking like its slipping away from Mark Jackson's Warriors team.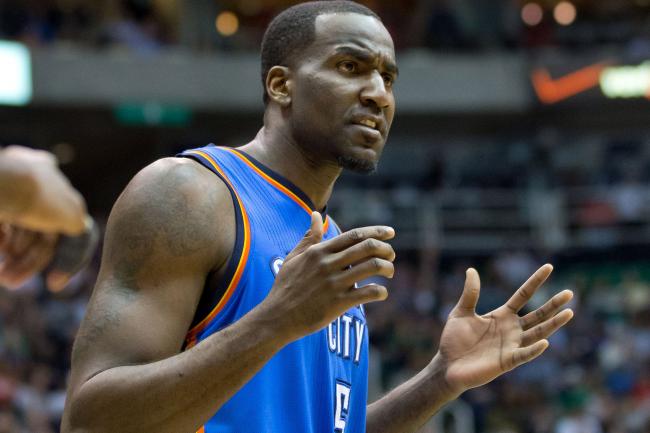 Both teams are battling health issues down low. Bogut won't return for G-State, and it was just announced that Kendrick Perkins will be out tonight with a hamstring issue.
THUNDER 78, WARRIORS 65 — 4:23 LEFT IN THE 3RD

The Dubs are going to have to star D'ing up if the want to chip away at this lead. They've been scoring the ball without many problems, but OKC can say the same.

KD answers back Steph Curry's three-ball with one of his own, and the Thunder aren't letting this double-digit lead slip. It's back to 13.
This article is
What is the duplicate article?
Why is this article offensive?
Where is this article plagiarized from?
Why is this article poorly edited?

Oklahoma City Thunder: Like this team?