Most Important Tangible Skills a WR Recruit Needs for Success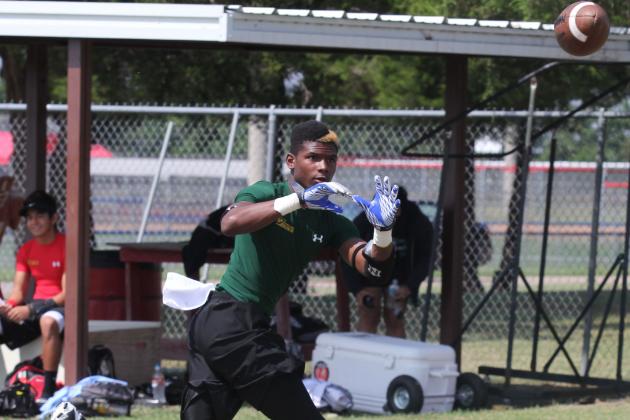 247Sports
The wide receiver position has become perhaps the most popular position to play today. Young kids see the glory receivers get when catching a deep pass for a long touchdown, but they don't realize how much more is needed for success at the position.
There are a ton of other things that go into being a great WR, and today, we're going to look into the most important tangible skills a WR needs to have. We've already been over the QB position, RB position and DE position, so let's look at what a recruit needs to have to work well as a perimeter pass catcher.
Now, again, these skills are what I look for and deem most important. I say that because many of you want the 6'5" WR like Calvin Johnson, when players like Steve Smith of the Panthers, Victor Cruz and Santonio Holmes have also had elite success. So size may be important for you, whereas it isn't for me.
Yet, here are the most important tangible skills WRs need to have as college recruits.
Begin Slideshow

»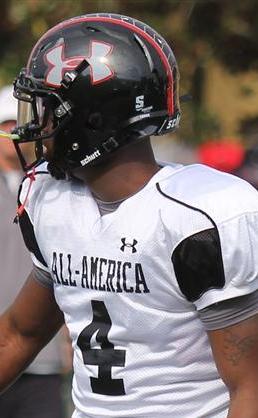 247Sports
Release quickness is vital, as if a WR can't get off the line in a hurry, then he's probably going to be covered easily by a CB.
Receivers who show explosive and sudden quickness to launch into their routes at the snap stand out. Last year, Robert Foster was a recruit whom I felt showed flashes of outstanding release quickness.
When I was with the Giants, Chad Johnson had jaw-dropping release quickness. The ability to vertically and laterally explode off the line is a much-needed skill a WR recruit needs.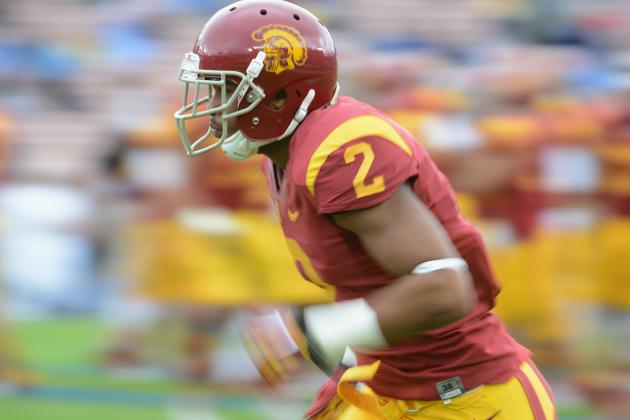 Harry How/Getty Images

The main thing you hear from CBs who covered Jerry Rice is that all of his routes looked the same until he got to his junction points. Rice was a grand master at setting defenders up plays before he made his move to make a big play.
Polished route runners are usually the guys who have the most consistent success. WR recruits really aren't polished in this category, but they can't be sloppy route runners.
Receivers must have the correct footwork, sense of direction and just savvy to be slick route runners. Robert Woods was a great route runner even coming out of high school.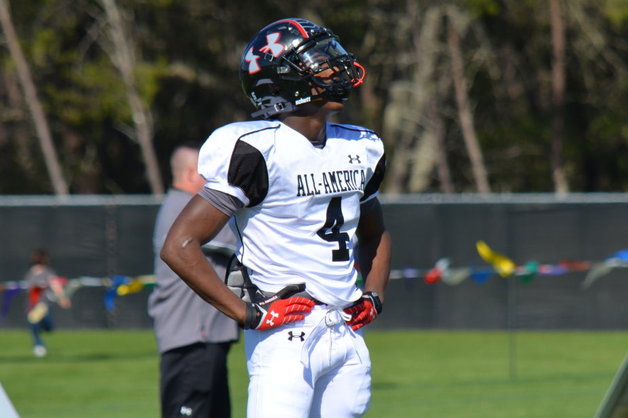 247Sports
To me, aside from hands, separation quickness is the most important skill a WR needs to have. They must be able to separate quickly from DBs coming out of their cuts and breaks, which I call junction points.
A WR who may not have great long speed but has good separation quickness will still have a tremendous amount of success. Again, this is a skill that Robert Foster has and it's impressive.
Foster doesn't need to decelerate coming into his breaks. He comes out of his breaks smoothly and explodes when changing direction, which creates separation from cover men.
Separation = a WR being open, which is the main objective of the position.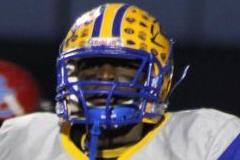 247Sports
Some receivers can get by without being great at this, but I feel it's a needed skill. Some offenses don't have any sight adjustments or option routes in it, so WRs don't really have to read coverages.
But the smart ones, the ones who can tell in the pre-snap phase exactly where they're going to be open, are the ones who stand out. If you see a WR who constantly runs deep posts into safeties or a guy who never settles in zone coverage voids, then he lacks this skill.
Sometimes it's not about going deep, rather just finding a hole in a defense and catching the ball there for a solid gain.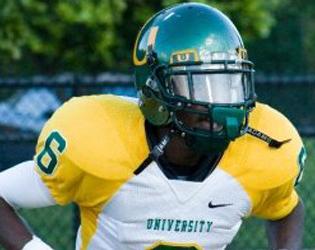 247Sports
Lynn Swann had perhaps the best pure body control of any WR ever. He was a gliding athlete who could do some amazing things to get himself in position to catch the football.
A WR recruit must be a good athlete, or he's going stick out like a sore thumb. Stiff guys with no ability to quickly change directions, leap up for balls or have fluid movement skills are a no-no.
Jordan Cunningham may not be the fastest WR in the 2013 class, but he has very good body control and athleticism, which is why he should be successful at Vanderbilt.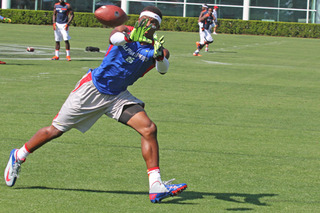 247Sports
If a WR can't catch, then you know what we as evaluators call those kind of guys?
We call them "cornerbacks".
Seriously, if you can't catch as a WR recruit, then you will be turned into a DB pretty quickly in college. Today, many WR prospects do a lot of body catching. A recruit must have the ability to snatch, pluck and grab balls in the air with his hands.
You hear me use phrases like "catch radius" and "strike zone". That means the range around a WRs body where he can catch the ball. The longer the arms on a WR, likely the bigger his strike zone is.
Ricky Seals-Jones is a WR recruit with very good hands, a large strike zone, ball skills and crowd-catching ability.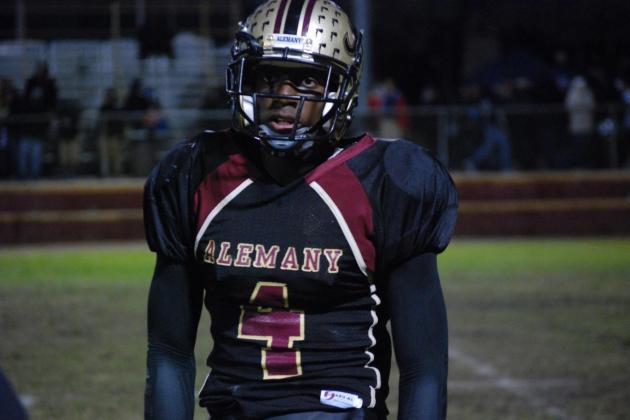 247Sports
"RAC" means "Run After Catch." This is where a WR can make a statement to show he's not a possession guy.
Aaron Hernandez may play TE, but he has the RAC skills of a WR. Robert Foster and Steven Mitchell were two 2013 recruits who displayed terrific RAC skills and instincts with the ball in the post-catch phases of plays.
It's the ability to make a play, make defenders miss and gain extra yards running with the football after a WR catches it.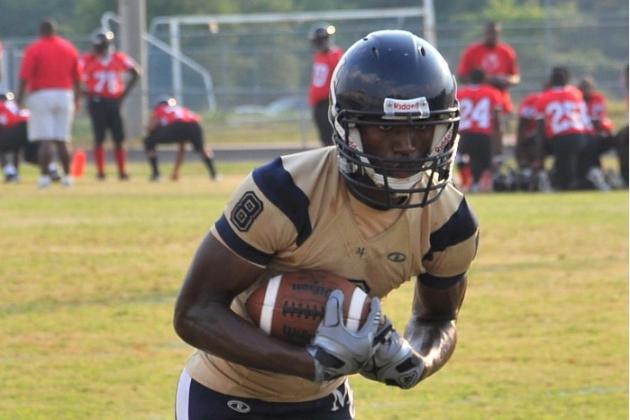 247Sports
WR recruits don't have to be blazers and track stars. Jerry Rice wasn't the fastest guy in the NFL, and neither is Anquan Boldin right now.
However, those guys had success at the WR position.
Speed is probably overrated for the WR position, but we still would like a prospect to have a good amount of it. The ability to run by people and get deep consistently is a trait that is cool to have.
Marquez North and Robert Foster are two WR prospects who have great speed from the 2013 class.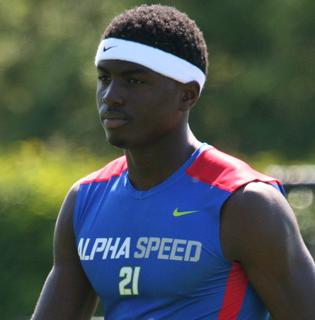 247Sports
Not all WRs want to block, and this is something that many of them dread. But the ones who want to be as complete a player as possible take this skill seriously.
I'm not saying a WR recruit should be mauling and pancaking CBs on run plays, but when a RB is coming to his side, he must be able stalk block and stack up a defender to help out.
The top blocking WR recruit last year was Laquon Treadwell.
Edwin Weathersby is the College Football Recruiting Analyst for Bleacher Report. He has worked in scouting/player personnel departments for three professional football teams, including the New York Giants and Cleveland Browns.