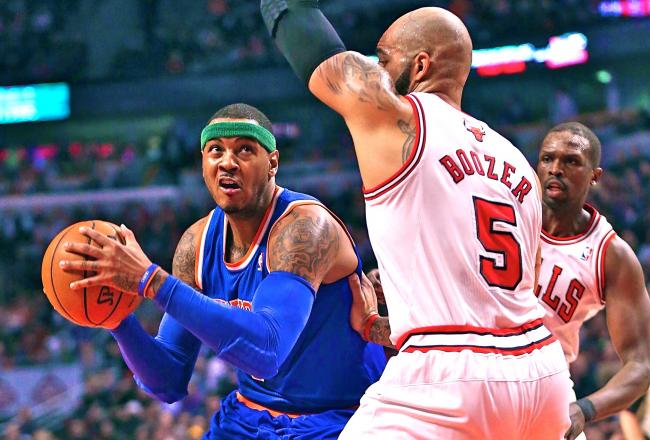 Game commentary from the Chicago Bulls 118-111 victory over the New York Knicks from the United Center in Chicago, IL on April 11, 2013.
4 Keys to Bulls Victory:
1) Outstanding "Bench": Nate Robinson scored 33 points off the bench in 31 minutes of play and Rip Hamilton chipped in 14. No other Bulls reserves played.
2) Melo Misery: Carmelo Anthony put up big scoring numbers, but it took him 34 field goal attempts to reach his 36 points. The Bulls made Melo work for each and every bucket, and while the Knicks were able to ride Anthony for most of the game, the Knicks still shot just 39.8 percent from the floor
3) Good Ball Movement: 23 assists on 39 field goals, only eight turnovers
4) The (Obvious) OT: The Bulls outscored the Knicks 13-7 in the extra period, and never really looked back after the extra period began. Feeling good and at home, they won their 43rd game of the year, which is a pretty good total all things considered.
BULLS 118, KNICKS 111 — FINAL
Did anyone expect to see a Nate Robinson vs. Melo shootout? Ah, well, if you'd been watching much of the Bulls this year, it wouldn't have been much of a surprise. Lil Nate has made it a lot more bearable for Bulls fans suffering from a lack of excitement with no Rose.
Melo has 36 points and Robinson has 33.
BULLS 116, KNICKS 111 — Under 1 Minute in OT
Nate Robinson's three-point play to strike first blood in OT gave him an even 30 points for the game. Ray Felton could do nothing but reach as Nate Rob blew by him as he's been doing all night. A triple by Luol Deng added insult to injury, and the Bulls are now just looking for a short run to take full command of this one.
BULLS 111, KNICKS 107 — 4:00 OT
Six seconds into overtime and Ray Felton went down awkwardly with a knee injury. It seemed to twist sideways as he went down, but he's getting up and walking it off. He'll stay in the game.
KNICKS 105, BULLS 105 — 4:54 OT
The Knicks had one last chance with 1.5 seconds to go.
Carmelo Anthony had a clean look from 20-feet to win the game, but it went long off the back iron. We have overtime.
KNICKS 105, BULLS 105 — End of Regulation
The Knicks inbounded the ball with 18.9 seconds to go down by two following a timeout. They isolated Carmelo Anthony, but he took no time in putting the ball on the floor and driving to the hoop. Melo was fouled by Jimmy Butler and given a chance to tie the game from the line.
He drilled them both and the Bulls will have 14.5 seconds to set up a game winner.
KNICKS 105, BULLS 105 — 14.5 seconds 4th, Bulls Possession & Timeout
Jimmy Butler will finish with just a hair under 45 minutes tonight. Last game on April 9, he played all 48 minutes against the Raptors.
BULLS 105, KNICKS 103 — 1:10 4th
The most hilarious matchup that has evolved of these small lineups is that Carlos Boozer is now covering Jason Kidd. At one point this could have been considered a power forward covering a point guard. Now it's unclear which position either guy plays, and even more so in tonight's topsy turvy lineups.
BULLS 103, KNICKS 101 — 1:47 4th, Bulls Timeout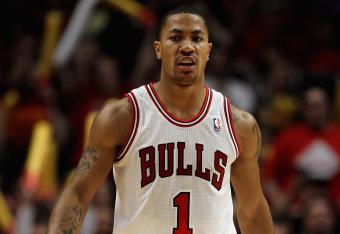 A big difference between this year's Bulls squad and those of the two seasons prior to this is that during these junctures of the game, the offense would be a lot simpler: Isolate Derrick Rose. The lack of having an isolation scorer has necessitated a lot more passing to get quality shots, and with Joakim
Noah not on the court tonight, the easy looks are even more difficult to come by. Having an isolation scorer is so important for NBA teams.
BULLS 101, KNICKS 96 — 2:44 4th
Carmelo Anthony has needed 17 more field goal attempts to score five more points than Nate Robinson (30 to 25). Nate Rob is an ultra efficient 8-of-12 from the field (including 5-of-9 from three), while Melo is just 11-of-29.
BULLS 99, KNICKS 94 — 4:22 4th, Bulls Timeout
Tonight's been a noted exception, but ordinarily a seven point lead is a pretty substantial one for the Bulls. They've allowed Carmelo Anthony to get his, and the inefficient night Melo has had is what's allowed the Bulls to stay in this and creep out to a lead.
BULLS 99, KNICKS 92 — 4:45 4th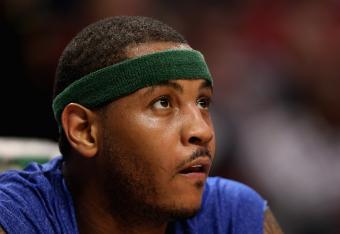 Carmelo Anthony is having another big scoring night, but it hasn't been an efficient one. He's hit jus 10-of-27 from the floor (37 percent), and the Knicks are shooting just 42.3 percent as a team.
Raymond Felton is the only Knick connecting at a nice rate, as the UNC product has hit 7-of-13 from the floor en route to his 17 points. The Knicks are negative-29 with J.R. Smith on the court, though he is currently in the game matched up against Jimmy Butler.
BULLS 94, KNICKS 88 — 6:45 4th
#Bulls take the lead vs #Knicks. They ended the #Heat's 27 game win streak. NYK has won 13 in a row...can lightning strike twice? #NBAonTNT

— TurnerSportsPR (@TurnerSportsPR) April 12, 2013
Streak ender?
BULLS 90, KNICKS 86 — 8:30 4th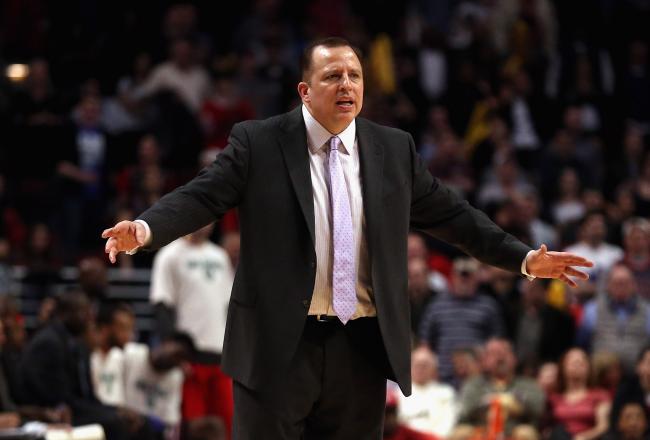 Tom Thibodeau chucked a towel onto the court in frustration as Nate Robinson tried a look-away lob pass to Jimmy Butler which resulted in a turnover. The play came in sequence after Robinson has just connected on his fourth three point shot. He has 20 on the night, and the turnover was still just his second.
The roller coaster ride of Nate the Great is what keeps him from reaching that level of being a true starter, or anything of the sort. Again, he's still the best third stringer in the league.
BULLS 88, KNICKS 86 — 8:38 4th, Timeout
The Bulls worked it to Nate Robinson for a corner three to close the quarter. The triple cut the Knicks lead to just two points after trailing by as many as 15 in the quarter, and Robinson has 17 points, two assists and three three-point field goals in 15 minutes off the bench.
KNICKS 82, BULLS 80 — End of 3rd
Bulls going at Jason Kidd inside and deep with Jimmy Butler. Aging advocates and AARP representatives preparing legal action for constituent

— Sam Smith (@SamSmithHoops) April 12, 2013
Teams have been going hard at Kidd every chance they've had all season.
Check out Carmelo's first half shot chart against the Bulls. Shooting well from the left elbow twitter.com/ESPNStatsInfo/…

— ESPN Stats & Info (@ESPNStatsInfo) April 12, 2013
Melo's shot chart from tonight isn't quite as impressive as the one that'd been circulating illustrating above average shooting from all spots on the court (except the corner three).
KNICKS 81, BULLS 73 — 2:15 3rd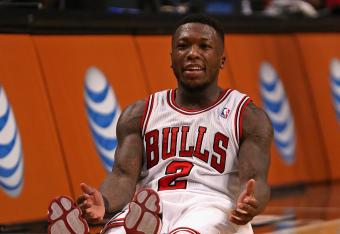 The Bulls backup backcourt of Rip Hamilton and Nate Robinson has outscored the starting duo of Kirk Hinrich and Marco Belinelli 25-7.
KNICKS 79, BULLS 68 — 3:56 3rd, NY Timeout
The Bulls will lose Sunday in Miami. Lebron and Wade DEFINITELY want revenge on Chicago for snapping their streak and they will get it.

— FromRussiaWithDunk (@FromRussiaWDunk) April 12, 2013
Interesting notion, but I'm not sure LBJ and Wade care much right now. They have bigger fish to fry than a regular season game with things all but wrapped up. If they meet Chicago in the playoffs, though, needless to say it'll be on.
The Bulls reeled off a mini run to cut the Knicks' lead to 11, and their defense is creating offense.
KNICKS 79, BULLS 68 — 3:59 3rd, NY Timeout
Just sad that every #Bulls game has come down to being amazed they stay in the game. Just not much of a chance of winning. #Knicks

— Matthew Schwerha (@MatthewSchwerha) April 12, 2013
Sadly, this meager hope of just staying in games becomes the best some fan bases can hope for on any given year. The good thing for Bulls fans is that once D-Rose returns, the team will return to winning (presumably). In other words, I don't feel bad for a fanbase that has seen its team walk away with the East's best record both seasons prior to this campaign.
KNICKS 75, BULLS 62 — 5:55 3rd, Official's Timeout
It feels like a third quarter lull, despite the fact the Knicks have gone on a 14-4 run to open the period. It's just that it's been nearly five minutes and the Bulls aren't doing much offensively. The Knicks can potentially build on this and turn this into a blowout. Melo has 22.
KNICKS 73, BULLS 58 — 6:45 3rd
This game has the feel of that "6'6" and Under" league that they used to conduct back in the 90s. Both teams are using four-guard sets, with the Knicks masquerading Chris Copeland at the 5-spot and the Bulls using 4-man Carlos Boozer.
KNICKS 64, BULLS 57 — 9:15 3rd
Nate Robinson's palming violation turned the ball over with 37 seconds which put NY in a 2-for-1 situation. Raymond Felton was able to beat Kirk Hinrich off the dribble for a quick score, and the Knicks fouled Nate Robinson who hit both free throws to pull the Bulls within five. Robinson has 14 points, all of which came in the second quarter.
On the Knicks final possession, they worked it around for a corner three from Steve Novak, which missed long.
The Bulls allow only 92 points per game, but have surrendered nearly two-thirds of that through the first half.
KNICKS 59, BULLS 54 — Halftime
The Bulls bench has outscored the Knicks 19-11, but let's not pretend we're talking about large groups of players. Chicago has used just two reserves, and the only Knick to score off the bench is J.R. Smith's 11 points.
KNICKS 55, BULLS 52 — Under 1 Minute, 1st half
Tallest guys on court are Deng for Bulls and Anthony for Knicks. Wilt is rolling over in his grave

— Sam Smith (@SamSmithHoops) April 12, 2013
Partly injuries, partly the changing of the times. The days when seven-footers were guaranteed to start just due to stature are gone.
KNICKS 53, BULLS 50 — 1:36 2nd