Tyler Eifert: 5 Things You Need to Know About the Notre Dame TE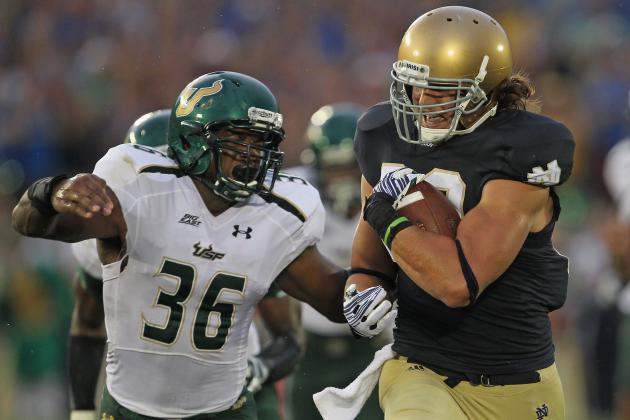 Jonathan Daniel/Getty Images

It has been a bit of a roller coaster for Tyler Eifert throughout this draft season.
He started out as the consensus top tight end before Zach Ertz came out of nowhere to challenge him. Eifert has since reclaimed the top spot in the draft class.
Here are five things you need to know about him as he paves his way to the NFL.
Combine results courtesy of NFL.com. College stats courtesy of sports-reference.com.
Begin Slideshow

»
Full Name: Tyler Eifert
Birthday: September 8, 1990
Hometown: Fort Wayne, Indiana
School: Notre Dame
Major: Management consulting
Year: Senior
Twitter: @EiferTy80
As tight ends go—and as part of an offense that won't get confused for Oregon—Eifert had a pretty good career, statistically.
Once Kyle Rudolph got out of Eifert's way, the big tight end's statistics took a big jump. Instead of continuing that rise during his last year, though, most of his stats took a hit.
| | | | | |
| --- | --- | --- | --- | --- |
| Year | Rec | Yds | Avg | TD |
| 2010 | 27 | 352 | 13 | 2 |
| 2011 | 63 | 803 | 12.7 | 5 |
| 2012 | 50 | 685 | 13.7 | 4 |
| Career | 140 | 1840 | 13.1 | 11 |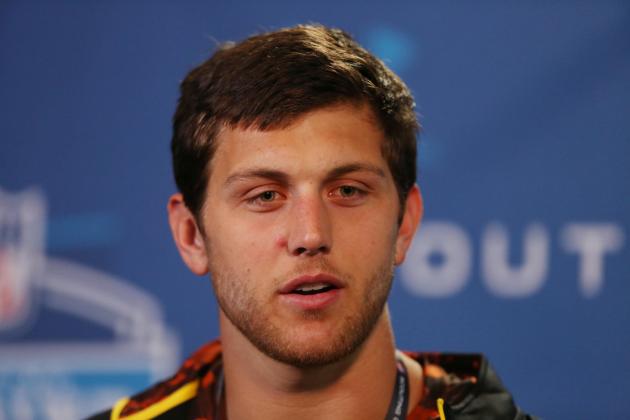 Brian Spurlock-USA TODAY Sports

Measurables
Height: 6'5 1/2"
Weight: 250 lbs.
Combine Results
40-yard dash: 4.68 seconds (top performer)
225-pound bench press reps: 22 (top performer)
Broad jump: 119 inches (top performer)
Vertical jump: 35.5 inches (top performer)
20-yard shuttle: 4.32 seconds (top performer)
60-yard shuttle: 11.52 seconds (top performer)
3-cone drill: 6.92 seconds (top performer)
Zach Ertz might have pulled even with Tyler Eifert by the time they hit the combine, but Eifert distanced himself from his Stanford competition with an excellent performance.
Gary A. Vasquez-USA TODAY Sports

Notre Dame is churning out tight end prospects at a torrid pace these days.
Tyler Eifert follows Kyle Rudolph to the NFL, just two years after the big tight end went to Minnesota. Rudolph is just now starting to make his mark at the next level after developing for his first couple of seasons.
Eifert continues the new tight end tradition at Notre Dame.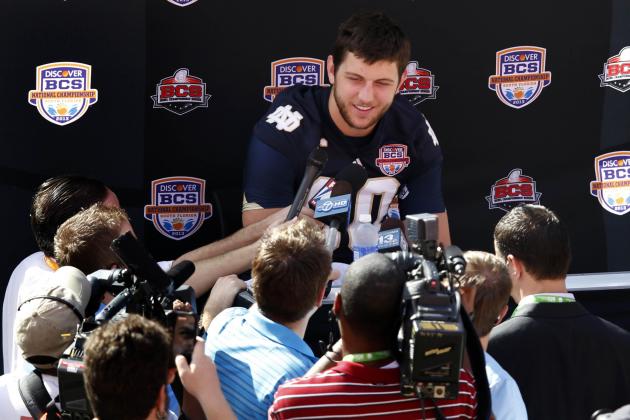 USA TODAY Sports

What does Twitter have to say about Tyler Eifert?
Recapping the TE workouts, it's a fair to say #NotreDame's Tyler Eifert continued to establish his place atop just about all TE rankings.
— Dion Caputi (@nfldraftupdate) February 23, 2013


TE Tyler Eifert and OG Jonathan Cooper look like other, more distant 1st Rd options for the #Dolphins if they stay at 12. #NFLDraft32
— Ryan Lownes (@ryanlownes) April 6, 2013


Tyler Eifert is one of my favorite players in the draft.
— Ryan Riddle (@Ryan_Riddle) April 5, 2013


What Tyler Eifert would mean for the Dolphins. A little diagram using him and Keller.Lots of mismatches twitter.com/KohneysKorner/…

— Marc Kohn (@KohneysKorner) April 22, 2013