Bradley McDougald: Video Highlights for Former Kansas FS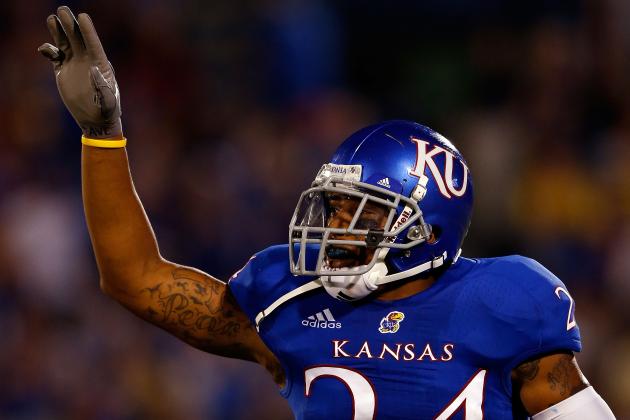 Jamie Squire/Getty Images

A four-year letterman at the University of Kansas, Bradley McDougald gave Jayhawks fans the pleasure of watching what hard work and a team mentality can do for a player.
As a true freshman wide receiver, McDougald played in all 12 games on offense, defense and special teams. He recorded 33 receptions for 318 yards (9.64 yards per catch), five tackles with an interception and averaged 18.8 yards per return on 21 kickoffs.
During his sophomore season in 2010, he began seeing less playing time on offense and was asked to play a bigger role at safety.
That season, he notched only 19 receptions for 240 yards (12.63 YPC) and a touchdown while recording 16 tackles and another interception on defense. His coaches saw something special from him on the defensive side of the ball.
They asked him to switch full-time to safety for his junior year, and over his final two seasons in Lawrence, McDougald was one of the leaders of the Jayhawks defense.
He racked up an average of 90 tackles per season with five total interceptions and 11 passes defended. He finished his career with 203 tackles, 10 tackles for loss, two sacks, seven interceptions, 14 passes defended and four forced fumbles.
Here are some of McDougald's best plays from his career at Kansas.
Begin Slideshow

»
McDougald's ball skills are evident from the second he picks off this James Franklin pass.
As he steps in front of the pass intended for Missouri tight end Michael Egnew, he immediately has to slow his pace upon landing to avoid running into senior cornerback Anthony Davis.
After turning upfield, McDougald angles himself toward the sideline before encountering Franklin at the Tigers 45-yard line. All it takes is a cut to the inside to get around the hapless quarterback, and McDougald is off to the races.
He outruns the Missouri offensive line and senior receiver Wes Kemp on his way to paydirt.
On this play against Baylor from his junior year, McDougald is not initially in the picture.
As soon as the ball is snapped, however, you can see him flying into the backfield from the right side of your screen.
Bears quarterback—and future No. 2 overall pick in the 2012 NFL draft—Robert Griffin III runs an option play with sophomore running back Glasco Martin.
Both McDougald and sophomore defensive end Keba Agostinho knew the option was coming—both were in the backfield before the play could fully develop.
The 6'0", 215-pound safety jumped the pitch, knocking the ball high into the air and backward. With a more fortuitous bounce, he would have scooped it up and scored, assuredly making it one of the plays of the college football season.
Senior linebacker Steven Johnson (No. 52) fell on the ball to give Kansas possession at midfield.
He will likely play free safety at the next level, but here on this play, McDougald shows he is strong against the run as well.
Sure, it was just South Dakota State—a Football Championship Subdivision school that was completely outmanned and overmatched against Kansas that September afternoon.
But it was not SDSU's lack of size, speed or talent that allowed McDougald to plant Jackrabbits running back, sophomore Zach Zenner. It was his own instincts as a football player to sniff out the run and blow up that play.
Had he come full-speed ahead and not waited for Zenner to receive the handoff, McDougald could have possibly taken down sophomore quarterback Austin Sumner and potentially caused a fumble.
It would have been a spectacular play, but the reason he did not do that is the reason to like this play even more.
Had he gambled and tried to ravish Sumner, he may have been too late and gotten to him after the exchange. That would have left a void on the right side of the defense, creating a potential big play for Zenner.
Staying home ensured a loss on the play. It was a heads-up choice from McDougald that created an equally positive result.
The play resulted initially in a key first down for Iowa State on 3rd-and-12 after Kansas kicker Alex Mueller missed a 49-yard field goal.
The Jayhawks were protecting a lead in the second quarter when they allowed that long third-down conversion. Momentum was on the verge of shifting to the Cyclones sideline.
Then, it happened.
McDougald approached receiver Darius Darks near midfield, noticing the lanky senior was cradling the ball in a way that he knew he could get it out if he tried. He sidestepped Darks and poked at the ball, freeing it from the unsuspecting receiver.
After a scramble for the loose ball, Davis—the corner from the first highlight whom McDougald avoided after the pick—fell on it, securing the ball near midfield for Kansas.
Against the Missouri Tigers once again, this time a year earlier, McDougald showed he has good ball skills and route-knowledge.
He started up towards the line on this third-down play before backing off just before the snap.
Sophomore receiver T.J. Moe runs a six-route (known as an in-route) to the inside of Davis, which McDougald reads by first checking the receiver, then watching Tigers quarterback Blaine Gabbert's eyes.
Gabbert fails to check where McDougald is before cutting the ball loose, leading to an interception for the then-sophomore safety.
Those kinds of instincts come from his time as a receiver, knowing the route tree and knowing where the ball will go relative to where the receiver is going.
It is not often we see a defensive back beat a lineman while in pursuit of a quarterback, but that is just what McDougald did against TCU last season.
Junior Tayo Fabuluje, a 6'7", 315-pound left tackle, sees McDougald too late as he let left guard Eric Tausch deal with Jayhawks defensive end Toben Opurum (No. 35) by himself.
Fabuluje slides out as far and as quickly as he can, but McDougald is too fast around the corner. He brushes off the big left tackle as he skates around him en route to Horned Frogs quarterback Casey Pachall.
McDougald gets to Pachall and alertly rips at the quarterback's throwing arm, striking the ball loose and generating a turnover.