About half of the Masters Day 1 contenders are done with their 18 holes at Augusta, and Marc Leishman sits atop the leaderboard in the mid-afternoon (as of 3:40 p.m. ET) with roughly half of the field yet to retire to the clubhouse for the day.
Per the usual with a major tournament, someone we didn't expect to be in contention will start the Friday morning round with something to prove. Joining Leishman (six under) at the top of the big board is David Lynn (four under), Jim Furyk (three under) and Zach Johnson (three under), while Freddy Garcia is off to an extremely hot start at three under through just seven holes.
Justin Rose and Lee Westwood headline a group of finished golfers that sit at two under.
The most noticeable golfer on the course—Tiger Woods—got off to a good start, but currently sits at two-under par with two holes to play. Woods bogeyed No. 14 and is four strokes behind the current leader.
While the bogey hurts, Yahoo! Sports' Pat Forde is looking on the bright side after what should be considered an opening-round success for Woods (unless he collapses on the final two holes):
Tiger has played himself out of contention on Thursday before at Augusta. Certainly not the case today, heading to the par-5s he's owned.

— Pat Forde (@YahooForde) April 11, 2013
Woods also made unceremonious headlines when he dropped a curse word (the big one) on air at White Dogwood (No. 11). It was the first broadcasted hole of the afternoon for Woods (via Chris Chase of USA Today), and he made it a memorable one after cursing his drive out of the tee box.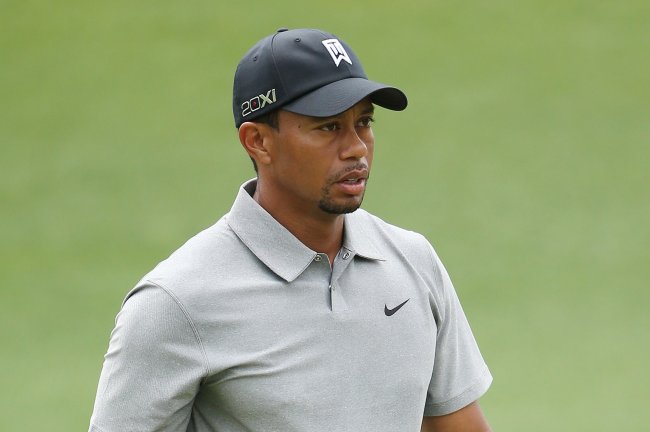 Andrew Redington/Getty Images
Tiger is the golfer with the most riding on this year's Masters and the current favorite, so expect his coverage to really ramp up over the next three days.
No one has distanced himself outside of Leishman, a name many probably haven't heard very often until the tournament began on Thursday. These pair of tweets from ESPN's Justin Ray should get you up to speed a little bit on the current opening-round leader:
Marc Leishman now -5. In 22 previous rounds in majors, he's only broke 70 twice.

— Justin Ray (@JRayESPNGolf) April 11, 2013
Before today, Marc Leishman had never been any higher than T-15th following any round in a major.

— Justin Ray (@JRayESPNGolf) April 11, 2013
Another golfer out to make a big splash is 14-year-old Tianlang Guan. The young man current is two-over par through nine holes, but Sean Martin noted that the player is doing quite well based on his age and the difficultly of the Augusta National course:
Tianlang Guan off to a nice start @the_masters. Bogeyed No. 1, birdied the 3rd. E thru 6. Better than expected thus far.

— Sean Martin (@GolfweekSMartin) April 11, 2013
Other golfers in the mix right now include Lynn, Furyk and Johnson.
Furyk, one of the elder statesmen on the Tour, is looking for his first Masters win. He finished in 11th in 2012, and has four other Top 10 finishes in his career, but never the green jacket. Furyk is looking strong in Round 1, as noted by B/R's own Will Leivenberg:
Ideal start for Jim Furyk at the #Masters. 4 pars, 4 birdies, 1 bogey, currently -3 and one off the lead behind Masters newbie, David Lynn.

— Will Leivenberg (@Will_Leivenberg) April 11, 2013
Checking in at No. 2 right now is David Lynn, the man who was atop the leaderboard until Leishman took control. The Englishman is making his debut at the Masters, and finished with the best opening-round score in that role since Chris DeMarco shot a 65 in 2001 (tweet via ESPN's Stats and Information):
From @eliassports, Chris DiMarco (65 in 2001) is last to have a better 1st round in his Masters debut than David Lynn (68 today).

— ESPN Stats & Info (@ESPNStatsInfo) April 11, 2013
Jason Sobel had another name for it:
David Lynn with another birdie. Cruising along with the lead. Can only mean one thing. This is looking like ... Lynnsanity.

— Jason Sobel (@JasonSobelGC) April 11, 2013
Golfers on the course right now include Rory McIlroy (two under thru No. 6), Matt Kuchar (E thru No. 4) and 2012 Ryder Cup teammates Keegan Bradley and Jason Dufner (both two over).
Bubba Watson, the defending champion, sits at three over with just one hole to play.
The action is just getting underway, so make sure to continue checking back for a complete look at the leaderboard and what it will look like when everyone is in the clubhouse on Thursday evening.
Note: For a complete look at the Day 1 leaderboard as the opening round action closes out, check out PGA.com's look at all the golfers, or the Masters' official website version.