NFL Teams That Could Wheel and Deal in This Year's Draft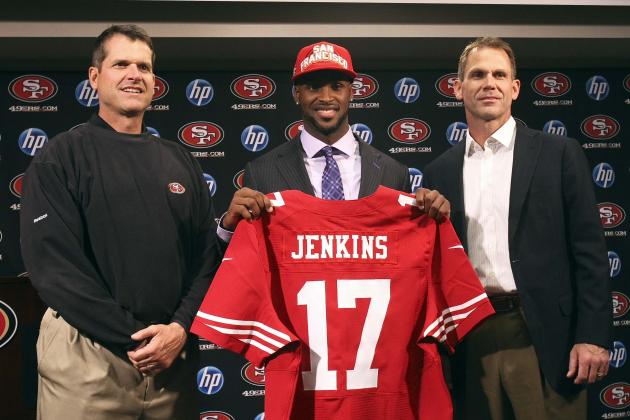 Kelley L Cox-USA TODAY Sports
Trent Baalke will be wheeling and dealing at 2013 draft.
With the 2013 NFL draft now less than two weeks away, we wanted to call attention to the handful of teams that are being viewed as potential wheelers and dealers at Radio City Music Hall.
Some of these teams you could classify as the usual suspects, while others will be more of a surprise due to unique circumstances.
Due to the new CBA deal that the NFL and the NFLPA agreed to, draft picks are extremely valuable as a way for teams to keep costs down on younger players. Franchises can also control drafted players for five years, which is another reason for teams in rebuilding mode to stockpile draft picks.
In a review of the trades that were consummated in the 2012 NFL draft, NFL.com discusses a total of 29 separate deals.
Of the 32 NFL teams, 28 were involved in at least one trade during the draft. The four teams that never pulled the trigger were the New York Giants, Arizona Cardinals, Kansas City Chiefs and New Orleans Saints. None of those four teams made the playoffs.
There were three teams that executed the most trades during the draft (four each), the Minnesota Vikings, San Francisco 49ers and New England Patriots. Each of those three teams made the playoffs last year.
Coincidence? Perhaps, but we will leave it up to the readers to weigh in on the topic.
The 2013 draft will undoubtedly hold a surprise or two. There will undoubtedly be at least one team that was thought to have no major trade plans pulling off a major deal that will send shock waves throughout their own fanbase.
Begin Slideshow

»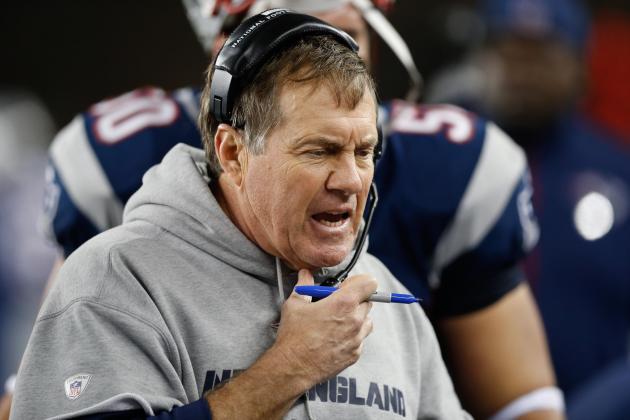 Greg M. Cooper-USA TODAY Sports
Bill Belichick may wind up with only four draft picks in 2013.
According to this article by Nick Underhill of MassLive.com, Bill Belichick has conducted 50 draft-day trades during his prolific career. That easily tops the list of all current NFL head coaches, and due to his ability to wheel and deal, it is also why it makes sense to include him in this slideshow.
As for the 2013 draft, the Patriots only own five draft picks. One of those five may be going away, based on the decision that the Pittsburgh Steelers have to make on Emmanuel Sanders. New England made an offer to restricted free agent Sanders, who signed the deal. If the Steelers let Sanders walk, New England would then forfeit their third-round pick (No. 91) to Pittsburgh.
If the Patriots wind up with Sanders, then New England would be down to just four picks, at No. 29, 59, 226 and 235. An article by Jason Cole of Yahoo! Sports suspects that once the Patriots land Sanders, they will then turn around and sign him to a long-term deal. That would well be worth the third-round draft pick investment in him.
It is very difficult to imagine Belichick sitting idly on his hands for a grand total of 167 consecutive picks without trying to make something happen.
The Patriots have already traded away their picks in the fourth, fifth and sixth rounds to Tampa Bay, Washington and Cincinnati, respectively. That also helps to explain why New England has been so proactive in free agency this offseason, as they knew the draft would only yield a limited amount of talent.
Whether or not Belichick finds a way to secure additional picks remains to be seen, but if there is any possible way to pull it out, Belichick is the right guy to make it happen.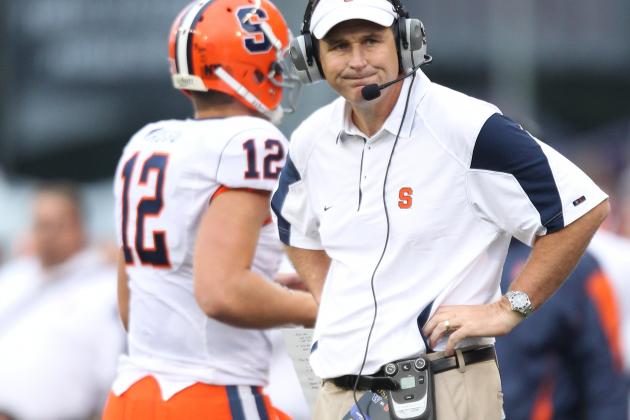 Otto Greule Jr/Getty Images
Will Ryan Nassib fall to Buffalo at 41, or will they have to trade up?
During the 2012 NFL draft, there was only one logical place where Ryan Tannehill should have been selected. That was the Miami Dolphins, so that Tannehill could hook up again with his college coach, Mike Sherman.
Well, the same scenario is looming in the 2013 draft, as Syracuse quarterback Ryan Nassib is hoping that he can continue to play for his college head coach, Doug Marrone, and his offensive coordinator in college, Nathaniel Hackett, who have both moved on to similar roles with the Buffalo Bills.
The major difference in the Nassib versus Tannehill scenario is that Tannehill was viewed as a worthy draft pick for Miami at No. 8 last year. That isn't the case with Nassib for Buffalo at No. 8 this year. In fact, many people would argue that Nassib could be viewed as a stretch even in the second round. So, what are the Bills prepared to do to reconnect Nassib with his college bosses?
Buffalo can draft Geno Smith with the No. 8 draft pick if he is still available, which would cancel out the need to draft Nassib. If Smith is already gone, the Bills then have to turn to Plan B or Plan C and try to read the tea leaves as to what exactly is the best course of action to pursue.
Plan B would be to sit back and see how many quarterbacks have been selected in the first 20 picks. If the only player gone is Smith, then the Bills have a reasonable chance to find a trading partner by moving up from No. 41 in the second round and draft Nassib somewhere in the No. 25-32 range.
They undoubtedly would have to surrender some key picks for the right to move up into the 25-32 range, but after all, this is a franchise quarterback we are talking about, so it would be worth it.
Plan C would be to sweat it out and hope that Nassib is still on the big board when Day 2 rolls around. If that is the case, the Bills then only need to move up from 41 to 33 to trade with Jacksonville to secure Nassib. Then again, they could decide to do nothing and see if he falls into their laps at No. 41. But that does seem like the riskiest plan of all, since the Jets are interested in Nassib and own the No. 39 pick.
Finally, here is a different twist that I addressed one month ago in an article on Bleacher Report. This would be a draft day trade that allowed San Francisco to move up to the No. 8 pick and the Bills also threw in their pick at No. 136. In return, Buffalo would receive the 49ers picks at No. 31, 34 and 61. That would give the Bills the right picks to secure Nassib and still address other key needs that are priorities in 2013.
The question is: Does Buddy Nix have the stones to pull that deal off?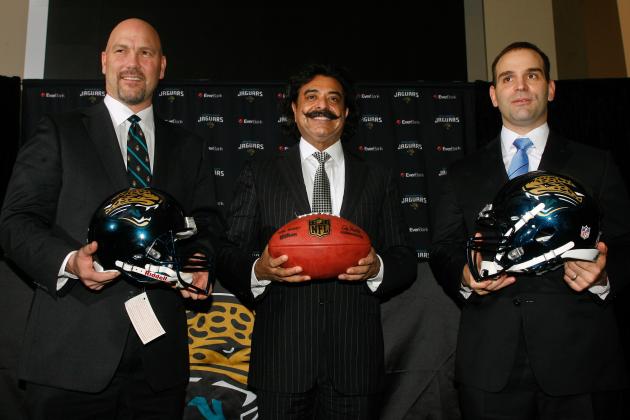 Phil Sears-USA TODAY Sports
Dave Caldwell and Gus Bradley need to come up with a good 2013 draft class.
One team that comes into the 2013 NFL draft with a wide range of needs is the Jacksonville Jaguars. If there is one team that could benefit greatly by trading down in either the first or second round, it is Jacksonville. They could drop eight to 10 spots in either of the first few rounds and pick up additional picks while still selecting a high-quality player.
The Jaguars have gone a combined 7-25 over the past two years. Blaine Gabbert isn't creating much confidence at team headquarters, so the team will need to keep an open mind when other teams come calling with various trade proposals to run past new GM Dave Caldwell.
New head coach Gus Bradley wants to see the personnel on defense improve, and he can accomplish that by securing some extra draft picks with a couple trades on draft day.
With such a bevy of premium tackles available in this draft class, it wouldn't be a stretch for the Jaguars to have multiple trade scenarios to sort through at the draft. Whether or not they pull the trigger remains to be seen.
The Jaguars have a multitude of needs, so the more draft picks they can secure, the better their chances will be to address their issues.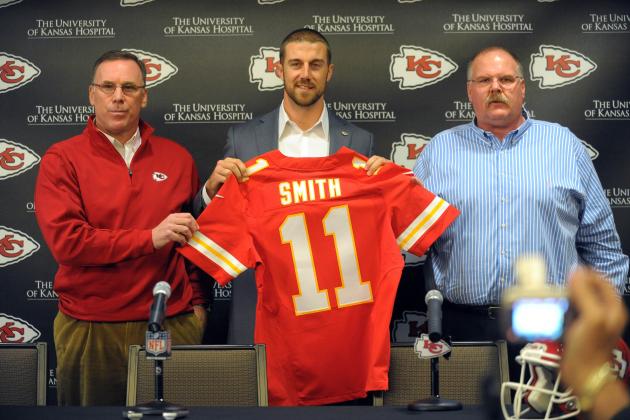 Denny Medley-USA TODAY Sports
Andy Reid and John Dorsey will be fielding lots of phone calls at the draft.
The Kansas City Chiefs are a team in transition in 2013. The Chiefs under Romeo Crennel were underachievers, so Andy Reid is hoping to find a way to get greater effort and results out of this team in 2013.
Holding the No. 1 and No. 63 overall draft picks, the Chiefs are in a position to trade down once or twice to secure additional draft picks this year. They have already traded away the No. 34 pick when they acquired Alex Smith from the San Francisco 49ers.
Kansas City appears to be set on drafting a left tackle in this draft. They can still accomplish their goal by trading down to No. 5, but after that they would be running a big risk, as the top three left tackles could all be gone between the fifth and seventh overall selections.
Trading down a few spots might allow the Chiefs to pick up an additional third-round pick. The Chiefs need to improve the offense around Alex Smith, so if Reid can draft some more weapons, that would be greatly appreciated by their new starting quarterback.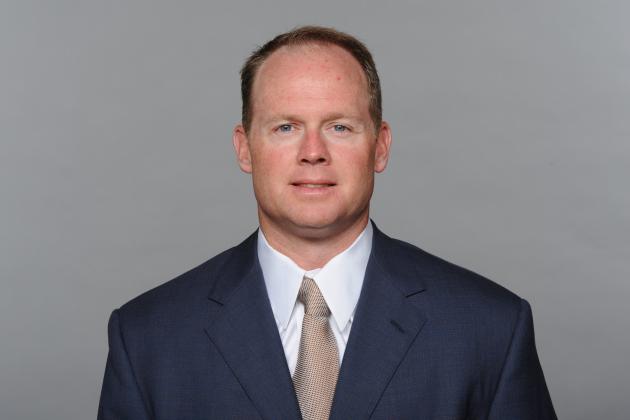 Handout/Getty Images
Jeff Ireland is all in for 2013.
For those football fans who have been paying attention to what is going on during the 2013 offseason, it is rather clear that the message being sent by Miami Dolphins GM Jeff Ireland is the team needs to win now. Ireland has been signing a number of key free agents to deals for Miami during a wild free-agency spending spree this offseason.
The end result is that the Dolphins will be more competitive in 2013 but will be dealing with salary cap nightmare scenarios in future years. So, it isn't out of the question that Ireland might be willing to mortgage even more of the future by trading away future draft picks to secure the left tackle they desire in this draft class.
The problem is that the Dolphins currently have No. 12 overall pick, but it seems highly unlikely that either Luke Joeckel, Eric Fisher or Lane Johnson will still be there for Miami with that pick. So, that means Miami has to figure out a way to trade up to either the No. 5 or No. 6 slot and take whichever tackle is still on the big board. If they have to give up their second-round pick to move up six spots in the first round, that is the judgement call that Ireland will have to make.
Anything short of a playoff berth this year probably means that Ireland will be relieved of his position in 2014. If he perceives that is the case, there is no telling what kind of deals he might try to make during the draft.
Miami will be a team to watch at the draft.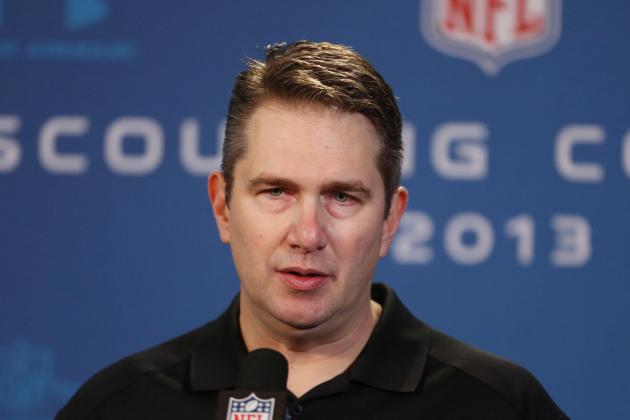 Brian Spurlock-USA TODAY Sports
The Cleveland Browns could be wheeling and dealing again.
The Cleveland Browns are sitting at a very advantageous spot in the first round as owners of the No. 6 overall draft pick. Draft analysts think it is safe to say that at least two of the top three left tackles will be gone by the fifth pick.
The third tackle (take your pick between Lane Johnson, Eric Fisher or Luke Joeckel) will more than likely be scooped up by Arizona at No. 7, so that means any team below Arizona that has their sights set on taking one of the premier tackles will have to trade with Cleveland to move ahead of the Cardinals.
This scenarios puts Cleveland in the driver's seat. They can field multiple calls from teams offering them picks to draft that remaining tackle. Another scenario is that Geno Smith could still be on the board at No. 6, and if the three tackles are gone, he could go to either Arizona or Buffalo with the next two picks. So, not only can Cleveland be viewed as the last spot to get the premier tackle, but they would also be the spot to move up to for teams that are enamored with the QB Smith.
If Cleveland winds up moving down to No. 12 or lower, it can still draft a quality player, but can also pick up an additional pick or two that will help to upgrade the team in other areas. It will be interesting on Thursday night to see how many phone calls Michael Lombardi is fielding from around the league.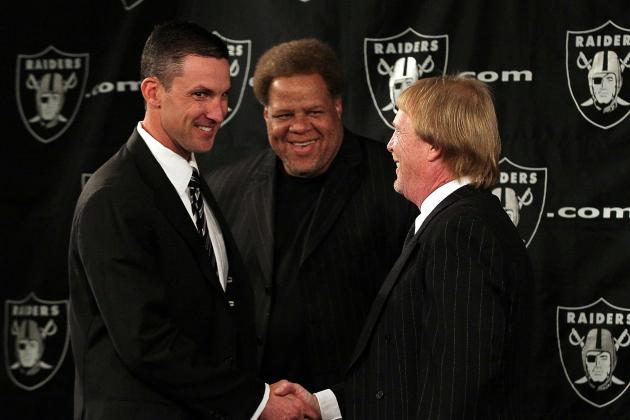 Justin Sullivan/Getty Images
The Raiders could help their cause by trading down in first round.
Another team that could help themselves by trading down in the first round is the Oakland Raiders.
The Raiders have been fighting to keep as competitive a roster as they can. But the simple truth of the matter is that their salary cap situation was so bad that the current roster is only a shell of what this team was just two years ago.
The Raiders still have salary cap issues that have prevented them from going after top-tier talent in free agency. At the draft, they will undoubtedly have to pay a rather large contract (relatively speaking to the other first-round draft picks) to the No. 3 overall pick this year. It might make more sense for the Raiders to consider trading down in the first round and out of that third position.
The rationale for the move is that it would allow the Raiders to gain more draft picks, and it would mean that they can sign whoever they wind up drafting to a smaller contract than they would have to pay the guy they took at No. 3.
It may seem like a small issue, but for the Raiders in 2013, they have to explore all angles and do what is best for the organization.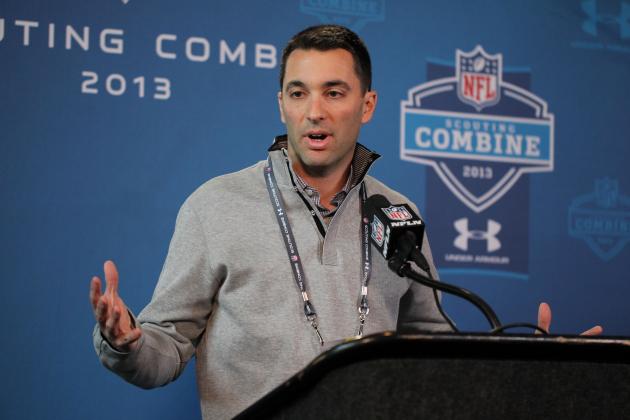 Brian Spurlock-USA TODAY Sports
Tom Telesco might need to get creative in first round to nail a tackle.
The San Diego Chargers are in dire need of help along their offensive line. The line didn't offer up very good protection for Philip Rivers in 2012, and has only gotten worse with the loss of guard Louis Vasquez to the Denver Broncos in free agency.
The Chargers own the No. 11 draft pick this year, but as we already detailed earlier in the Miami Dolphins slide, the three coveted left tackles could all be gone after Arizona makes its pick at No. 7. So that means San Diego would be competing against Miami to try to find the right ammunition to convince Cleveland to switch places in the first round.
If Miami offers up more, or if the Chargers aren't willing to pay the going rate to move up, then what could still be there for the team at No. 11?
There is a very good chance that at least one of the talented guards in this draft class, Jonathan Cooper or Chance Warmack, would still be there on the big board. While that doesn't answer the need at left tackle, it does allow the Chargers to replace Vasquez with a quality player.
New GM Tom Telesco will be put to the test to see what he is willing to sacrifice to keep Rivers protected this year. Nothing like being tossed right into the fire to learn on the job.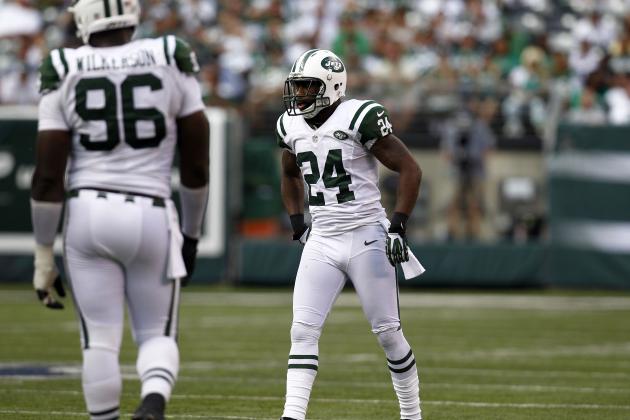 Jeff Zelevansky/Getty Images
Will the Jets have a second first-round pick in 2013 by trading Revis?
The New York Jets are hoping to wrap up their ongoing trade talks (h/t Don Bank of SI.com) with the Tampa Bay Buccaneers. The goal is to trade the Bucs All-Pro cornerback Darrelle Revis for the Bucs No. 1 draft pick in 2013, which is the No. 13 overall pick.
Once the Jets have completed the deal, they would be in position to start wheeling and dealing with teams that want to move up in the first round.
Ideally the Jets will be sitting there with the No. 9 and No. 13 picks. They could trade either pick, which could happen if any of Oklahoma tackle Lane Johnson, Alabama guard Chance Warmack or West Virginia quarterback Geno Smith are still on the big board when the Jets are on the clock.
With as many team needs as new GM John Idzik is faced with this year, it would behoove him to try to secure as many draft picks as he can in the first three rounds to take advantage of the overall talent of the 2013 draft class.
New York needs help on both sides of the ball. They could try to land two blue-chip players with the picks at No. 9 and 13, but the smarter play would be to try to pick up extra picks in the first 90 selections and still hold on to one of their first-round picks. We will see what kind of a wheeler and dealer Idzik is in about two weeks from now.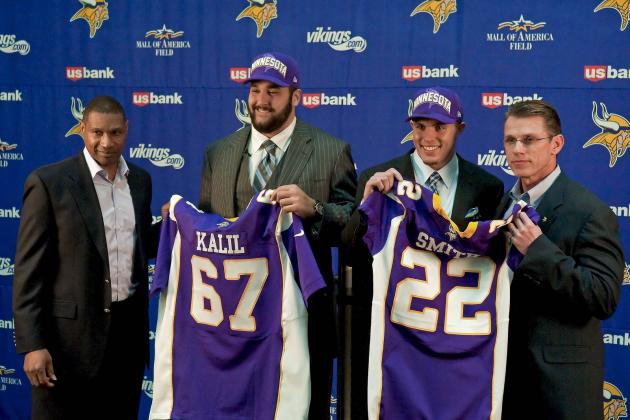 Greg Smith-USA TODAY Sports
Rick Spielman and Leslie Frazier were wheeling and dealing in 2012.
The Minnesota Vikings' duo of head coach Leslie Frazier and GM Rick Spielman wound up with two first-round draft picks in the 2012 NFL draft, and they hold two first-round picks again in 2013. First-round picks are worth their weight in gold, so kudos to Spielman for being able to pull off the feat.
Of course, the Vikings had to surrender Percy Harvin to the Seattle Seahawks to gain the additional pick (the Vikings are selecting at No. 23 and 25 overall), but they should be able to find an attractive wide receiver with one of their two first-round picks.
Spielman wound up making four trades during the 2012 draft, which was tied for the most of any other NFL team. Spielman will look to either move up or move down the draft according to their big-board grades and what is currently available to them when an opportunity presents itself.
Spielman just started as GM last year, so he hasn't wasted much time in making his mark as a GM that isn't afraid to wheel and deal if it will help to improve his team. His efforts in 2012 allowed the team to draft tackle Matt Kalil and safety Harrison Smith. Both picks turned out to be solid players, so Vikings fans are now anxiously awaiting to see what the two picks will result in this year. That is, assuming that Spielman doesn't trade one of them away, but we are learning with him that anything is possible.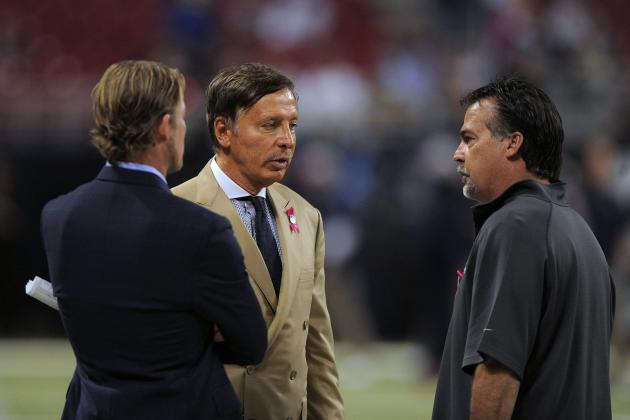 Jeff Curry-USA TODAY Sports
Will Jeff Fisher and Les Snead trade down again in 2013?
The St. Louis Rams will be remembered for being the trading partner with the Washington Redskins in 2012 in a deal that allowed Mike Shanahan to draft Robert Griffin III. The Rams picked up some extra draft picks in the deal, which is the reason they hold two first-round draft picks (No. 16 and 22 overall) this year.
The Rams made some positive strides to improve in 2012 and will look to nab at least a couple additional starters in the 2013 draft.
But keep in mind that not only did the Rams help their cause by gaining the extra first-round pick this year, but they also acquired the Redskins' first-round draft pick in 2014. That is a huge trading chip that Jeff Fisher and Les Snead can take advantage of if they want to make another bold move in this year.
They already addressed their needs at left tackle and tight end by signing Jeff Long and Jared Cook. That allows the Rams to draft the best athlete available and use the other pick to secure a solid wide receiver for Sam Bradford.
There are a number of directions the Rams can go in the 2013 draft. The two first-round picks this year combined with the two first-round picks next year makes the Rams a team to watch in the 2013 draft.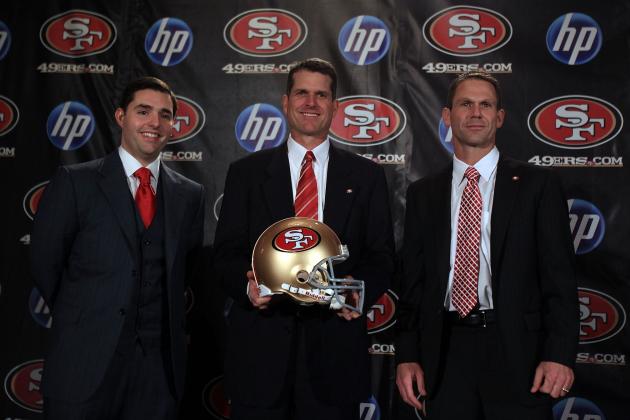 Ezra Shaw/Getty Images
Trent Baalke will be on the phone a lot during the draft.
The San Francisco 49ers own a ridiculous 14 draft picks in the 2013 draft. Some were obtained via trade, while others were awarded to the team as compensatory picks that can't be traded.
With a grand total of five draft picks found within the first 93 picks of the draft, the 49ers have the most tools to work with in order to be able to move up and down the draft this year. The beauty of their situation is that they have relatively few needs compared to the majority of NFL teams.
San Francisco GM Trent Baalke was wheeling and dealing back in the 2012 draft. He completed four trades total, and in three of those deals he wound up acquiring an extra draft pick for the 2013 draft.
So, the 49ers can either package a number of draft picks together to select multiple draft picks in the first round, or they can move way up into the top 10 if they want to draft a blue-chip prospect.
Based on the timing of when key 49ers veteran players will become free agents, Baalke might prefer to package some of his 2013 draft class and spin those into higher draft picks in the 2014 draft. There are a number of directions that he can go in with this bounty.
The only thing that wouldn't make sense is for Baalke to sit still and use all 14 draft picks when they are due on the clock. That would result in a number of players being waived in training camp and hopefully sticking on the practice squad, but they would have to clear waivers first.
There is one final thing we are quite sure of: The vast majority of NFL general managers would love to trade places with Baalke for draft weekend.
Thanks for checking out the presentation. Follow me on Twitter: @DanVanWie