Breaking Down Toronto Raptors' Upcoming Matchup with Playoff-Bound Nets
The Raptors had a solid win against the Chicago Bulls on April 9.
Jonathan Daniel/Getty Images
As the NBA regular season nears its end, the Toronto Raptors will face the Brooklyn Nets on Sunday, April 14 in Toronto. Whereas the Nets are playing to maintain their fourth seed in the Eastern Conference playoffs, the Raptors are looking to close out their season with a few strong wins.
In 11th place in the Eastern Conference, the Raptors will play their third-to-last game against the Nets on Sunday. Let's take a look at the player matchups and determine how each team will fare on April 14.
Matchup at Point Guard: Kyle Lowry vs. Deron Williams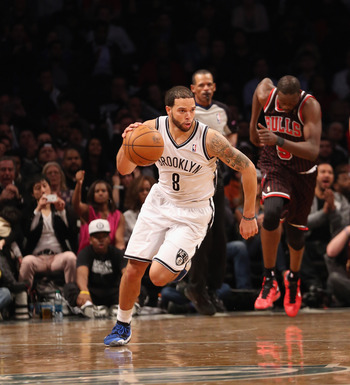 Williams is playing well right in time for the playoffs.
Bruce Bennett/Getty Images
Toronto guard Kyle Lowry will have his work cut out for him trying to control Nets point guard Deron Williams. On Wednesday against the Boston Celtics, Williams scored 29 points and totaled 12 assists, helping his team to a 101-93 win. According to FoxNews.com, Williams said of his play, "I was able to attack the rim a lot and get to the free-throw line 10 times. That helps build confidence, getting to the free-throw line and knocking them down."
Williams has been on fire this month. For April, he is averaging 25.2 points and 8.0 assists in 33.8 minutes. On the other hand, the Raptors' Lowry has seemed less impressive as of late. His average rebounds and points for the last 10 games are down from his season statistics; his rebounds have gone from 4.6 to 3.4 and his points have dropped from 11.8 to 9.4.
Williams was a powerhouse against the Celtics when he faced impressive Boston guard Avery Bradley. Lowry will have difficulty contesting Williams.
Matchup at Shooting Guard: DeMar DeRozan vs. Joe Johnson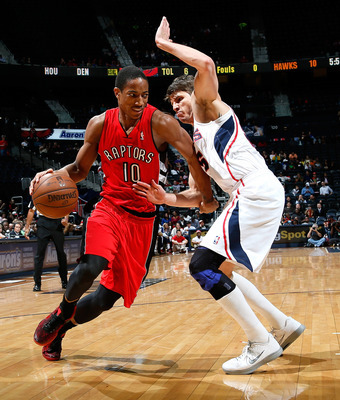 DeRozan has looked good the last couple of games.
Kevin C. Cox/Getty Images
Nets shooting guard Joe Johnson will prove a good match for DeRozan. Johnson totaled 20 points and three rebounds against the Celtics, but his numbers for April are less stellar. This month, Johnson is averaging 14.5 points, 2.0 rebounds and 1.8 assists per 31.3 minutes of game play.
Raptors guard DeRozan has displayed strong play recently, totaling 25 points and four rebounds against Minnesota on April 5. For the last 10 games, he averaged 18.2 points, 3.4 rebounds and 2.1 assists in 34.9 minutes. As long as DeRozan keeps his shooting up and defends Johnson closely, he should be able to control the Nets shooting guard.
Matchup at Small Forward: Rudy Gay vs. Gerald Wallace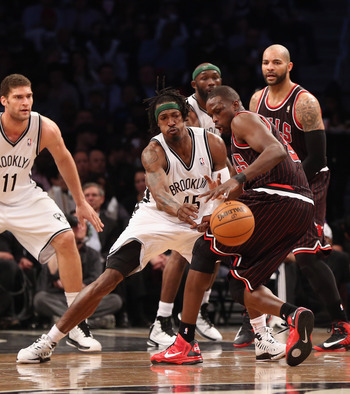 Wallace appears to have lost all confidence when it comes to shooting.
Bruce Bennett/Getty Images
When Gerald Wallace comes into the game, Gay will have a chance to take control and put the Raptors ahead. After playing 26 scoreless minutes against Philadelphia on Tuesday, April 9, Wallace suffered a heel contusion and left after only 15 minutes against the Celtics, totaling just two points, two rebounds and two assists.
As reported by the New York Post, Wallace said after the Nets game against Charlotte on April 6, "My confidence is totally gone." Rudy Gay, on the other hand, should have confidence against Wallace. On Tuesday, April 9, Gay scored 19 points and grabbed six rebounds to lead the Raptors to a 101-98 victory over the Chicago Bulls.
Matchup at Power Forward: Amir Johnson vs. Reggie Evans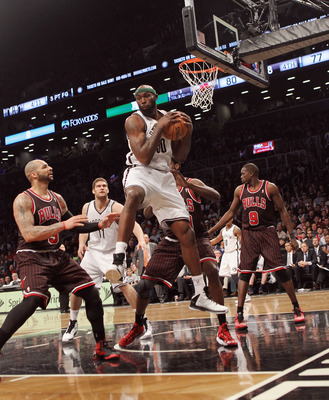 Evans is a tremendous force for the Nets under the boards.
Bruce Bennett/Getty Images
Though Brooklyn might not be able to rely on Evans to score in double figures every game, the Nets certainly can count on him to rebound. Evans had an incredible game on April 9 against Philadelphia, scoring 17 points and totaling 24 rebounds in 30 minutes.
Raptors forward Amir Johnson is also strong on the boards, but not enough to stop Evans. On April 9 against Chicago, Johnson grabbed 13 points and 11 rebounds in 45 minutes of play. Johnson is only averaging 7.0 rebounds per game for the month of April, while Evans is averaging an astounding 17.8.
Matchup at Center: Jonas Valanciunas vs. Brook Lopez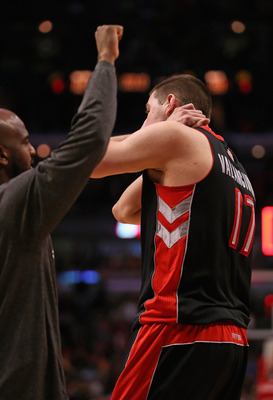 With luck, Valanciunas's neck injury won't keep him from playing on Sunday.
Jonathan Daniel/Getty Images
Even though Raptors rookie Jonas Valanciunas was recently honored as the Eastern Conference rookie of the month for March, he will undoubtedly have a tough time against Nets star center Brook Lopez.
Lopez had 21 points and four rebounds against Boston on Wednesday. The seven-foot center was even better against Philadelphia on April 9, totaling 29 points, 11 rebounds and three assists in 26 minutes.
Nevertheless, Valanciunas has been a force at center for the Raptors, averaging 14.5 points, 7.2 rebounds and a field-goal percentage of 61.5 in 32.9 minutes for the past 10 games. However, it's uncertain whether or not Valanciunas will even play on Sunday, given the neck injury he endured against the Bulls on Tuesday. The Calgary Herald reported that Valanciunas will be reevaluated Thursday after test results came back negative.
Hopefully, Toronto will have the rookie center on the court Sunday to help control Brook Lopez.
Keep Reading

Toronto Raptors: Like this team?