Lane Johnson: Video Highlights for Former Oklahoma OT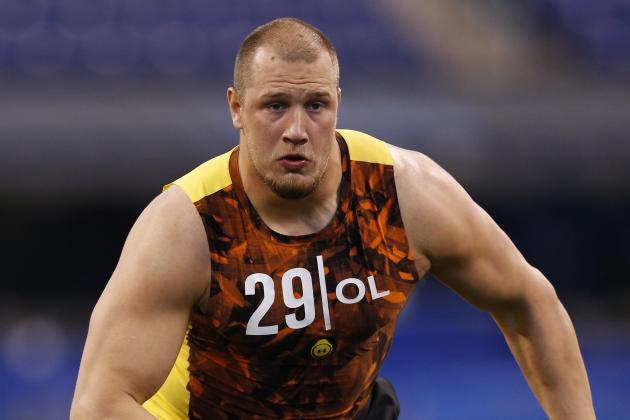 Joe Robbins/Getty Images

Lane Johnson started the year as an unknown left tackle, but after a great senior year and an outstanding Senior Bowl, Johnson will be taken early in the first round.
Johnson is one of the most athletic offensive linemen in the draft. After playing tight end and quarterback at Kilgore College, he made the move to left tackle at the University of Oklahoma. His one knock is that might be the rawest tackle prospect in the draft.
Johnson's ceiling is very high. Here are some video highlights that showcase that.
Begin Slideshow

»
Johnson put on an absolute clinic at the Senior Bowl. During the first couple of practices, you can hear NFL Network's Mike Mayock talk about how he is playing as a first-round draft pick.
After the week, all the discussion was about how he would put a lot of pressure on teams who need a left tackle to make a move in the draft.
His ability to move around is what stands out the most when you watch Johnson play. He is fast for his 6'6", 303-pound frame, as you can see in the one-on-one drills. He has the ability to cut off a speed rusher, yet is strong enough to take on a bull rush.
Johnson will get drafted very high in this year's draft and he has the Senior Bowl to thank for that.
This is a video of Lane Johnson preparing for the 2013 NFL Scouting Combine. In this video, he runs a 4.69, which is extremely impressive for a man of his size.
Due to his days of being a tight end, he is very nimble on his feet, meaning that he can block any type of rush he sees.
In today's NFL, the defensive ends are getting faster and faster, which puts more pressure on left tackles to get out of their stance and into their backpedal. Johnson has all the tools to do this and will succeed at cutting off speed rushers at the next level.
In the first 30 seconds of this video, Lane Johnson puts on an absolute pass-blocking clinic. During his time at Oklahoma, he was put in a lot of pass-blocking situations. This continuous repetition during his college days helped solidify Johnson as one of the best pass-blockers in this year's draft.
Johnson anchors himself well into the ground, forming a perfect pocket for his quarterback to step up and make the throw downfield. It is this type of play that has all of the NFL scouts salivating as they watch Johnson on film.
Lane Johnson dominated West Virginia in 2012. In this video, he dominates the defensive end on two straight run plays. He does a great job of shedding his man and getting to the second level during run plays. These are the types of plays that he will need to make in the NFL.
In this game, Johnson played both tackle positions, which showcases his ability to play three spots on the offensive line (LT, RT, TE).
It is hard to succeed in pass-blocking when your quarterback drops as deep as Landry Jones does, yet Johnson moves his feet well enough to drop back as far as Jones needs.
Wow.
If you want to know the level of player that Johnson is, just watch the first series against Texas. He absolutely destroys Texas' front seven and does it while lining up at three different spots on the offensive line.
That series showcases everything that Johnson brings to the table: run-blocking, ability to get to the second level, pass-blocking, versatility and athletic ability.
Johnson is going to be a rock at left tackle in the NFL.