Inter Milan Transfers: Whatever Happened to the New Zlatan Ibrahimovic?
Photo from Bildbyran via Aftonbladet.se

Remember Goran Slavkovski? He's the former Inter Milan player who was hailed as the new Zlatan Ibrahimovic.
Whatever happened to Slavkovski's career?
This article will tell you how he went from being the new Ibra to wondering where it all went wrong.
Please comment below with your thoughts on Slavkovski.
Goran Slavkovski the Wonderkid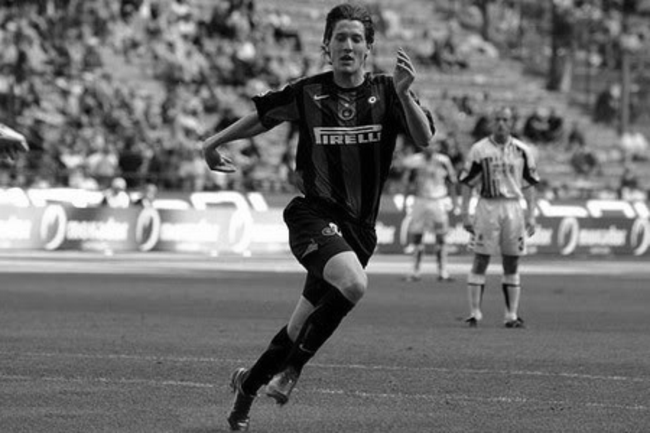 Photo via Inter.it

Standing at 6'3" and being a Malmo alumni, Goran Slavkovski drew inevitable comparisons to Zlatan Ibrahimovic, who was playing for Juventus at the time.
Slavkovski netted over 200 goals as a Malmo academy player and was a constant scorer for the Swedish national youth teams.
Then-Inter Milan Allievi Nazionali manager Antonio Manicone, currently the assistant at Lazio, profiled Slavkovski (from Inter.it):
He's a classic centre-forward with excellent physical qualities and is a natural scorer.

Mainly right-footed, he also shoots well with his left foot. Tactically he is improving and he's a polite, level-headed and intelligent boy.

The decision to bring him to Inter confirms the club's attention and skill in the search for new talents.
Slavkovski justified his wunderkind tag when he made his first team debut as a 17-year-old in the 1-1 draw vs. Siena—which in the process made him the youngest Nerazzurri player since Giuseppe Bergomi.
Looking around Europe, there were a crop of tall strikers who could hold the ball up but were also at home with the ball being played to their feet.
Arsenal had Nicklas Bendtner and Bayer Leverkusen's Richard Sukuta-Pasu was touted as a future world-beater.
Tottenham Hotspur were set to sign Slavia Prague's Tomas Pekhart, whose teammate Tomas Necid was scoring goals for fun.
Yet, Inter potentially had the most complete forward of them all, Goran Slavkovski [1].
So, what went wrong?
[1] With the benefit of hindsight, the most complete forward from that generation was Genk's Christian Benteke, who's been elite this season for Aston Villa.
Never Really a Nerazzurri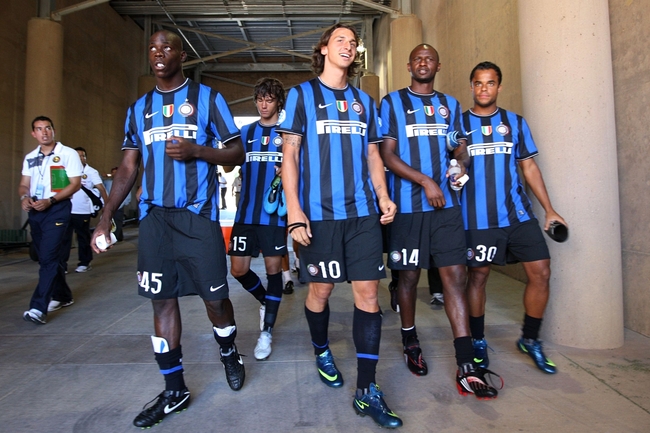 Balotelli (45), Krhin (15), Ibra (10), Vieira (14), Mancini (30)
Jed Jacobsohn/Getty Images
Goran Slavkovski thought someone was trying to stitch him up when he was told that he was going to make his debut (per Inter.it): "At first I thought it was a joke, then I realised it was true."
You know who wasn't joking?
Zlatan Ibrahimovic, who informed Juventus of his intention to leave in the wake of the Calciopoli scandal (from Gazzetta dello Sport via CNN.com).
96 days after Slavkovski made his Serie A debut, Mino Raiola—Zlatan's agent—engineered a €24.8 million transfer to take his client from the Bianconeri to the Nerazzurri (from Agence France-Presse via The Nation).
Instead of Slavkovski being Inter's answer to Ibrahimovic, the club now had the original.
There was also a prodigy named Mario Barwuah Balotelli, a 6'2 Palermo-born Italian with Ghanaian roots, who was scoring goals in bucket-loads at Allievi Nazionali (U-17) level.
Slavkovski was having a hard time displacing Sebastian Ribas in the Primavera squad and now the counterfeit Ibra had to compete with the real deal in Balotelli (per Inter.it; April 28, 2007):
Sixteen-year-old striker Mario Balotelli scored both goals for Vincenzo Esposito's team [in a 2-1 home victory over Genoa].

Balotelli, who scored 18 goals for the academy's Under-17 side earlier this season before joining the senior youth team, slotted home his sixth of the campaign and Inter's winning goal in the 78th minute after a cross by captain Simone Fautario.


Slavkovski was an unused sub in the Primavera Milan derby [1] and the Primavera Super Cup game vs. Juventus.
In addition, he missed the Trofeo Giacinto Facchetti due to injury.
By now, Slavkovski was probably regretting his decision to extend his Inter Milan contract by three years.
The previous December, Manchester United were reportedly interested in his services (from Clubcall.com via SI.com).
No surprise that his agent was attempting to create an exit route (from Tuttomercatoweb via Tribalfootball.com):
Slavkovski is a promising youngster and Inter are well aware of that, so he won't be sold outright.

Manchester United and Panathinaikos haven't confirmed their interest, so at the moment Le Mans are at the head of the queue.

Feyenoord have cooled off somewhat and a Serie B side could be a better path, especially as Goran wants to stay in Italy.
[1] Saint-Etienne's Pierre-Emerick Aubameyang made a cameo appearance for AC Milan.
The Best That Never Was [1]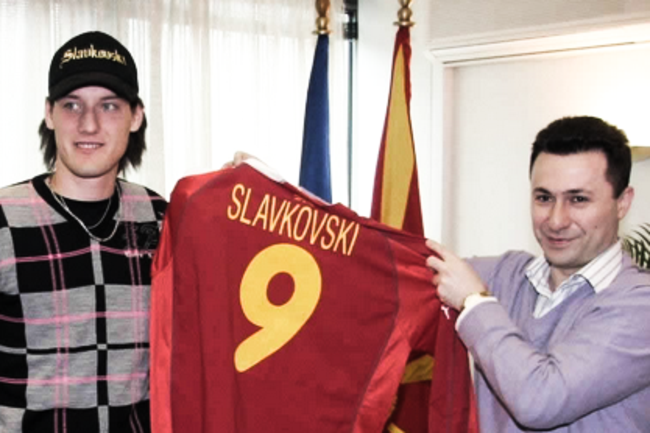 Photo via Macedonianfootball.com

Goran Slavkovski went from being a highly touted Swedish youth international, to flirting with the idea of representing Croatia before opting to pledge his allegiance to Macedonia.
He could have done an "Alex Zahavi" by playing for three different national teams.
Goran's indecisiveness with his career choices was a concerning trend throughout his pro career.
At the last minute, he ditched a proposed loan to Serie B side Treviso for Hajduk Split (Dinamo Zagreb were also in the running to sign him), only for the move to fall through.
Several months earlier, Middlesbrough declined to take him on a loan due to fitness concerns (via Eric Paylor at the Evening Gazette).
In response, Inter hastily arranged a loan to Sheffield United.
Then-manager Kevin Blackwell said after two months (per BBC Sport): "Whether he becomes a world beater or egg beater, I'm not too sure yet."
By the end of the season, with no appearances for The Blades, it was clear their management viewed Goran as an egg beater.
Steve Wilson at Soccer Italia wrote about Slavkovski's fall from grace in December 2008:
With goals galore for Sweden and Inter's youth sides, rave reviews from his coaches and followers of Inter's academy sides, it was easy to believe the 'Zlatan II' hype.

It is often the case that highly-rated youngsters struggle to live up to the standards they set in the Primavera scene, where success can easily fool observers into making false prophecies

We may not have seen or heard the last from Goran, but his tale offers a reminder to fans, and over-eager pundits, to take caution before getting too excited about every teenager who nets a few goals for the youth team.
Slavkovski signed with struggling Bundesliga club Bochum and ended up in their second team.
To heap further misery on him, he wasn't in the league of Mirkan Aydin, who was Bochum II's go-to guy.
Aleksandar Zlateski at Macedonianfootball.com offered some insight into Slavkovski's problems; August 21, 2011:
Slavkovski has been criticized for his work ethic and his passion for playing football.

In the past, his former agent blasted his work ethic and stated Slavkovski is wasting his talents.

He was without a team for nearly a year before he finally signed with Swedish third division side Limhamn Bunkeflo earlier this month.
Fast forward to 2013 and it's fitting that Transfermarkt.com's current status of Goran is: "club unknown since 01.01.2012—1 year, 3 months and 10 days."
Somewhere in the world, as Cherno Samba is reading this article, he is holding back the tears: "Goran...I know how you feel!"
[1] Yes, the title of this slide was inspired by ESPN 30 for 30's documentary on Marcus Dupree.
Keep Reading

Inter Milan: Like this team?