Florida Football: Will Muschamp's 5 Biggest Concerns Post-Spring Practice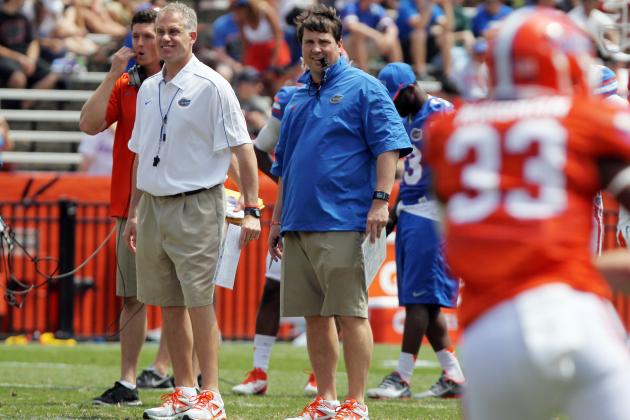 Kim Klement-USA TODAY Sports

The Gators experienced their fair share of ups and downs throughout the course of spring practice.
We'll start with the positives. Jeff Driskel showed a great deal of improvement throughout March and early April, and his teammate, Matt Jones, emerged as a dependable lead running back. Likewise, linebacker Antonio Morrison continued to build on a successful 2012 season, and Loucheiz Purifoy drew attention as both a cornerback and an offensive threat.
Despite all of these promising developments, a few key issues remain unresolved for head coach Will Muschamp and his squad. If he and the Gators hope to have a season as successful as their 2012 campaign, he will need to find solutions during the coming months, preferably sooner rather than later.
Now that spring practice has drawn to a close, here are the five biggest concerns currently on the mind of Muschamp.
Begin Slideshow

»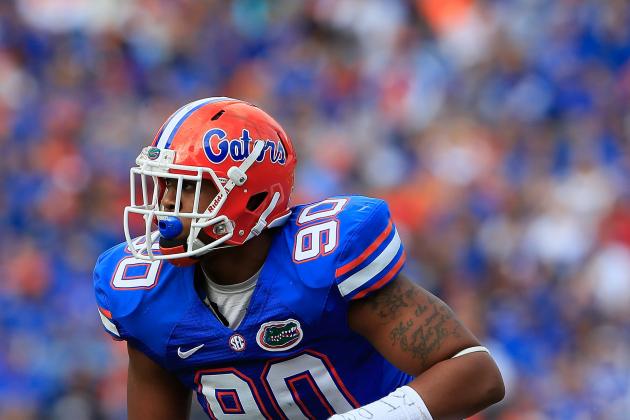 Sam Greenwood/Getty Images
Promising sophomore Jonathan Bullard is only one Gator battling injury.
It is hard to understate the rash of injuries that have hit the Gator roster before and during spring practice. Contributors from all units, including special teams, are currently on the shelf or physically limited.
The most notable group affected is the offensive line. Chaz Green, Jon Halapio and Ian Silberman are recovering from surgery. Trip Thurman is on the mend from a torn labrum, and Max Garcia looks to be finally getting over a back injury that hampered him in recent days.
Freshman wide receiver Demarcus Robinson is recovering from a mild ankle sprain, and fellow pass-catcher Solomon Patton has yet to fully recover from his broken arm.
On defense, Jonathan Bullard is taking it easy after a mild hamstring injury. More importantly, freshman linebacker Alex Anzalone is out until the beginning of fall camp after tearing his right labrum. Fellow recruit Matt Rolin is also out while he recovers from knee surgery.
To top it all off, punter Kyle Christy is currently recovering from a torn labrum he suffered in a scooter accident.
Most of these ailments are not entirely significant. However, the top priority for Muschamp at the moment should be to make sure his squad is rested and rejuvenated for the final push towards the regular season.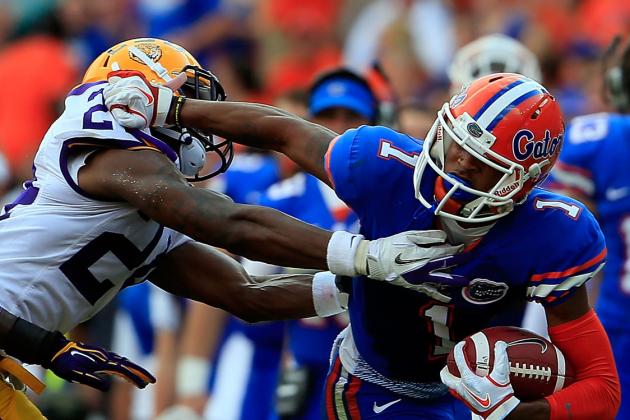 Sam Greenwood/Getty Images
The Gators need to find a complement for Dunbar.
Based on his performance during the spring and at the end of last season, Quinton Dunbar has earned the role of lead receiver on the Gator roster.
Of course, a great football team has more than one dependable weapon on the outside. Right now, Florida lacks this critical component.
In fact, it is troubling to say that corner Loucheiz Purifoy has arguably been the most consistent pass-catcher other than Dunbar in recent weeks. Even if he does have a significant role on offense, however, there is no way that Purifoy will be the number-two starter.
Who will it be then? Is this the year Andre Debose finally lives up to the hype?
My guess is an emphatic "No."
That leaves freshman Demarcus Robinson as the likely answer. He was having a decent spring before an injury forced him to sit out the final days of practice. He is a fast and athletic receiver with good hands. If he puts the work in during fall camp and accrues a firm grasp of the offense, the spot will be his to lose.
Until that happens, however, this spot remains a big question mark for Muschamp and the Gators.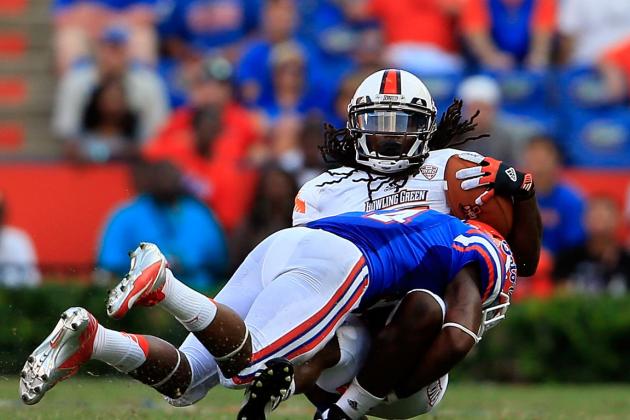 Sam Greenwood/Getty Images
It remains to be seen where Jaylen Watkins and others will fit in Florida's secondary.
From top to bottom, Florida's secondary is absolutely loaded with talent. In fact, there is so much talent that it has been difficult to gauge exactly where everyone will end up on the regular season depth chart.
Aside from Marcus Roberson, who is pretty much assured of one of the corner spots, the picture is a bit cloudy. If Loucheiz Purifoy is lined up as a receiver with regularity, his effectiveness at corner could diminish. Jaylen Watkins, meanwhile, has been temporarily moved to safety, and it remains unclear if he will stay there. Brian Poole is also in the mix, particularly at the nickel back position.
Furthermore, many believe freshman Vernon Hargreaves III is skilled enough to immediately work his way into the starting lineup once he arrives on campus.
At safety, the Gators are now forced to replace Matt Elam and Josh Evans. To do this, Cody Riggs was converted to safety, and he could be in line for a starting spot. Jabari Gorman entered the spring as a starting safety, but his role could be affected by Watkins' shift. Marcus Maye is another safety with talent who should see action at some point. Finally, Marcell Harris, Keanu Neal and Nick Washington can each develop some sort of role as freshmen.
As you can see, the Gators have a good number of options to tinker with in their secondary. However, the way in which they are finally aligned could play a key role in determining the team's defensive success.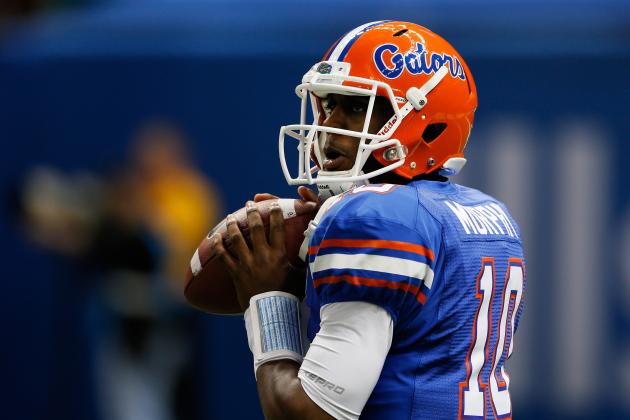 Kevin C. Cox/Getty Images

We know how beneficial Jeff Driskel's running ability can be for the entire Gator offense. He has the capability to extend plays outside the pocket and, if need be, take off and dash downfield. It is an added element that opposing defenses need to plan against.
Unfortunately, that style of play also makes Driskel susceptible to injury. This was proven last season when Driskel was forced to miss Florida's matchup with Jacksonville State with a sprained ankle.
For this reason, it is essential for Muschamp and his staff to get a sense of which competing backup is going to be more reliable this season. Neither Tyler Murphy nor Skyler Mornhinweg has really gained ground in the current battle to become the second option. Murphy appears to be the more athletic quarterback, but Mornhinweg has shown promise as a pocket passer.
In terms of experience, they are on an equal playing field because both have yet to attempt a collegiate pass. However, one of them needs to emerge in some fashion in case something drastic happens to Driskel.
If one can stand out during the fall and earn the extra practice reps, a temporary loss of Driskel will not be as catastrophic as it currently seems.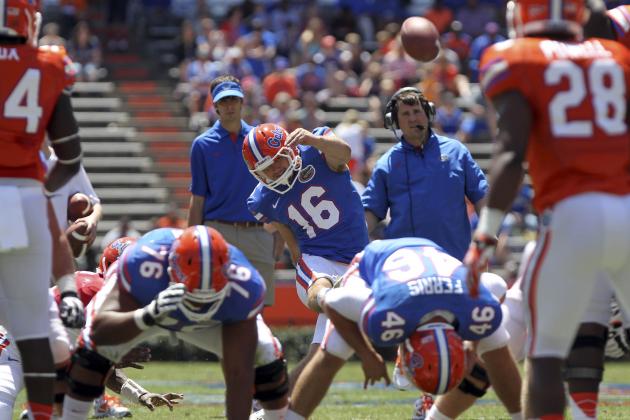 Kim Klement-USA TODAY Sports
Hardin kicks during the Orange and Blue Debut.
Arguably, the most dependable Gator at any position over the past couple of seasons was kicker Caleb Sturgis, who hopes to be drafted in the coming days. His departure left the door open for both Austin Hardin and Brad Phillips.
Much like the backup quarterback battle, there is no sizable favorite following spring practice.
Both struggled with accuracy throughout camp, and both have no legitimate experience as a collegiate kicker. Phillips filled in for Sturgis on rare occasions, but did nothing special in these "pinch-hit" appearances. After redshirting last season, Hardin has not kicked in a real game since high school.
One would expect this element of Florida's game to stumble a bit this season. Right now, however, there is the potential for disaster if neither picks it up before the late summer months. This battle is certainly one problem that Muschamp is hoping can work itself out.