Tiger Woods at Masters 2013: Day 1 Score, Highlights and Updates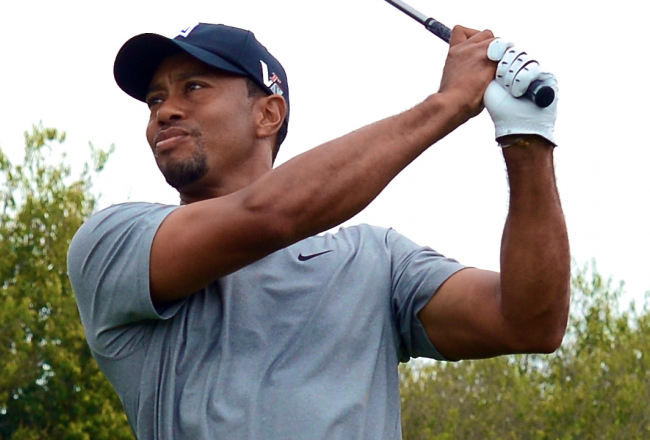 A golf tournament can't be won on Thursday, but it can be lost. So goes the old adage.
Tiger Woods didn't send a resounding message today that he'll be wearing the green jacket Sunday evening. However, he didn't do anything to indicate that he should be anything other than the favorite to win his fifth Masters (and his first major since 2008).
Woods was reasonably accurate off the tee and looked solid with the putter, save for a three-putt bogey at the 14th. His three birdies on the day got him into Augusta's clubhouse with a two-under-par 70.
Woods tees off tomorrow at 1:41 p.m. ET. He'll be paired with Luke Donald and Scott Piercy once again.
We'll be back tomorrow at 1:15 p.m. ET for live updates all day long!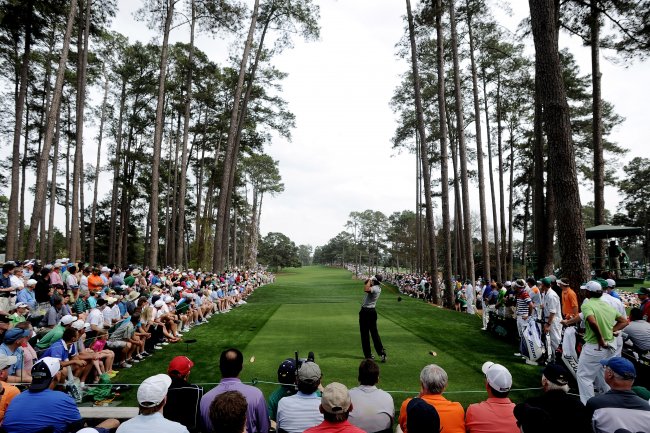 Harry How/Getty Images
Woods was a bit erratic off the tee early, and he was unhappy with two or three approach shots today. However, his driving at Augusta today was much better than it has been in recent years, and the golfer didn't have to make too many trips into the Augusta pines to play his ball.
Aside from a three-putt bogey at the 14th hole, Tiger made all the putts he should have. Certainly he'll wish he'd made his five-footer for birdie at the 15th, but on the whole, Woods continued the fine putting that has defined his 2013 season.
Tiger won't complain about an opening-round 70 and I expect him to continue the positive momentum tomorrow as many of those ahead of him on the leaderboard begin to fall back.
For more Masters coverage and analysis of Tiger's round, head on over to our golf page.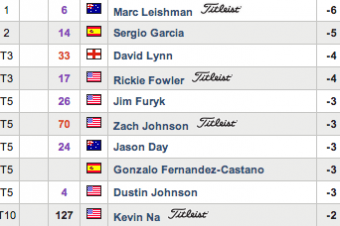 Here's a look at the leaderboard Tiger will see when he signs his scorecard for an opening-round two-under 70.
It's a par for Tiger at the last. He opens with 70.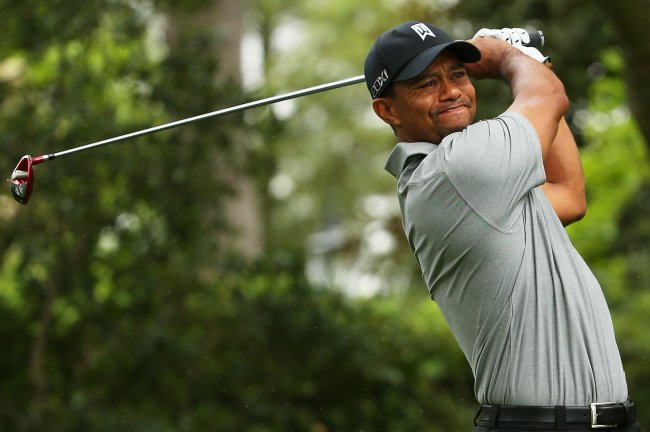 Mike Ehrmann/Getty Images
A seven iron from 190 for Tiger ends up 25-30 feet from the hole. With two putts, he'll post a two-under 70.
ESPN's Bob Harig:
Tiger needs a birdie at 18 to shoot in 60s at Augusta for just 2nd time in first round. #Masters

— Bob Harig (@BobHarig) April 11, 2013
Woods pars the 17th and heads to the last two under par for the day, four shots out of the lead.
Here's a comment that Bubba won't like, and you'll likely hear more about:
Nick Faldo said he was disappointed he didn't get coloring book from Bubba's champions dinner....#ouch#masters

— Steve Elkington (@elkpga) April 11, 2013
Lindsey Vonn update:
No, just 1st couple of holes. He must miss both of us. RT @thekilmemator: @gctigertracker has Lindsey walked the whole course with him?

— GC Tiger Tracker (@GCTigerTracker) April 11, 2013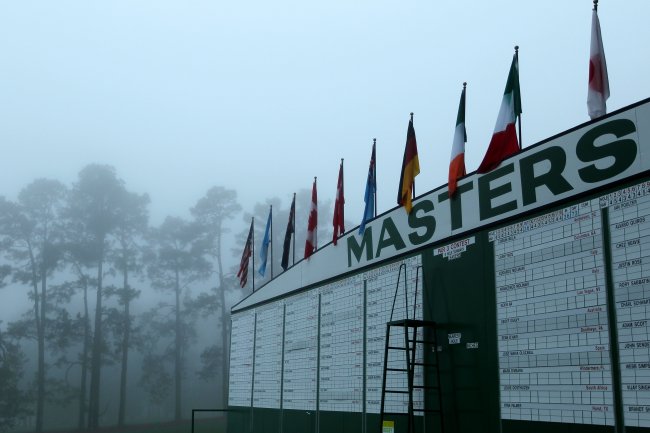 Jamie Squire/Getty Images
Good point by Curtis Stange: The fog this morning has softened the greens, causing them to hold shots they ordinarily wouldn't.
Tiger splits the fairway on 17. Doesn't even watch the flight of the ball as he quickly reaches down for his tee. I'll say it again: If he continues to drive the ball this way, he'll win.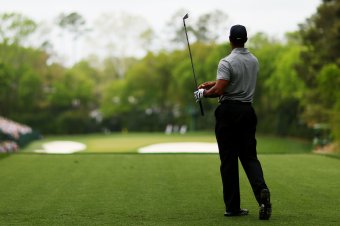 Mike Ehrmann/Getty Images
Heading to the 17th. Tiger hasn't done anything to indicate he won't win this week, but he hasn't lit up Augusta National today. Regardless, it's a four-day competition and Tiger has to like his position going in to tomorrow's round.
Tiger's tee shot on 16 doesn't quite carry far enough to settle near the back-right pin. Catches the ridge and settles in the hollow on the back-left portion of the green. He'll be happy with two putts for par.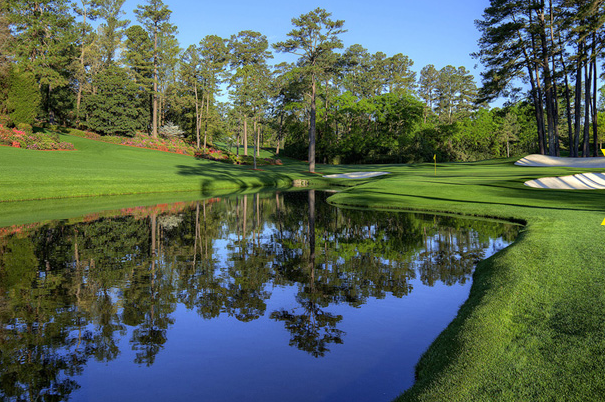 ...and he misses. Tiger taps in for par at the 15th. He can take consolation in the fact that he's heading to one of the greatest golf holes in the world.
Woods bumps a lofted wedge from off the green into the fringe...ball runs out to about four feet. He'll have that putt for birdie to get back to -3.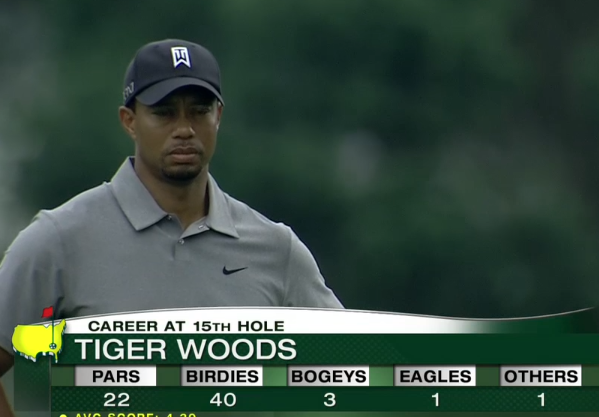 Tiger's play at 15 over his career hasn't been too bad...
Tiger pounds a fade off the 15th tee. He's hitting about 60 percent of fairways today. The previous hole exempted, putting has been solid and his distance and direction with his irons has been above average. Translation: Tiger's right where he wants to be.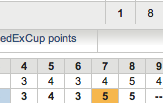 Elsewhere, this is happening. How is this possible, the 14-year-old hits it like 240?!
First hiccup of the day: A poor lag leads to a bogey for TW at 14.
From the Golf Channel Tiger Tracker:
Tiger's approach shot at No. 14 releases to the back of the green. He will have about 25-30 feet for birdie.

— GC Tiger Tracker (@GCTigerTracker) April 11, 2013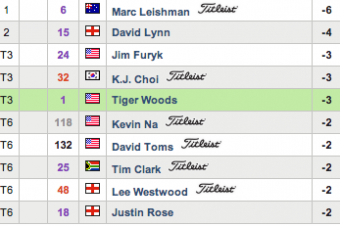 Here's a quick peek at your leaderboard while Mr. Woods tackles the 14th.
What's that? You'd like a little more information about the Chinese Fir, the tree for which the 14th hole is named? Augusta.com has you covered.
Native to China
Grows 30 to 75 feet tall and 10 to 30 feet wide
Sun to partial shade
Acidic, moist, well-drained soil
Extremely high drought tolerance
Propagation by cuttings
Tiger would be happy to ride this three-under score to the clubhouse. As you've probably heard more times than "Hello, friends" during the course of the Masters, Woods generally starts slow at Augusta. I don't think he's broken 70 in an opening round of the four Masters he's won.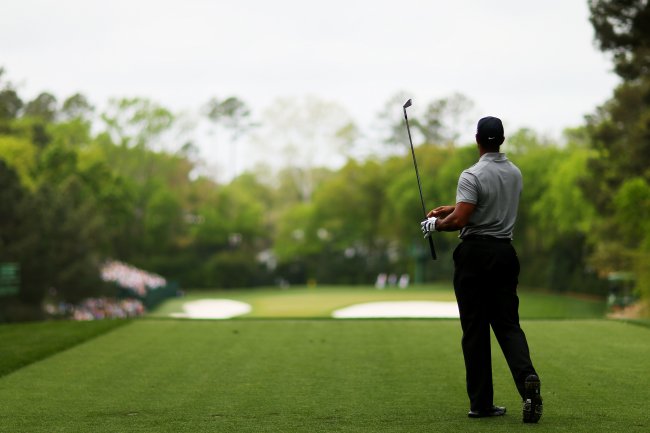 Mike Ehrmann/Getty Images
Tiger using some local knowledge on the 14th green. Aims his put about 50 feet outside left, putt ends up four feet from the hole. Pours in the putt for birdie and moves into third place. He's three under for the day.
Tiger one-hands his approach from the rough. He'll be happy to two-putt for birdie from where he ended up.
This article is
What is the duplicate article?
Why is this article offensive?
Where is this article plagiarized from?
Why is this article poorly edited?