Michigan Football: 5 Things to Look for in the Spring Game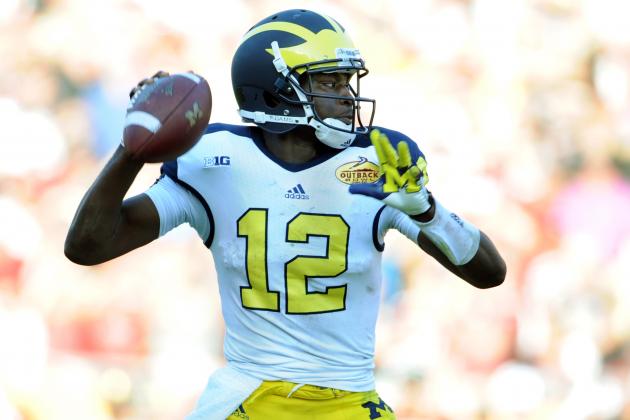 Al Messerschmidt/Getty Images

It's hard to believe that spring practices are already drawing to a close, as Michigan will host its annual spring game this Saturday.
There is plenty of intrigue surrounding it, just as there seems to be every year.
So which position groups or players should fans be keeping an eye on the most?
Here's a look at five intriguing things to be on the lookout for on Saturday. This is obviously all just opinion, though, as everyone will have their own special interests.
Begin Slideshow

»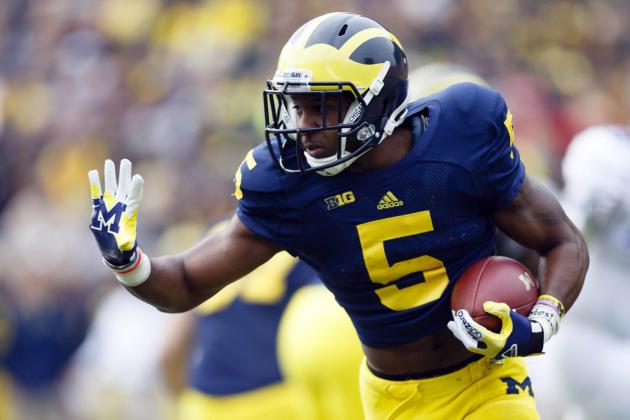 Rick Osentoski-USA TODAY Sports

This may sound quite stupid to some people, but I actually think it will be more interesting watching this group perform on Saturday without Derrick Green and Fitzgerald Toussaint. Green is obviously still in high school, while Toussaint likely isn't ready to fully participate quite yet.
This is the absolute perfect opportunity for some of the inexperienced running backs to make their mark. Drake Johnson is probably the guy to keep the closest eye on, as he is bound to provide a number of big plays this season.
Justice Hayes is another guy to watch, as he will basically be stepping into the role that Vincent Smith has been in the last few years.
If he winds up in the offensive backfield, it's a given that everyone will have their eyes on Dennis Norfleet.
The final player to watch in this group is Thomas Rawls. With Green arriving in the fall and Toussaint eventually healing up, it is literally now or never for Rawls, who now a junior, has seen most of the once-promising potential all but faded.
It would be shocking if either Green or Toussaint did not wind up starting this fall; with that being said, the others mentioned on this list will still be key contributors and big parts of this offense.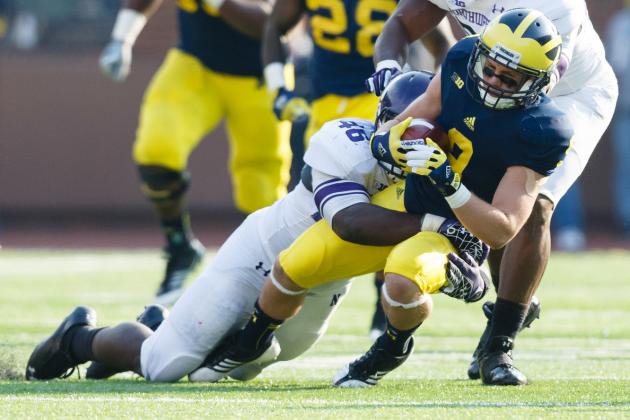 Rick Osentoski-USA TODAY Sports

This one here is very important to the offense's success this fall. It's safe to call Jeremy Gallon and Drew Dileo proven commodities, but Michigan literally does not have another receiver that has proven anything.
However, there isn't any question who the popular choice is to emerge and become a big weapon in the passing game: Amara Darboh.
Darboh is a sophomore who saw a large role on special teams last year as a freshman, but almost no time on offense. He needs to step up and become a reliable weapon this fall.
Jehu Chesson is another guy that is capable of doing that, but realistically it may take another year for him to become more polished at the college level.
The two senior holdovers, Jeremy Jackson and Joe Reynolds, are still around, but not much is expected out of them.
Yes, three more receivers will arrive in time for fall camp in Jaron Dukes, Csont'e York and Da'Mario Jones, but it remains to be seen if any of those three will receive playing time this season.
Darboh and Chesson are the two big ones to keep an eye on this Saturday, as one of those two men simply need to step up.
Six young men were lucky enough to enroll early and get a head start here on their careers at the University of Michigan.
Kyle Bosch, Jake Butt, Taco Charlton, Ross Douglas, Dymonte Thomas and Logan Tuley-Tillman are the six freshmen who are now part of the team.
An eye should be kept on all six this Saturday, especially the ones that are expected to see playing time this fall.
Taco Charlton is a guy who has a good chance of working his way into the defensive end rotation, even though the position is already stacked.
Dymonte Thomas will likely see time in this Michigan secondary, even though exact which position is still to be determined.
Jake Butt will almost assuredly see time at tight end as well. As for the other three, they may or may not redshirt, but regardless it has to feel good knowing they are now officially part of the Michigan family.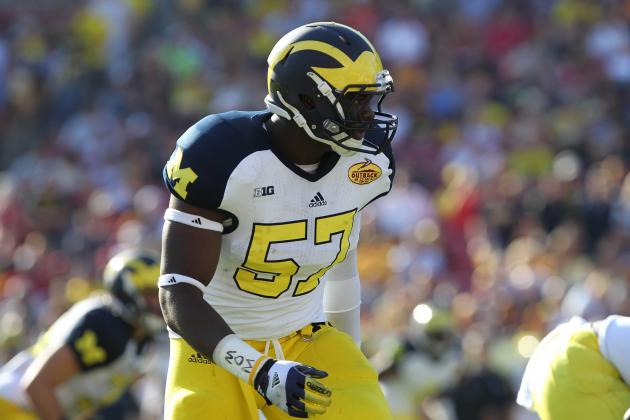 Kim Klement-USA TODAY Sports

Michigan has an unbelievably high number of defensive ends that are expected to see time this fall. As many as six or seven ends could be significant contributors.
The large number of able bodies is probably a big reason Brennen Beyer moved back to SAM linebacker, a position at which he began his career.
Still, the position is extremely crowded, which isn't necessarily a bad thing. Frank Clark figures to earn a starting job, but other than that things are still up in the air.
There's no doubt that Mario Ojemudia and Keith Heitzman will both see an extended role after seeing the first game action of their careers last season.
Tom Strobel and Chris Wormley are two redshirt freshmen that will definitely see a role, and Matt Godin is another classmate that may see time as well.
Taco Charlton was mentioned in the previous slide as a guy who could also see time. Jibreel Black is somebody who will probably see time at both tackle and end, so he certainly can't be left out of the conversation.
Again, this is a good problem to have. Keep a close eye on how the minutes are split up among all of these defensive ends.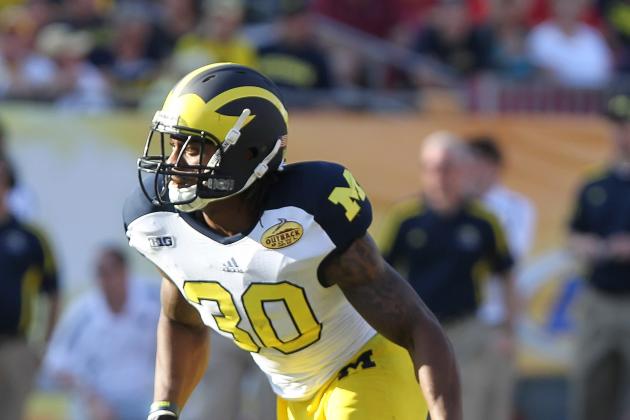 Kim Klement-USA TODAY Sports

I figured I'd close this list talking about the last line of defense. Michigan has a pretty interesting situation at safety, with Thomas Gordon being the only sure thing.
Jarrod Wilson is definitely the favorite to start at the other safety spot, but there are also a number of veterans fighting for playing time.
Marvin Robinson is one, even though he has basically done nothing in his career. Now a redshirt junior, Josh Furman is also a veteran, but like Robinson he hasn't had an impact on defense either.
There are a few young guys who could potentially see playing time as well. Dymonte Thomas is probably going to see time wherever he ends up, but that is still to be determined.
Jeremy Clark is a redshirt freshman that could see time, as his 6'4" body frame is very intimidating.
Again, Wilson is definitely the favorite to start alongside Gordon, but this is certainly a position fans should be keeping an eye on Saturday.