College Football's 11 Most Intense Spring QB Battles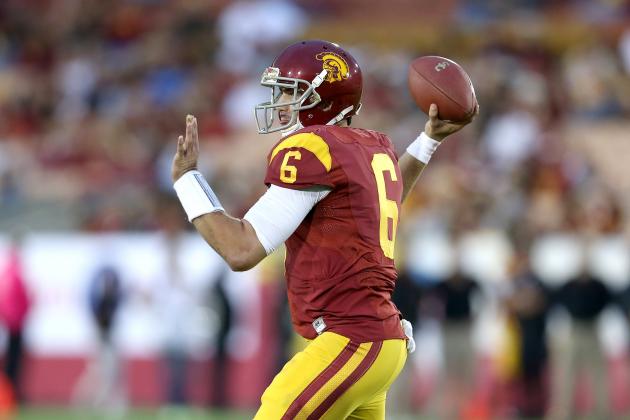 Stephen Dunn/Getty Images
USC's Cody Kessler
Though April showers are meant to bring May showers, in the spring season of college football April showers are more likely to bring quarterback battles.
Yes, and even though most decisions on who will start under center are delayed until fall practice, much of the hype in spring ball surrounds who will play QB when the season finally kicks off in August or September.
The following slideshow makes a sweeping review of our football nation and highlights 11 of the most intense spring QB battles in college football.
As a note, this list does not include QB battles which will be decided when a true freshman arrives on campus this summer or fall. Instead, it represents races that are underway and fully staffed with all the key competitors during spring ball.
Begin Slideshow

»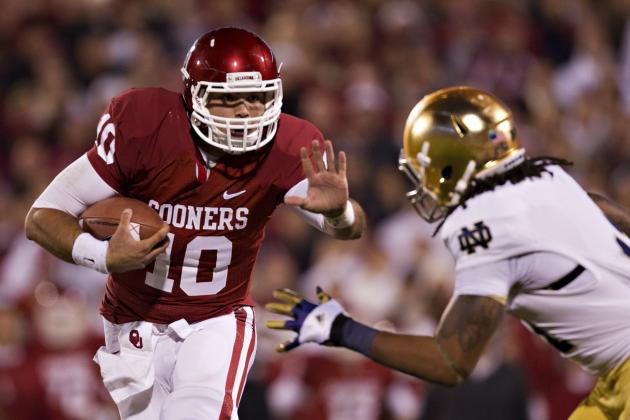 Wesley Hitt/Getty Images
Oklahoma's Blake Bell
The battle to replace Landry Jones under center at Oklahoma this fall centers on incoming junior Blake Bell and incoming sophomores Kendal Thompson and Trevor Knight.
Thompson and Knight have yet to take a collegiate snap while Bell, who was used as a situational player in the Sooners' offense last season, threw only 16 passes as a sophomore but rushed for 182 yards and 11 TDs.
Though Bell definitely has the edge experience-wise, this is a tight race that likely won't be decided until fall practice.
According to a piece on ESPN.com, OC Josh Heupel has recently summed up the QB race in Norman thusly, "None of those guys have earned it yet."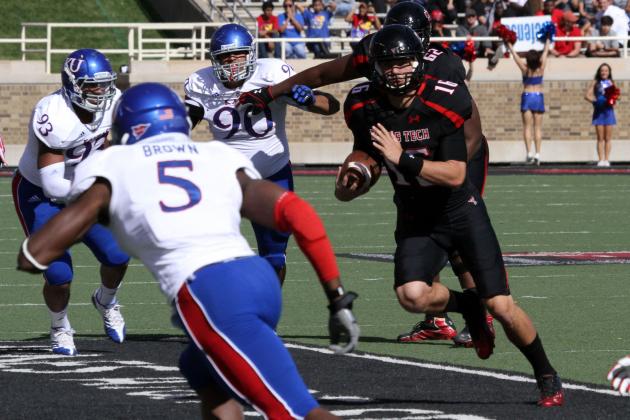 Michael C. Johnson-USA TODAY Sports
Texas Tech's Michael Brewer
At first glance the race to become head coach Kliff Kingsbury's first starting QB at Texas Tech might seem as simple as penciling in incoming sophomore Michael Brewer's name.
But, don't count out freshman Davis Webb, an early enrollee who, as per a piece this week on the online edition of the Dallas Morning News, split reps with Brewer in the Red Raiders' first public scrimmage of the spring.
Brewer accumulated 375 yards and four TDs on 48 attempts as Seth Doege's backup in 2012 while Webb is a 3-star pro-style QB product of Prosper, Texas.
Though Webb is providing Brewer a real challenger, it's likely that his role will be that of backup when the fall rolls around.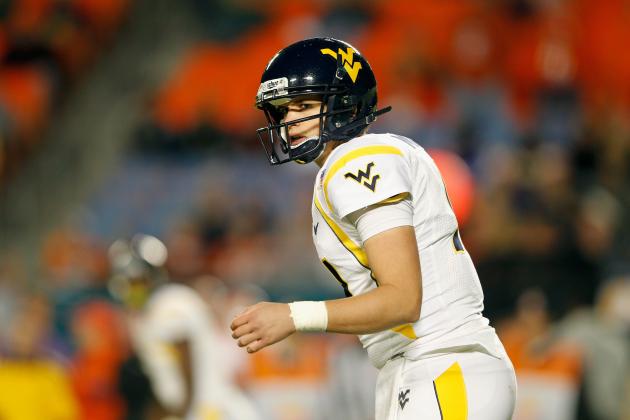 Mike Ehrmann/Getty Images
West Virginia's Paul Millard
With only three starters returning from the No. 9 scoring offense in the nation from a year ago, the battle to replace Geno Smith under center at West Virginia is one of the most critical in the BCS ranks.
This specific race to the starting block comes down to two guys: Paul Millard and Ford Childress.
Millard is an incoming junior who served as Smith's backup in both 2011 and 2012 and accumulated 211 yards, three TDs and three picks, total, in 16 games of limited participation.
Childress, on the other hand, redshirted as a freshman last season and has yet to take a snap in college. He was signed as a 3-star rated pro-style QB out of Kinkaid HS in Houston and was the No. 14-ranked guy at his position among the class of 2012.
Whether it's Millard or Childress who gets the nod, he won't have a lot of help, or mercy, so the chosen one in Morgantown needs to be more than ready to go.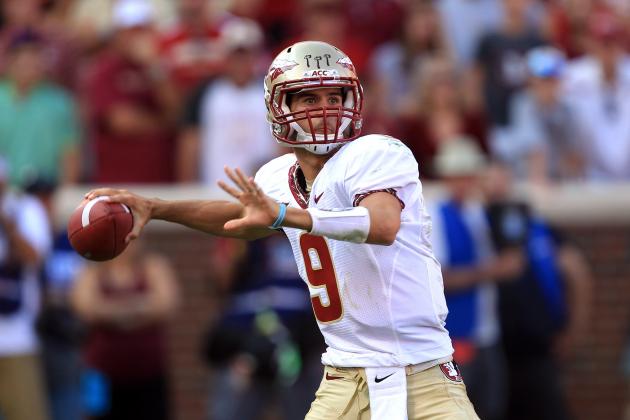 Streeter Lecka/Getty Images
Florida State's Clint Trickett
As per an article posted on Tallahassee.com this week, the QB race at Florida State still consists of the same four guys who entered the competition when spring ball got underway on March 20.
The quartet of gunslingers is led by incoming junior Clint Trickett who saw limited action in seven contests in 2012 going 22-of-34 for 272 yards and zero TDs and no INTs.
As a freshman in 2011, Trickett was a slightly more active 44-of-75 for 675 yards and seven TDs but also threw four picks.
The other contenders for the job include dual-sport phenom Jameis Winston who redshirted last season, incoming sophomore Jacob Coker who threw five passes including one TD in the first three games of 2012 and Sean Maguire who also redshirted last season.
Though this is still officially a four-man race, Trickett and Winston are definitely the headliners.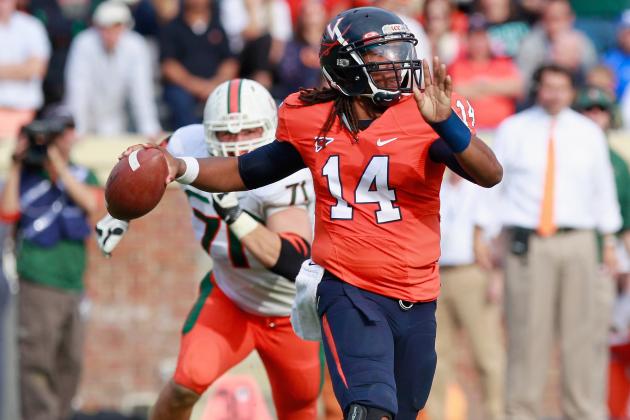 Geoff Burke/Getty Images
Virginia's Phillip Sims
Despite the fact that the Cavaliers return QB Phillip Sims in 2013, according to CBSSports.com Virginia has come out of spring ball with a tight, three-way race for the starting spot under center.
Sims was a somewhat shaky 114-of-203 for 1,263 yards, nine TDs and four picks as a sophomore in 2012 and he'll have to beat out redshirt sophomore David Watford and redshirt freshman Greyson Lambert if he wants a chance to show improvement in 2013.
Watford last played in 2011 when he went 30-of-74 for 346 yards, three TDs and four picks, and Lambert has yet to take a snap as a collegian.
Virginia has yet to have a clear starter at QB in the Mike London era.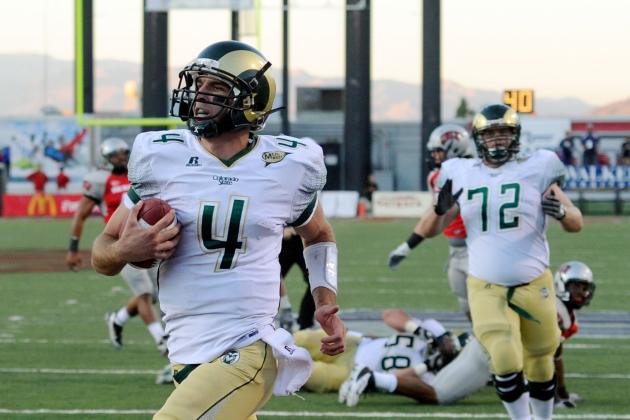 Ethan Miller/Getty Images
NC State's QB Transfer from Colorado State Pete Thomas
Though a lot less hoopla surrounded Mike Glennon's exit from NC State, he'll likely be one of the most difficult QBs to replace in the BCS ranks coming into 2013.
New Wolfpack head coach Dave Doeren's options to lead his first offensive product at NC State are interesting and come down to Pete Thomas and Manny Stocker.
Thomas transferred from Colorado State last season where he threw for 4,269 yards, 18 TDs and 21 picks from 2010 to 2011 as a freshman and sophomore.
Stocker, an incoming sophomore, has only thrown two balls in his collegiate career but has already accumulated three sacks.
According to a recent article on the charlotteobserver.com, Doeren is leaning towards Thomas but will ultimately "have to have a guy that doesn't hurt us."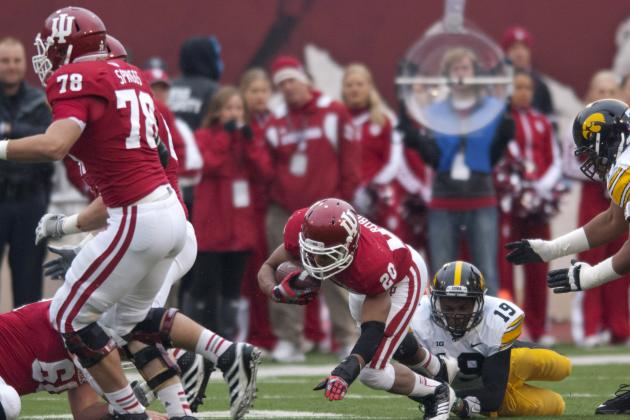 Jerry Schultheiss-USA TODAY Sports

On to a race between three guys with zero experience in the college ranks, Iowa will have a huge job on its hands in replacing outgoing QB James Vandenberg.
The starting job options start with Jake Rudock who redshirted in 2012 after signing with Iowa as a 3-star prospect from Ft. Lauderdale, Fla.
Next is Cody Sokol who is a 3-star JUCO transfer from Scottsdale CC in Scottsdale, Ariz., and finally there's C.J. Beathard who initially signed with Ole Miss as a 3-star in the class of 2012 but switched to Iowa after the coaching change in Oxford and redshirted as a freshman.
As of yet there is no front-runner in the inexperienced group and the plan coming into the spring practices, as per Hawkmania.com, was to have the three rotate in (and out) every few snaps.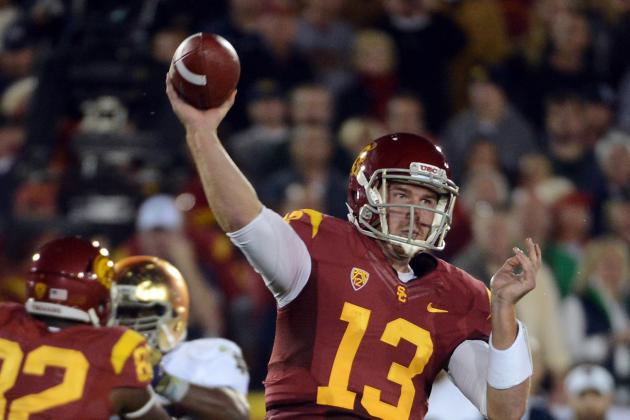 Harry How/Getty Images
USC's Max Wittek
In a QB battle that could very well play a huge part in whether Lane Kiffin keeps his job past 2013, three young athletes are vying for the coveted starting job at USC.
First and foremost is the obvious choice, Max Wittek, the incoming sophomore who played back up to Matt Barkley in 2012 and along the way went 36-of-69 for 388 yards, three TDs and five picks.
What hurts Wittek in this race is the way he finished last season with a dubious three INT performance in the Trojans' 21-7 loss to Georgia Tech in the Sun Bowl. Beyond that are durability concerns that arise from an early-spring injury which he has since bounced back from but still could count against him.
Second up is incoming sophomore Cody Kessler who went 2-of-2 for nine yards in the Trojans' 50-6 win over Colorado last season, but other than that has nothing but great promise and a solid spring to campaign on.
Last but not least is perhaps the most compelling choice, Max Browne, the early-enrollee from Sammamish, Washington who earned 5-stars and the No. 1 pro-style QB rating among the class of 2013.
This race is closer than it looked even a month ago and is likely won't be decided until the fall.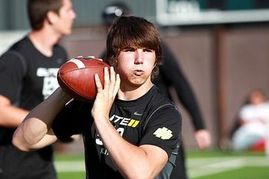 Cal's Zach Kline
Even though Zach Kline seems to have the early lead in the race to replace Zach Maynard under center at Cal this fall, new head man on campus Sonny Dykes has yet to call the competition over.
Competing with Kline, a 4-star prospect from Danville, Calif., who redshirted last season, are Austin Hinder and Jared Goff, both who also share a total lack of experience at the collegiate level.
Hinder is a 3-star recruit from the class of 2010 who redshirted the last two seasons and Goff is a 4-star guy who was just signed this February from Kentfield, Calif.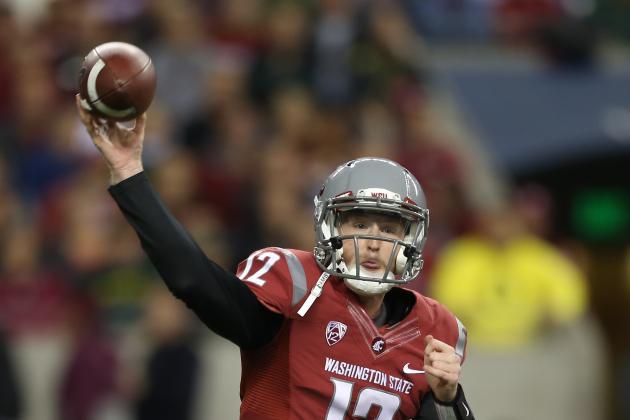 Otto Greule Jr/Getty Images
Washington State's Connor Halliday
In what is likely to have a huge impact for the guy who gets picked to lead Mike Leach's high-flying offense, the Cougars' QB battle consists of incoming junior Connor Halliday and redshirt freshman Austin Apodaca.
Halliday shared time under center in 2012 with Jeff Tuel and when the dust settled he went 152-of-291 for 1,878 yards, 15 TDs and 13 picks.
Apodaca redshirted last season and came to Washington State as a 2-star-rated dual-threat QB from Longmont, Colo., as a part of the class of 2012.
This battle will likely be a close affair with the winner in a great position to gain an obscene number of yards in 2013.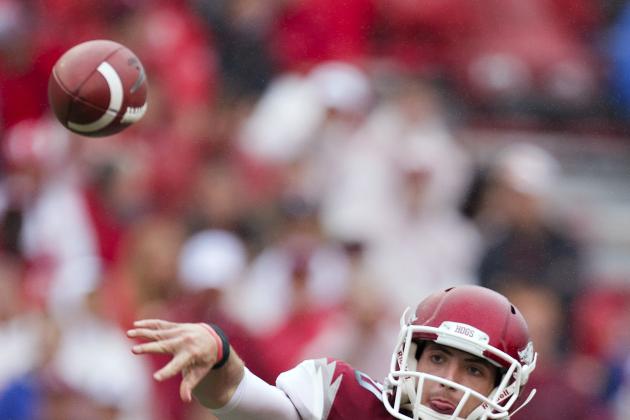 Wesley Hitt/Getty Images
Arkansas' Brandon Allen
The race to replace Tyler Wilson under center at Arkansas will come down to a pair of Brandon's: Allen and Mitchell.
Brandon Allen is an incoming sophomore who went 21-of-49 for 186 yards, one TD and three picks in five appearances in 2012 while Mitchell is an incoming senior who has played on and off for the past three seasons with his most significant contribution coming via 271 yards and two TDs in 2011.
This is another competition that is tight but will have huge impact, especially given the nature of Arkansas' 2013 slate and the fact that they are starting over from a coaching regime standpoint.