Brian Schwenke: Video Highlights for Former Cal C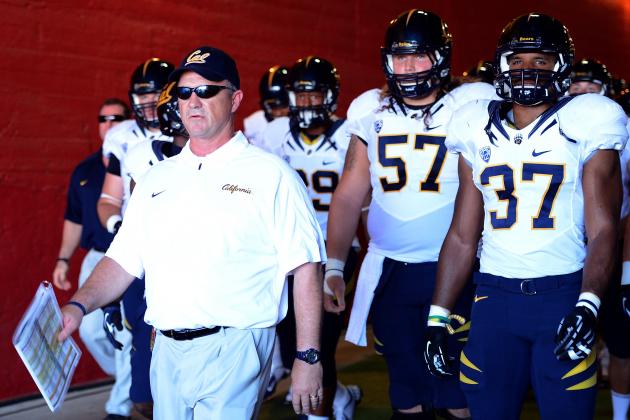 Harry How/Getty Images

There is only one player in football who touches the ball on every offensive snap.
Even the quarterback might occasionally cede a Wildcat snap or two over the course of some games, but the center, though he toils in relative obscurity, leaves his mark on the game with every play.
Of this year's crop of incoming centers, one of the top prospects is Cal's Brian Schwenke, a versatile 314-pounder who was selected as a first-team All Pac-12 performer by coaches in the conference in 2012.
To get a better idea of what Schwenke could bring to the table in the NFL, here's a look at some plays that spotlight Schwenke's talents.
Begin Slideshow

»
One of Schwenke's greatest assets is the quickness he possesses, as it allows him to explode out of his stance when engaging blockers.
That quickness was on display in an early-season loss to Ohio State in 2012.
Even from the shotgun formation, Schwenke does an excellent job of keeping his eyes on both the defender in front of him and the quarterback, delivering an accurate snap before taking on his assignment.
The result was a big gain for the Golden Bears.
Brian Schwenke isn't the most powerful of blockers, which is why most scouts feel that his future in the NFL lies at the center position.
However, that doesn't mean that Schwenke is a liability in the trenches, as the play above demonstrates.
In this play, Schwenke gets stood up but is still able to hold the point of attack against Ohio State defensive lineman Garrett Goebel, leaving a nice hole for running back C.J. Anderson to exploit for a solid gain.
As I mentioned earlier in this article, most pundits believe that Brian Schwenke's NFL future lies at center, but Schwenke showed a great deal of versatility while at Cal.
Over three full seasons as a starter in Berkeley, Schwenke actually started twice as many games at guard as at center, and that ability to play multiple positions could serve Schwenke very well, especially early in his NFL career.
In this video from Cal's 2011 matchup with the Washington Huskies, Schwenke lined up at left guard, showing off his skills at pass protection in the play that leads off the clip.
Granted, quarterback Zach Maynard's pass was incomplete, but you can't expect Schwenke to do everything, now can you?
It can be important not to read too much into workout or all-star game appearances, but in Schwenke's case, he helped his draft stock a fair amount in January's Senior Bowl in Mobile, Ala.
In the above video of workouts preceding the game, the NFL Network's Mike Mayock, who refers to Schwenke as "my guy," states that Schwenke allayed some fears about his strength in Mobile by demonstrating that he can "anchor against the big bodies up front."
Mayock is plenty effusive in his praise of Schwenke's performance in Senior Bowl practices, claiming that Schwenke "helped himself as much as anybody in the game."
Mayock continued his praise of Schwenke right up through the game's telecast, and Schwenke did the same with his solid performance, carrying it over from practices to the game itself.
Schwenke showed off that ability to "anchor" that Mayock mentioned in the clip above.
Schwenke does an excellent job of standing his ground in the play, turning the defensive tackle away from the action and opening the door for a big gain by Florida running back Mike Gillislee.