Montreal Canadiens' 3 Most Important Games Left on Schedule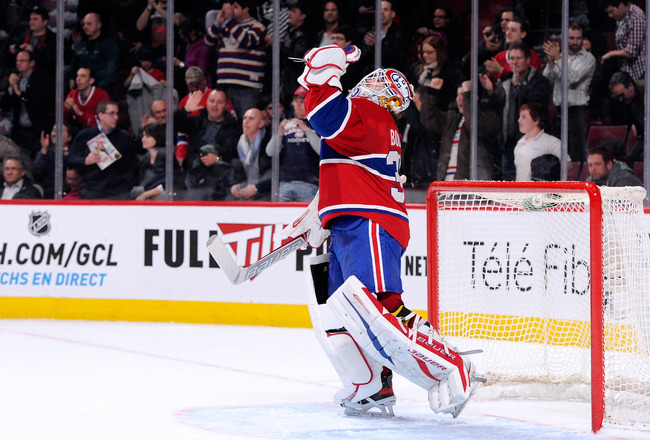 Peter Budaj of the Montreal Canadiens.
Richard Wolowicz/Getty Images
With fewer than 10 games left in what has been anything but a regular season for the Montreal Canadiens, the Habs are all but assured of a playoff spot. That hasn't been the real story, though. While the end result is impressive, it's the means by which the Habs have ended up at this point that is truly inspiring.
We're talking third-period comebacks aplenty, goals in bunches and performances for the ages by players up and down the lineup, and it's not even over. In fact, the Habs still have a lot of meaningful hockey to play prior to the start of the playoffs.
Even if a berth is all but wrapped up, first place in the Northeast Division and the Eastern Conference are both up for grabs. Here are the three most important Habs games that will help decide where they end up once everything is said and done:
3) Montreal at Buffalo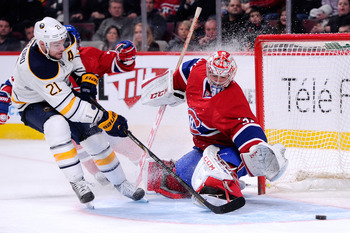 Buffalo Sabre Drew Stafford looks to beat Montreal Canadien Carey Price.
Richard Wolowicz/Getty Images
When: Thursday, April 11, 7:30 p.m. ET
TV Info: CBC, RDS
No, the Buffalo Sabres are not a playoff a team, and no, they're not particularly good, especially not after having just traded away their captain Jason Pominville to the Minnesota Wild. However, they are a division rival against whom the Habs have had trouble this season.
Sure, the Habs routed the Sabres 6-1 back in early February, but ever since: nothing but disappointment.
Less than one week after that victory, Montreal gave up a two-goal lead, including the game-tying goal with less than two seconds left in the game, and lost a 5-4 decision in a shootout.
Montreal made things interesting in the teams' next encounter, coming back from a two-goal deficit in the third period on March 19 but losing in overtime trying to kill off a P.K. Subban penalty.
Finally, the Habs fell just short of another comeback in the two teams' last game, a 2-1 game that has given Buffalo a 3-1 record against Montreal this season, the best mark any team has against the Habs this season. Translation: It's go time.
It's also Montreal's next game on the schedule, and if there's one thing being a sports fan (or listening to postgame quotes) should teach you it's that the next one is always the most important (or third-most important in this case).
2) Montreal at Toronto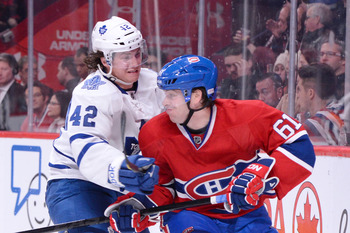 Toronto Maple Leaf Tyler Bozak and Montreal Canadien Raphael Diaz.
Richard Wolowicz/Getty Images
When: Saturday, April 27, 7 p.m. ET
TV Info: CBC, RDS
Montreal's last game of the season is against the hated Maple Leafs, and it's key on so many different levels.
For starters, it's the Leafs, and every Habs-Leafs game is worth watching, if for nothing else than switching back and forth between the CBC and RDS simply for the huge discrepancy between how the two channels call the same game. It's a game in itself, in all honesty. A shot each time Don Cherry mispronounces a Habs name? Anyone?
Secondly, while there is still one more Toronto-Montreal game between then and now, this one is again the last game of the season, and a lot could still be up in the air—including the Leafs themselves, amazingly, despite their bad habit over the last decade of falling in the standings come autumn and never fully recovering.
It would seem a season ironically starting in the dead of winter was just the tonic to cure their nine-year playoff drought. No word yet on their Stanley Cup one, though, but it might very well take the simultaneous folding of 29 other franchises to lift that particular curse (a win by default is still a win!).
The Leafs have admittedly been good this year, as well. However, as of Wednesday night, they are a full seven points back of the Habs, meaning them missing the playoffs is still a possibility right now, however remote. Montreal could theoretically play spoiler and prevent them from making them on the off chance the Leafs decide to free-fall this spring.
If that's not in the cards, there's just no telling how long it will take for the final standings in the Northeast Division to be sorted out. This game would mean a lot to Montreal if it does indeed come down to the final weekend between them and the Bruins (assuming Toronto hasn't caught up too).
Finally, there's a lot of pride on the line as well. Toronto still has an embarrassing 6-0 victory over Montreal this season and a 2-1 record overall up to this point.
Even though the Habs somewhat redeemed themselves with a later 5-2 victory, another (couple of) win(s) would certainly do wonders for their collective psyche heading into the playoffs.
1) Montreal at Pittsburgh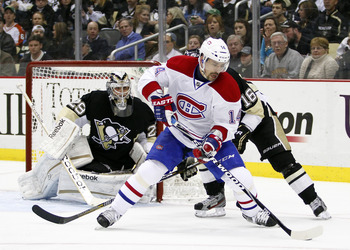 Montreal Canadien Tomas Plekanec looks to beat Pittsburgh Penguins Brandon Sutter and Marc-Andre Fleury.
Justin K. Aller/Getty Images
When: Wednesday, April 17, 7 p.m. ET
TV Info: RDS, TSN
While Sidney Crosby is injured and likely won't be back in the Pittsburgh Penguins lineup by April 17, this tilt still promises to be quite a draw.
If Evgeni Malkin and Jarome Iginla weren't enough, the potential ramifications in regard to the final Eastern Conference standings should be plenty in their own right.
Heading into action Wednesday night, Pittsburgh was in first place and Montreal a not-too-distant second, five points back with one game in hand. As such, the result of this game will go a long way to deciding just who wins the conference this season.
Pittsburgh remains the only team Montreal has yet to beat this year (excluding teams in the West), and while that fact and Pittsburgh's star-studded roster might indicate potential for embarrassment, the truth is the Habs have played the Penguins very closely this year, losing their two games by a total of just two goals.
The bottom line: Even if the Habs end up losing this one as well, there's a very good chance it will still be entertaining as hell.
Keep Reading

Montreal Canadiens: Like this team?