Masters Field 2013: Golfers to Watch on Day 1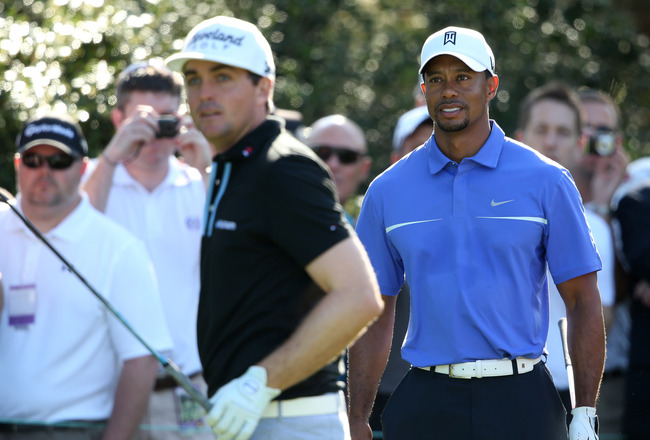 Tiger Woods and Keegan Bradley are among the golfers to watch during Thursday's opening round of the Masters.
Andrew Redington/Getty Images
More than 90 golfers will tee it up Thursday in the 77th Masters, and every one of them is eyeing a green jacket come Sunday. That said, only 50 golfers or all those within 10 shots of the lead (whichever is higher) will make it to Saturday.
Obviously, Thursday's opening-round performance is critical to making that cut and achieving the larger goal of contending come Sunday's back nine, when most believe the Masters really starts.
Here are 10 golfers to watch on Thursday as they build their case for being in contention on Sunday afternoon.
10. Tianlang Guan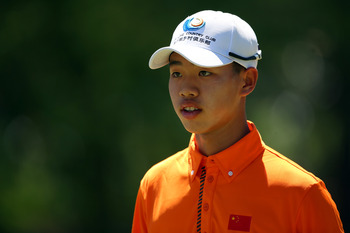 At age 14, Tianlang Guan will be the youngest golfer to ever compete in The Masters.
Mike Ehrmann/Getty Images
Tee Time: 12:24 p.m. (with Ben Crenshaw and Matteo Manassero)
Why You Need to Watch: The 14-year-old Guan can't even drive himself to Augusta National for his first-round tee time, but he is still one of the most significant figures of the 2013 Masters. The Chinese star is the youngest to ever tee it up at Augusta, and the world will be watching.
Thursday's Pass or Fail: Guan gets a comfortable start with two-time Masters champion Ben Crenshaw in his group, which could calm some nerves and provide some guidance during his initial test at Augusta. He needs a decent score to prove he belongs in this major championship and to set up a run at the cut.
Prediction: It's hard to imagine a 14-year-old surviving Augusta National under tournament conditions. Guan struggles to an opening-round 78.
9. Dustin Johnson
Dustin Johnson's length is perfect for Augusta National. His aggressiveness may not be.
Andrew Redington/Getty Images
Tee Time: 1:08 p.m. (with Fred Couples and Branden Grace)
Why You Need to Watch: If you like long drives and aggressive golf, then you should always watch Dustin Johnson, and that is especially true at Augusta National. The talented Palmetto State golfer doesn't play for pars; sometimes, that brings big numbers into play, but he's proven he has the game to contend in majors.
Thursday's Pass or Fail: Despite his prodigious length, Johnson's best performance at Augusta National is only a 30th-place finish. To improve on that, he needs a strong start Thursday, which means finding the fairways, mastering the par fives and accepting that, on many holes, par is a good score.
Prediction: Sometimes, Johnson can't take the foot off the pedal, and Augusta National relishes that. Thursday produces a two-over 74.
8. Adam Scott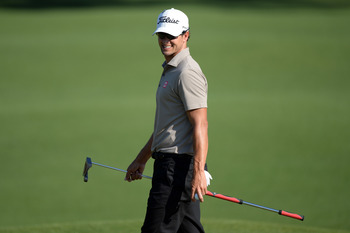 Adam Scott needs to ignite his putter to claim his first green jacket and major championship.
Harry How/Getty Images
Tee Time: 12:57 p.m. (with Angel Cabrera and Sergio Garcia)
Why You Need to Watch: Adam Scott was one of the hottest golfers last year before his final-round collapse at the British Open. That said, the Aussie has a ton of game and past success at Augusta National, which includes a tie for second in the 2011 Masters.
Thursday's Pass or Fail: It was iron play and short game that let Scott down in the 2012 British Open, and those two clubs will be in high demand at Augusta National. Scott will find the fairway more often than not; the question is, can he chase pins and sink enough putts to post a strong opening-round number?
Prediction: Scott hasn't played much this year and seems to be fighting his putter and irons. That translates to an opening-round 73.
7. Justin Rose
Justin Rose is among several Englishmen given strong odds to win the 2013 Masters.
David Cannon/Getty Images
Tee Time: 9:17 a.m. (Brandt Snedeker and Roy Ishikawa)
Why You Need to Watch: Fellow Englishmen Luke Donald and Ian Poulter might get the lion's share of the attention, but few Europeans are playing as well as Justin Rose entering the Masters. Rose has three top-10 finishes in just four starts on the PGA Tour, and his scoring ability is well suited to Augusta National.
Thursday's Pass or Fail: When Rose is on, he can go low, yet there are times during rounds when he seems to lose focus. Augusta National is a test of mind as much as swing, and Rose needs to maintain that focus throughout Thursday's round. Finding the fairway on a consistent basis wouldn't hurt either.
Prediction: Justin Rose finished eighth in last year's Masters, and a solid opening-round 68 will point him in that direction this time.
6. Bubba Watson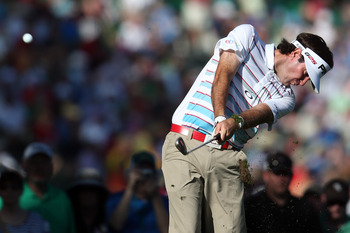 Bubba Watson looks to become the first repeat champion at the Masters since Tiger Woods in 2002.
Andrew Redington/Getty Images
Tee Time: 10:34 a.m. (with Ian Poulter and Steven Fox)
Why You Need to Watch: Not since Phil Mickelson in 2004 has there been as popular a first-time Masters champion as the enigmatic Bubba Watson. Like Dustin Johnson, Watson can go low or blow up high at a moment's notice, and his long banana drives are something to watch at Augusta National.
Thursday's Pass or Fail: As it typically is with Watson, finding the fairway off the tee will define Thursday's performance. Watson ranks only 157th in driving accuracy but sits sixth in greens in regulation, meaning he not only scrambles well, but from the fairway his iron play is solid.
Prediction: No one has repeated at the Masters since Tiger in 2002. Watson doesn't take a step toward defending with an opening-round two-over 74.
5. Keegan Bradley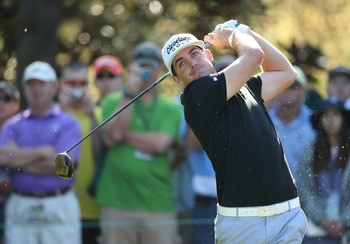 Keegan Bradley seeks his first green jacket and second career major starting Thursday at Augusta National.
Andrew Redington/Getty Images
Tee Time: 1:41 p.m. (with Rory McIlroy and Frederick Jacobson)
Why You Need to Watch: The 2011 PGA Champion's game is peaking at the right time. The long putter-wielding Bradley has posted top 10s in each of his past four starts, including a tie for third at Bay Hill. Bradley has the length and temperament to compete at Augusta.
Thursday's Pass or Fail: Keegan is averaging just over 300 yards off the tee, but his accuracy has been a bit off (ranked just 89th on the PGA Tour). He needs to find the fairway to take advantage of his length and set up reasonable birdie efforts with that belly putter of his.
Prediction: Bradley will play comfortably and post a sturdy two-under 70.
4. Lee Westwood
If Lee Westwood plans to claim his first green jacket, his putter will have to heat up considerably.
Mike Ehrmann/Getty Images
Tee Time: 9:06 a.m. (with Mike Weir and Jim Furyk)
Why You Need to Watch: Westwood needs a major victory more than any other player in the field and therefore needs a strong start Thursday to ease the pressure. Westwood opened with a 67 last year en route to a tie for third, and a similar performance will put him back in the mix this year.
Thursday's Pass or Fail: Westwood can drive the ball a long way, but that hasn't always translated into low scores at Augusta National due to his putting. The Englishman currently ranks 122nd in putting, and that will have to improve starting Thursday if that elusive major is coming.
Prediction: Westwood's strong play at Augusta National continues Thursday with an opening-round 69.
3. Phil Mickelson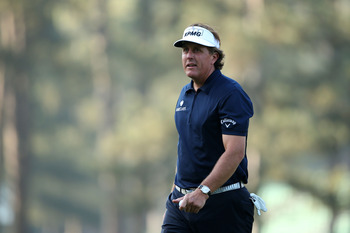 Phil Mickelson tees off late Thursday in search of his fourth green jacket.
Andrew Redington/Getty Images
Tee Time: 1:30 p.m. (with Louis Oosthuizen and Martin Kaymer)
Why You Need to Watch: If there is one course Lefty understands, it's Augusta National, and he has three green jackets to prove it. You never really know what to expect from Mickelson, but there's no doubt he is a significant threat to claim a fourth green jacket.
Thursday's Pass or Fail: When it comes to Augusta, Mickelson is a Saturday mover, so he really needs to be around par or just under to set up his typical third-round charge. That will happen if he can control the driver and get his slumbering putter going.
Prediction: Phil battles his putter enough to leave a couple strokes on the course Thursday en route to an opening-round two-under 70.
2. Rory McIlroy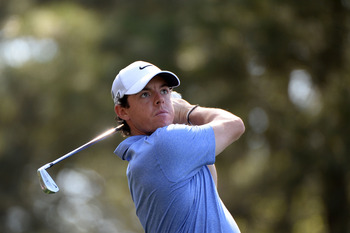 Rory McIlroy has his eyes set on a first green jacket and a return to the top spot in the world rankings.
Harry How/Getty Images
Tee Time: 1:41 p.m. (with Keegan Bradley and Frederick Jacobson)
Why You Need to Watch: McIlroy enters the Masters off his best performance of the year—a second-place showing at the Valero Texas Open this past weekend. The loss of his world No. 1 ranking coupled with the final-round collapse in 2011 gives Rory plenty of opening-round motivation.
Thursday's Pass or Fail: It really comes down to the iron play for McIlroy on Thursday. He'll find fairways, but hitting greens with those new irons and finding the right spots on the greens will be crucial to a confidence-building start for McIlroy.
Prediction: Not sure that McIlroy is all the way back, but his confidence is as big as the greens at Augusta National. An opening-round even-par 72 keeps him in the mix.
1. Tiger Woods
Tiger Woods has his sights set directly on a fifth green jacket and a 15th career major.
Andrew Redington/Getty Images
Tee Time: 10:45 a.m. (with Luke Donald and Scott Piercy)
Why You Need to Watch: Tiger enters the Masters as not only the top-ranked golfer in the world, but also the hottest, with three victories this year and two within the past 60 days. Woods comes to Augusta National seeking his fifth green jacket, which would put him alone in second all-time to idol Jack Nicklaus.
Thursday's Pass or Fail: Given the way Tiger is putting, the key to success on Thursday is simple: find the fairway and find it often. With a tightened iron game, Woods will be lethal from the fairways, and birdie and eagle options will be numerous in the first round.
Prediction: For only the second time in his Masters history, Tiger finds the 60s in the first round, firing a four-under 68.
Keep Reading