1 Young NFL Player at Each Position Who Will Become Elite in 2013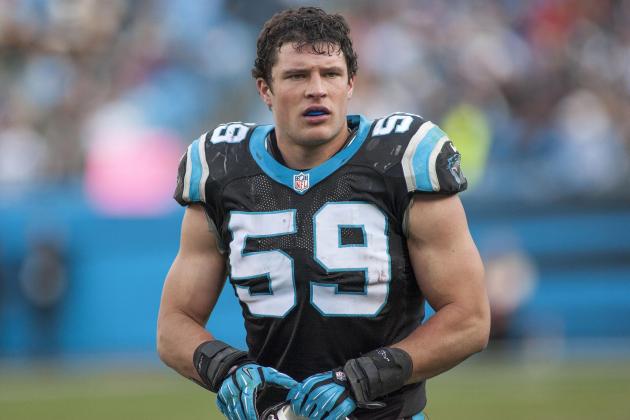 USA TODAY Sports

Who are the young and talented NFL players on the verge of peaking and entering into the elite ranks of the league?
NFL rookies don't always hit that plateau. Sometimes, it takes time for teams to see the fruits of their hard work during draft season.
When young talent finally blossoms, though, it's a beautiful thing.
Sometimes it takes a year; sometimes it takes two.
There isn't really a set time frame that every player has to work through until a light bulb turns on and he "gets it."
Some never do.
But we're not here to talk about busts or guys who never get to the next level. We're going to talk about the young guns who are on the verge of making statements in 2013.
These will be players who have shown promise but have yet to make the next step. Only those who have been in the league for two seasons or less will be considered.
Begin Slideshow

»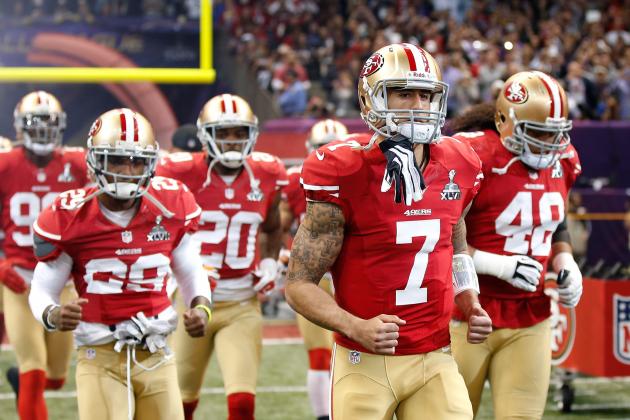 Chris Graythen/Getty Images
Following his loss in Super Bowl XLVII, Colin Kaepernick became the first San Francisco 49ers QB to lose a Super Bowl matchup.
San Francisco 49ers quarterback Colin Kaepernick exploded during the 2012-13 NFL season. His ability to move the chains with his feet and throw on the run added a new dimension to the team's offense.
He blew up in the playoffs, too, helping his team reach the Super Bowl. The dynamic signal-caller racked up an NFL-record 182 rushing yards during the 49ers' playoff win over the Green Bay Packers.
His 2013 campaign should come easier with a deep playoff run and Super Bowl appearance already under his belt.
Honorable Mentions:
Russell Wilson, Seattle Seahawks
Robert Griffin III, Washington Redskins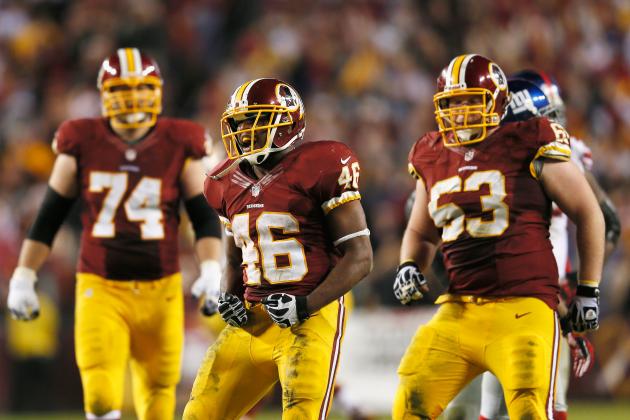 Rob Carr/Getty Images
13 RBs were selected before Alfred Morris was picked in the sixth round.
Sixth-round pick Alfred Morris was the glue that held the Washington Redskins offense together in 2012.
The unexpected star fed off of the creative offensive scheme of Mike and Kyle Shanahan. The coaches' ability to mix in ample doses of Morris while playing off of the read-option significantly opened things up for him.
That helped him to finish second overall among running backs in rushing yards (1,613) and second in rushing touchdowns (13).
QB Robert Griffin III's longevity in the league has to be a concern for Shanahan after the QB's offseason surgery. Don't expect him to change things around too much, though, which will exponentially benefit Morris.
"I think when most people take a look at Robert they say 'oh, you can't run the option,'" Shanahan said (h/t Brian Tinsman, Redskins.com). "People don't realize that the option protects the quarterback."
Honorable Mentions:
Doug Martin, Tampa Bay Buccaneers
Trent Richardson, Cleveland Browns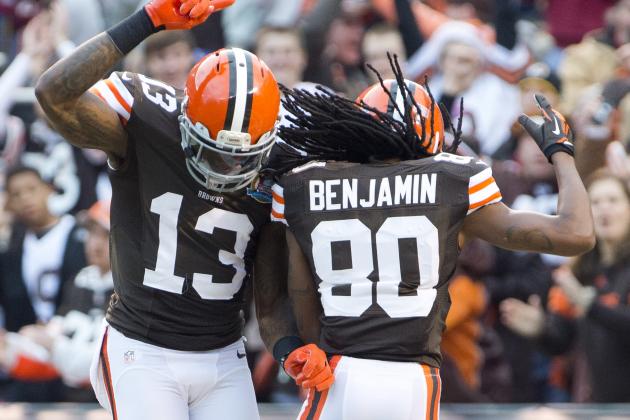 Jason Miller/Getty Images

Cleveland Browns wide receiver Josh Gordon sat out his final year of college football due to a substance abuse violation. That didn't stop the rookie from catching the attention of the national media—and opposing secondaries.
Gordon burst onto the stage after a two-touchdown performance against the New York Giants in Week 5. He still racked up over 800 yards and scored five touchdowns despite playing in an inconsistent offense.
ESPN's Mel Kiper Jr. pegged Gordon as a potential breakout player in 2013 and an annual 1,000-yard receiver (h/t ESPN Insider).
Honorable Mentions:
Randall Cobb, Green Bay Packers
T.Y. Hilton, Indianapolis Colts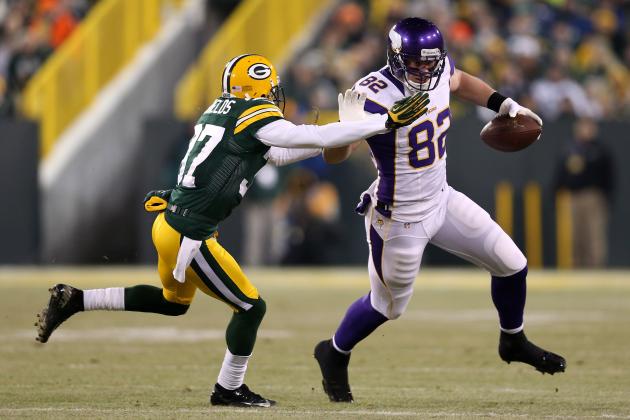 Andy Lyons/Getty Images
Kyle Rudolph made the Pro Bowl following his second NFL season in 2012.
Tight ends must be able to find the end zone. Minnesota Vikings TE Kyle Rudolph proved to have a knack for doing so in 2012. The sophomore tight end blew up, catching nine scores from QB Christian Ponder.
Minnesota isn't known for its passing prowess, but Rudolph made himself an essential cog of the team's playoff push.
The pressure—and pass defenses' focuses—might shift from Rudolph's shoulders a bit in 2013. Greg Jennings and a potential rookie wide receiver being added could bring a new element to the team's offense. In turn, Rudolph might be able to find some space to make a huge impact in 2013.
Honorable Mentions:
Dwayne Allen, Indianapolis Colts
Lance Kendricks, St. Louis Rams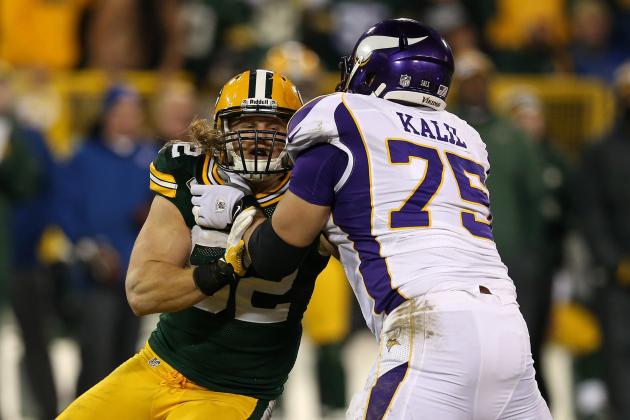 Jonathan Daniel/Getty Images

Rookies drafted fourth overall are expected to come in and perform from day one. That's exactly what Minnesota Vikings tackle Matt Kalil did in 2012.
His efforts helped anchor a large turnaround for the Vikings' unit. Through 13 games in 2012, Kalil accrued just one penalty (coming in Week 13). That's a testament to his understanding of the game.
An improved Vikings passing game would elevate Kalil's appreciation league-wide.
Honorable Mentions:
Mitchell Schwartz, Cleveland Browns
Tyron Smith, Dallas Cowboys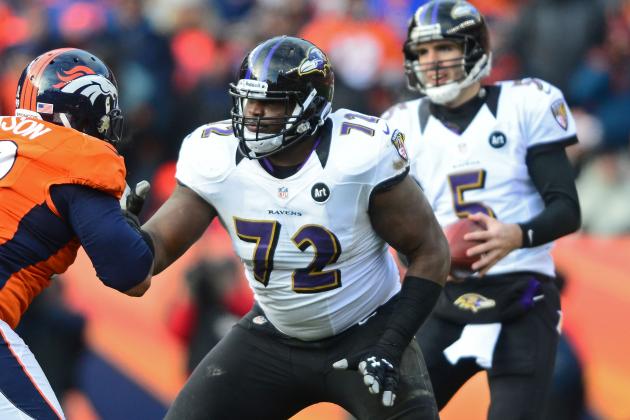 Mark J. Rebilas-USA TODAY Sports

Kelechi Osemele is a young, versatile and technically sound offensive lineman. While he played much of the season at the tackle position, he did spend some time at guard.
Mel Kiper Jr. selected Osemele to his "All-Rookie" team for his solid play at right tackle in 2012.
A lot of his future depends on the other moves the Baltimore Ravens make during the rest of this offseason. Still, he should excel and become an elite figure whether he plays right tackle or slides over to guard.
Honorable Mentions:
Kevin Zeitler, Cincinnati Bengals
Jon Asamoah, Kansas City Chiefs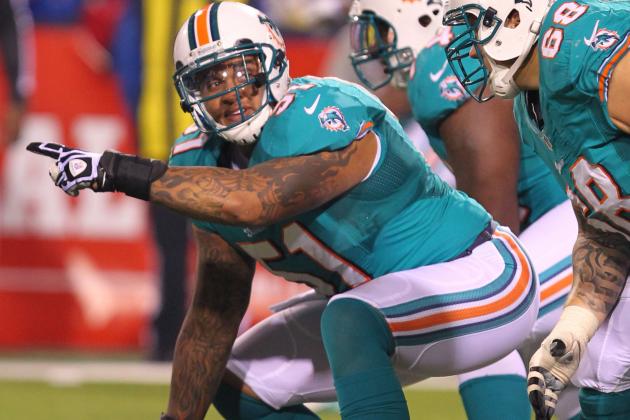 Timothy T. Ludwig-USA TODAY Sports

Miami Dolphins center Mike Pouncey played at an extremely high level in 2012. It's too bad his brother, Maurkice, is the one who is taking the entire spotlight at the center position.
That could change soon, though, if his teammates have anything to say about it.
"He's a Pro Bowl-caliber center this year," tackle Jonathan Martin said. "He's always on with his calls; we're close to 100 percent on knowing where we're going before the snap. He's a huge part of the offensive line."
Another good season with high praises from around the league and Miami's Pouncey may get the recognition he deserves.
Honorable Mentions:
N/A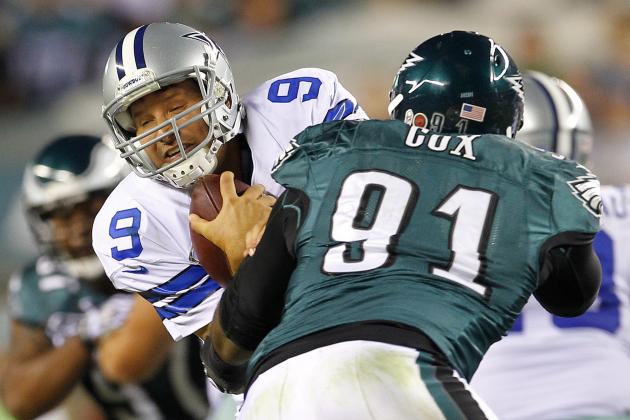 Rich Schultz/Getty Images

The Philadelphia Eagles traded up to select Fletcher Cox with the 12th pick in the 2012 NFL draft.
That move is already paying off but could pay huge dividends in 2013. The Eagles are switching to a 3-4 defense and Cox's versatility will make him a huge asset to their defensive line during the transition.
GM Howie Roseman described Cox's role moving forward (h/t Philadelphia Eagles.com):
He brought so much versatility to our defensive front and that is something you can use to your advantage. He made an impact as a rookie. He has a very bright future as long as he keeps working hard and putting his mind to it. We are excited about how he fits into the defense here.
Honorable Mentions:
Michael Brockers, St. Louis Rams
Phil Taylor, Cleveland Browns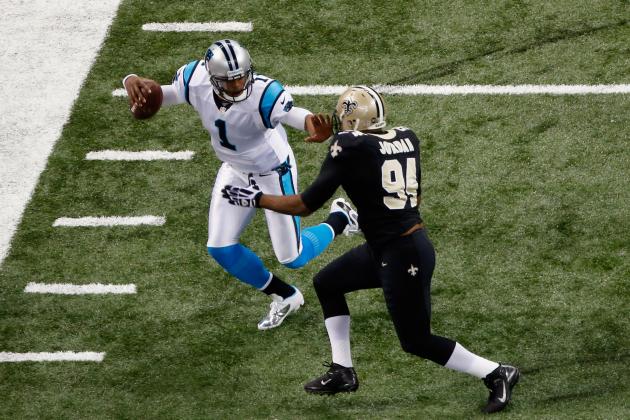 Chris Graythen/Getty Images

Third-year New Orleans Saints defensive end Cameron Jordan progressed significantly in his sophomore season in 2012. Will he take an even bigger step in 2013?
Jordan racked up eight sacks, including a three-sack performance on Monday Night Football against the Philadelphia Eagles.
He has yet to live up to his first-round selection in the 2011 NFL draft. Still, the potential is there. He could greatly definitely benefit from the team's switch to a 3-4 defense in 2013.
Honorable Mentions:
Robert Quinn, St. Louis Rams
Chandler Jones, New England Patriots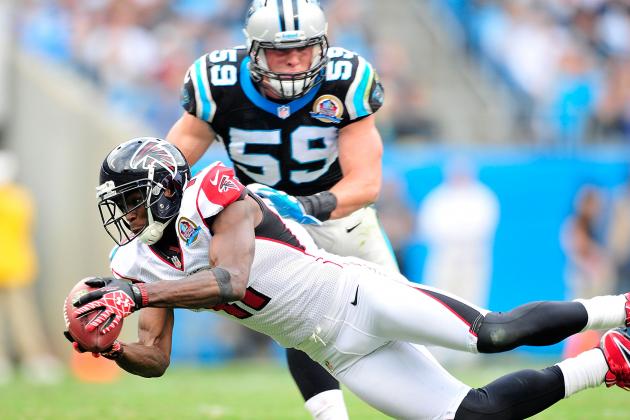 Grant Halverson/Getty Images

Carolina Panthers linebacker Luke Kuechly is already on the brink of elite NFL status after just one season in the league.
The tough 'backer from Boston College led the NFL in total tackles (164) in 2012.
That achievement made him the first rookie to lead the NFL in tackles since Patrick Willis set the bar with 174 in 2007.
Willis' footsteps aren't exactly bad ones to follow in.
Honorable Mentions:
Bobby Wagner, Seattle Seahawks
Jerrell Freeman, Indianapolis Colts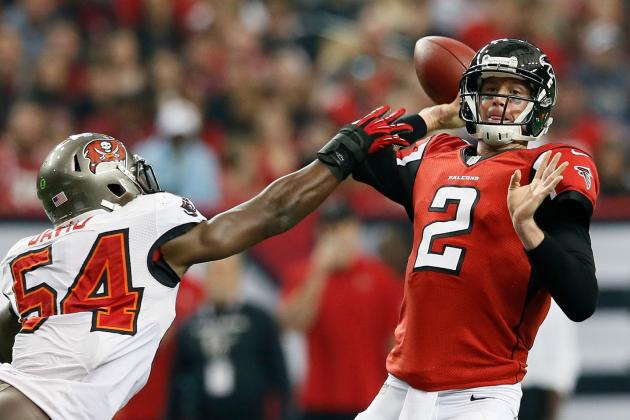 Kevin C. Cox/Getty Images

The Tampa Bay Buccaneers aced their 2012 draft. They landed three legitimate starters in the opening rounds in Lavonte David, Doug Martin and Mark Barron.
David, who was picked last of the three, shined just as brightly as his fellow rookie teammates.
He led all rookies with 20 tackles for loss. Only Kendrell Bell had a better mark (23) for a rookie since the league started officially recording that stat in 2000.
Names of rookies whom David beat out: Dwight Freeney (19), Von Miller (19), Clay Matthews (17), Brian Urlacher (16), and DeMarcus Ware (15).
Honorable Mentions:
Dont'a Hightower, New England Patriots
Akeem Ayers, Tennessee Titans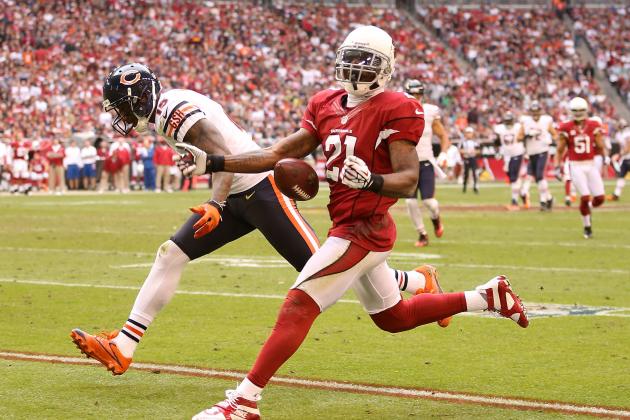 Christian Petersen/Getty Images

Not many draft picks quickly live up to their draft selections. That is not the case for third-year cornerback Patrick Peterson.
The defensive back can make a case for already being an elite player at his position. He seems to think so, at least, according to AP's Bob Baum (via ProFootballTalk.com).
"I believe I'm playing at a top level right now. Week in and week out, I'm given the opposing team's No. 1 receiver and I believe I'm handling that pretty well so far," Peterson said,
If he can continue to play at a high level against teams' No. 1 receivers in 2013, we'll have no problems crowning him as an elite CB.
Honorable Mentions:
Janoris Jenkins, St. Louis Rams
Morris Claiborne, Dallas Cowboys
Scott Halleran/Getty Images

The Minnesota Vikings struck gold when selecting safety Harrison Smith in the bottom of the first round of the 2012 NFL draft. Smith racked up over 100 combined tackles and also picked off three passes, returning two for touchdowns.
Smith is more than a stat collector for the Vikings defense, though.
Mark Craig of Sporting News described his true impact to his new team:
Quality depth at cornerback was a must. So, too, was a free safety with toughness, elite athleticism, an innate football sense and the ability to create the kind of game-changing plays the team hadn't seen from the back end in years.
Honorable Mentions:
Mark Barron, Tampa Bay Buccaneers
Reshad Jones, Miami Dolphins