The 10 Greatest NHL Puck-Handlers in the Past Decade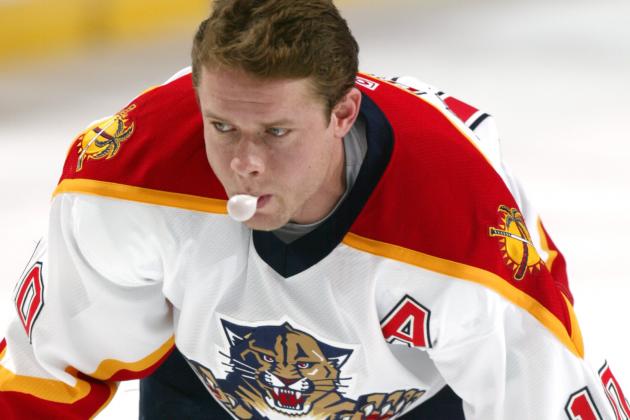 Eliot J. Schechter/Getty Images

Few things can bring NHL fans out of their seats like an ace-stick handler. It's one of the toughest skills to hone as a professional player—the hand-eye coordination necessary, as well as the hockey sense needed to know where the puck is at all times, on top of doing these creative things at top speeds.
There are a few NHLers that have had their flashes of brilliance when it comes to puck handling. Miniature blackout periods, where the player is asked what happened after the game, only to be unsure of how to answer.
Then there are the guys who are perfectly aware of what they are doing with the puck at all times—guys whose creativity seems to know no bounds and who cause a small rumble in the stands every time they take off down the ice.
Begin Slideshow

»
The puck is there and then it's gone.
Like the Joker makes pencils disappear, Pavel Datsyuk pulls this take-away trick on his opponents on a nightly basis. He appears to be stick-handling even when he doesn't have the puck, positioning his lumber in a position to disrupt the puck carrier.
Once he ends up with the puck on his stick, that's when the real magic starts to happen. Whether he's banking the puck off the back of the net or breaking in all five opposing players on an end-to-end rush, Datsyuk is arguably the best puck-handler the NHL has ever seen.
It's Pavel's puck when he's out there on the ice. He's just nice enough to let everyone else touch it on occasion.
While Sergei Fedorov is renowned for his skating ability, he wouldn't be one of the best players of all time if he was just fast.
Coupling remarkable acceleration and seamless stride with outstanding puck-handling skills, Fedorov compiled one of the most gaudy stat totals in recent memory. He posted 1,179 points through 1,248 games played and was nearly unstoppable during his prime with the Detroit Red Wings.
Like Pavel Datsyuk after him, Fedorov was outstanding in all three zones. He was so good on the defensive side of the puck that he played defense sporadically throughout his NHL career. (per The Washington Post)
Jaromir Jagr was busting out the "snipes" and "dangles" before doing so was considered cool.
The emergence of the shootout and a stricter focus on encouraging offense over the last eight or nine years has placed a brighter spotlight on stick handling skills, but Jagr has been playing that kind of game since the early-90s.
Make no mistake about it—Jags has scored many a highlight-reel goal with a defender or two draped across his back like a cape. If you think it's easy scoring at a prolific rate and dangling with the puck while Derian Hatcher water skis behind you, think again.
Say what you want about Alex Kovalev and his perceived attitude and lack of effort on some nights—when the guy was in the zone, there were few better puck-handlers in the NHL.
His release is prolific, and he often used slick moves to get defenders to commit before using them to screen their own goalies. Whether he was angling pucks off of posts on purpose or toe dragging defenders into his wake, Kovalev could run up the highlight reel on any given night.
Kovalev has scored more than 1,000 points in his NHL career, and despite bad seasons for the Florida Panthers and Pittsburgh Penguins recently, he's still one of the most dangerous puck-handlers the league has seen in recent memory.
Ales Hemsky is probably only a shade of what he could of been had injuries not derailed his career at several points. Despite the time on the IR, Hemsky is still an outstanding hockey player with some of the softest hands in the business.
2005-06 will most likely go down as his best season, where he managed to play in 81 games and scored 77 points along the way. That's what he can do when he's healthy. Since then, he's only played more than 70 games twice.
Despite his tendency to get injured, Hemsky has lightning quick hands and a goal scorer's touch to match, easily making him one of the best stick-handlers of the last decade.
When you are outstanding at every aspect of the game, it's easy for skill sets to get lost in the shuffle. Sidney Crosby may be one of the premier setup men in the NHL, but he also is very difficult to knock of the puck and has a knack for stick handling in and out of the corners.
Crosby's hand-eye coordination is one of the things that makes him so dangerous, and that plays right into his ability to stick handle at top speed and make ridiculous passes on the forehand or backhand.
Unless he's in a shooting mood—then he'll just score the goals himself.
Patience is the name of the game when it comes to Patrick Kane's stick-handling abilities. He's made some waves with his 15-deke shootout goals (whatever happened to the good ol' fashioned triple deke?), but Kane is also very capable at dangling and hanging defenders out to dry when entering the offensive zone with speed.
He's got an underrated shot and typically will use a little deke here and there to open up small patches of ice for himself.
It's a game of inches for Kane—a game that he wins more often than not because of his silky hands. At 24, he's just now entering the prime of his career, and with his new focus we haven't seen the best he has to offer just yet.
There is not a player in the NHL right now that can match Alex Ovechkin's ability to stick handle and maintain possession of the puck at top speed. AO's top gear is higher than most defenders, and his soft hands and rocket of a shot tend to make everyone around him look silly and small by comparison.
After taking a little R&R time to rediscover his scoring touch, Ovie is back at his electric goal-scoring ways.
He's scored 26 times this season after posting "off years" of 32 and 38 goals, and is capable of putting up numbers like that because of how smooth he is with the puck while in full flight.
The original Russian highlight reel, Pavel Bure gave meaning to the phrase "if he's even, he's leavin'."
The Russian Rocket was known for his incendiary speed, but like Sergei Fedorov and Alex Ovechkin, Bure was able to perform incredible feats with the puck at top speed. He was all get up and go, and he was one of the most electrifying men in the NHL throughout his days with the Vancouver Canucks and Florida Panthers.
After all, how many players in the current NHL can boast shot totals close to 400?
He posted 437 goals in just over 702 games, and Bure scored most of those goals with a soft touch around the net or by beating a defender clean off the wing. Or right down the middle. The guy was wicked fast.
Ilya Kovalchuk possesses some of the quickest hands in the NHL. His inside-outside moves make defenders look dizzy and silly, and his crossbow-like release leaves goalies looking bewildered.
One doesn't become a $100 million man for not boasting some top-end elite offensive skills, and Kovie brings that on a nightly basis to the New Jersey Devils. He's one of the best goal scorers in the league, and is a scoring threat every time defensemen allow him to gather speed coming through the neutral zone.
Say what you want about his contract, but Kovalchuk is worth that kind of cheddar based on his hands and shot alone.