Updated Grades for Every Impact NBA Rookie Entering Season's Final Push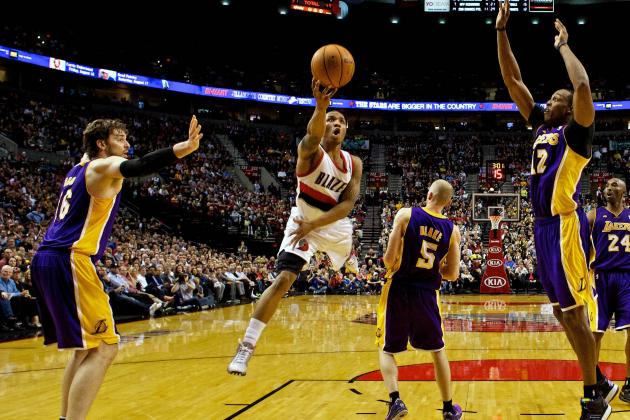 Craig Mitchelldyer-USA TODAY Spo

The impact rookies of the 2012-13 NBA campaign are making their closing statements as the end of the regular season is just days away.
Andre Drummond and Anthony Davis are seemingly undeniable on the boards, but how are they faring in other phases of the game?
Elsewhere, three point guards with international experience are gaining momentum. We grade their progress as they drive and dish their way to bigger roles.
This rookie crop gives us plenty to look forward to next year, and for those heading to the playoffs an opportunity to enjoy an encore.
*An "impact rookie" is a rookie averaging 20-plus minutes per game in his last 10 games and at least 15 minutes per game in the 2012-13 season.
Begin Slideshow

»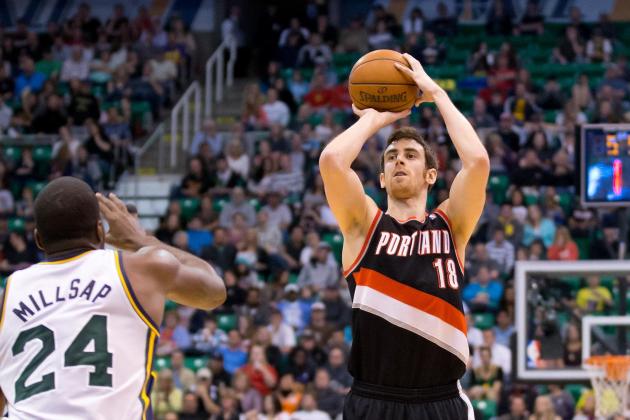 Russ Isabella-USA TODAY Sports

2012-13 Stats: 15.1 MPG, 3.5 PPG, 2.3 RPG, 42% FG, 27% 3PT
To help build Damian Lillard and LaMarcus Aldridge's supporting cast for next season, Portland Trail Blazers coach Terry Stotts has given Victor Claver expanded opportunities as a starter.
Throughout the year, Claver has been somewhat out of sync with the Blazers' offensive unit, but he's displayed sequences of scoring ability and passing finesse.
An encouraging aspect of his game is the confidence in his outside shot. He's shooting less than 30 percent on the year, but a persistence has led to four triples in his last five games.
His recent increased involvement won't help his overall grade much, but it's a promising step for 2013-14.
Updated Grade: C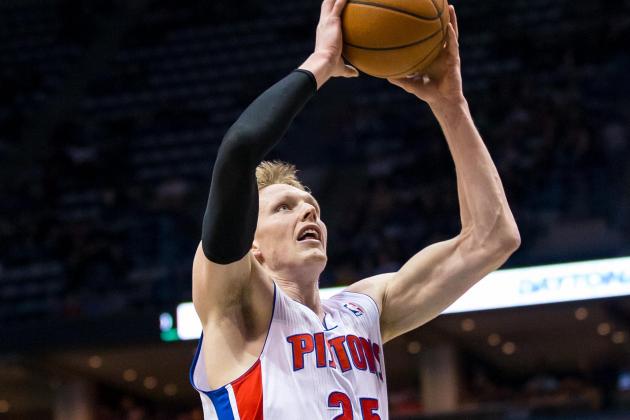 Jeff Hanisch-USA TODAY Sports

2012-13 Stats: 28.1 MPG, 8.8 PPG, 4.0 RPG, 43% FG, 35% 3PT
If we've learned anything about Kyle Singler's NBA potential this season, it's that he's a good role player.
Not okay, not tremendous. Just good.
He began the season by drilling three-pointers at will and then cooled off consistently. The Detroit Pistons stuck with him in the starting lineup because he's an all-around contributor and the only true small forward on the roster.
Lately, his work hasn't been spectacular, but he played a key role and scored a combined 15 points in Detroit's wins over the Chicago Bulls and Cleveland Cavaliers.
Updated Grade: C+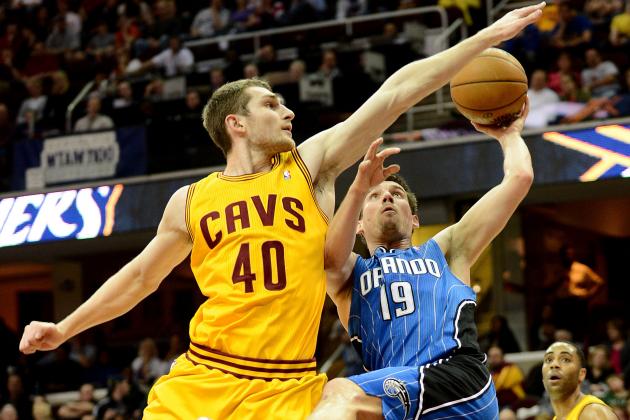 Eric P. Mull-USA TODAY Sports

2012-13 Stats: 26.5 MPG, 8.2 PPG, 5.9 RPG, 44% FG
Much of Tyler Zeller's offense comes from mid-range because his Cleveland Cavaliers teammate Tristan Thompson is busy being the low-post threat.
Nevertheless, Zeller would do himself a big favor by asserting himself closer to the hoop. He was doing a good job of it a week ago; he's reverted back to his jump-shooting ways since. If he gets more aggressive on the block, he'll draw more fouls and have a greater impact on the game.
Right now, he's drawing no fouls and committing a boatload himself.
His most recent game is a prime example. Zeller scored eight points, which is great. But he only took one shot in the paint, drew no fouls and picked up five of his own.
Updated Grade: C+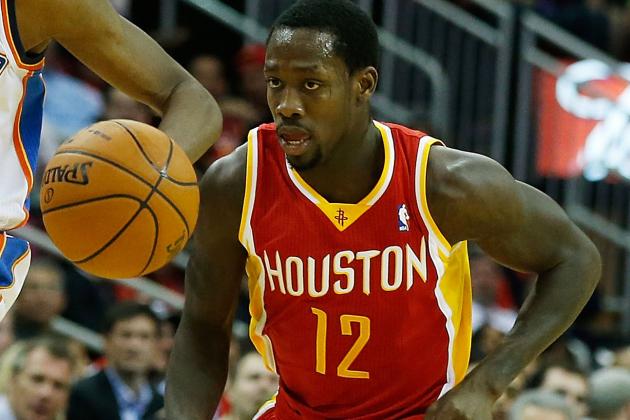 Scott Halleran/Getty Images

2012-13 Stats: 17.2 MPG, 5.6 PPG, 3.1 APG, 42% FG, 38% 3PT
At the beginning of the 2012-13 season, Patrick Beverley was 5,524 miles away playing in St. Petersburg, Russia.
Now he's getting 20-plus minutes per night for the Houston Rockets and dishing more assists per minute than Damian Lillard.
Since he joined the Rockets in January, he gradually won the trust of Kevin McHale and earned more court time. He fits perfectly with Houston's run-and-gun style, as he attacks with his speed and is a capable outside shooter. With nine assists in 22 minutes against Denver on Saturday, Beverley showed he's capable of running a high-octane offense.
McHale would be wise to keep giving him playing time in the playoffs.
Updated Grade: B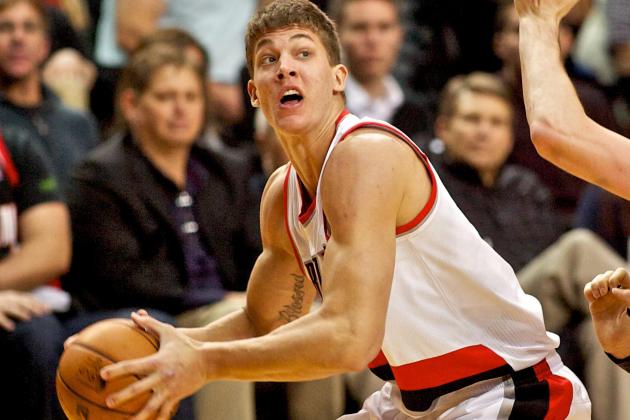 Craig Mitchelldyer-USA TODAY Sports

2012-13 Stats: 16.8 MPG, 5.3 PPG, 3.7 RPG, 55% FG
It was a quiet week for Portland Trail Blazers center Meyers Leonard, as he got less playing time and less touches than he did during his monster stretch to end March.
Foul trouble is partially to blame, as he recorded five fouls against the Houston Rockets and four against the Los Angeles Lakers. That's nothing for Blazers fans to worry about, as it's bound to happen from time to time, and his defensive discipline is only going to get better.
Portland has a brutal schedule to finish the season, as the Thunder, Nuggets, Clippers and Warriors await. Leonard should use it as a challenge to improve his offensive rebounding (he's averaging 2.5 per 36 minutes) and drawing fouls.
Updated Grade: B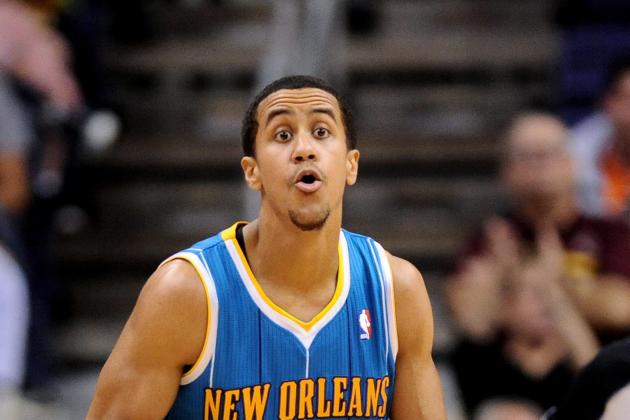 Jennifer Stewart-USA TODAY Sport

2012-13 Stats: 16.0 MPG, 6.7 PPG, 2.6 APG, 41% FG, 36% 3PT
Facilitating is Brian Roberts' forte, but his performance in the loss to the Sacramento Kings proved he can be a productive scorer.
The undrafted point guard dropped a career-high 20 points on 6-of-11 shooting. He was able to take advantage of the mid-range game, creating space for jumpers, floaters and drawing fouls.
Although he had an unusually high scoring night, he still managed to share the wealth by dealing five assists.
Austin Rivers was the splashy draft pick in June, but Roberts has generated more offense per minute over the course of the season.
Updated Grade: B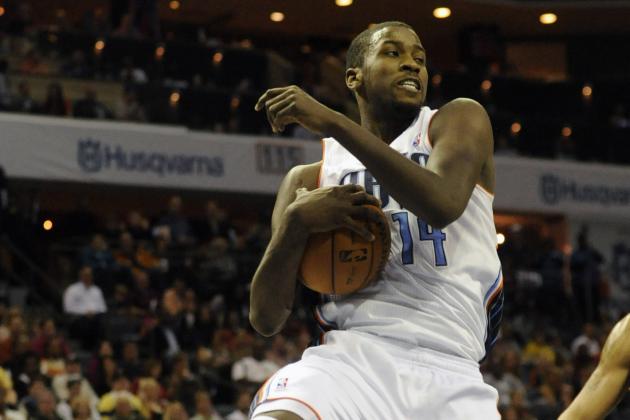 Sam Sharpe-USA TODAY Sports

2012-13 Stats: 25.8 MPG, 9.1 PPG, 5.8 RPG, 46% FG
A season of offensive inconsistency continues for Charlotte Bobcats forward Michael Kidd-Gilchrist.
The defensive-minded Kentucky product has sprinkled in some aggressive games during his low-key second half of the season. Those select few games have been highly entertaining, and his 18-point outing against the Miami Heat was one of them.
He was adventurous against Erik Spoelstra's B team, taking 10 shots in the paint and seven outside jumpers. Most of his paint production came from decisive, physical drives, but some of it was generated from offensive boards.
Bobcats fans would love it if he could make this happen more than twice a month.
Updated Grade: B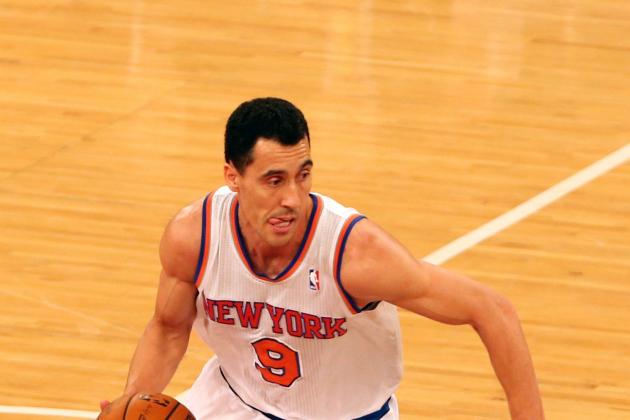 Anthony Gruppuso-USA TODAY Sport

2012-13 Stats: 15.4 MPG, 3.4 PPG, 3.0 APG, 44% FG, 39% 3PT
He's been an important component of the New York Knicks ensemble all season, but recently Pablo Prigioni has seen an uptick in usage.
Coach Mike Woodson has started him several times, hoping to jump-start the squad with his energy and offensive savvy.
The 36-year-old spark plug is a master of deception, never missing an opportunity to quickly strike for a steal. Offensively, he's a great pick-and-roll passer and an underrated three-point shooter.
Don't sleep on him come playoff time. Prigioni has battled most of these top-tier guards in international play before.
Updated Grade: B+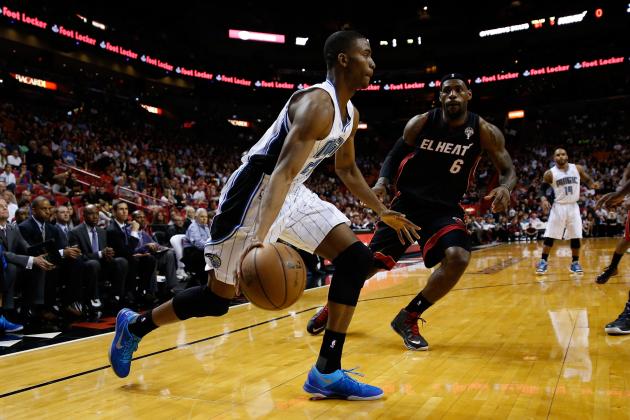 Chris Trotman/Getty Images

2012-13 Stats: 25.4 MPG, 8.0 PPG, 4.5 RPG, 47% FG, 30% 3PT
Although his knee was giving him trouble less than a week ago, Orlando Magic forward Maurice Harkless had a heavy workload against the Cleveland Cavaliers and Milwaukee Bucks.
He was used sparingly to begin the season, and but Jacque Vaughn played him 51 minutes against the Bucks on Wednesday. Harkless' dunk and assist in overtime were crucial in sealing the win.
If he was still at St. John's, it would have been the nearly the equivalent of playing every minute of a double-overtime NCAA game.
The point is, Harkless has been forced to mature and adapt in a hurry, and he's done an admirable job of developing as a pro. Not all of his games are impressive, but his growth on both ends of the floor is one of the most impressive stories of the 2012-13 rookie class.
Updated Grade: B+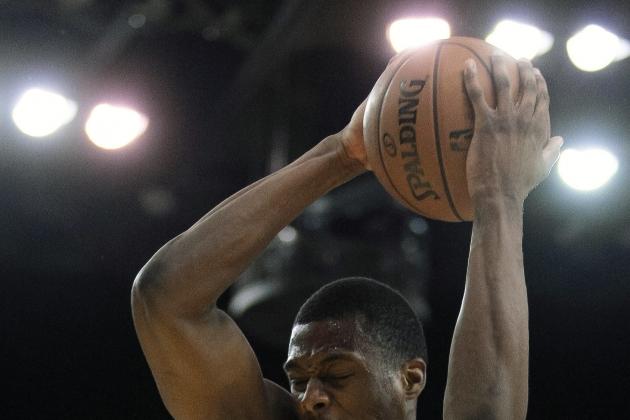 Kelley L Cox-USA TODAY Sports

2012-13 Stats: 25.3 MPG, 9.3 PPG, 4.0 RPG, 45% FG, 36% 3PT
Golden State Warriors forward Harrison Barnes was stuck in a rebounding rut last week, and it started to affect his bottom line.
He broke out against the Minnesota Timberwolves, hauling in 10 boards en route to 15 points.
It was his fourth double-digit rebound game of the season, and it served as a reminder that good things happen when you crash the boards. In all four double-digit performances, Barnes also notched 10-plus points and the Warriors are undefeated in those games.
In the playoffs, it will be a matter of desire and focus. His skills are good enough, so as long as he plays in high gear, he'll be effective.
Updated Grade: B+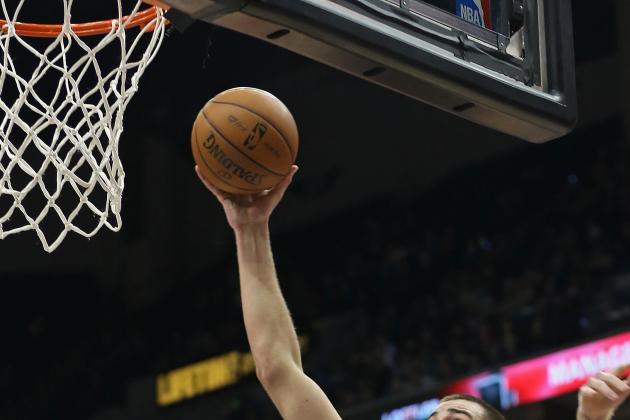 USA TODAY Sports

2012-13 Stats: 23.7 MPG, 8.7 PPG, 6.0 RPG, 1.2 BPG, 55% FG
All the pick-and-roll finishes, pivot moves and jumpers are superb, but the best part about Jonas Valanciunas' recent surge is his work at the charity stripe.
The Toronto Raptors center is posting superstar-caliber free-throw numbers over the last four games—34-of-38 (88 percent)—and he hasn't missed for two straight games.
His assertiveness in the paint is a big reason why the club won three out of those four contests.
Up until the last few weeks, the jury was still out on Valanciunas. He had shown some rebounding skills, but not the kind of offensive production you want from a top-five draft pick.
Now, he looks every bit the part of a future star.
Updated Grade: A-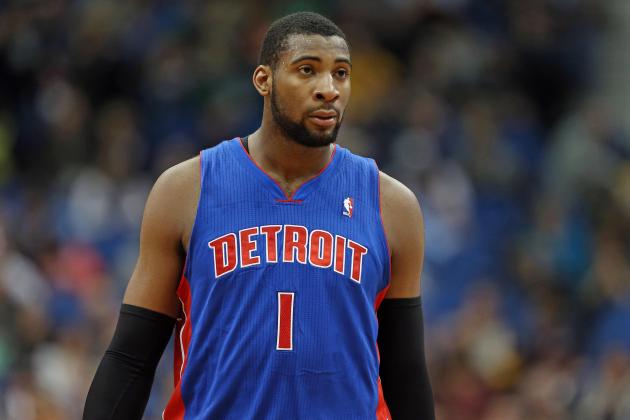 USA TODAY Sports

2012-13 Stats: 20.2 MPG, 7.8 PPG, 7.7 RPG, 1.6 BPG, 61% FG
A good week turned into a great one for Detroit Pistons center Andre Drummond, who scored a career-high 29 points to accompany 11 boards against the Cleveland Cavaliers.
He didn't take a single shot outside the restricted area. In fact, he threw down seven dunks.
Drummond absolutely owned Tristan Thompson and Tyler Zeller, as he kept catching the ball deep in the post for high-percentage opportunities.
He's been rebounding the ball splendidly all season, so it's nice to see him get rewarded with a featured offensive role.
The rest of the Central Division has its hands full for the next decade or so.
Updated Grade: A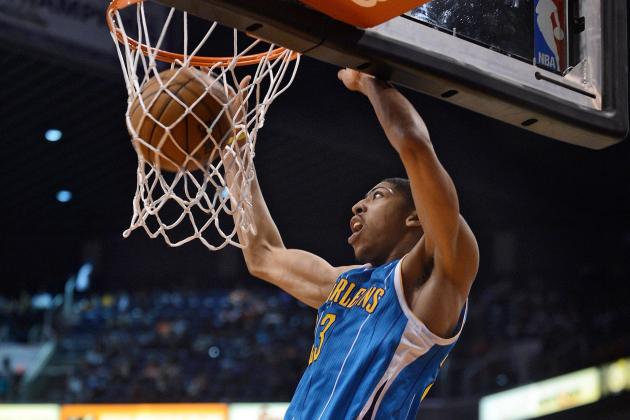 Jennifer Stewart-USA TODAY Sport

2012-13 Stats: 28.8 MPG, 13.5 PPG, 8.2 RPG, 1.8 BPG, 52% FG
New Orleans Hornets top pick Anthony Davis has posted massive numbers over the past couple weeks, but it could be overshadowed by his most recent setback.
According to John Reid of The Times-Picayune, he suffered a sprained knee in Tuesday's loss to the Sacramento Kings, and he will undergo an MRI on Thursday.
The Hornets hope it's merely a contusion.
Prior to the injury, Davis was having a magnificent week. He was snagging boards, running the floor, finishing pick-and-roll alley-oops and of course, blocking shots. The highlight was recording 24 points and 12 rebounds against the Utah Jazz's cast of post players.
For all basketball fans' sake, let's hope a healthy Davis is leading a playoff run at this time next year.
Updated Grade: A+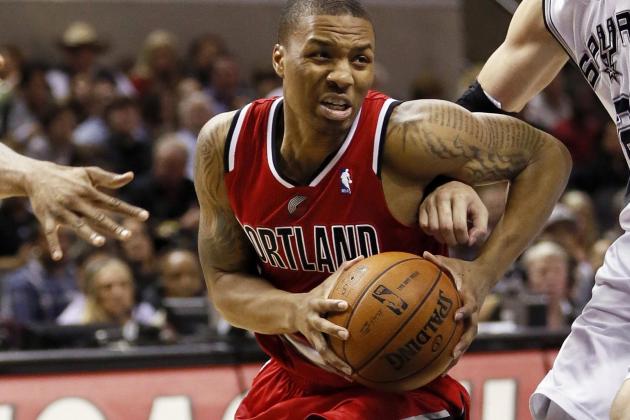 USA TODAY Sports

2012-13 Stats: 38.6 MPG, 19.1 PPG, 6.5 APG, 43% FG, 37% 3PT
Just when we thought Damian Lillard was going to have a mediocre week, he piled up a career-high 38 points in an electrifying duel with Kobe Bryant.
He chipped in nine assists and three steals too, and turned the ball over just twice.
Lillard's performance earned the highest peer praise an NBA player of today's era can get, a shout-out from Kobe:
#vintagevino. Lillard is the real deal #mambasalute

— Kobe Bryant (@kobebryant) April 11, 2013
That, in itself, is worth an A+.
Updated Grade: A+
For more hoops talk, follow me on Twitter: