Larry Warford: Video Highlights for Former Kentucky OG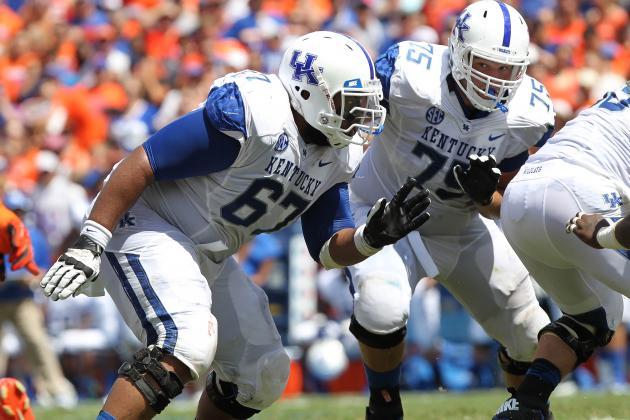 Kim Klement-USA TODAY Sports

There are two types of offensive guards in the National Football League.
There are smaller, nimbler types who rely on burst and technique to get the job done, and then there are "road grader" types who just power defenders into submission.
Kentucky guard Larry Warford definitely falls into that latter category.
The 332-pound beefeater had a great deal of success pushing defenders around during his career in Lexington, earning second-team All-SEC honors three times.
Here's a look back at some of his highlights with the Wildcats.
Begin Slideshow

»
At 332 pounds, it should come as no huge shock that speed is not exactly Larry Warford's strong suit.
However, Warford ran a 5.58-second 40-yard dash at the 2013 NFL Scouting Combine according to NFL.com, a very respectable time for a man his size.
That quickness was on display against the Georgia Bulldogs in 2012.
On a trick throwback play to quarterback Jalen Whitlow, not only did Warford show discipline by allowing the play to unfold, but he also showed decent speed while rumbling down the field alongside Whitlow.
You go, big man!
Where Larry Warford truly excels is in the trenches, where he can use his bulk to overpower defensive linemen.
That ability to assert himself at the point of attack was evident in the second quarter of Kentucky's season-ending loss to the Tennessee Volunteers in 2012.
As the clip above shows, a pulling Warford simply shoves the Volunteers' defensive tackle out of the way, opening a hole that running back Jonathan George turned into a 45-yard scoring scamper.
Of course, not all of a guard's job involves protecting a quarterback or opening holes.
Sometimes a guard will also be asked to make plays in the open field, such as on screen passes.
In a September drubbing at the hands of the Florida Gators, Warford showed off his ability to do just that—and against one of college football's premier defensive tackles to boot.
Facing off against Sharrif Floyd in the first quarter, Warford holds Floyd up just a bit at the snap, giving the play a chance to develop before disengaging.
Then when Floyd starts his pursuit of the ball-carrier, there was Warford again to deliver another shot.
Granted, Floyd ended up making the tackle, but not until George had gained over 20 yards.
As Larry Warford showed throughout his time at Kentucky, while he may not be fast, that doesn't mean he isn't quick.
Whether it's blocking downfield or helping punch it in the end zone, Warford's strength and girth aren't his only assets.
In an October loss to Missouri, Warford displayed that not only can he set the point of attack, but he can continue to do so as the play unfolds.
Facing a 2nd-and-goal in the first quarter, Warford first punch-blocked the defensive tackle and then continued on to the defense's second level, taking a linebacker out of the play and paving the way for a Wildcats touchdown.
After three years as an All-SEC performer, there's plenty of game tape to view where Larry Warford is concerned, but scouts got a chance to see Warford up close and personal at January's Senior Bowl in Mobile, Alabama.
Warford didn't disappoint, with Brandon George of the Dallas Morning News reporting that Warford was one of the standouts at his position in practices.
In the above clip, Warford holds his own against monstrous defensive tackle Johnathan Jenkins of Georgia and rides South Florida defensive tackle Cory Grissom to the ground with ease.