10 Players with Rapidly Falling Draft Stocks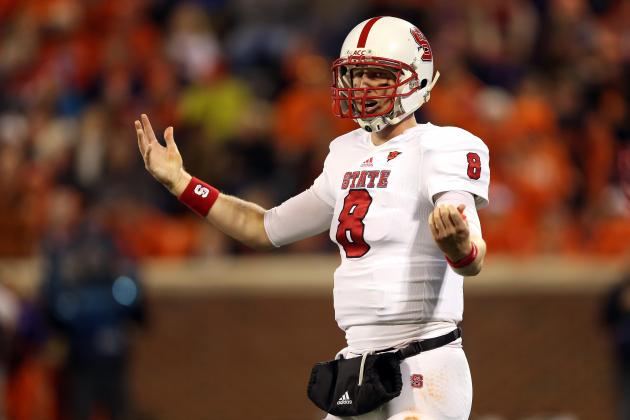 Streeter Lecka/Getty Images

There comes a time during every NFL draft season when you really need to filter everything you hear.
Players rising, players falling—it's all a part of the master plan, really.
You see, in an age where internet is king, almost nothing goes unseen or unread.
And it's not by pure coincidence either.
Team's benefit by swaying public opinion and the internet plays a very prominent role.
Think of it simply like this.
Remember the last time you went out to eat and had a great meal overall?
I'm assuming you probably told somebody about it afterwards?
If so, then you engaged in what is known as grassroots or guerilla marketing, which is reaching a select small group of people initially, and hoping they in turn spread your message to a larger group or audience by shear word of mouth.
It's a domino effect of sorts, but it certainly can and has worked before, and NFL teams understand that fans are some of their biggest allies in helping spread the messages they want you to hear.
So what are you to do? After all, they can't put anything on the internet that isn't true, right?
Well, not entirely.
But, luckily there is one sure-fire way in which you can protect yourself.
Trust your own gut—simple as that.
Stick to this one rule and you'll be able to cloud out some of the "white noise" and false claims that are ever so prevalent during this time of year.
Which is something I have tried to do for you here.
I've listed 10 NFL draft prospects whose stocks are currently declining, backing them up with pure unbiased opinions for your reading pleasure.
Enjoy!
*All combine results courtesy of NFL.com*
Begin Slideshow

»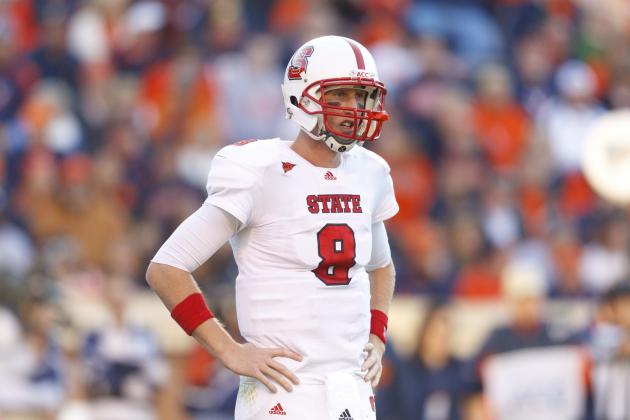 Jason O. Watson-USA TODAY Sports

Heading into the NFL draft season, there may not have been a hotter name than that of Mike Glennon.
Standing 6'7" and 225 pounds, with a cannon of a right arm, Glennon looked to have all the physical tools in the world to become a franchise-type quarterback, but his performances have been rather "ho-hum", to say the least.
At the Senior Bowl, Glennon made a few "wow" throws that showed off his potential, but never did he consistently make the throws expected of a franchise quarterback.
And, despite his physical gifts, Glennon also struggled to really separate himself enough from the pack to convince scouts he was the best in his class.
Clearly the talent is there with Glennon, but there are aspects of his game that have evaluators concerned—not the least of which is his ability to lead and have the mental acumen to make reads under pressure.
To start at quarterback in the NFL requires a special individual, and right now Glennon has failed to completely convince me he has what it takes, both physically and mentally, to handle all that will be asked of him.
After all, they say that you win the game "between your ears", which is something you saw in Russell Wilson last year despite not possessing prototypical size and height.
It's something Glennon is going to have to work very hard at if he ever wants to reach the ideal and level of success set by his former teammate.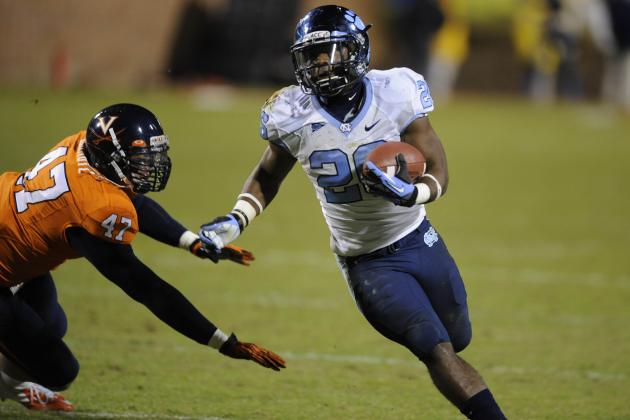 Rafael Suanes-USA TODAY Sports

Every so often, a prospect will see his stock drop on account of things that are largely out of their control.
One of those prospects in the year's draft is Giovani Bernard.
A player that does the little things right, Bernard is built low to the ground with excellent feet, but gets knocked because he lacks great overall size and straight-line speed.
That was confirmed at the combine, where Bernard checked in at solid but otherwise small 5'8, 202 pounds, while clocking in with a rather ordinary 4.53 40-yard dash.
Hardly horrible numbers by any means, but in an age when running backs have been devalued more than ever before, it's players like Bernard who lack some of the preferred physical tools that really get shunned.
This, however, is not to say Bernard is not capable of becoming a great player.
Plenty of undersized backs with Bernard's stature have gone on to find NFL success.
Players like Ray Rice, Maurice Jones-Drew and Darren Sproles have all proven to be an exception to the rule and are some of the best the league has to offer today.
In the end, don't expect Bernard to fall too far, but be prepared for him to experience a slight dip due to the rise of other backs like UCLA's Jonathan Franklin and Texas A&M's Christine Michael throughout the draft process.
Remember that when and if Bernard falls will not be because he is an inferior player, but simply a sign of the times he plays in more than anything else.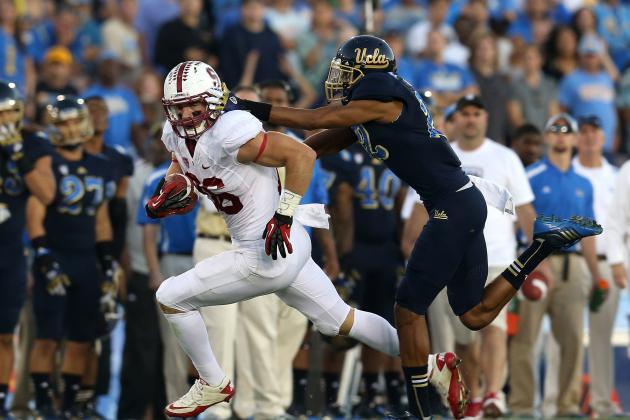 Stephen Dunn/Getty Images

Like we saw in the slide before, sometimes a player can fall on account of his competitors moving up or down the board, which is essentially the case with Zach Ertz.
After Tyler Eifert blew up the NFL combine, many forgot about how good a player Ertz was in his own right, causing him to fall off somewhat into the second tier of tight end prospects.
Now, finding himself sprinkled in with names like Gavin Escobar and Vance McDonald, it's not all but certain Ertz will be the second tight end off the board, as the drop-off in overall talent isn't seen as all that significant.
Used primarily as a move or "joker" tight end, Ertz does present matchup problems but struggles to make the defender miss or create much for himself after the catch—an aspect of his game that limits his upside and makes him more of a one-dimensional type athlete and player.
Clearly something that will limit just how effective he really can be.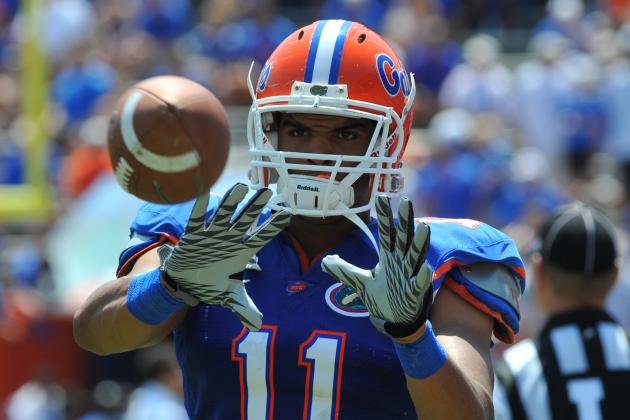 Al Messerschmidt/Getty Images

Shedding the "tweener" label is certainly no easy task, but it is one that Jordan Reed has certainly become accustomed to as a football player.
Having arrived in Gainesville as a quarterback recruit, Jordan was shuffled from one position to the next before finally settling in at the tight end position during his sophomore and junior seasons.
However, even now he has his share of doubters, and his performances this offseason has done little to alleviate some of the concerns.
At the combine, Reed measured in at a small 6'2", 236 pounds—a size that has him smack dab in the middle of being an overgrown wide receiver or undersized tight end prospect.
Which is why it goes without saying that when Reed followed these measurements up with a mediocre 4.72 40-yard dash, the questions and concerns really started to come full circle.
Coming into this offseason, evaluators considered Reed a potential matchup problem as a move tight end due to his athleticism and ability to create after the catch.
Now, however, Reed is known more as a jack-of-all-trades, master-of-none-type player, which has adversely impacted his stock.
So much so, it wouldn't be shocking to see him now fall all the way to Day 3.
This is a significant drop from where he once stood as one of the more intriguing players in this draft class.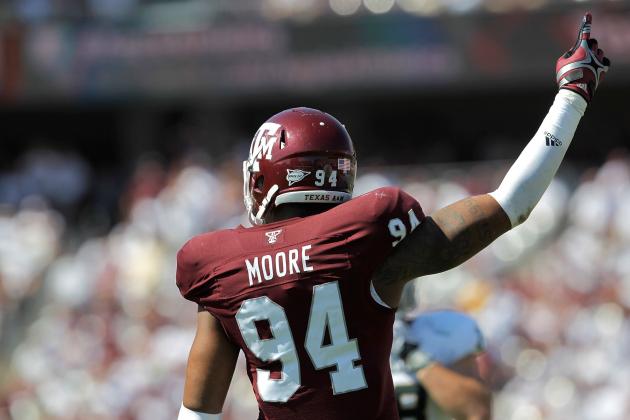 Sarah Glenn/Getty Images

Damontre Moore's fall from grace has been well publicized, and for very good reason.
At the combine, Moore managed to produce a lousy 12 reps on the bench press, while grunting out a rather pedestrian 4.95 40-yard dash.
Those are two numbers that raise huge red flags about his commitment to the game and also his level of explosive strength and qualities to challenge the perimeter as a pass-rusher.
On the other hand, Moore does have a nice motor, and his 12.5 sacks in the SEC this past year are nothing to laugh at. However, not everyone seems to believe he has the work ethic, character or level of desire to truly maximize or reach his full potential.
Trusting whether a player wants to be great is sometimes half the battle, and clearly Moore is losing this fight while exposing his flaws.
Flaws that will likely leave him out of the first round entirely come April 25.
This is a prediction I would have felt crazy saying or making just two short months ago.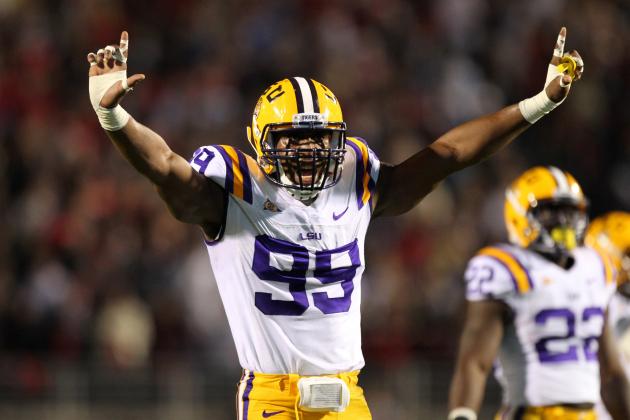 Joe Murphy/Getty Images

There are things you say and things you keep to yourself during an interview process.
One of which is never exposing lazy habits or admitting to not giving maximal effort when you don't consider your full attention is completely needed.
However, that is exactly what Sam Montgomery said at this year's combine, according to an article by the USA Today.
Admitting to taking games off—yes, complete games—when playing what he considered "weaker" or inferior opponents.
Not exactly a selling point, somebody would be wise to tell Montgomery that while exposing your flaws shows honesty, it also reveals a level of stupidity.
Teams typically don't appreciate or value players who coast by on their talent, and they definitely hesitate when it involves one of the same players who was blasted by his strength coach late last year for missing workouts and making up excuses.
Clearly Montgomery would be wise to engage in some damage control, but it appears it may be a little too late.
He's probably already off some teams' draft boards entirely, and for that he has nobody to blame but himself.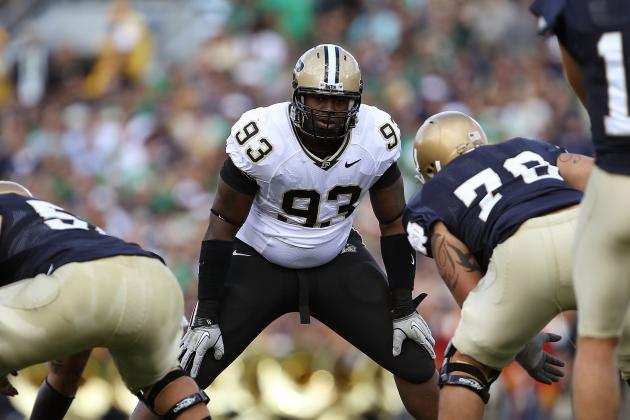 Jonathan Daniel/Getty Images

Like most of the players on this list, it's not always the physical aspects of the game, but the mental ones that sometimes get the better of players like Kawann Short.
After all, if you watched any part of the Senior Bowl you saw the level of dominance Short is capable of when his motivation is high.
However, therein lies the problem with Short—his motor runs hot and cold.
There's a fun name scouts like to use for players like these.
They're called "faucet players."
Meaning, they can turn it on and they can turn it off, but they never consistently keep it running at full stream.
It's the same problem that affects a lot of defensive line prospects—old players like Shaun Rogers or even new players like John Jenkins—who could physically dominate if they fully committed themselves to the game.
Problem is, they never do and typically never will.
Underachieving is a choice, and while these players can certainly make an impact, it's never as consistently as you would like or expect to see.
And, seeing that dependability is a key characteristic in the NFL, Short could fall somewhat farther than his talent otherwise dictates.
Especially when you play a position that demands physicality and focus play in and play out.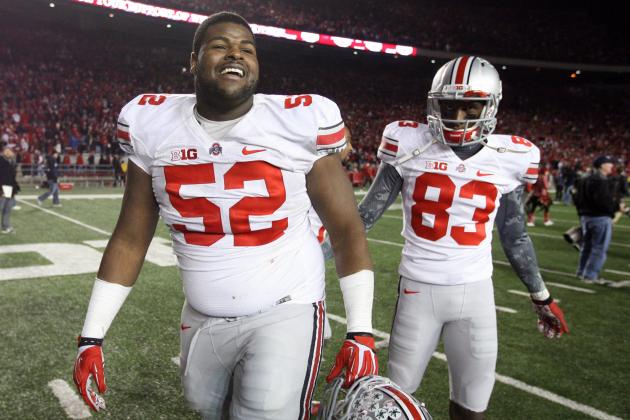 Mary Langenfeld-USA TODAY Sports

The second Big Ten defensive tackle on this list, Jonathan Hankins' star has certainly faded over time.
Much like some of the other defensive line prospects, it is the underachieving qualities Hankins displays that has turned some off to his overall game.
By showing up to the combine at a sloppy 320 pounds, Hankins added fuel to the fire about his lack of conditioning and ability to keep his weight down to a respectable level.
Surely NFL teams will love his versatility and surprisingly nimble feet, but it is "Big Hank's" lack of competitive fire that raises concerns about how much he truly wants to be great and work on his craft.
These are concerns that are likely to leave him out of the first round all together.
Certainly a huge disappointment, considering he was once considered a rock-solid first-round pick not all that long ago.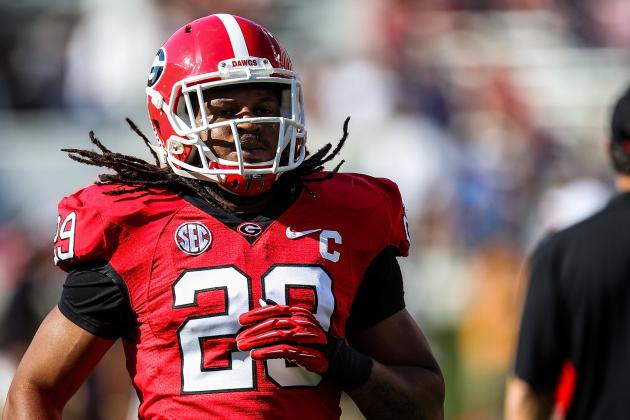 Daniel Shirey-USA TODAY Sports

The NFL draft process is an unforgiving one, and perhaps no player knows and understands this better than Jarvis Jones right now.
A consensus top-10 pick entering the offseason, Jones' lack of elite athleticism, explosion and length has raised further concerns about how much upside he actually possesses as a pass-rusher.
Add these to the fact that Jones also has injury concerns due to a narrowing of his spine known as Spinal Stenosis, and it's no wonder his draft stock has cooled.
For Jones, the NFL draft process can't end soon enough—especially after he recently ran a disappointing 4.92 40-yard dash at his much anticipated Pro Day.
A result that Jones could have definitely done without, as his draft stock has never been lower.
Still likely a first-round pick, Jones will be lucky to go in the top 15.
However, it's been a horrendous past few months for him, to say the least.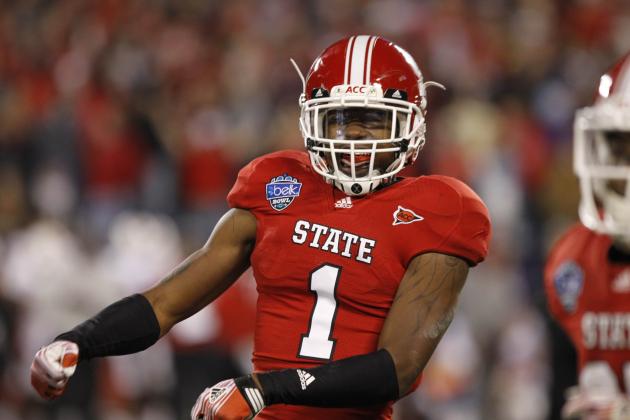 USA TODAY Sports

We started this list with a North Carolina State player, might as well finish it here with ball-hawking defensive back David Amerson.
Surely everyone knows and recognizes Amerson's name because of his turnover ability and wide receiver-like ball skills, but that's just a part of who he is as a player.
Considered to be somewhat of a "tweener", it's uncertain whether most teams view him as a traditional cornerback or converted safety prospect at the next level.
You see, because of the tightness Amerson shows in his hips, he struggles to change directions and transition out of his backpedal effectively. These are traits and qualities that are required and necessary for NFL defensive backs to possess when breaking on the football.
Because of this, some have suggested Amerson move to safety in the NFL where his natural instincts could make him a huge asset on the back end of a defense.
Clearly Amerson has the athletic ability—as he showed at the NFL combine—but right now he is a man without a true position.
And, as one of the bigger "boom or bust" prospects in this draft, that could mean Amerson has to wait a little longer to finally have his name called on draft day.
How long will that be?
Well, we will just have to wait and see.