LSU Football: Week 3 Spring Practice Stock Report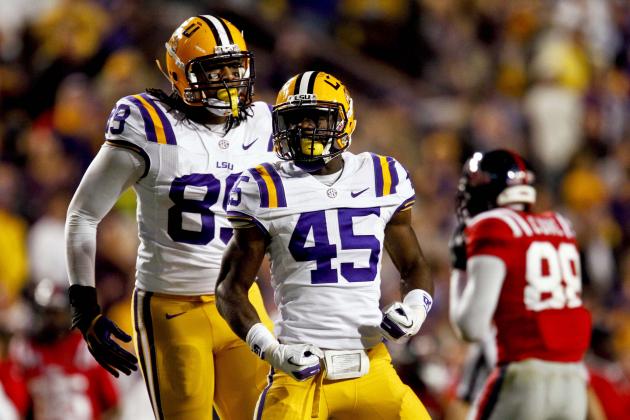 Derick E. Hingle-USA TODAY Sports

Hands down, the biggest surprise of this spring for the LSU Tigers has been D.J. Welter.
For those who haven't been keeping up with spring football, your immediate response might be, "who?" That's perfectly reasonable because, after all, Welter only has seven total career tackles with the Tigers.
But this spring he's taken on a leadership role, and he's making a strong case to start at the middle linebacker position. As a result, Deion Jones is sort of taking a lighter role.
So as Welter's stock rises, Jones' declines. What other Tigers stock has risen and fallen over the course of the third week of spring ball? Take a peek inside and see for yourself.
Begin Slideshow

»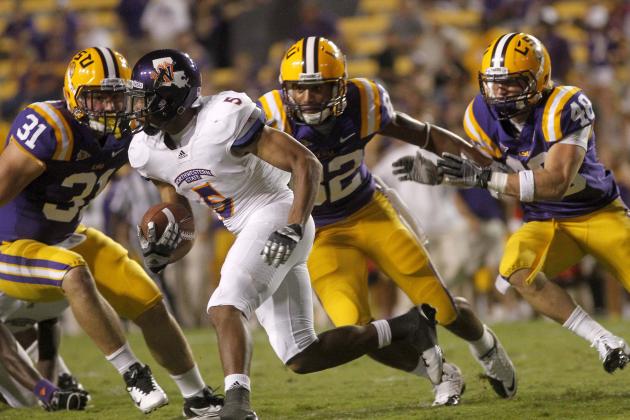 Crystal LoGiudice-USA TODAY Sports

The younger guys are stepping up on defense. That's exactly what needed to happen with all of the recent departures.
One of those "young guys" is the junior linebacker Welter. This guy came out of nowhere to contend for that coveted starting Mike position.
You know, the same position, Kevin Minter dominated last season. Talk about big shoes to fill. Well, going into the spring, it was assumed that veteran linebacker Lamin Barrow would move to that middle position for the Tigers.
So far, that doesn't seem to be the case. Welter is having a tremendous spring, and if he keeps it up, he'll likely be the starting middle linebacker for the Tigers in the fall.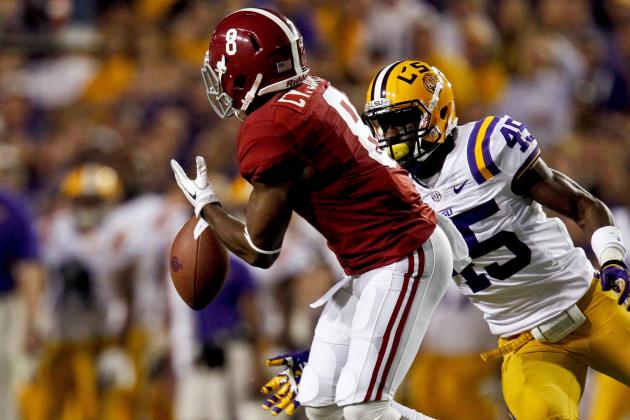 Derick E. Hingle-USA TODAY Sports

Don't get it twisted—Deion Jones will contribute greatly for the Tigers in 2013.
He's too talented for that not to happen. However, right now, he seems to be overshadowed a bit, and Welter's emergence is a big reason why.
The Tigers are absolutely loaded at the linebacker position, and it's easy to get lost in the shuffle. With Welter, Barrow and Tahj Jones serving as leading candidates for that starting linebacker position, Jones is subsequently taking a backseat role.
With other great talents such as Kwon Alexander expected to contribute on defense, Jones needs to get himself back into the linebacker race soon.
Travin Dural has made a lot more progress than expected.
Coming into camp, Dural was not fully 100 percent. He was still recovering from his knee injury that he suffered last summer, so his splash this spring was not expected to be a big one.
Turns out, he's hit a tidal wave this spring. Dural is proving to be one of the more athletic wide receivers on the team.
In fact, on Dandy Don's latest roster, he has Dural backing up Odell Beckham. That's how impressive he's been this spring.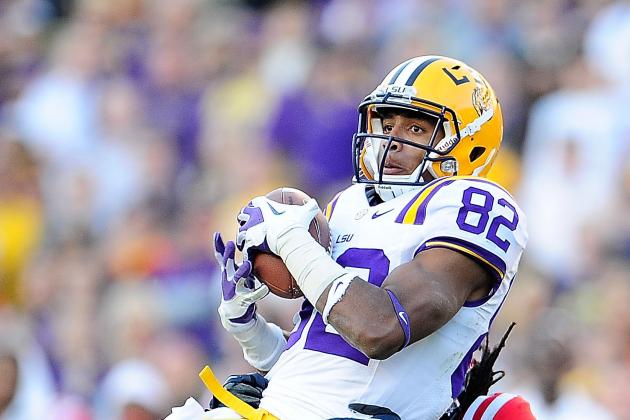 Stacy Revere/Getty Images

The wide receiving corps for LSU is turning out to be deep.
Unfortunately for James Wright, it's turning out to be too deep. Wright has paid his dues as a receiver at LSU, and though he has never become a primary target on the outside, he has proven to be a steady hand.
He is entering his senior season, so one might think that he's destined to have his most productive season yet. Well, those assumptions might be wrong. Heck, Wright may barely touch the field with the talent surrounding him.
With Dural, John Diarse and Avery Peterson standing out this spring, Wright's chances of seeing the field in 2013 have declined.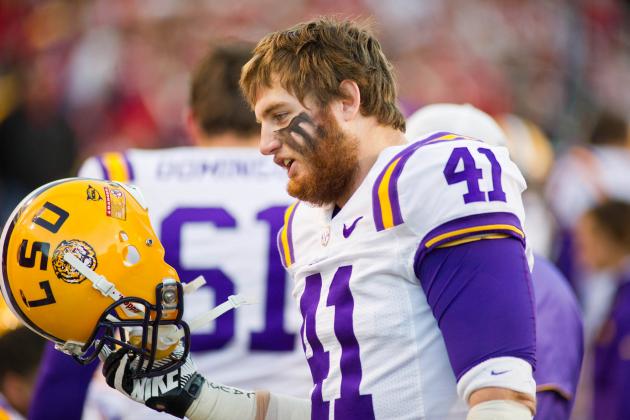 USA TODAY Sports

Iron sharpens iron.
In Travis Dickson's case, the great tight end battle taking place has certainly sharpened his skills.
Dillon Gordan and Logan Stokes have shown that they can flat-out play this spring, and it's made Dickson a better ball player.
Instead of succumbing to the pressure put on by Gordan and Stokes, Dickson has shined and proven that he's ready to give Zach Mettenberger another weapon next season.
As a fan of Ronnie Feist, I'll admit—I'm a little bit disappointed.
Going into the spring, I went out on a limb and said that Feist would make noise and contend for a starting position at linebacker.
So far this spring, that has simply not been the case. On Dandy Don's depth chart, which is supposed to reflect the results of the spring position battles, Feist is listed as the third-string linebacker at the Mike position.
It's been an underwhelming spring for a guy who dominated "Big Cat Drills" last spring.