Showcasing New England Patriots' Biggest Strengths and Draft Needs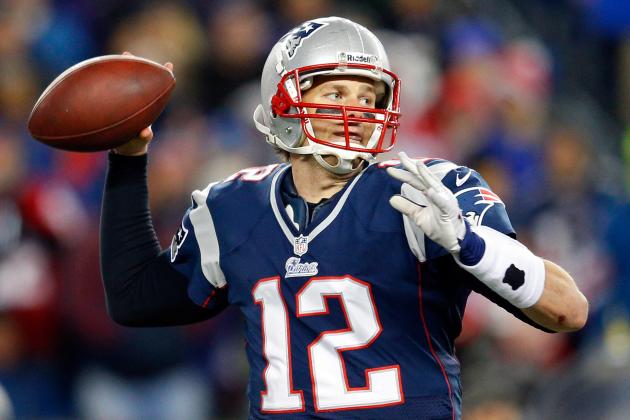 Jim Rogash/Getty Images

The New England Patriots are a model franchise. They have qualified for the playoffs in 10 of the past 12 seasons and won three Super Bowls over that span. But the natives are starting to get a bit restless without a championship since 2004.
New England lost to the eventual champions, the Baltimore Ravens, to end last season. Yet, there are plenty of fanbases around the NFL that would trade their current situation for the Patriots' inability to chase down another title.
The draft will be key to the team's success moving forward after an offseason already full of changes, most notably the departure of Wes Welker, who headed west to the Denver Broncos after being Tom Brady's favorite target for six seasons.
Even though the Patriots will enter next season as the AFC East favorite regardless of the remaining moves, their ability to get back to the Super Bowl depends on a few rookies making an impact. Let's examine the areas in which their draft picks should be used.
Begin Slideshow

»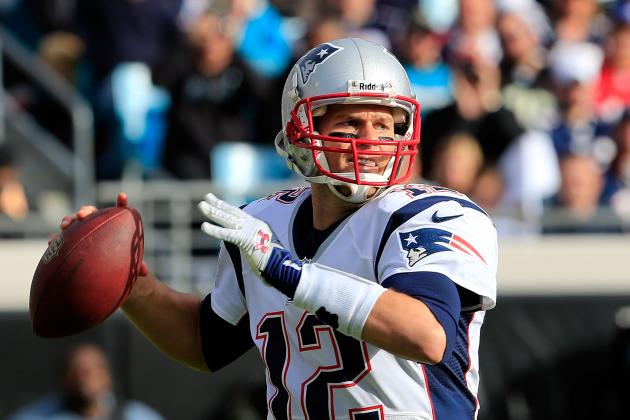 Sam Greenwood/Getty Images

Nothing to worry about here. At 35, Tom Brady remains one of the premier players at the most important position on the field. He's thrown 137 touchdowns and just 37 interceptions over the past four seasons, showing no signs of slowing down in the process.
Brady missed 15 games during the 2008-09 season due to injury. Aside from that, he hasn't missed a single game over the past 11 years. So, durability isn't an issue, and his quick-release ability usually allows him to avoid big hits.
As it stands now, Ryan Mallett is the backup. There was talk earlier in the offseason about a potential trade—Ian Rapoport of NFL.com reported the Pats wanted an early-round pick––but that's seemingly died down as of late. Mike Kafka is the other reserve option.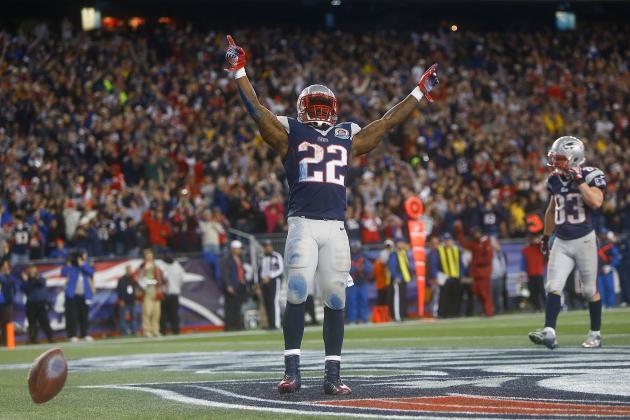 Jared Wickerham/Getty Images

This is another area where the Patriots should feel comfortable. Stevan Ridley leads the ground attack, rushing for nearly 1,300 yards and 12 touchdowns last season. He was the only back to receive more than 80 carries, which nudges him toward the workhorse category.
That said, New England does have a couple of solid backups in Brandon Bolden and Shane Vereen. Bolden averaged almost five yards per carry in limited action as a rookie. Vereen scored three touchdowns in a playoff victory over the Houston Texans.
Leon Washington will pick up the remaining slack, filling the role Danny Woodhead held in recent years, which was mostly passing-down work and contributing on special teams. So the Pats should have a back to cover every situation.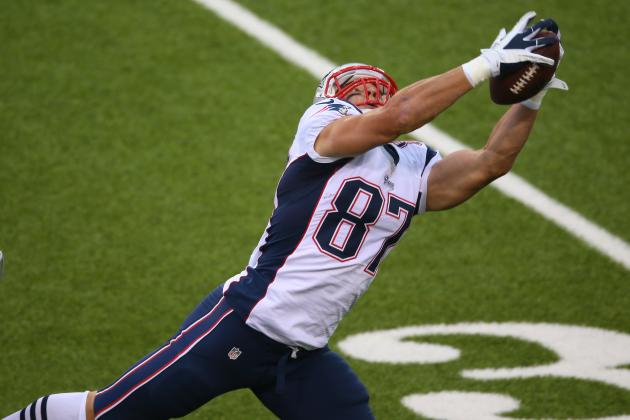 Tom Szczerbowski/Getty Images

A lot of what the Patriots decide to do in this area will depend on the status of Rob Gronkowski. The superstar tight end is dealing with ongoing arm issues. A report from ESPN Boston says a potential fourth surgery could cause him to miss the start of next season.
The Patriots are already in need of a wide receiver to compensate for the departures of Wes Welker and Brandon Lloyd, but the need will become even more pressing if Gronkowski's availability remains a question mark. He's a matchup nightmare for opposing defenses.
Danny Amendola's arrival from the St. Louis Rams helps. New England must still use an early pick to get Brady another weapon, though. Terrance Williams and Justin Hunter are two prospects who could still be available in Round 2.
In the meantime, the Pats have re-signed Julian Edelman (via Jason La Canfora of CBS Sports) and inked Emmanuel Sanders of the Pittsburgh Steelers to an offer sheet (via Adam Schefter of ESPN).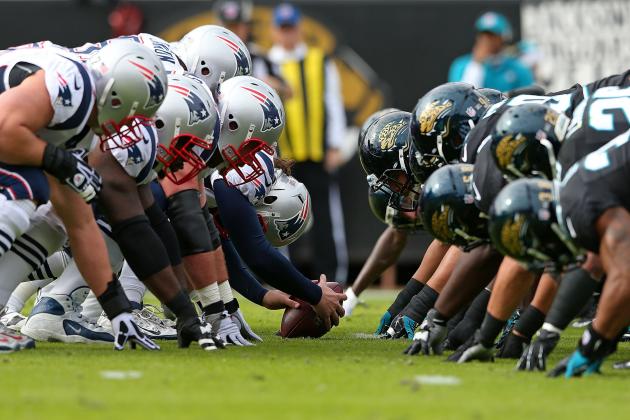 Mike Ehrmann/Getty Images

New England's offensive line was one of the best in the business last season. The team already took a major step to ensure it remains that way by locking up star tackle Sebastian Vollmer to a contract extension, which was an offseason key.
The Patriots ranked fourth in run blocking and fifth in pass protection, according to Football Outsiders. The pass protection aspect of that is helped by the fact Brady tends to get the ball out of his hand in the blink of an eye.
Still, the team's offensive line deserves a lot of credit for the success on that side of the ball in recent seasons. Since it didn't lose any irreplaceable pieces, any picks used here would simply be late fliers on potential depth additions.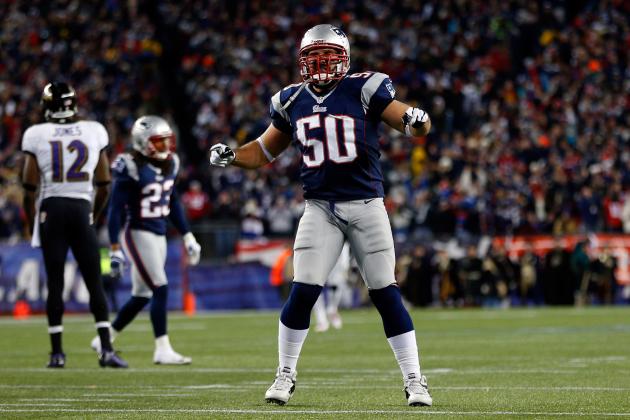 Jim Rogash/Getty Images

The combination of Rob Ninkovich and Chandler Jones off the edge totaled 14 sacks last season. It's not a mind-blowing total by any stretch, but they did put enough pressure on opposing quarterbacks to force them to be mindful of the rush.
Vince Wilfork anchors the interior. He doesn't get the type of attention he deserves because his stats, like most defensive tackles, are modest, but his ability to take on, and often beat, multiple linemen is a huge edge for the Patriots.
They could use another defensive tackle, though. When they decide to pick one is dependent on how confident the coaching staff is in Brandon Deaderick. If they are worried about him, they could spend their first pick on one. More likely, a player like Brandon Williams would be a good target in the third round.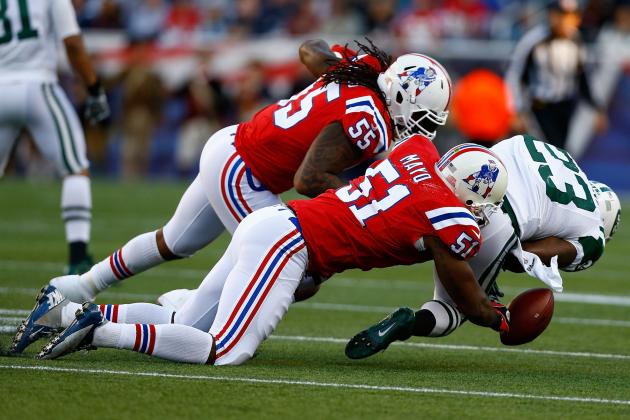 Jared Wickerham/Getty Images

Linebacker is the only level of the defense where the Patriots should feel confident. The group is led by Jerod Mayo, who ranked fourth in the NFL with 146 total tackles last season. He's topped the 100-tackle mark in four of his five career seasons.
Mayo is joined by Brandon Spikes, who's coming off the best season of his career, and Dont'a Hightower. The Alabama product made incremental strides throughout his rookie campaign, and should continue to improve in his second year.
The Patriots do have some depth concerns at linebacker. However, with the lack of draft picks they own, that issue is better off being addressed through remaining free agents on short-term deals or with the signing of undrafted prospects.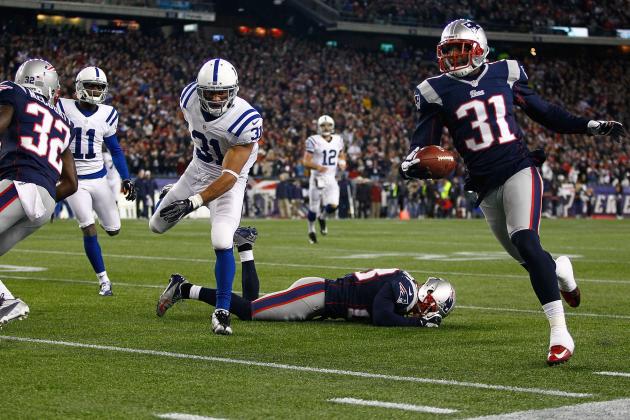 Jared Wickerham/Getty Images

The savvy Patriots could decide to trade their first-round pick, potentially to a team hoping to move back into the opening round to grab a quarterback. If not, this is the area of the roster they should address with the No. 29 overall selection.
New England ranked 29th in the league in pass defense at over 270 yards per game, but were still able to cruise into the playoffs. The addition of Aqib Talib helped. If they can make another key pickup in the draft, the secondary should finally start making some progress.
The most intriguing possibility is Washington product Desmond Trufant. He's a player who's flown under the radar during the draft process, but is capable of making an instant impact. Jamar Taylor and Johnthan Banks are other names to keep in mind.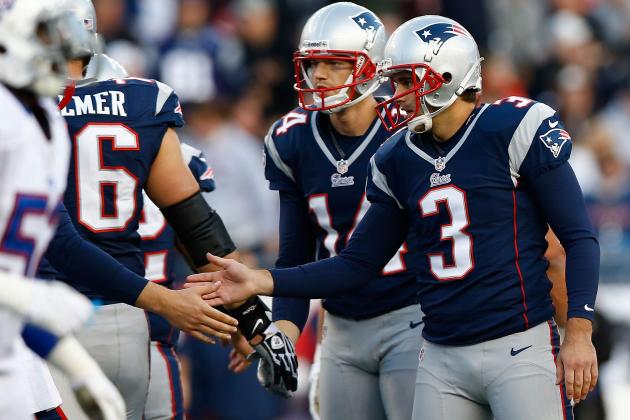 Jared Wickerham/Getty Images

Stephen Gostkowski has connected on 84 percent of his career field-goal attempts and remains under contract for a couple more seasons, so he's likely to stay in place. Only 10 of his 202 attempts have been from beyond 50 yards, though, which limits his value to the Pats.
The Patriots ranked in the bottom half of the league in net punting last season, courtesy of Zoltan Mesko. But the team's aggressive offensive style means the impact that makes is minimal. Like Gostkowski, he's under contract so there's no real need for a change.
Finally, the return game should be in good hands. Devin McCourty averaged over 24 yards per kick return last season and Leon Washington remains one of the league's best return men. No need for any key special teams upgrades.