Kenjon Barner: Video Highlights for Former Oregon RB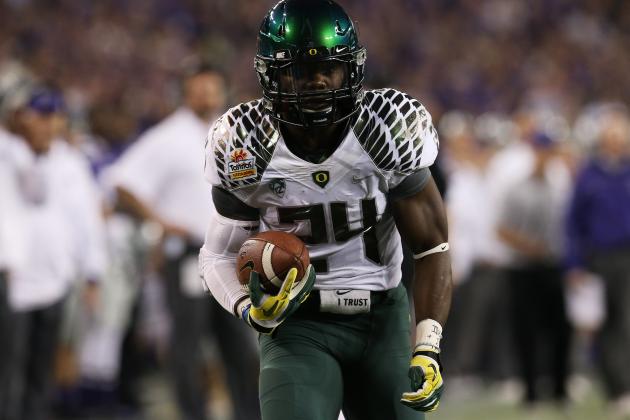 Stephen Dunn/Getty Images

No college has had a more impressive offense over the last few seasons than Oregon. Every year, the Ducks lose what appear to be key players, but every year they bounce right back with a fast-paced run game that few can withstand.
This year, one of their key players was running back Kenjon Barner. Barner racked up 1,767 rushing yards in 2012 along with an incredible 21 touchdowns.
While it's easy to dismiss Barner as just another product of the system, he's got a lot going for him to suggest otherwise.
Here are some video clips of his more impressive feats.
Begin Slideshow

»
Barner's season was impressive, but again, that's easy to dismiss as a benefit of the offensive system he played in.
What's more difficult to make excuses for is his performance at the scouting combine. Only four running backs turned in a better 40-yard dash time (4.44 seconds) or vertical jump (35.5") than Barner.
The long jump wasn't as good an exercise for Barner, as he placed a lowly sixth with a 122" jump.
Just to put those numbers in context, Barner was one of 38 running backs at the combine this year.
It's the drills where he really shines. When you watch the video, you can see how quickly and fluidly Barner can change directions, and the kind of speed he has.
I'll go ahead and say that there's nothing spectacular about this run. It's well executed, and Barner avoids almost making the mistake of cutting inside instead of keeping to the outside corner, but it's nothing spectacular.
So why is it in this slideshow? Because it was Barner's fifth of the game. Yeah, you read that right.
Barner decimated USC that game, carrying the ball 38 times for 321 yards and five touchdowns. Those are numbers you usually see in Madden, but not in real life.
He also had a couple of receptions for 26 yards, making his total 347 yards in one game.
Of course, even before 2012, when he became Oregon's lead back, Barner was torching defenses.
In 2011, he had this monster run against Cal.
What I love about this run is not so much the length of it, but the fact that he beats the last defender less than 10 yards from the line of scrimmage and is off.
Instead of seeing the defenders catch up to him, the opposite happens. As he goes further down the sideline, the Cal defenders get further and further away.
It's just a great example of the speed that Barner has.
Just a warning: A lot of these videos will be Barner ripping off huge runs.
Huge runs are great in and of themselves, but when you have other impressive moments in the same run, they just become gold. That's what happens here.
Barner is handed the ball, and is already on the edge of the field. All the Washington State players need to do is cut him off and force him out. But that's not what happens.
Instead, one player goes for the tackle and successfully wraps Barner, only to be shaken off. Another defender comes up, trying to force him out, but a combination of an Oregon blocker and Barner stiff-arming pushes the second defender out of the way.
Then, Barner turns on the jets and flies by the rest of the team for a huge touchdown.
Well, if you like big runs, they don't get much bigger than this one.
This one is pretty straightforward. Barner is handed the ball, gets a block and then blows by everyone.
One defensive back takes the correct angle, but when he finally catches up to Barner and dives for the tackle, Barner speeds up just enough to make the man miss.
He then cruises into the end zone for what looks like an easy touchdown. Of course, he did just run nearly the entire length of the field, so "easy" is a relative term there.
Both of these runs are impressive; they're just impressive for different reasons.
The first we see (actually his second of the game) is a one-yard run. What I like about that run is that the Oregon coaches trust Barner, a small, quick speed back, to run up the middle when the defense knows that's what will be coming.
It's the kind of run you typically reserve for a power back.
The run that preceded it is much more fun to watch. Barner is handed the ball, but Oregon State's players flood the backfield, cutting off his lane. He tries to cut to the outside, but it keeps getting cut off, so he changes direction.
It seems like no matter where he runs, the route is cut off, until finally he finds a lane on the inside, takes it and runs to the one-yard line.
Then, like I said, he hammers it in on the next play.
The last video showed Barner in a situation where the defense could have stacked the box to keep him from hammering in a touchdown. Here's one where they actually do stack the box, and, at least for a moment, stop him.
Everyone knows Barner is a speed back. He weighed in at 188 at the Senior Bowl, and that took place after the season when he may have weighed even less.
Here, though, he powers the ball through a group of defenders as if he weighed over 200.
The first defender makes contact (followed by a couple more), which manages to stand Barner still, but he makes a second push and manages to fall on top of them, crossing the plane in the process.
Something you don't usually see from guys his size, but it just goes to show you that Barner is anything but one-dimensional.