NFL Draft 2013: Breaking Down the Best Fits for Alabama Prospects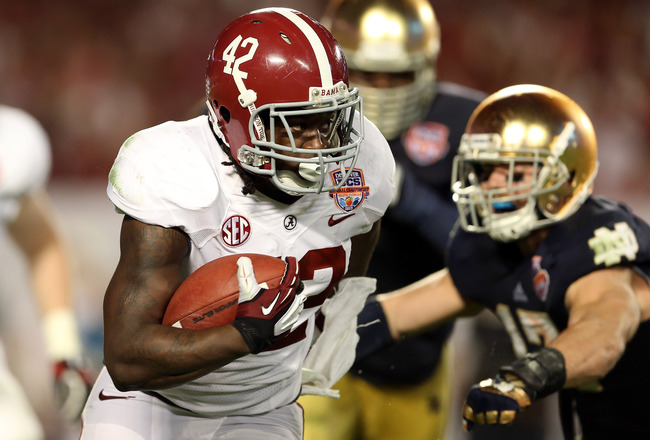 Eddie Lacy is considered to be the best running back in the 2013 NFL draft.
Streeter Lecka/Getty Images
The 2013 NFL draft is just over two weeks away, and there is much buzz surrounding several players and schools.
But no school has been better at churning out professional players like the Alabama Crimson Tide. In the last three drafts, Alabama has produced an astounding 10 first-round picks, and it looks to add to that total in 2013.
A plethora of Crimson Tide seniors have put their name into the draft, as well as a couple of prominent juniors. Most of these players have three national championships under their belts. These results show that head coach Nick Saban is running a businesslike program in Tuscaloosa, Ala.
These players are laden with talent, but many of them possess skills that will fit certain teams better than others.
Here we break down which teams are the best fit for the top players from Alabama.
Dee Milliner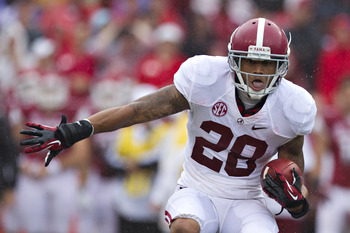 Dee Milliner is projected to be a Top 5 choice.
Wesley Hitt/Getty Images
There is no debate that Dee Milliner is the best cornerback—and defensive back—in this year's draft class. He stepped up last season and proved to be the shutdown corner that Alabama needed to get back to the BCS National Championship game.
At 6'0", 201 pounds, Milliner is the perfect size to be an elite cornerback at the next level. He possesses the quickness and athletic ability to make plays on the ball, as he ran a 4.37 second 40-yard dash and recorded a 36-inch vertical jump at the NFL combine.
Milliner won't be on the board after the first five selections are called, and whichever team chooses him will be happy with the first-game starter's Southeastern Conference experience.
Best fits: Oakland Raiders, Philadelphia Eagles, Detroit Lions
Chance Warmack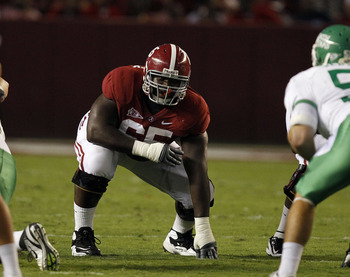 Chance Warmack is considered to be the best guard in the draft.
Butch Dill/Getty Images
Blocking for running backs like Heisman Trophy winner Mark Ingram and Doak Walker Award winner Trent Richardson will make any offensive lineman look good. But many people will argue that it was the play of guard Chance Warmack and a stellar offensive line unit that has led to so many successful running backs at Alabama.
Considered to be the best overall guard in the draft, Warmack is a strong prospect that excels in opening holes for running backs to squeeze through.
He will not wow scouts with his speed or finesse, but he will make a few jaws drop with his ability to dominate as a pulling guard.
Warmack should be picked off the board in the first half of the first round, as several teams need assistance on the offensive line.
Best fits: Tennessee Titans, San Diego Chargers, Dallas Cowboys
D.J. Fluker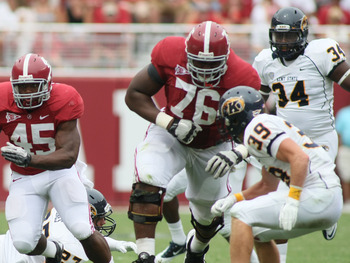 D.J. Fluker will fall to the later portion of the first round.
Greg McWilliams/Getty Images
Just like Warmack, D.J. Fluker is a mammoth force in the run game. He, too, has helped pave the way for several successful tailbacks while at Alabama.
At 6'5", 339 pounds, he will provide an NFL team with a monster at right tackle or even left tackle.
He is rather slow, running a 5.31 40-yard dash, but he makes up for it with his size and length. It's hard to get past a giant tree that knows how to use its branches. He might not be as dominant as Warmack, but once he gets a rhythm with the running game, he's hard to stop.
Fluker won't escape the first round without being chosen, and tackles from Alabama have a strong track record of going in the first round. Just ask James Carpenter and Andre Smith.
Best fits: Miami Dolphins, Dallas Cowboys, New York Giants
Eddie Lacy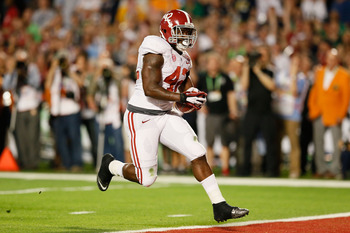 Eddie Lacy is regarded as the top running back in this year's draft class.
Kevin C. Cox/Getty Images
Eddie Lacy is the third running back to come out of Alabama in as many years, and even though he didn't have a collegiate career as prominent as Ingram or Richardson, Lacy might end up being the better pro.
At 5,11", 231 pounds, Lacy is a powerful back that can break initial tackles and get into the open field. But he still is elusive enough to be able to punish defenses with his patented spin move.
He finished his career at Alabama with 2,402 yards and 30 touchdowns, but nagging injuries kept NFL teams from seeing his full potential.
However, his healthy showing in the SEC Championship and BCS National Championship games should be enough to convince teams to take a chance on the draft's best running back.
Lacy could see himself go in the later picks of the first round or the earliest picks of the second round.
Best fits: Green Bay Packers, Arizona Cardinals, New York Jets
Jesse Williams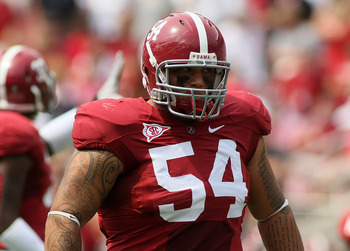 Jesse Williams could provide a contender with a solid nose guard.
Greg McWilliams/Getty Images
Jesse Williams is a run-stopping nose guard who was the anchor of Alabama's defensive line last season. In only his second year in Tuscaloosa, Williams solidified himself as a force on the country's top defense.
The Australian native uses his strength to shed off blocks and wreak havoc in opposing backfields. He is even known to be a lead blocker on offense in goal-line situations.
His size, 6'3", 323 pounds, is desirable for nose guard or defensive tackle, and his skill set will translate well to a 3-4 scheme.
Williams, like Lacy, could be chosen in the later portions of the first round, but an early selection in the second round is more likely for the Aussie.
Best fits: Baltimore Ravens, San Francisco 49ers, Minnesota Vikings
Barrett Jones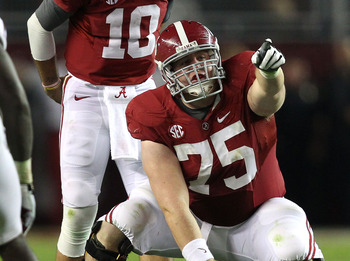 Barrett Jones can play anywhere on the offensive line.
Mike Zarrilli/Getty Images
Barrett Jones was a Renaissance man at Alabama, playing three positions on the offensive line and winning three national championships.
His ability to be able to play guard, tackle and center will benefit him when teams look for a consistent offensive lineman. But he will likely play as an interior player at the next level.
Jones is an intelligent athlete who is capable of learning any system. His versatility is unmatched, providing him with the tools he needs to excel in the NFL.
Jones is likely to be selected the middle rounds, but the team that he falls to will have one of the most decorated college football players on their hands.
Best fits: Green Bay Packers, New England Patriots, Atlanta Falcons
Keep Reading

Alabama Crimson Tide Football: Like this team?