10 Unbreakable Rules for a Diehard MLB Fan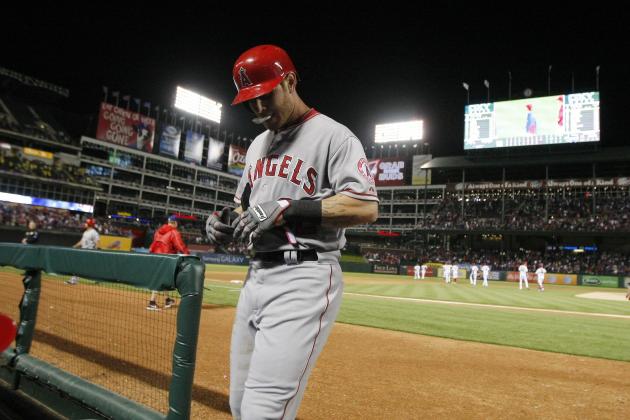 Brandon Wade/Getty Images
Josh Hamilton's return to Texas was a forgettable experience for the 2010 AL MVP.
When it comes to Major League Baseball, you will often hear a lot about the "unwritten rules of the game" that teams and players shouldn't break on the field. Things like not stealing an opponent's signs, or don't steal a base when your team has a big lead late in a game.
But those are the rules that apply to the on-field action. What about the things that the fans do in the stands?
Look, being a fan is an easy gig but it can also be incredibly painful. You dedicate yourself to a team and its players, unless you are in Miami because you know the owner has no intention of doing anything for you after your money gets him a new stadium, and all you want is to see them succeed.
There is a lot more that goes into a baseball team than just being able to compete. If there weren't, everyone would be in the playoff mix every year.
As a fan, you are paying your money to sit in the stands and react to players and teams, whether it is the home team or a visiting club, but there are certain rules that really should be followed if you want to call yourself a true baseball fanatic.
Here are the unbreakable rules for the most die-hard MLB fans.
Begin Slideshow

»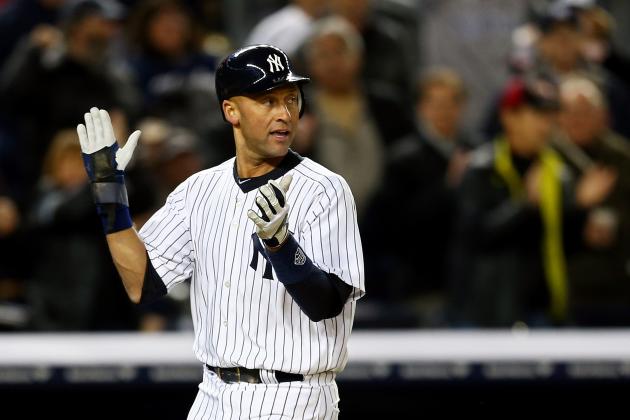 Elsa/Getty Images
As hard as it is to believe, Yankees fans actually booed Derek Jeter during a prolonged slump in 2009.
Even more than seeing their team win games, fans are paying to see players give their absolute best effort on every pitch. We all hear things like, "This guy is making $10 million to play baseball, he better play hard."
But there are going to be times when a player, no matter how good they have been throughout their career, will go through a prolonged slump. The sport, by its very nature, is built on failure. The best players are successful three out of 10 times.
Just because a player is battling an 0-for-34 streak and clearly pressing in the batter's box, it doesn't mean the effort isn't there.
New York Yankee shortstop Derek Jeter, who has been a poster child for intense competitors ever since he joined the team full time in 1996, actually heard fans boo him in Yankee Stadium.
It has actually happened a couple of times in his career. One of the most notable occurrences was in 2004 when he was in the midst of an 0-for-25 April slump that dropped his average to .175 in the early part of the year.
Is there anyone out there who actually think Jeter was just slacking off, worrying about what celebrity he would be photographed with or rumored to be dating after the game? If you do, you probably only care about gossip columns and not baseball.
As long as you know the effort on the field is there, you should never boo a player who is in the middle of a slump. Believe me, that only makes things worse.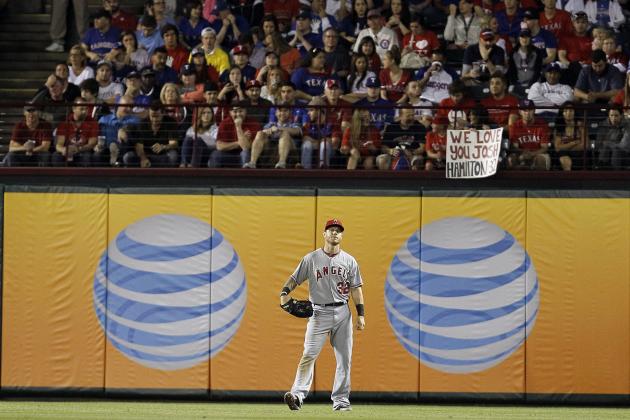 Brandon Wade/Getty Images
Josh Hamilton heard a lot of vitriol in his return to Texas.
I am going to pick on Texas, specifically, for a moment, but really this rant can apply to every fanbase in every sport.
When a once-beloved figure takes a big deal to sign somewhere else as a free agent, or even talks their way out of town via trade, show a little class and respect what the player did for your team for years.
In case you hadn't heard, last weekend Josh Hamilton made his first appearance in Texas since leaving the Rangers to sign with the Angels. His reception was chilly, to say the least, as fans were angry that he left for a division rival AND had the nerve to say that Dallas was a football town.
First, there is a book, movie and all-time classic television series based on the state of Texas' obsession with football called Friday Night Lights. You can read the book or what the movie/series to understand that everyone in that state would sell their souls to watch a game of football.
But going back to Hamilton, what logic was there for Rangers fans to destroy him and, according to reports, his family during the three-game weekend series? Attacking a player's family is clearly crossing any line you may have as a fan when you buy a ticket.
As for Hamilton, he spent five years with the Rangers, won an American League MVP award in 2010, became a cultural phenomenon and put the team on the map thanks to the Home Run Derby in Yankee Stadium. He was also a key part of two teams that went to the World Series in back-to-back years.
It's not like Hamilton was such a waste of space that he just sucked up a roster spot and stole money from the franchise for five years. So what purpose is there to boo him? Because he took more money to sign with another team that happens to play in the same division? Newsflash: Every player wants the money, deal with it.
Booing just to send a point that you are angry is childish and petty. Would it really be that hard to welcome someone back with open arms?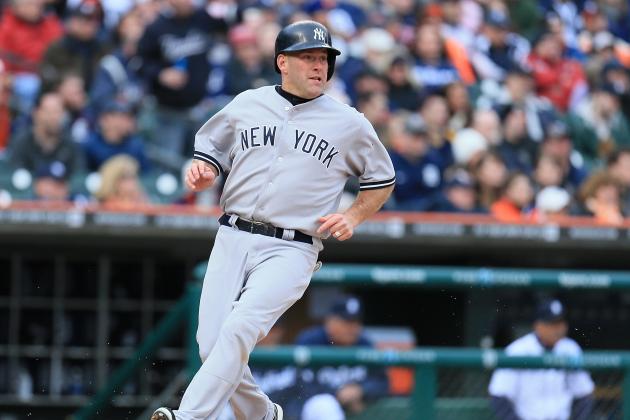 Dave Reginek/Getty Images
Kevin Youkilis spent years as Public Enemy No. 1 when he was with the Red Sox, but now the Yankees need him to be a valuable 3B for them.
Look, there are going to be some players that you just don't like. There could be any number of reasons they draw your ire, but one of the biggest is probably they played on your favorite team's biggest rival.
Take, for instance, Kevin Youkilis signing with the New York Yankees in the offseason. When he was hitting in the middle of the Boston Red Sox lineup as these two American League titans had those great playoff battles in the mid-2000s, there was no one New York fans despised more.
As time passed, the Red Sox decided it was time to make a change and traded Youkilis to Chicago last season. He bolted the White Sox in the winter to sign with the Yankees in a move that left many fans conflicted about what to do.
This makes absolutely no sense. Does anyone think that Youkilis isn't going to play hard for the Yankees because he used to play for the Red Sox? If he helps the team win a few games, does it really matter that he was on the most-hated list for a long time?
If you are the fan of a team, you are supposed to root for the name of the front of the jersey. There is nothing wrong with liking or disliking individual players, but to actively root against someone who is on your favorite team just because he once played for their biggest rival is idiotic.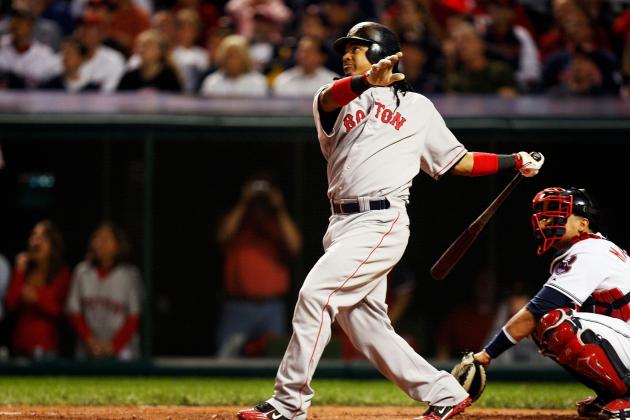 Gregory Shamus/Getty Images
Manny Ramirez was Public Enemy No. 1 in Cleveland after he signed with the Red Sox after the 2000 season.
Following along the lines of the last two rules, there comes a time when you have to separate your fandom from the business part of the game.
Most players don't have the luxury of picking what teams they go to when they enter Major League Baseball. They are good enough to get drafted by a team out of high school or college, and work their way through a system just hoping they get called to "The Show."
Sure, international players get some control over the team they sign with since they are, technically, free agents. But most of them are getting paid a fraction of what a fourth-round draft pick does.
All of this is to say, when a player decides to take his talents elsewhere, either for a better opportunity to win or more money (or both, in some cases), it is on you to set a good example for yourself and the other fans by letting that player know you appreciate what they did while they were there.
Unless the player was so bad that he actually made it hard to watch the team at times, like Mike Hampton when he signed with Colorado, you have no reason to do anything but stand up and cheer when they come back to their old stomping grounds.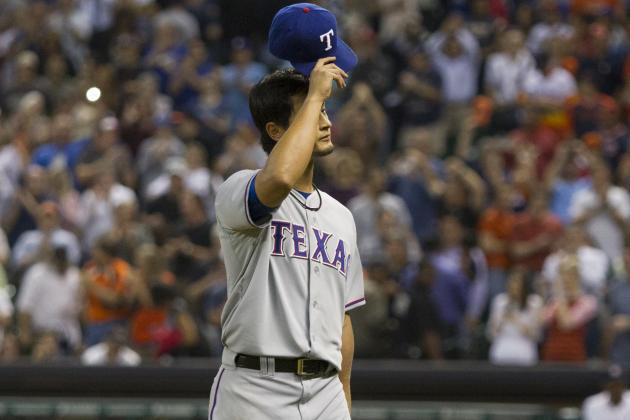 Bob Levey/Getty Images
Though a lot of fans left were actually Rangers fans, Houston had no problem appreciating Yu Darvish's near-perfect game this season.
Even though most of your time as a fan is spent cheering on a certain team, you are, first and foremost, a baseball fan.
If you aren't that kind of fan, or don't classify yourself that way, then you have no business watching the sport. You might as well just wake up the morning after a game, look at the box score to see who won last night's game and move on with your life.
When you watch a sport, you want to see something great. Athletes are looked at as superheroes, since they are capable of doing so many things that the average person just isn't capable of. I would love to throw a fastball like Justin Verlander, but it's not going to happen anytime soon.
So when you see someone on the field doing anything that could remotely be considered great, even if it is from the opposition in your building, don't be afraid to stand up and cheer it.
When Will Middlebrooks of the Boston Red Sox stepped up to the plate on April 7 against Toronto with a chance to hit his fourth home run of the game, there would be no shame in applauding that feat. It is something that has only been done 16 times in MLB history.
Texas' Yu Darvish had a perfect game through 8.2 innings against Houston in the second game of the season. When Marwin Gonzalez broke it up with a single back up the middle, no one at Minute Maid Park was sitting because they wanted to appreciate what they had just seen.
Cheering the opposition is not a sin, especially when it comes to seeing a great performance.
Otto Greule Jr/Getty Images
The Mariners were down 11-0 in the third inning against Houston on Tuesday, making it very easy for fans to leave the stadium.
True fans know that, even in the worst of times, things could be a lot worse. Whether you are sitting in the stands or watching on TV, there are going to be games when you want to abandon ship early because things aren't going well.
What makes baseball so great is that no matter what happens on Monday, there is always a game to look forward to on Tuesday. Players and fans have short-term memories, because the season is a marathon and not a sprint.
But even in those games where hope is lost right from the start--like Cleveland losing 14-1 to New York on Tuesday--you are obligated, as a die-hard fan of the team to grin and bear it through to the end.
Plus, trying to find silver linings, there could be an individual performance in defeat that becomes fun to watch. Some teams will actually have fun in a blowout loss by putting a position player on the mound to pitch.
Not every defeat has to be the end of the world. There can be times where even the worst loss is entertaining in some way. And just think, you will be there, either in person or through the magic of television, to see it all unfold.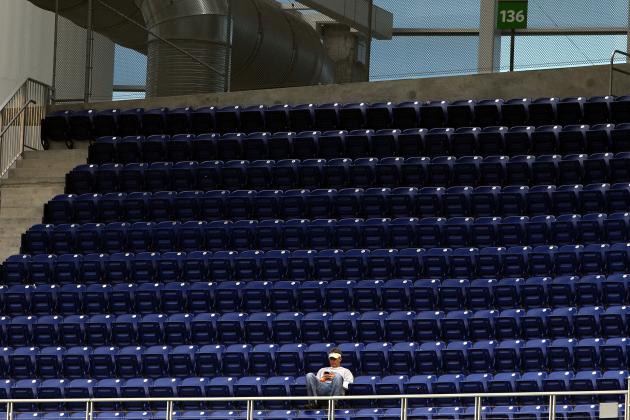 Marc Serota/Getty Images
It's hard to be a fan in Miami, but you can support the players without feeding the owner.
There are two types of fans that drive me absolutely nuts: Fair-weathered and Bandwagoners.
In case you need a refresher, fair-weathered fans are those who only cheer for the team when things are going well. You will see this a lot from teams without a lot of success recently, then suddenly they burst onto the scene to compete for a playoff spot and/or championship.
Bandwagon fans are actually worse, because they don't have enough sense to jump back into cheering for a team as soon as they start winning. These people have to wait until a team wins a championship or two, then decides to start loving them.
Absolutely pathetic fandom on both counts.
There are going to be times as a fan where you want to question your loyalty. Things aren't going to go perfectly every year. Last season in Boston, there were probably a lot of fans questioning why they were cheering for that Red Sox team.
Miami is a special case, because the ownership there has done absolutely nothing to warrant anyone spending money to see the product. Even Jeffrey Loria can't remember the names of his players, and he is actually throwing fans out of the park for disliking where the team is at right now.
But for the 29 other teams, if you have an allegiance to one of them, there is no way to justify hopping off the bandwagon or only showing up when the wind is blowing in the right direction.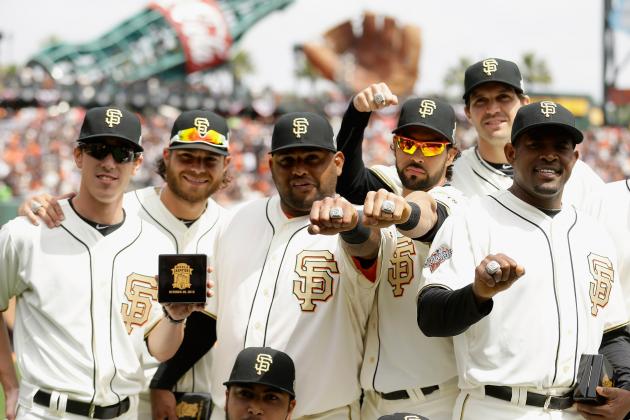 Ezra Shaw/Getty Images
With two titles in three years, San Francisco is the model franchise in MLB today.
Being a fan does come with some responsibility. Yes, the term is short for fanatic and buying a ticket to a game, or merchandise to wear around your friends when you are watching a game, does give you some leeway.
But you also have obligation to not be obnoxious when your team is losing or having success. There is nothing more annoying than being around someone who has to constantly rub in just how great your favorite team or player is doing.
It is also just plain stupid on your part to do that, because eventually there is going to come a point where things aren't going well for your team. When that happens, you can rest assured that your friends will be quick to throw it right back in your face.
Fans tend to despite athletes who tell the world how great they are on a constant basis—just look at the venom unleashed at Terrell Owens in his prime—so why should it be any different for you?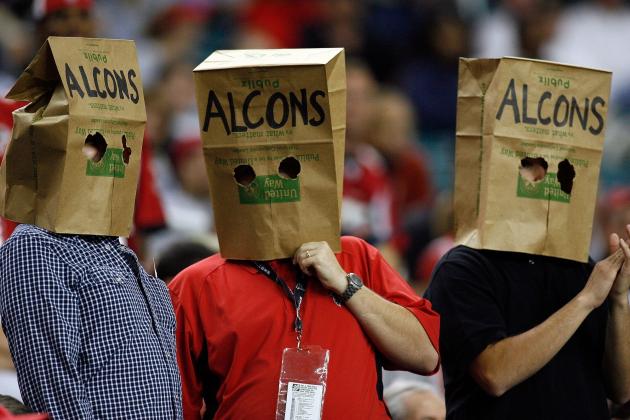 Chris Graythen/Getty Images
Even though these are football fans, the point remains the same for baseball.
If you reach a point where you are embarrassed to be the fan of a team, either because of the product being put on the field or it has been so long since anything resembling a winner came around, you aren't a fan to begin with.
Again, Miami can be an exception to this rule because ownership has slapped those fans around so many times. But it is hard to really feel sorry for the Marlins because they have won two championships in 20 years of existence.
There are Chicago Cubs fans who would love to have the kind of success in the last 105 years the Marlins have had since 1993.
The point is that you can't ever walk away from your team, either in the middle of a game or lost season. Or in the case of some teams, a bad decade.
A common thread through this piece has been loyalty and love. All of us root for the teams that we do for very different reasons. Some might be very deep and personal, like sharing memories of them with your family when you were a kid, while others could be as simple as liking the city and/or stadium.
Regardless of why you started rooting for a team, if you are in the stands or watching on TV, there is no reason to ever turn on your team when the going gets tough. Being a fan is like entering into a marriage. There will be difficult times you have to work through, but when things are good, it reminds you of why you started cheering in the first place.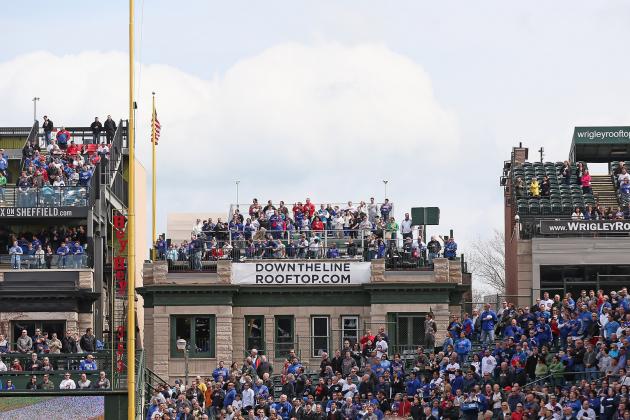 Jonathan Daniel/Getty Images
Baseball is supposed to be fun.
Fans dedicate themselves completely and entirely to a team. They want so badly to see them succeed, to the point where it actually becomes painful and soul crushing if/when they lose.
There is nothing wrong with that kind of cheering. In fact, it is a big part of what makes baseball great. So many things can happen over the course of a nine-inning game that you can experience the highest of highs and lowest of lows all in one day.
Yet the one big thing that tends to get lost in all the television coverage and criticism we see through social media, websites, etc. is to simply just enjoy the games, teams, players and environment around us.
Baseball is meant to be fun. It is a game that defies all logic, with pitchers throwing 100 mph fastballs or knee-buckling off-speed pitches. Players step into a batter's box with a glorified wooden club and are able to hit a ball 400 feet into the stands where a group of fans are waiting with open arms to try and catch it.
We take things so seriously nowadays that it is important to remember that baseball is a release from all the headaches and pain of everyday life. The biggest rule for fans to keep in mind when they walk through that turnstile into the park is to enjoy what you are seeing.
For more on rules that baseball fans should never break, or anything else baseball related, feel free to hit me up on Twitter.