Toronto Raptors vs. Chicago Bulls: Postgame Grades and Analysis for Chicago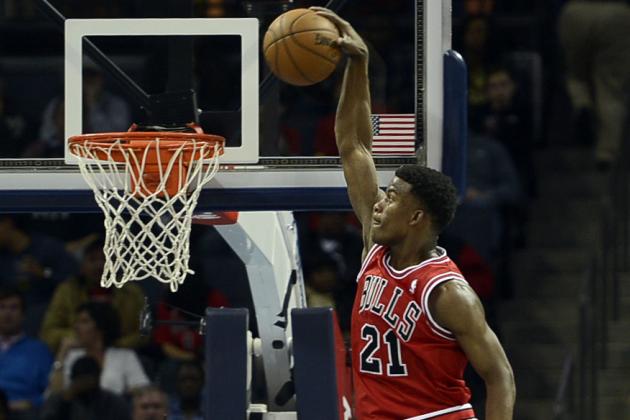 Curtis Wilson-USA TODAY Sports
Jimmy Butler was flying high on Tuesday night.
The Chicago Bulls hosted the Toronto Raptors at United Center on Tuesday night. The game featured zero lead changes and the Raptors came away wire-to-wire winners, 101-98.
Chicago played without the injured Luol Deng (hip), Joakim Noah (foot) and Taj Gibson (knee). At least Richard Hamilton (back) returned from his 19-game absence, but he could not help the battered frontcourt.
The Bulls fell behind early as Toronto shot about 20 percent better from the field in the first 18 minutes.
The Raptors had their choice of open looks for much of the half and picked the Bulls apart. Five Raptors finished in double-digits and two more scored eight points.
Jimmy Butler's stellar start kept Chicago in the game. He finished with a game-high 28-points and Carlos Boozer scrapped out double-double.
Butler triggered an 8-0 run capped by Nate Robinson's triple with three minutes left in the second quarter. Suddenly, the Bulls trailed by just four points at the break, despite Toronto outshooting them by a wide margin (54.1 percent to 42.6 percent).
Chicago's 22-17 advantage on the boards helped compensate for their poor shooting, especially the 8-1 advantage on the offensive glass.
But the Bulls failed to bring the momentum they created at the end of the first half into the second. Toronto outscored them 27-18 in the third quarter and they trailed by 16 with only eight minutes remaining.
And just as in the first half, the Bulls went on another run to keep the game interesting. Robinson and Butler again joined forces as Chicago scored 10 unanswered points. After falling behind by nine in the final two minutes, Robinson and Boozer pulled the Bulls within just two points as 16.8 showed on the clock.
But it was too little, too late. Little Nate missed a free throw and couldn't get a desperation shot to go, as Chicago's rally came up short.
With the loss, the Bulls fall to 42-35 and their lead over the Atlanta Hawks shrinks to half a game. Still, sixth place doesn't seem so bad when you consider that it would avoid the Miami Heat in the second round.
But Chicago would have to get out of the first round for that to matter, and their postseason hopes look dim unless Deng and Noah can heal up significantly in the next 10 days.
Begin Slideshow

»
Kirk Hinrich, PG: B-
Hinrich didn't put up dazzling numbers, but his all-around contribution and intelligent play were both vital. He scored five points and dished five dimes without a turnover. Hinrich also chipped in three rebounds.
To give you some sense of Hinrich's implicit value on both ends of the floor, he finished with a even floor rating. Marco Belinelli was minus-16 and even Carlos Boozer posted a minus-10.
He obviously won't make anyone forget about Derrick Rose, but Hinrich has been a very serviceable point guard this year.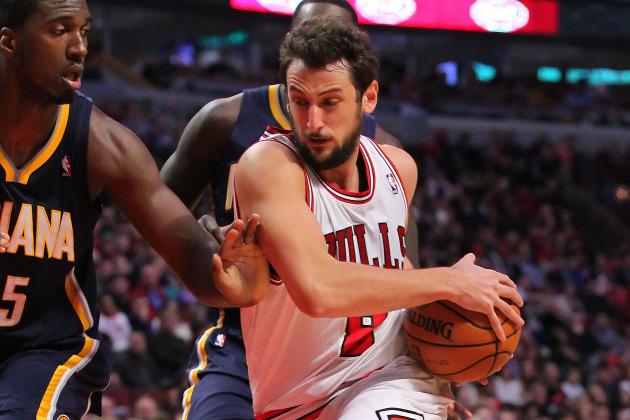 Dennis Wierzbicki-USA TODAY Spor

Marco Belinelli, SG: C
Belinelli got the start but yielded to Nate Robinson who played big minutes off the bench. The Italian scored eight points and managed an assist in just under 19 minutes.
He also posted the worst rating on the team (minus-16) as Toronto's talented scoring trio of Rudy Gay, DeMar DeRozan and Kyle Lowry abused the Bulls.
Belinelli did not play in the fourth quarter, but those Raptors combined for 46 points through the first three frames.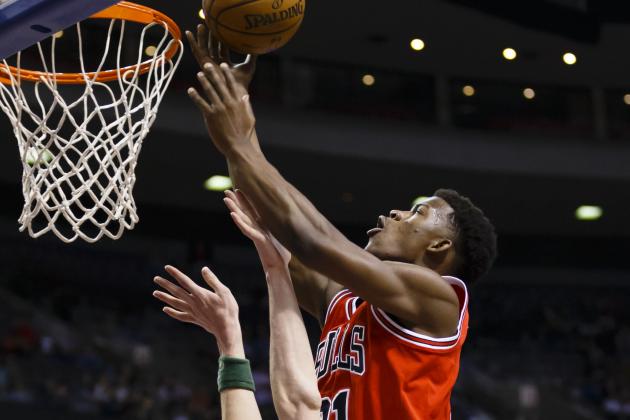 Rick Osentoski-USA TODAY Sports

Jimmy Butler, SF: A+
Luol Deng did not dress because of a sore right hip, but the man they call "Jimmy Buckets" answered the call with his best game of the season.
Jimmy Butler could do not do wrong in the first half, scoring 16 points on 6-of-7 shooting. He couldn't keep up that pace, could he?
Oh yes! Butler finished with 28 points on 10-of-12, to go with seven boards, two dimes and two steals.
Butler also played excellent defense on Rudy Gay for stretches. It's a pity that Butler's excellent effort came in a disappointing loss.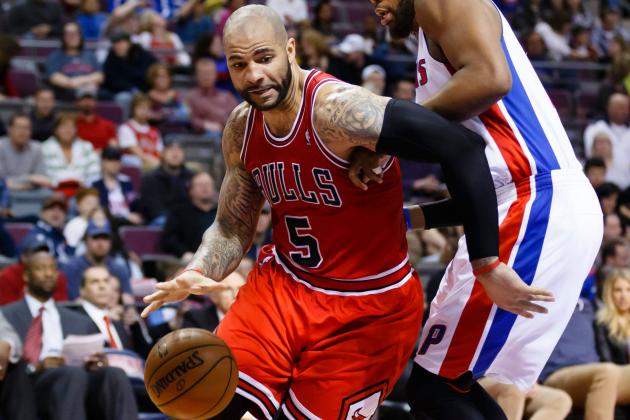 Rick Osentoski-USA TODAY Sports

Carlos Boozer, PF: B
The Booze Cruise and Jimmy Buckets provided the lion's share of Chicago's offense through two quarters, as the Bulls limped behind Toronto.
Boozer played the entire first half, putting up 10 points and five boards.
Boozer continued both his poor shooting and stat-sheet stuffing in the second half. He ended the game with 19 points on 7-of-20 from the field, which is tough to do for a power forward. He corralled 11 rebounds for yet another double-double and somehow led the team with eight assists.
He also committed four turnovers, so it was a drastically up-and-down night for Boozer. He probably just missed his frontcourt buddies Luol Deng and Joakim Noah.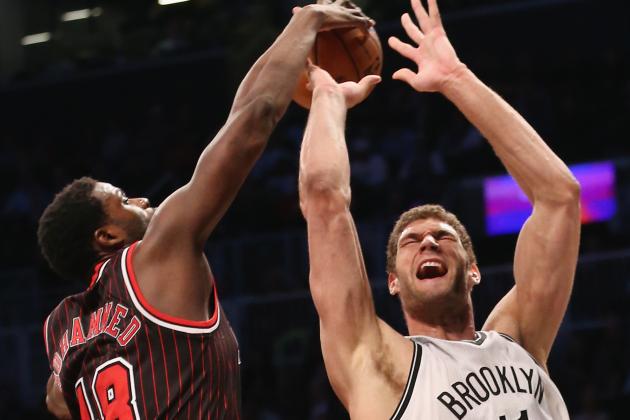 Bruce Bennett/Getty Images
Nazr giveth, and Nazr taketh away.
Nazr Mohammed, C: B
Mohammed got the start for Joakim Noah who is dealing with plantar fasciitis in his right foot.
Mohammed scored six points on just 3-of-9 from the field, but also pulled down 10 rebounds in 25 minutes, with six of them coming on the offensive boards. He also swatted a shot.
Mohammed is averaging just 10.2 minutes per game on the season, but the Bulls have increasingly turned to him since Noah went down. Mohammed has contributed 30.3 minutes a night in April, though he's scoring just 5.8 points on 32.1 percent from the field.
At least his 8.5 rebounds per game make up for the poor shooting.
Jonathan Daniel/Getty Images
I believe that is called the "Nate Shimmy."
Nate Robinson, SG: B
Little Nate Robinson was his typical self on Tuesday night. Robinson struggled from the field but still posted the best floor rating on the team at plus-17. He bricked wide-open looks but nailed toughly contested circus shots.
Robinson finished with 22 points, but those came on 7-of-22 shooting. He was much better at long range going 5-of-9 from downtown, and also tallied four assists.
Nate's three-pointer in the final minutes trimmed the deficit to just four points, but the comeback fairy dust wore off. Robinson missed a free throw with 10 ticks left which certainly didn't help and then couldn't get the buzzer-beater to go.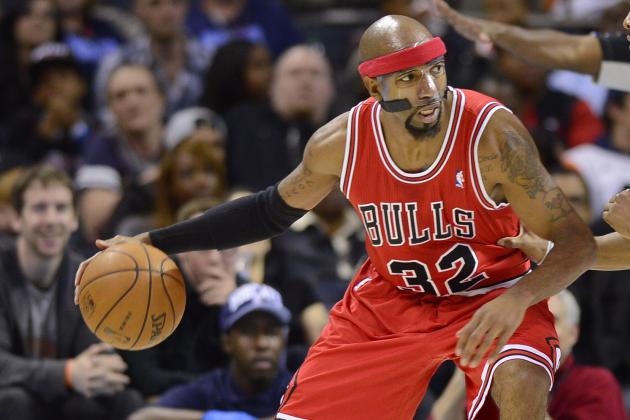 Curtis Wilson-USA TODAY Sports
The Mask is back.
Rest of Bench: B
Richard Hamilton finally returned from a back issue. In his first game since February 26, Hamilton shot 2-of-4 through his five-and-a-half minutes in the first half. Though he played almost nine more minutes in the second half, he looked sluggish in tallying only an assist and a turnover.
Malcolm Thomas played 26 minutes, contributing a nice all-around line: six points, eight rebounds, two assists, a steal and a block. His plus-nine rating made him the second-most efficient Bull to Nate Robinson.
This was a breakout game for Thomas, which serves as one of the few bright spots in the loss.
Vladimir Radmanovic played for 33 seconds at the end of the first half and that was it. Taj Gibson sat out with a knee injury, while Daequan Cook and Marquis Teague remained on the bench.
It doesn't get any easier for Chicago, as the the New York Knicks bring their 13-game winning streak to United Center on Thursday night.