Ranking the 10 Most Disappointing Players During the 2013 NHL Season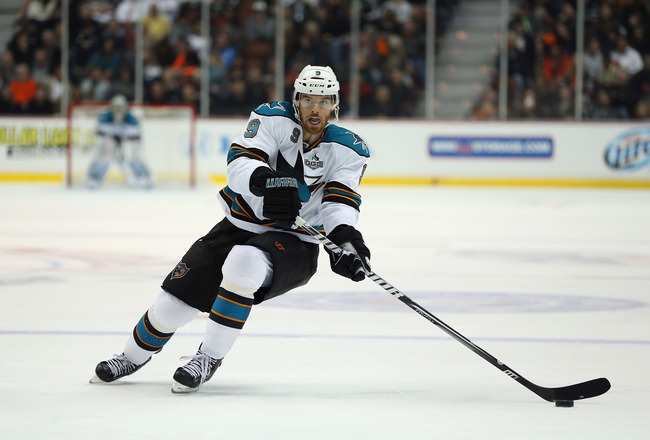 Jeff Gross/Getty Images
The 2013 NHL season only has a few games remaining, and it is a great time to look back at the season.
The lockout certainly put a damper on the season, and there certainly were some players who really had disappointing seasons based on their standards as a player and their skill sets.
Some players have had seasons that would appear to be disappointing, but injuries ultimately have played a significant factor. For that reason players in that category are omitted from this list.
It is hard to use the truncated season without a training camp to judge players, but they are professional athletes who are paid to perform and contribute for their teams.
With that in mind, here are the 10 most disappointing players from the 2013 season.
No. 10 Ryan Miller, Buffalo Sabres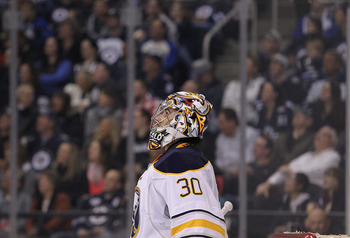 Marianne Helm/Getty Images
Ryan Miller has not had a very good season for the Buffalo Sabres, and he is a player who greatly influences whether or not the team makes the playoffs each year.
This season Miller has posted subpar numbers including a record of 14-15-5, a 2.77 GAA and a .915 SV percentage.
With trade rumors still surrounding Miller, it will be interesting to see if he is a member of the Sabres next season.
No. 9 Marian Gaborik, Columbus Blue Jackets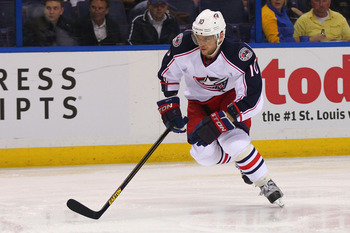 Dilip Vishwanat/Getty Images
Marian Gaborik was dealt at the 2013 trade deadline because of his struggles with the New York Rangers.
Fans were optimistic because the lockout gave the 31-year-old sniper adequate time to heal from surgery that repaired a torn labrum.
However, Gaborik failed to produce at the pace the team was accustomed too, and he was even demoted to the fourth line.
Although he has started to pick it up in Columbus, Gaborik has had a very disappointing season to date when you realize what he is capable of.
No. 8 Milan Lucic, Boston Bruins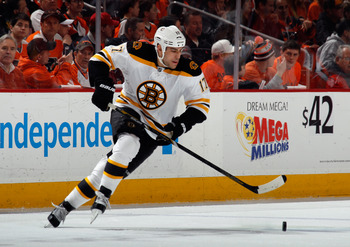 Bruce Bennett/Getty Images
Before the lockout the Boston Bruins locked up Milan Lucic for three years with an $18 million extension that pays him $6.0 million a season.
Fast-forwarding to the present, the deadline-deal before the lockout looks like a bit of an overpayment when you look at his drop in production.
Lucic is averaging 0.62 points a game, a drop from the 0.75 he had last year and the 0.78 average he had the year before.
While Lucic is one of the most physical forwards in the league, the Bruins paid him for his offensive abilities.
As of late Lucic has not played very well, and the Bruins are going to need him to step up in the playoffs.
No. 7 Jordan Staal, Carolina Hurricanes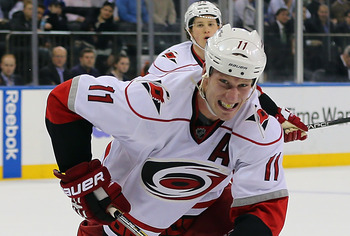 Bruce Bennett/Getty Images
Jordan Staal was a player who performed exceptionally well as a third-line center for the Pittsburgh Penguins, and it was assumed that his production would increase with more minutes and opportunities in Carolina.
That hasn't been the case thus far, and Staal has not produced offensively as was expected.
Currently he is on pace for 50 points in an 82-game season, and that would equal his career high with the Penguins
For a player with his skills and amount of ice time, Staal should be on pace for 60 to 65 points in an 82-game season.
No, 6 Ryan Nugent-Hopkins, Edmonton Oilers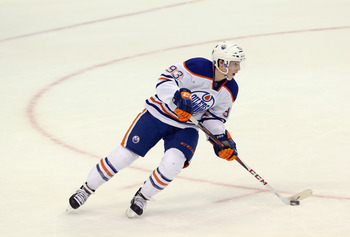 Ronald Martinez/Getty Images
Ryan Nugent-Hopkins had 52 points last year in only 62 games, and he was on pace to have an amazing rookie season before an injury ended his season.
The Nuge has really not played well in 2013, and it has been disappointing when you consider the opportunities he has had, and the skills he has in his arsenal.
You can categorize it as a sophomore slump, but bigger things were expected of him this season when you consider he played throughout the lockout with his teammates.
No. 5 Drew Doughty, Los Angeles Kings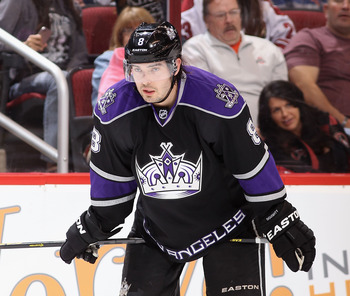 Christian Petersen/Getty Images
Drew Doughty is supposed to be an elite franchise defender for the Los Angeles Kings, but this season he has not played like one.
The most surprising thing about his subpar season is that Doughty entered training camp in the best shape of his life, but that hasn't translated to on-ice success.
Doughty is an offensive defender that hasn't contributed a ton of offense in 2013. He went goalless through January, February and most of March before finally scoring on March 19.
For a defenseman of Doughty's stature, 17 points is pretty unacceptable, and the Kings will need him to step up his game with the playoffs approaching.
No. 4 Brad Richards, New York Rangers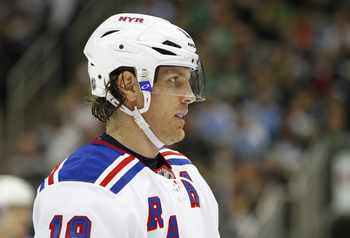 Justin K. Aller/Getty Images
Brad Richards has turned his game on as of late, but for a player with his skills, he has had a very disappointing season.
The lack of training camp and a preseason clearly hurt Richards as he looked slow and lost during the early part of the season. His timing looked off and he was even demoted to the third line for a stretch of time.
In 2010-11 Richards had a point per game average of 1.07; it dropped to .80 in 2011-12, and this season he is currently producing at a 0.62 rate.
Richards himself acknowledged his down play, and it was disappointing for fans that he wasn't clicking with Rick Nash or Marian Gaborik.
With the "Luongo rule" a part of the CBA, the Rangers may have to consider buying out Richards in the next year or two.
No. 3 Ilya Bryzgalov, Philadelphia Flyers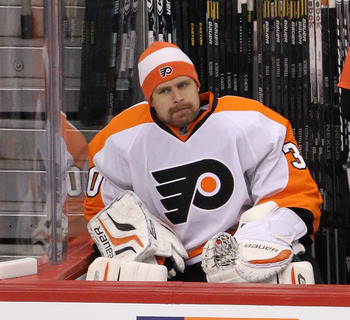 Marianne Helm/Getty Images
Ilya Bryzgalov has been disappointing for the Philadelphia Flyers, and his contract may force the team's hand when it comes to a buyout in the next year or two.
Although the Philadelphia Flyers netminder has been successful as of late, he has let in a ton of head-scratching goals, and he hasn't been consistent enough.
If Bryzgalov had been playing marginally better, there is a chance the Flyers would currently have a playoff spot.
No. 2 Travis Zajac, New Jersey Devils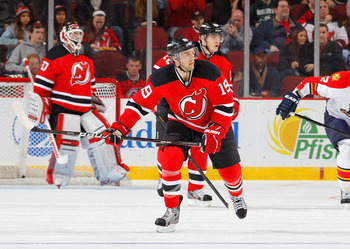 Jim McIsaac/Getty Images
Travis Zajac signed an eight-year extension with the New Jersey Devils after the lockout ended that locked him up for $5.75 million a year against the salary cap.
Fast-forwarding to the present, the deal looks pretty lopsided when you consider that Zajac's play has been less that stellar in 2013.
Zajac has been the Devils' top-line center, but he has only contributed 19 points thus far, and it has been very disappointing for a team that was the top team in the entire Eastern Conference in 2012.
In the past Zajac has produced like a legitimate first-line center, but he hasn't in 2013.
No. 1 Martin Havlat, San Jose Sharks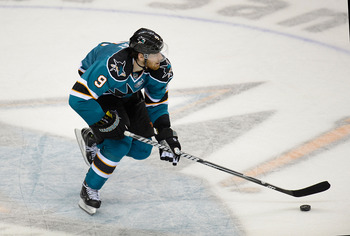 Thearon W. Henderson/Getty Images
Martin Havlat has had a very disappointing season with the San Jose Sharks, and his game has really dropped off since he left the Minnesota Wild a few seasons ago.
Injuries impacted Havlat last season, and he still was able to produce at a 0.69 point per game pace. This season Havlat is healthy, but his production has dipped to a 0.42 point per game average.
Havlat has a ton of skill, and he has shown in the past that he could be an effective scorer, but this year has been an utter disappointment.
Keep Reading