Picking a Chelsea Starting XI Spearheaded by Radamel Falcao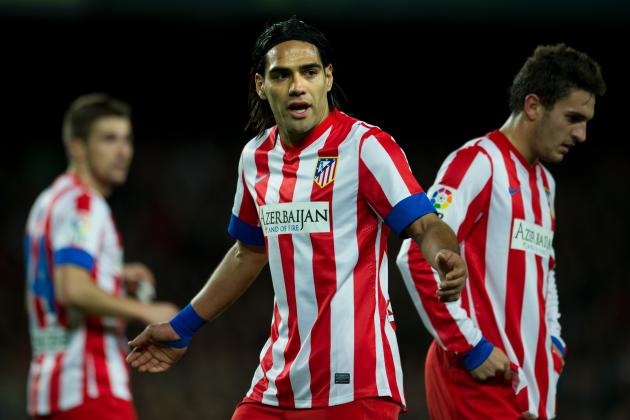 Jasper Juinen/Getty Images

When the sensitive matter of Radamel Falcao's future comes up in press conferences or interviews for Diego Simeone, the questions he receives no longer relate to if Falcao will leave Atletico Madrid. Rather, it's more a case of when he will depart the Vicente Calderon.
The Colombian international has been in superb form for both club and country in the past two years and has established himself as one of the world's most feared strikers in the process.
Rumors have seen the former River Plate forward linked with the likes of Chelesea and Manchester City for some time now, but recent speculation in the Spanish media has seen Manchester United become the shock front-runners for his signature.
In any case, whether it's Manchester or London he ends up going to, Falcao has all the right attributes to be a success in England football. A strong frame, powerful physical presence and a supreme level of fitness.
And here we take a look at just how Chelsea would line up should Falcao opt to make the switch to Stamford Bridge this summer.
Begin Slideshow

»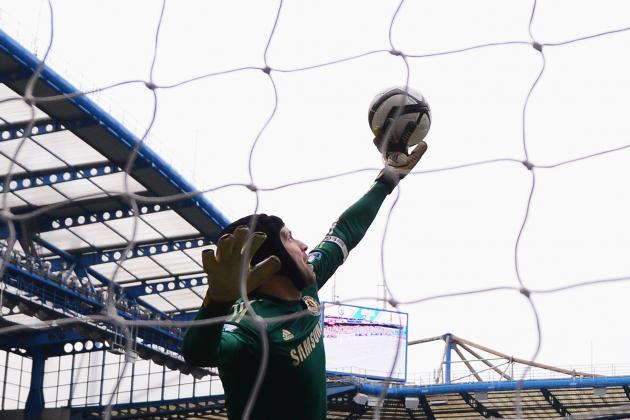 Mike Hewitt/Getty Images

If there has been any doubts about Petr Cech's ability as one of the world's finest goalkeepers, observers must refer to his save to deny Javier Hernandez in the FA Cup quarter-final clash against Manchester United.
The Blues won 1-0 courtesy of a stunning strike from Demba Ba, but the game would have surely gone to extra-time had it not been for Cech's stop against the little Mexican. Hernandez was found at the far post but crafted his header towards the back post.
Somehow, the Czech Republic 'keeper flung his arm at the ball which was sailing towards the far corner and tipped it over. The disbelief on Hernandez's face was clear to see; the Red Devils forward simply laughed as he could not believe his luck.
The 30-year-old has been synonymous with the club ever since his arrival from French club Rennes in 2004 for £7 million.
His shot-stopping and distribution has long been a key factor in Chelsea's success, and with Falcao in the team, you can rely on Cech to hand him the aerial service he requires.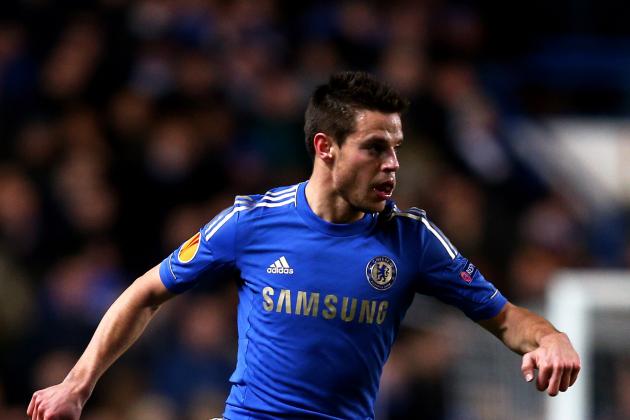 Clive Rose/Getty Images

If Radamel Falcao were to make the move to Stamford Bridge, he can be safe with the knowledge that he will have a friendly Spaniard in the form of Cesar Azpilicueta to help him settle in.
Azpilicueta knows all too well about the difficulties of adapting to a new culture and style of playing football, having left hometown club Osasuna for Marseille in 2009 before joining Chelsea last summer.
The Pamplona-born man has adapted to the fast pace and physicality of the Premier League and has forced Branislav Ivanovic into more of a central role.
He has established himself as a respected member of the first-team squad under Rafa Benitez, making 37 appearances this season with the majority under his fellow Spaniard at Stamford Bridge.
His tendency to surge forward can be as much as a help as a hindrance, as sometimes he is caught out high up the pitch, leaving a gaping hole in the defense.
Nevertheless, his four assists have been mainly for Fernando Torres this season and shows how the supply line from his position makes him a key member of the side in both the attacking and defensive sense.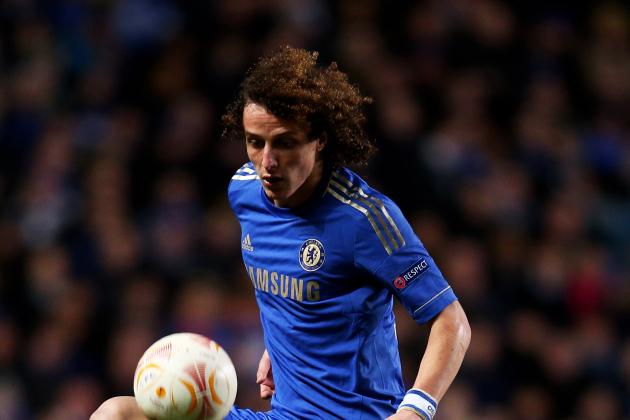 Clive Rose/Getty Images

His vast improvement this season has finally silenced his critics, and now David Luiz is being tipped to go on to bigger and better things at Chelsea.
The versatility he possesses makes his a vital member of the side; the ability to deputize in midfield when the likes of Frank Lampard and John Obi Mikel are unavailable means Luiz is crucial.
He played in midfield for Chelsea against Monterrey in the Club World Cup and was largely impressive, but his confidence in defense can sometimes cause his club more havoc than joy.
His passing ability is second to none—as seen with his tremendous assist for Fernando Torres against Rubin Kazan—and his technical ability means that playing from the back with his vision and execution is key to the Blues' success, hence one of the main reasons why he plays at center half.
Closing down opponents is Luiz's favored style of defending, sometimes leading him to be left caught out, but it pressures the opposition and is another exhibition of his confidence in his own ability. His general lighthearted approach is something to be cherished, not criticized, which is all too easy to do with his laid back attitude.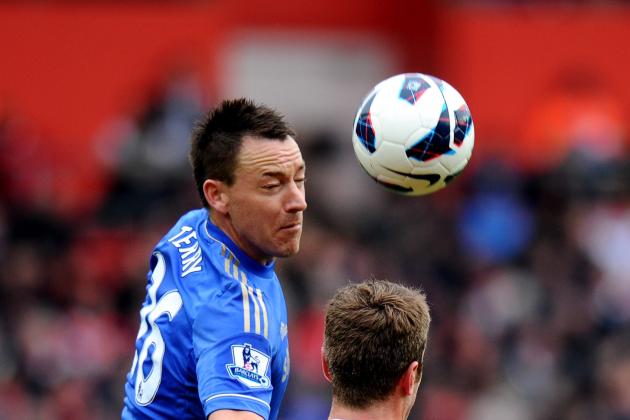 Mike Hewitt/Getty Images

When you consider John Terry's achievements in his illustrious career, one could consider the last few years as something of a disappointment for the 32-year-old.
With three Premier League titles, one Champions League triumph, five FA Cups, two League Cups and two Community Shields to his name, Terry has had an extraordinary career filled with success. On the other hand, he has become embroiled in controversy at certain points in his career.
Terry was fined along with ex-teammate Eidur Gudjohnsen for their behavior after the tragic September 11 attacks at Heathrow Airport. He was also caught cheating with his teammate Wayne Bridge's girlfriend Vanessa Perroncel three years ago and finally was banned for four matches after being found guilty by the FA of racially abusing Anton Ferdinand.
Despite this, his antics off the field as well as on it have certainly not affected his status as one of the world's most consistent defenders, in addition to being captain for both Chelsea and England in between 2006 and 2010. He is a fans' favorite at the club and is known by many as "JT: Captain, Leader, Legend."
His role on the pitch is unquestionable; leader of the defense, there is a noticeable void left when he is out of the team. Terry can read the game better than any other, and while his pace is diminishing by the year, his footballing brain fortunately is not.
Along with Petr Cech and Frank Lampard, he is hailed as the "spine" of the Chelsea team who are key to their team's success and holding the team together.
He may not be as limber as he once was, but with his years advancing, Terry still has a big part to play at Chelsea Football Club.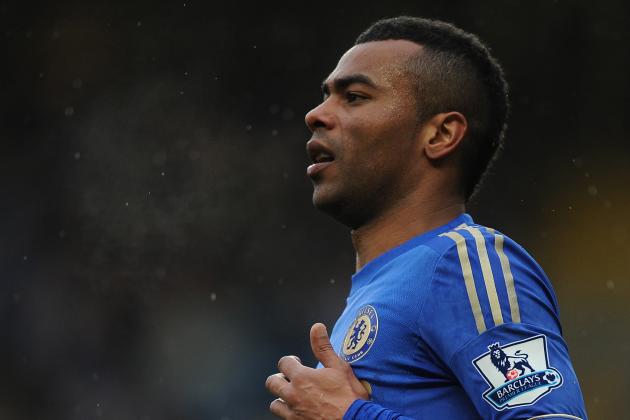 Steve Bardens/Getty Images

Another Chelsea player who is on the wrong side of 30 years of age, Cole represents a player who is just entering his prime, not leaving it.
His stamina, pace and determination to succeed is admirable for a player who made his debut as a professional in 1998 for boyhood club Arsenal.
Cole was the first black player to pass 100 caps for England, and with over 200 appearances for Chelsea, he holds a crucial role for both club and country.
But like his teammate John Terry, his private life and other controversies have seen Cole become an unpopular with the public, with many Arsenal fans criticizing his part in his departure from Arsenal in 2006.
Nevertheless, Cole has grown significantly in his time at Stamford Bridge. Holding a tendency to burst up and down the touchline as well as his defensive duties allows Cole to get involved in the play on a frequent basis.
The fact the club handed him just a one-year extension may suggest his time in West London is coming to an end, but when they do part, neither Cole nor Chelsea will have any regrets.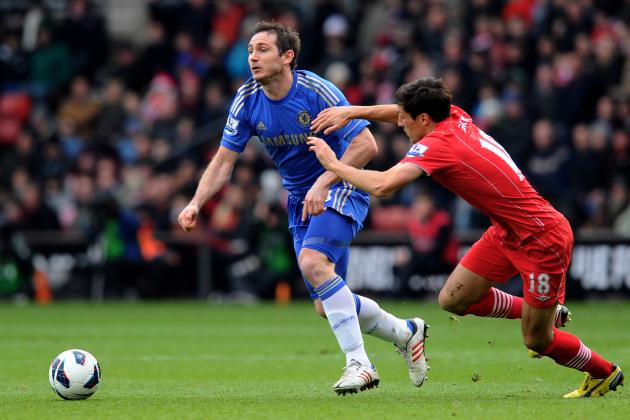 Mike Hewitt/Getty Images

Only Chelsea know where Frank Lampard will be plying his trade next season, but if Radamel Falcao is going to be arriving, he would surely request that Lampard stays.
Why? Well, you would wonder why Falcao would want a player who has consistently scored over 20 goals in the last 10 seasons to stay at the club, thus decreasing the chances of the Colombian reaching yet another ludicrous haul of goals in the Premier League.
But in fairness, Lampard is also partial to an assist or two in Chelsea colors. His long range passing is almost unrivaled, and the England man can hit it with either foot too.
However, the 34-year-old knows that time is running out fast. He is currently sitting on a total of 200 goals in 598 appearances. He needs two more goals to equal Bobby Tambling's club record, and for a midfielder to reach that amount of goals, let alone a striker, is simply phenomenal.
There is no shortage of admirers keen to snap up Lampard, with Los Angeles Galaxy said to be the favorites to land the 95-cap England international.
The curtain may be ready to close on Lampard's career sometime in the near future, but his legacy at Chelsea is secure. Two more goals, and he is there for history.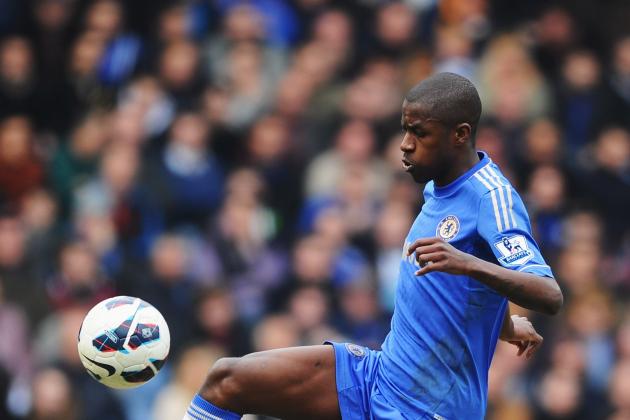 Mike Hewitt/Getty Images

When Carlo Ancelotti spent the best part of £18 million to bring Yuri Zhirkov to Stamford Bridge in 2009, the fans were confused and surprised at the decision to spend so much money on an unproven player.
Zhirkov played an impressive bit-part role for the Blues before departing for Anzhi Makhachkala just a year later.
And when the Italian tactician decided to splash a similar amount on Benfica's tireless midfielder Ramires, the supporters feared that the Brazilian international could be simply a repeat purchase. The result? Quite the opposite.
While at times inconsistent, Ramires has scored some important goals for Chelsea. The strangest thing about the 25-year-old is his inability to control the ball—something rarely seen with a Brazilian player. Nevertheless, he is the engine of this Chelsea team.
He can often be seen chasing down the opposition or alternatively, going on one of his trademark long distance sprints through the middle of the park.
A quiet personality, Ramires is fiercely loyal to the club, even with rumored interest from Barcelona. However, with his clan of Brazilian compatriots at the club and with Falcao's potential move to Chelsea, it would give him more of a reason to stay than to leave, surely?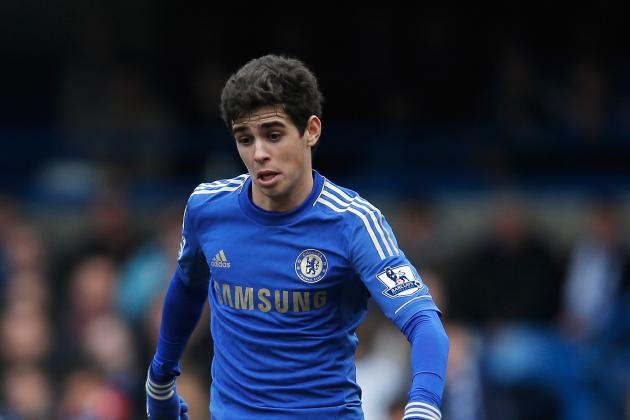 Dean Mouhtaropoulos/Getty Images

Perhaps he has not had the desired impact that he would have liked in the Premier League, but Oscar must be pleased with the start to his Chelsea career as his first season draws to a close.
Along with Eden Hazard, Oscar only joined the Blues last summer in a deal totaling around £25 million from Brazilian outfit Internacional Porto Alegre.
Although he is Brazil's new "Number 10" replacing out-of-favor Real Madrid star Kaka, the 21-year-old has been used predominantly on the right-hand side for Rafa Benitez's side this season. But that hasn't halted the influence his performances have had on the team, forming a magnificent trio along with Hazard and Juan Mata.
His haul of six goals in European games this season, including a wonderful double against Juventus, has helped gain the plaudits from the pundits in the game. Additionally, his assists—a total of eight so far this season—show his creative side.
Perhaps he is less celebrated than the likes of Mata and Hazard and rightly so when you compare the statistical influence of the three players. Nevertheless, his work rate and attitude cannot be faulted. And at 21, while he has much improvement still to make, he is equally well on his way to becoming a world class midfielder.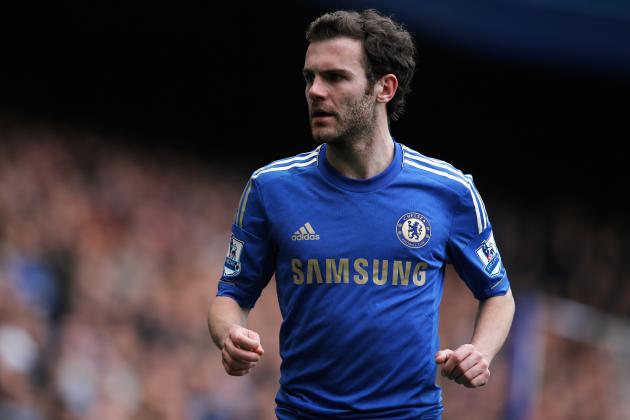 Dean Mouhtaropoulos/Getty Images

If you ever needed an example to sum up Juan Mata in one moment, look no further than his assist for Demba Ba's goal against Manchester United.
Receiving a pass 30 yards from goal, he looks up. Eden Hazard marked by Phil Jones on the left, Oscar cutting an isolated figure on the right. Then, he spots Senegal striker Ba making a run towards the edge of the box, with Rio Ferdinand hot in pursuit.
Even with the options limited, the Spaniard has an admittedly faultless ability to pick out a pass and execute it with perfection. With this in consideration, he lofted a curled pass towards Ba, and while the former Newcastle man did exceptionally well to steer it towards the back of the net, the pass was exquisite.
The endless talent that oozes from the 24-year-old's left boot is mind boggling. And to think that Real Madrid only five years ago released the same player from their "B" team on a free transfer.
It is clear that the little magician is now the main man at Chelsea, rarely having an off day, and it is of some surprise that he is not being mentioned as a candidate for the Player of the Year awards.
Thirty goals, 53 assists in 107 appearances. Not a bad return for your £26 million, eh Roman?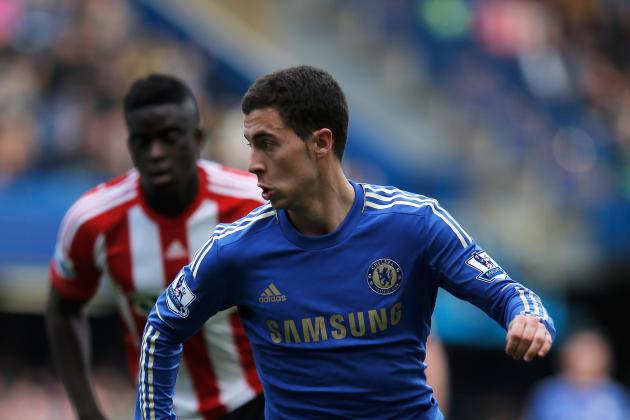 Dean Mouhtaropoulos/Getty Images

Eden Hazard is ultimately the player who can take Chelsea to new heights, but it's clear he needs an experienced and wise man to guide him through the tough times. Not many would say Rafa Benitez is that man, but to be fair, the Belgian has flourished under his management.
Crucial goals against Manchester United and Sparta Prague have underlined only some of the reasons why Chelsea forked out £32 million to sign him from French club Lille. His pace, agility and explosive style of play means he is a nightmare to defend against.
The former Tubize trainee's direct style and desire to create as well as score goals make him a valued member of the team, and his linkup with Mata and Oscar, as well as Fernando Torres, is at times unstoppable.
It is easy to forget that with his professionalism and maturity, Hazard is just 22. Yet he has been named Ligue 1 Player of the Year already in his short career and became the first midfielder to score over 20 goals for Lille.
The creative influence he holds, along with Juan Mata and Frank Lampard, should not be underestimated; he is the closest Chelsea will come to having another Joe Cole among their ranks. And someone like Jose Mourinho will know how to tame such a talented young player and turn him into a worldwide star.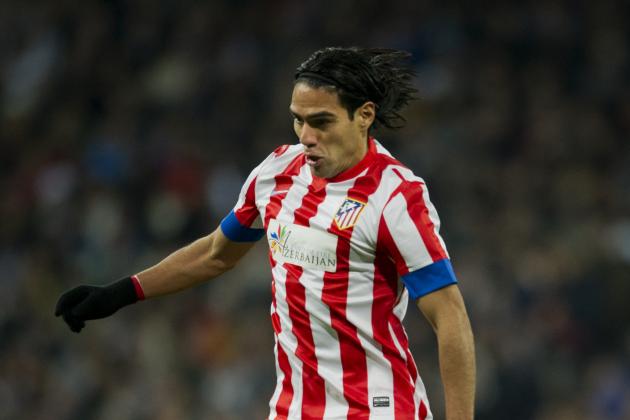 Jasper Juinen/Getty Images

Radamel Falcao has, for a long time, been linked to Chelsea. And while he has done next to nothing to entertain the idea of a move materializing, it seems an inevitability. Falcao's record means that wherever he goes, he will be a success. No doubt.
But then, was Roman Abramovich also thinking the same idea when Fernando Torres signed for Chelsea in January 2011 for £50 million? Could Falcao also be something of a flop?
Possibly. But the chances are a lot smaller. For Falcao is the complete striker. Aside from Cristiano Ronaldo and Lionel Messi, which other striker has been as prolific as the Colombian in the last two years? Edinson Cavani, you say? Robert Lewandowski too?
No. The fact is that while these two are fantastic strikers, they don't quite measure up to Falcao. He has everything: pace, stamina, strength, agility, terrific finishing and work rate. And the goals? They speak for themselves. Sixty-four goals in 83 games for Atletico Madrid since his £34 million move in 2011.
The icing on the cake for Chelsea was his magnificent hat-trick against the Blues in the European Super Cup win back in August, and it was there that the Colombian made his name as a world-class striker.
Ever since, the club have been tracking him closely. A deal for £48 million is in the pipeline to sign the 27-year-old and bring him to the Premier League.
It's fair to say that should Chelsea complete that signing, they will be the team to beat in 2013-14.