Phoenix Suns vs. Houston Rockets: Live Score, Results and Game Highlights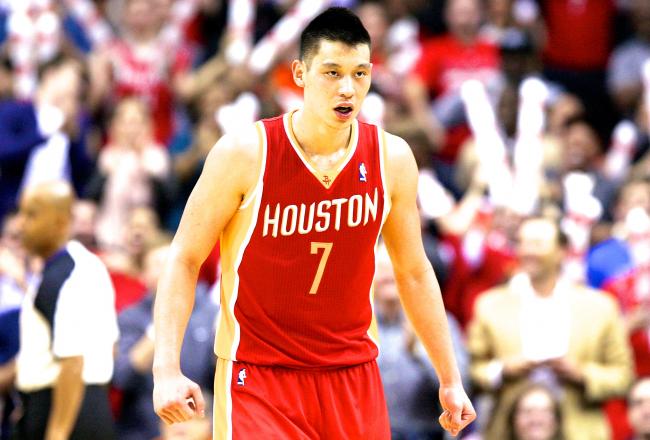 The action is underway inside Houston's Toyota Center. Stay tuned for all of the updates from tonight's game.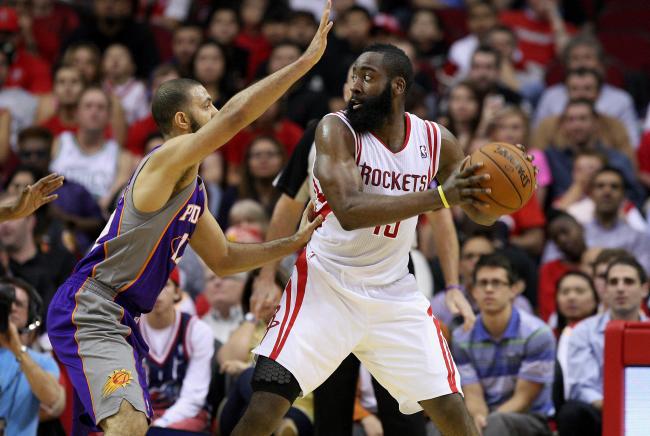 It wasn't always pretty and was very much in jeopardy until the game's final moments, but at the end of the day this was nothing more than a badly needed Houston Rockets win.
Should the Utah Jazz lose to the Oklahoma City Thunder, the Rockets will clinch a playoff berth. If the Golden State Warriors slip up at home against the Minnesota Timberwolves, Houston will move into the sixth seed out West.
So no matter how ugly this game got, it looks no different from any of Houston's other 43 wins this season.
It sounds simple, but Houston won this game because they had the best player on the floor. The Phoenix Suns tried throwing everything at James Harden, but still couldn't solve the bearded puzzle. They forced him into a number of turnovers and helped bog down Houston's offense to make things interesting late, but when Harden attacked the basket the results were almost always positive for the Rockets.
Whether or not Harden actually hit the game-winning three is something we may never know. But thanks to an extremely untimely gaffe from Jermaine O'Neal, the box score will still credit Harden with the buzzer beater.
If they can finish the night with a playoff ticket punched, this game should be more than enough evidence for coach Kevin McHale that he's got some work to do before the playoffs start.
Luis Scola ran rampant over his former team's frontline, something that neither Chandler Parsons or Carlos Delfino would have helped with had they been healthy. Greg Smith, Terrence Jones and Donatas Motiejunas have each shown flashes of ability, but tonight's game just reinforced the fact that none of these players has separated himself from the pack.
It's a shame, too, because with Parsons and Delfino back in the mix, Houston has found strong play at each of the other four positions. Omer Asik was an animal on the glass. Jeremy Lin and Patrick Beverley formed a solid offensive-defensive complement at the point guard spot.
Whether this game was the product of a sleepwalking Rockets team or a Suns team outperforming its record with spoiling intentions will become evident over this final week.
As long as Houston's playing after that, it's hard to call this season anything but a successful one.
Here's how the Rockets found their 44th win of the season.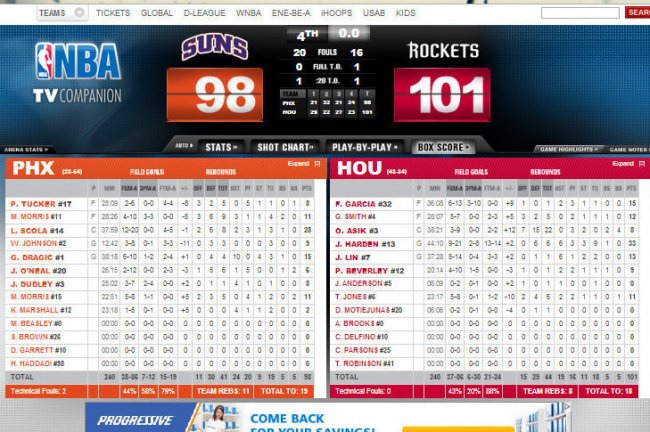 Tough finish for the Suns, make it 10 straight losses for Phoenix.
After video review, the call stands. O'Neal swatted the ball off of the rim. Rockets win 101-98. Move within a half-game of the Golden State Warriors.
BEARD FOR THE WIN!!!!!!!!!!!!

— Houston Rockets (@HoustonRockets) April 10, 2013
Harden draws back iron on a potential game-winner at the buzzer. Refs want to take another look, but they initially rule goal-tending. Rockets 101, Suns 98 — END OF REGULATION*
Suns may have went to the Scola well one too many times. Got a tough, but makeable look on a scoop layup but clipped the front of the iron. McHale calls a TO. Rockets 98, Suns 98 — 0:09 REMAINING IN 4TH QUARTER
Lin hits both, ties game. Rockets will try Greg Smith on Scola. Jones was schooled.

— Jonathan Feigen (@Jonathan_Feigen) April 10, 2013
Scramble off a missed Garcia three wound up with Lin at the top of the key. Lin motored his way to the basket, drew O'Neal's fifth foul. Perfect trip and we're tied again. Rockets 98, Suns 98 — 0:35 REMAINING IN 4TH QUARTER
Scola, who put the Suns in front posting up Jones, makes 1 of 2. Suns up 98-96 with 50.3 left. Lin will return for Rockets possession.

— Jonathan Feigen (@Jonathan_Feigen) April 10, 2013
I love Terrence Jones, but Scola on the low block at this stage of Jones' career is very difficult to deal with.Needs some help...

— Brian Geltzeiler (@hoopscritic) April 10, 2013
Beverley subs in for his defense, fouls a stationary near Dragic near half court. Jones fouls Scola later on the same possession, and that meant FTs. Suns 98, Rockets 96 — 0:53 REMAINING IN 4TH QUARTER
Lin finds a jumper in the paint to reclaim the lead, but Scola pours in a hook over Jones to push Phoenix back in front. Suns 97, Rockets 96 — 1:15 REMAINING IN 4TH QUARTER
We're in for quite a final 2:23. PHX up 95-94 with ball and 2:23 to go. Scola and Dragic making former team really sweat this one out.

— Jason Friedman (@JasonCFriedman) April 10, 2013
An eventful night for Harden. Has 30p, 6a, 5r, 1 T and 9 turnovers. Suns by 1, 2:23 left.

— Jonathan Feigen (@Jonathan_Feigen) April 10, 2013
Houston vs the Lakers may come down to the 7th vs 8 seed to end the year next Wednesday.

— Martin Brian Ansah (@DaAnsahonSports) April 10, 2013
Rockets' offense has morphed into giving Harden the ball and seeing if he can find his way to the line. And it's actually halfway working. Harden with another strong drive to get himself back to the line, earning Scola a technical foul in the process. Harden missed the technical shot, but converted his two foul shots. Suns 95, Rockets 94 — 2:23 REMAINING IN 4TH QUARTER
Double technical fouls handed out to Harden and P.J. Tucker.
Rockets look like they can beat anyone when they're sprinting away from some of the league's elites. But their inability to manufacture offense when the tempo slows has to be concerning this late in the year. Suns 95, Rockets 92 — 2:41 REMAINING IN 4TH QUARTER
Remarkable how Rockets cannot put this away. Credit to former Rox Scola, Dragic. Rockets turnovers. poor shooting helps. Suns 25 FB pts.

— Jonathan Feigen (@Jonathan_Feigen) April 10, 2013
Houston's offense completely stalled of late. No ball movement, lot of Harden watching. Suns 91, Rockets 90 — 4:16 REMAINING IN 4TH QUARTER
Suns, meanwhile, just keep hanging around. Now have 25 fast break points (same as HOU) after Scola layup cuts HOU lead to 1.

— Jason Friedman (@JasonCFriedman) April 10, 2013
Gotta give the Suns credit. They won't go away and have answered every mini spurt from the Rockets. TO Houston as lead trimmed to 90-89

— Houston Rockets (@HoustonRockets) April 10, 2013
Eight days since called back from D-League, looks like TJones finishing another game.

— Jonathan Feigen (@Jonathan_Feigen) April 10, 2013
Jones with such a convincing pump fake on the perimeter, you could hear a collective groan anticipating a travel call. Jones producing once again, 11 pts and 6 rebs in 17 minutes. Rockets 90, Suns 87 — 5:55 REMAINING IN 4TH QUARTER
On scoreboard-watching front, as Rockets take five-point lead with 7:52 left, Utah down 10 at half to OKC. Both hold up and Rockets clinch.

— Jonathan Feigen (@Jonathan_Feigen) April 10, 2013
This article is
What is the duplicate article?
Why is this article offensive?
Where is this article plagiarized from?
Why is this article poorly edited?

Houston Rockets: Like this team?