Cornellius Carradine: 5 Things You Need to Know About the Florida State DE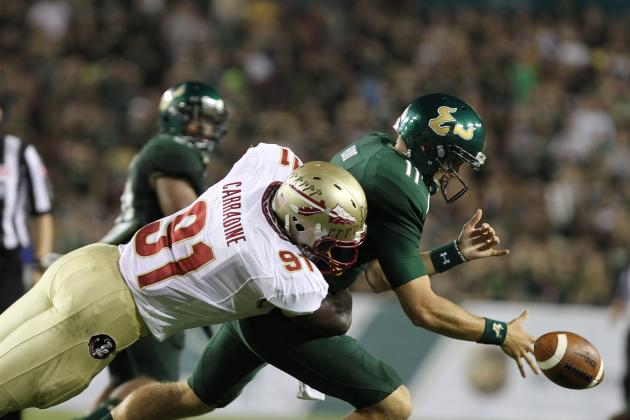 Kim Klement-USA TODAY Sports
Cornellius Carradine has the skills to be a very good defensive end in the NFL.
Had defensive end Brandon Jenkins not gotten injured for the Florida State Seminoles, we probably wouldn't be talking about Cornellius Carradine as much as we are right now. However, Jenkins did get injured, and Carradine stepped in and played dominant football. He established himself as one of the premier pass-rushing defensive ends in all of college football.
A torn ACL in the final game of the 2012 season against Florida ended Carradine's career at FSU prematurely. However, he still has plenty to offer an NFL franchise once he gets healthy. Here's a look at five things you need to know about the player better known as "Tank" Carradine.
Combine results courtesy of NFL.com. College stats courtesy of Sports-Reference.com.
Begin Slideshow

»
Full Name: Cornellius "Tank" Carradine
Birthday: February 18, 1989
Hometown: Cincinnati, Ohio
High School: Cincinnati (OH) Taft
Major: Unknown
Year: Senior
Coming out of high school, Carradine actually signed his letter of intent with the Illinois Fighting Illini. However, he attended Butler Community College before transferring to Florida State University.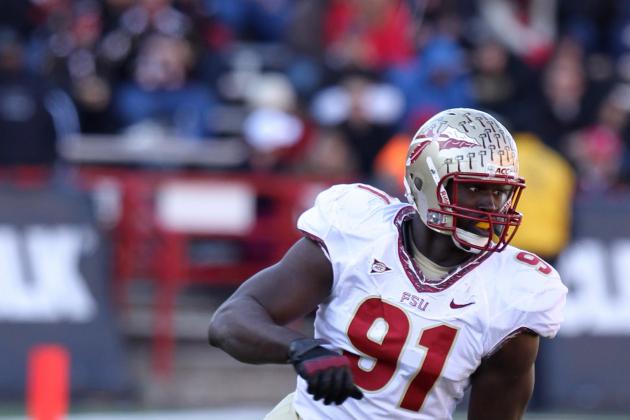 Mitch Stringer-USA TODAY Sports

Cornellius Carradine spent two years at Butler Community College before coming to Florida State prior to the 2011 season. However, in only two seasons at FSU, he put up some rather impressive stats.
Below is what Carradine did during his career with the Seminoles in limited time in 2011 and increased time in 2012:
| | | | | | |
| --- | --- | --- | --- | --- | --- |
| Year | Solo Tackles | Total Tackles | Tackles for Loss | Sacks | Forced Fumbles |
| 2011 | 24 | 38 | 8.0 | 5.5 | 0 |
| 2012 | 47 | 80 | 13.0 | 11.0 | 1 |
All stats courtesy of Sports-Reference.com.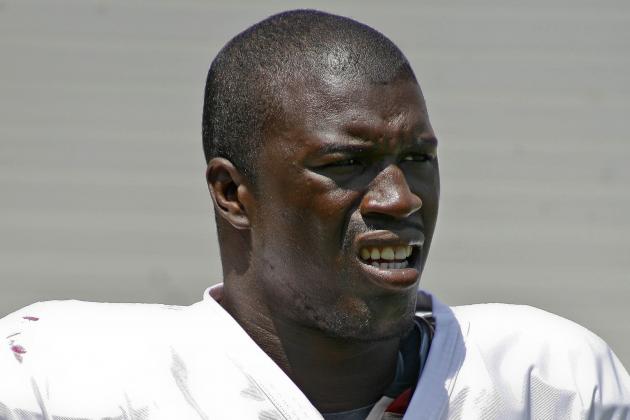 Phil Sears-USA TODAY Sports

Measurables
Height: 6'4"
Weight: 276 lbs
Arm Length: 34.75"
Hands: 10.25"
Combine Results
Bench press: 28 reps
Cornellius Carradine's torn ACL kept him from participating in almost all of the events at the 2013 NFL Combine and the Florida State pro day.
All combine results courtesy of NFL.com.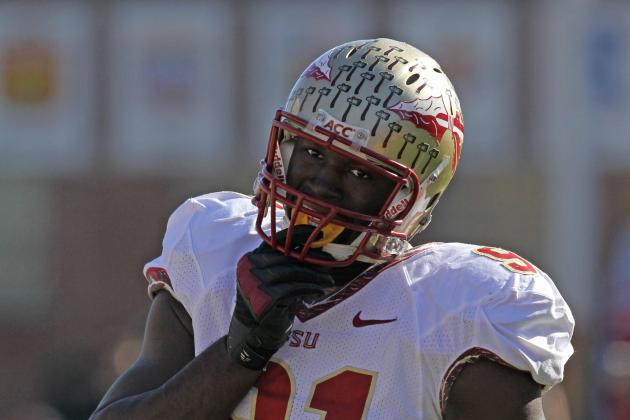 Mitch Stringer-USA TODAY Sports

Before Carradine came to Florida State, he was a standout junior college player at Butler Community College. In fact, it was at this community college in Kansas that he had a season to remember.
In 2010, as a sophomore, Carradine recorded 119 total tackles, 29 tackles for loss and a ridiculous 16 sacks. It was this extremely impressive statistical season that put him on the radars of so many high-profile colleges.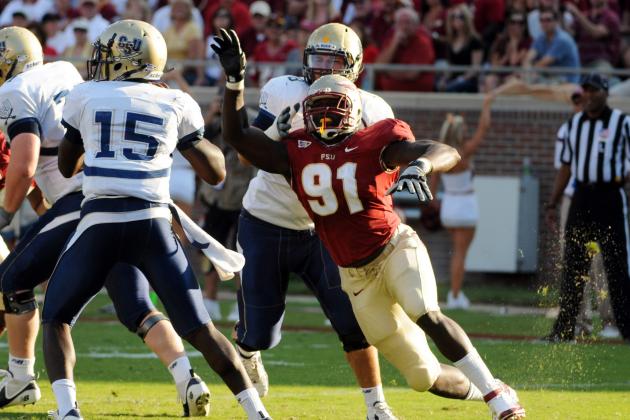 USA TODAY Sports

When Bleacher Report's own Matt Miller was asked who the best pass-rusher in this year's class was, his answer brought only one name:
Tank Carradine. Hope he's healthy. Beast off the edge. So quick. RT @briansutyak: Most intriguing pass rusher for you??

— Matt Miller (@nfldraftscout) April 12, 2013
Miller continued his praise about Carradine:
My ranking of Tank Carradine (DE-FSU) may surprise people, but once healthy I see a dominant pass rusher. He's top 5 for me.

— Matt Miller (@nfldraftscout) April 5, 2013
The biggest concern with Carradine is his health, but Doug Farrer of Yahoo! Sports let's us know just how intrigued he is by Carradine:
Watching Tank Carradine tape. Great googly-moogly. That kid is going to be an unholy force if the ACL checks out.

— SC_DougFarrar (@SC_DougFarrar) March 3, 2013