Ryan Nassib: Video Highlights for Former Syracuse QB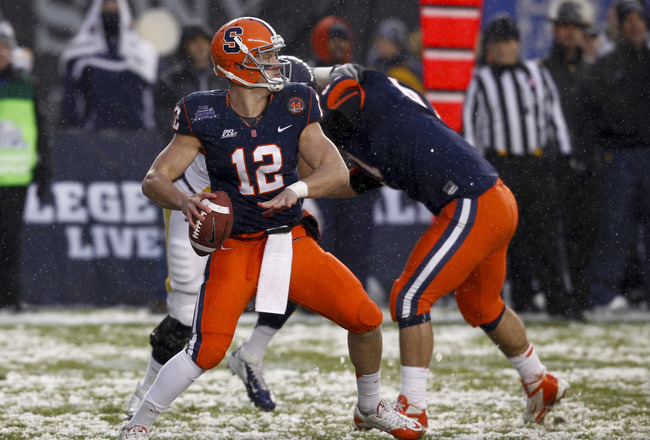 Jeff Zelevansky/Getty Images
Ryan Nassib is one of the more intriguing prospects heading into the upcoming NFL draft.
Nassib had a solid senior season at Syracuse, throwing for 3,749 yards and 26 touchdowns. He finished his college career with over 9,000 yards passing to go along with 70 touchdowns.
Nassib could be one of the first three quarterbacks selected in the draft.
Here are some highlights from his college career.
Scrambling vs. Rutgers
Here against Rutgers, Ryan Nassib shows his scrambling ability, which he can do pretty well (play stops at 3:33).
Faced with a 3rd-and-7 and already trailing 7-0 just before halftime, Nassib takes off and evades two defenders to move the chains.
Quick Decision-Making
As ESPN draft analyst Todd McShay points out here, Ryan Nassib makes very quick decisions and puts the ball where it needs to be.
He is good at checking his progressions and deciding where the coverage is coming from (video from 0:18 to 0:36).
Rallying His Team Late
Trailing Missouri late in the fourth quarter, Ryan Nassib gets the ball on his own 19-yard line and takes his team on an 81-yard drive for the game-winning touchdown.
Nassib moved Syracuse down the field in just seven plays, culminating the drive with a 17-yard touchdown pass with just 20 seconds remaining in the game.
Nassib finished the day with 385 yards through the air.
Nice Touch
One of the knocks on Ryan Nassib is his ability to throw the deep ball.
Here against USC, his receiver gets plenty of separation and Nassib puts the ball right where it needs to be (play ends at 4:53).
Nassib ran many plays out of the shotgun formation and is very comfortable doing it.
Reading the Defense
Against a very good Louisville team, Ryan Nassib throws a pretty 37-yard touchdown pass to put his team up 24-10.
You'll see two replays of this play, but what makes it work is how Nassib freezes the safety, leaving the other half of the field to work with and he makes a nice throw that leads to a score.
Good Play-Action Pass
Ryan Nassib is very good as a play-action passer, whether he lines up under center or out of the shotgun.
In that same game against Louisville, Nassib is able to find an opening after a few defenders bite on the run.
Eluding Defenders to Make a Big Play
Though Ryan Nassib had a tough day against Rutgers, he shows the ability to make a play when he knows his team needs one.
Here, he eludes a pass-rusher and steps up into the pocket, making a very tough throw that leads to a touchdown (play ends at 9:18).
He may have gotten lucky that the ball wasn't intercepted, but it was a play that ended positively for Syracuse.
Keep Reading

New York Giants: Like this team?