Gilbert Melendez Was 'Licking My Chops' to Get Fight Against Benson Henderson
Use your ← → (arrow) keys to browse more stories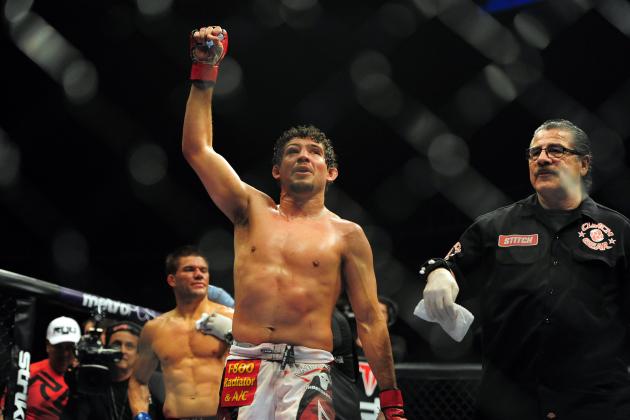 Kyle Terada-USA TODAY Sports

Gilbert Melendez has long been recognized as one of the best lightweight fighters in mixed martial arts. The problem with that ranking, some would say, is that Melendez has never set foot inside the vaunted UFC Octagon. That's about to change, as Melendez will fight UFC lightweight champion Benson Henderson on April 20 in the main event of the UFC on Fox 7 fight card.
Melendez (21-2) will carry a seven-fight winning streak with him when he enters the cage in San Jose. One thing we are unsure of is if he will also carry the Strikeforce title with him when he faces Henderson. After all, he is pictured on the event poster with the belt and he will enter the fight as the last man to hold that title before the promotion was shuttered.
Melendez addressed that issue on Tuesday: "Champion versus champion is a neat thing for me, but I feel like in this case Benson's the champ and I'm coming into a new organization. I fought the Dream champ, I fought the Shooto champ, I've fought a lot of different champs in different rules and it's a neat opportunity for me. I'm definitely prepared and I'm looking forward to the opportunity. A lot of time has been spent trying to prove I'm number one and this is my opportunity and I plan on taking advantage of it."
While the idea of champion versus champion may be "neat," there's another aspect to this fight that is a little more personal, and that's the fact that Melendez was cage side when Henderson won his last fight, a unanimous decision victory over Melendez's friend and training partner Nate Diaz.
Who walks away UFC lightweight champion?
When asked about what he was thinking in the moments after that fight, Melendez said: "When your buddy's fighting you can't help getting a little emotional and passionate. You're bummed for your friend and if you can back your friend up you will. At that point I was like, give me an opportunity to avenge my friend, give me an opportunity to fight this dude, I can do it. I was just licking my chops to get this opportunity and I did."
And that opportunity is a huge one for Melendez, as many continue to overlook him as a champion, preferring to see him only as a challenger. "It doesn't bother me, you got to pick your battles in this sport and that's not one of them," Melendez said. "I feel like I am somewhat of a challenger, walking into new territory. It's a new organization, different sized stage. I'm totally fine with that. Benson Henderson is the champ of the UFC."
Melendez will do his best to change that fact on April 20. If he does, he'll take UFC gold back to the Cesar Gracie Jiu-Jitsu camp, something teammates Nick and Nate Diaz were unable to do in their last bouts. If you think Melendez is feeling added pressure due to that fact, you'd be wrong.
"I hope to win the title for my team, but I really try to not put too much pressure on myself. I go out there and fight my fight. I think it's a great accomplishment for my whole team to get title fights. I'd love to bring that title back to the gym and share it with those guys, but no, no added pressure."
**All quotes obtained first hand